Hailed as one of the most bio-diverse countries in the world, Costa Rica is a top destination for explorers from all over the globe. In fact, Costa Rica made it to the list of the top 10 most-visited countries in 2022.
This will come as absolutely no surprise when you think about all that Costa Rica has to offer. Lush green landscapes, unique animals, endless tranquil beaches, natural hot springs, awe-inspiring volcanoes and (of course) hot tropical weather. It really is a country that has it all.
Whilst 2 weeks in Costa Rica might not *feel* like a lot of time (because you probably won't want to leave) it certainly is enough time to uncover all of what this magnificent country has to offer.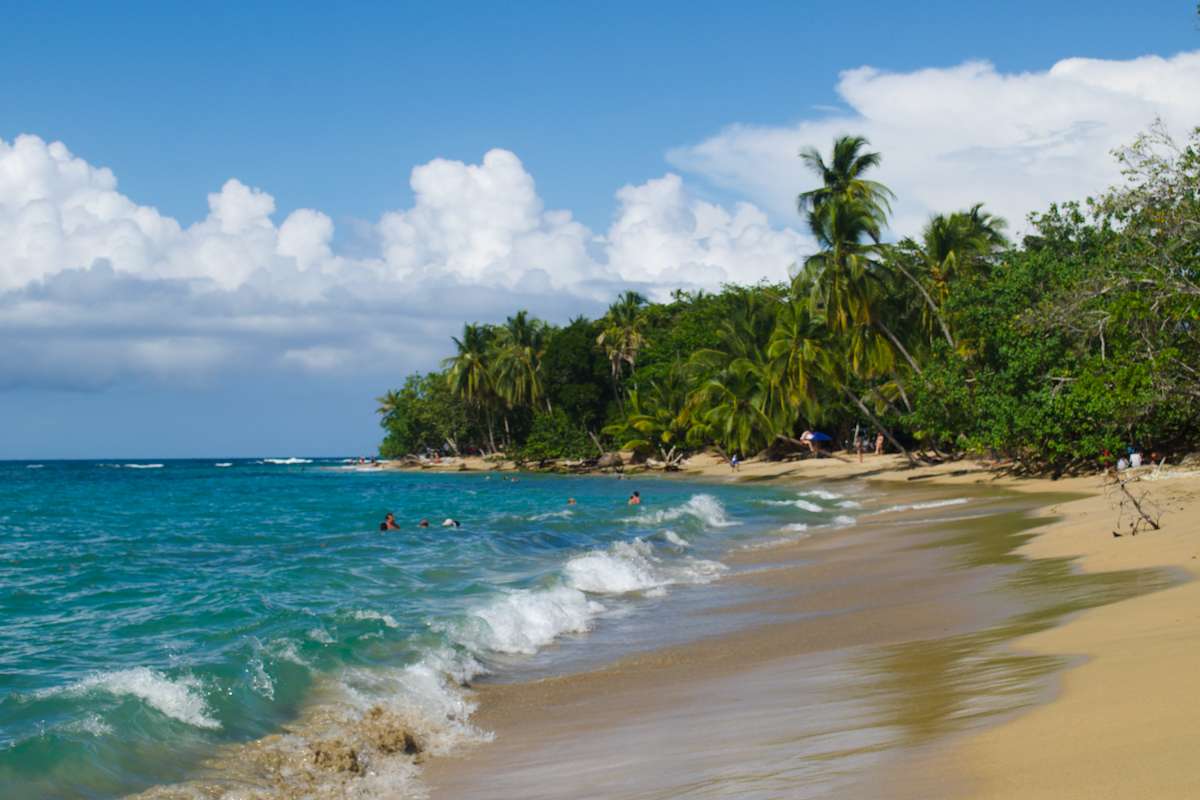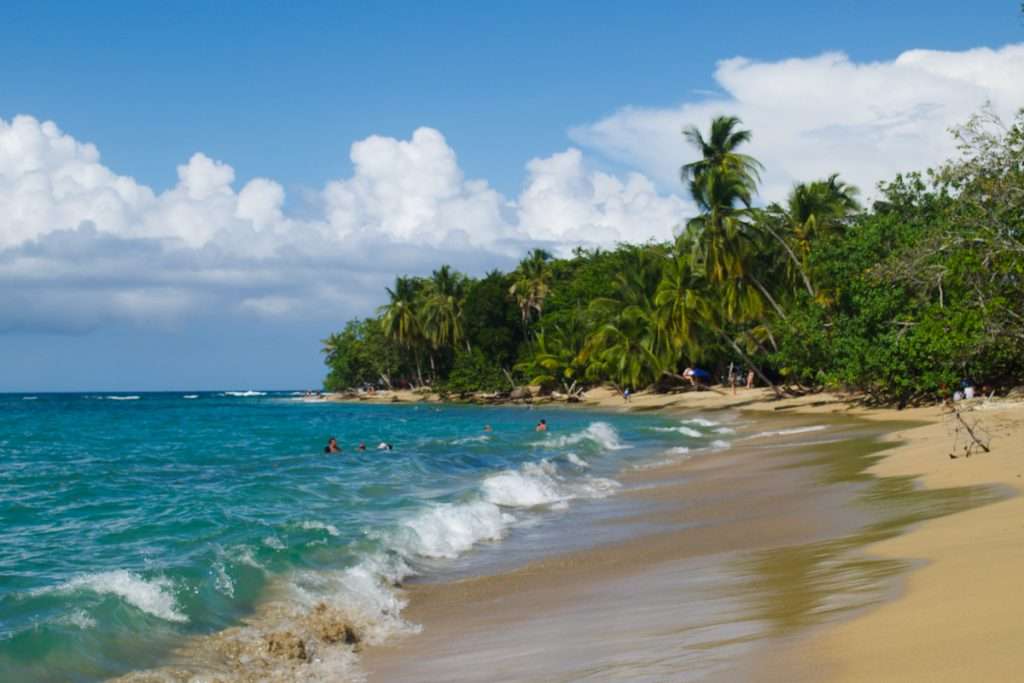 Whether you want to hike through the rainforest, surf the 12ft waves, relax on the beach or spend your days seeking out Sloths, you'll be sure to have an Incredible 2 weeks in Costa Rica, no matter what you decide to do!
So, what do you need to know about spending 2 weeks in Costa Rica? Read on below to find out!
Disclaimer: This post contains affiliate links. If you decide to make a verified purchase through the links in this post I will earn a small commission. This will be at no extra cost to you. Thank you
Day 1 – Landing in San Jose
To begin your 2 weeks in Costa Rica, you will most likely be landing at San Jose International Airport. There is not a lot to do in the city, and there is so much to see in the rest of the country. With that being said, I would advise spending as little time in San Jose as possible.
Depending on what time you land, you can choose to travel straight to the next destination or stay for just 1 night and get going as early as possible in the morning (it is more than likely you'll need to stay the 1 night).
Where to stay in San Jose
If you need to spend the night in San Jose, where you stay will be dependent on how you are travelling the country. If you plan on renting a car (or getting a private shuttle) I would suggest staying in the Alajuela region (close to the airport).
There are lots of car rental companies in that area so it makes the most sense to stay here and avoid the traffic of central San Jose. I would recommend staying at Mango Hotel. It's a 4-minute drive from the airport and a short walk to Adobe Car Rental (the most reputable car rental company in Costa Rica)

If you plan to travel via public bus, it's best to stay somewhere in the city centre, close to the main bus stations (there are several in the city centre). Hotel Casa 69 comes top-rated and at a very decent price.
Days 2-5 – Puerto Viejo
Puerto Viejo is a cool, laid-back town on Costa Rica's Caribbean coast. The beaches are beautiful, the vibes are chilled, the music scene is vibrant and the Pina Coladas are deliciously sweet.
A few days in Puerto Viejo will definitely get your 2 weeks in Costa Rica off to a fantastic start.
Getting to Puerto Viejo from San Jose
Car
The distance between San Jose and Puerto Viejo is approximately 221 km. The journey *should* take you roughly 4 hours if you manage to avoid traffic. Knowing Costa Rica, there is a good chance are you will hit some traffic along the way. The road infrastructure is also quite poor, with single lanes and potholes for a lot of the way. This journey may take you up to 6 hours (which it did for me).
Public Bus
You can catch the bus from Terminal Atlantic Norte in San Jose to Puerto Viejo. There are approximately 7 buses a day and a ticket will cost you $10 (USD). The journey will take roughly 4.5 hours, again provided there is no traffic.
What to do
Puerto Viejo is the place to come for chilled-out days, drinking cocktails, relaxing on the beach and enjoying nature.
Some of the best things to do in Puerto Viejo include:
Rent a bicycle and explore the different beaches of Puerto Viejo
Go Surfing at Playa Cocoles
Have Cocktails at Puerto Pirata
Spot Slots at Cahuita National Park
Where to stay
If you want to be in the thick of it, close to the bars, restaurants and entertainment then I would recommend staying in Puerto Viejo Town. After something a little quieter? Then you should look at staying in Cocoles, Manzanillo or Cahuita.

We loved our stay at Hotel Pura Vida in central Puerto Viejo. It was close enough to all the bars and restaurants but also set back from the town slightly so away from all the noise! Perfect 🙂
Puerto Viejo was my favourite place in all of Costa Rica, so DO NOT miss this off your 2 weeks in Costa Rica Itinerary
Days 5-7 – Tortuguero
Famous for its Jaguars and Leatherback Turtles, Tortuguero National Park is a wildlife lovers' dream! Does sailing through the wetlands in search for crocodiles and hiking through the forest at night in search of snakes and sloths sound like your thing? If so, then you shouldn't skip Tortuguero off your 2 weeks in Costa Rica Itinerary
Getting to Tortuguero from Puerto Viejo
Tortuguero is one of the most remote parts of Costa Rica. It is only accessible by boat or plane. You have a few options to choose from when travelling from Puerto Viejo to Tortuguero.
Car
To travel via car you must drive to the ports of either Moin (64.5 km from Puerto Viejo) or La Pavona (194 km from Puerto Viejo) and then catch the boat. The boat from Moin is approximately 3.5 hours and from La Pavona 1.5 hours.
If you are concerned about leaving your car at the ports, rest assured that you can park your car safely in both Moin and Pavona.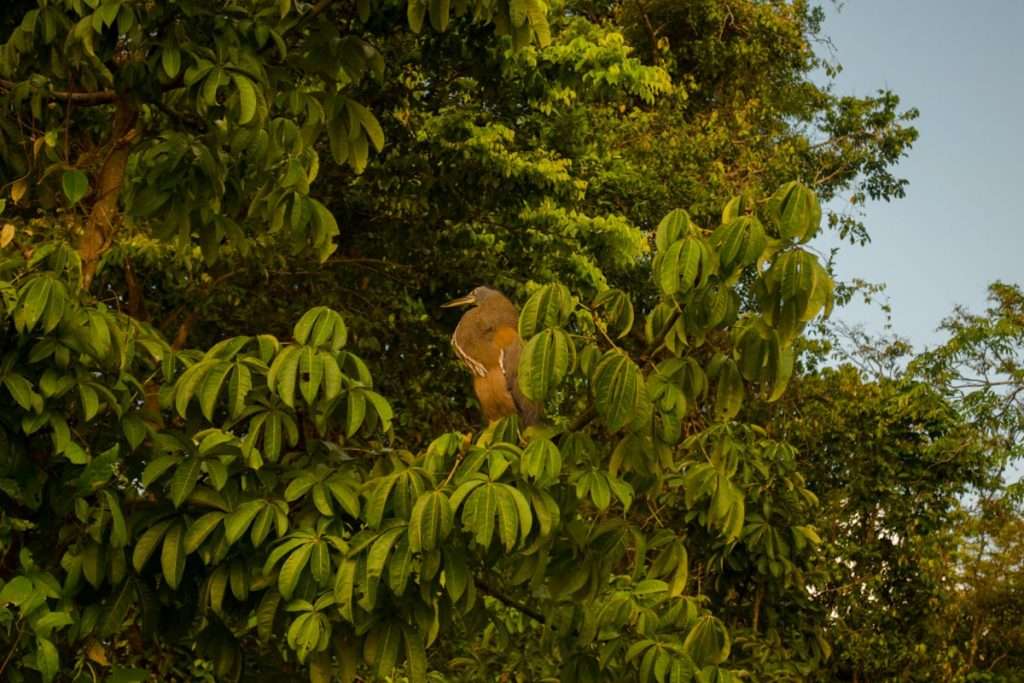 Public Bus
Catching the bus to Tortuguero is quite a lengthy process but here are your options.
To Moin
Take a bus from Puerto Viejo/Cahuita to Limón
Catch a taxi from Limón to Moin
To La Pavona
Take a bus from Puerto Viejo (or Cahuita) to Limón
Take a bus from Limón to Guapiles
Take a bus from Guapiles to Cariari
From Cariari to La Pavona take a 1-1.5h bus or 35 minute taxi
Plan on travelling to La Fortuna after Tortuguero (as this itinerary suggests)? Then you are best off catching the boat at La Pavona.
What to do
Wildlife, Wildlife, Wildlife!

There are so many incredible things to do in Tortuguero, and the best things to do centre around uncovering the diverse and unique wildlife you will find in this area.
Some of the best things to do in Tortuguero include:
Nighttime Jungle walk
Sunrise Wetland canoe through the National Park
Visit Playa Tortuguero beach
Walk the Jaguar trail
Where to stay
Tortuguero is very small and some hotels/eco-lodges are only accessible by boat. If you want to be close to the bars and restaurants I would recommend staying in Tortugeugo town (Hotel Icaco is a great budget option). However, if it's a truly off-grid experience you are after, I would recommend staying in one of Tortueguro's luxurious eco-lodges.
Days 7-10 – La Fortuna
La Fortuna is one of the most visited places in all of Costa Rica (coming in a close second to Manuel Antonio National Park) Why is La Fortuna so famous you ask?
Not only is it home to the beautiful Arenal Volcano, but it's also an area that has an abundance of Hotsprings and stunning waterfalls.
Tourists flock here from all over the globe to soak up the minerals from the natural springs and admire the miles of natural beauty that La Fortuna has to offer.
Getting There
Car
The distance between La Pavona and La Fortuna is 169.6KM and will take you approximately 3.25 hours to drive.
Public Bus
The journey by public bus is a long one and you will have to take the following steps:
Bus or Taxi from La Pavona to Cariri
Bus from Cariri to San Jose
Bus from San Jose to La Fortuna
If you do need to organise transport for this journey I would recommend perhaps considering booking a private shuttle, taxi or Uber.
What to do
La Fortuna is the place to come to admire the some of the world's best natural beauty.
Some of the best things to do in La Fortuna include:
Visit La Fortuna Falls
Walk the Blogarin trail to spot some sloths
White Water Rafting
Hike the Mirardor El Silencio
Where to stay
If you do not have a car and/or also want to be close to all the bars and restaurants, i would recommend staying close to La Fortuna town, however, if you prefer to be closer to nature I would recommend staying on the outskirts of town. We totally fell in LOVE with our stay at Hotel Arenal Lodge.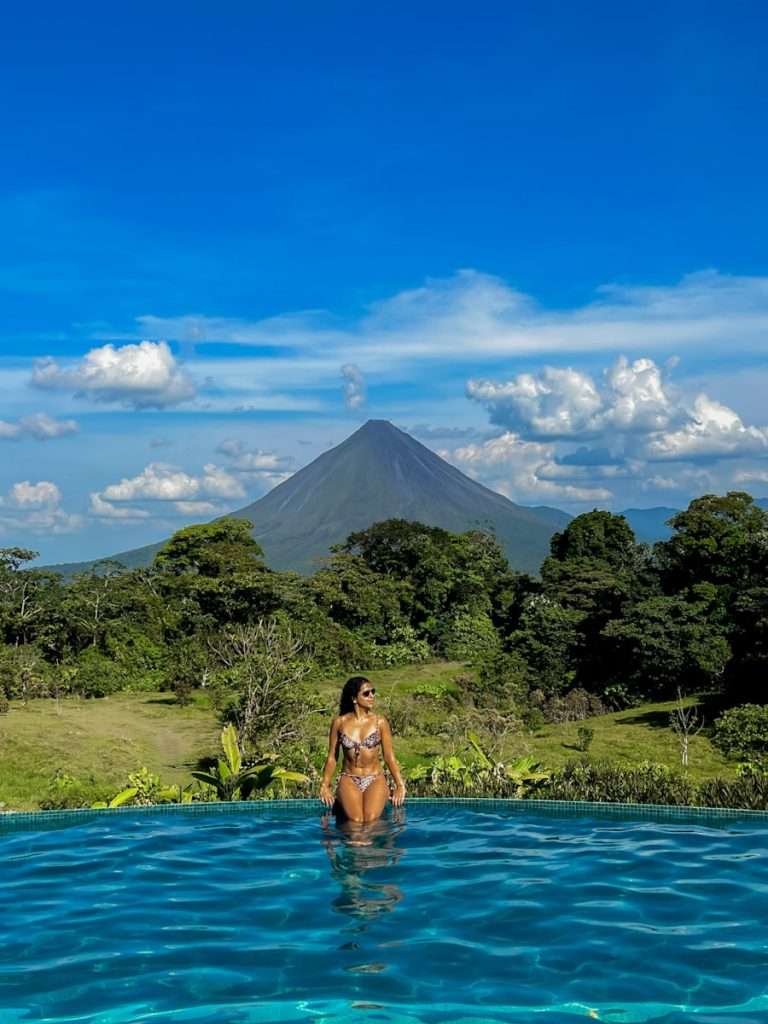 Days 10-12 – Manuel Antonio National Park
Best known for its white sandy beaches, lush green canopies and an abundance of wildlife. Manuel Antonio is the most visited tourist destination in Costa Rica.
Getting There
Car
Driving from La Fortuna to Manual Antonio will take you around 4.5 hours (222 km). The best part about this journey is that you'll be driving through the famous Crocodile bridge in Tarcoles. Make sure you stop off once you reach the bridge to peer over the edge to spot some crocs!
Public Bus
Again, for this journey you'll find that there are no direct bus routes, you will have to take the following journey which will take around 6.5 hours:
Bus from La Fortuna to San Ramon
Bus from San Ramon to Puntarenas
Bus from Puntarenas to Quepos
Bus from Quepos to Manuel Antonio
What to do
Manuel Antonio has some stunning beaches and of course, more incredible wildlife.
Some of the best things to do in Manuel Antonio include:
A night-time safari in the National Park
Relax on Playa Espadilla
Visit some of the stunning beaches inside the National Park
Have dinner at El Avion
Where to stay
When deciding where to stay, you have two options: stay close to the National Park or in Quepos (about 15/20 minutes away). We booked a stay in Quepos and instantly regretted it. The hotels might be cheaper but we spent extra money travelling to and from Manuel Antonio both during the day, and to bars and restaurants at night (we didn't want to drive our rental so that we could enjoy a drink). Take a closer look at the prices for staying in Manuel Antonio here.
Side note on Manuel Antonio
If you're following this itinerary, by this point in your 2 weeks in Costa Rica, you would have seen lots of wildlife and a lot of nature. I would say that you can probably skip Manual Antonio (and have 1 or 2 nights more in other destinations) if you've seen all the nature you wanted to see.
I've kept Manual Antonio in this post as I know it's on many people's bucket lists, However, I would say it was my least favourite part of the trip. It was beautiful, but, with it being so popular it was more expensive than other areas (and Costa Rica is expensive enough) so we decided to skip going into the National Park, in favour of a beach day on Playa Espadilla instead.
Days 12-14 – Dominical
Just a 50-minute drive from Manuel Antonio lies the sleepy surfer town of Dominical. Every year surfers flock to this small tropical town to ride the 7ft waves and get some much-needed R&R.
Dominical was another one of my favourite places in Costa Rica, so make sure to add this place to your 2 weeks in Costa Rica itinerary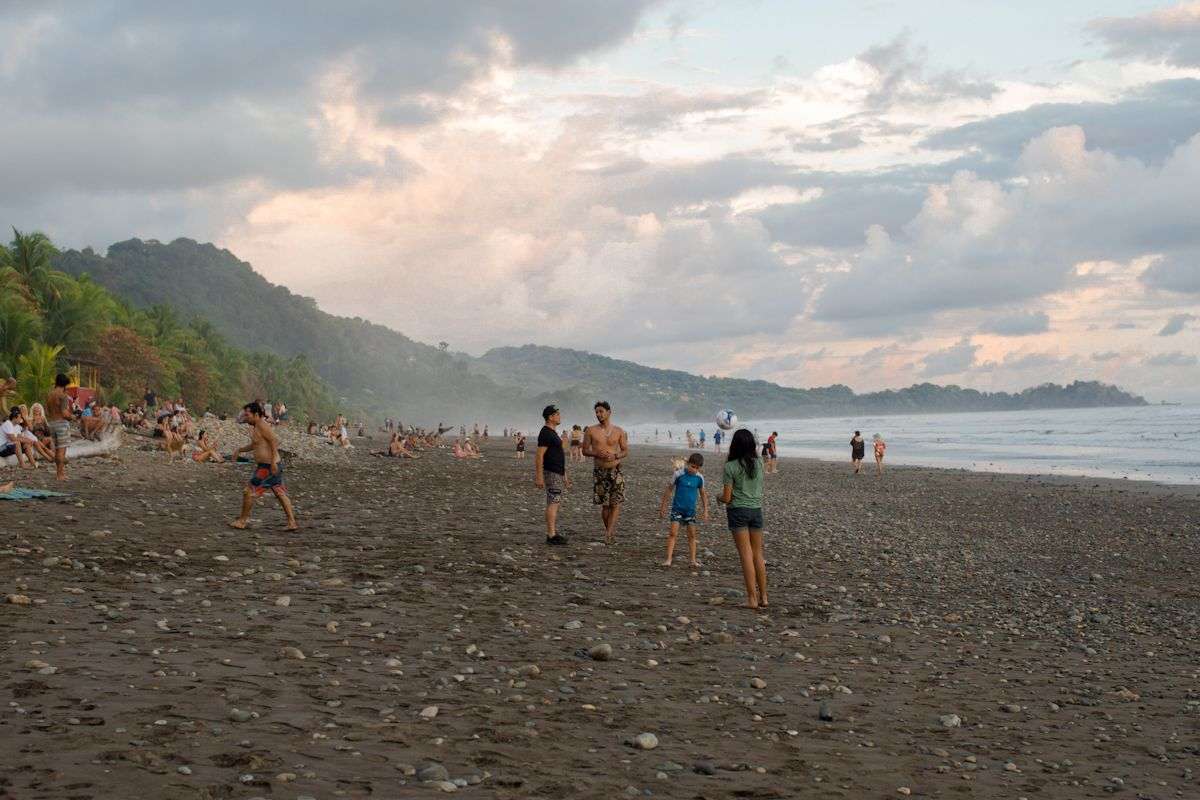 Getting There
Car
This is the shortest driving stint of them all at just 49 km and 47 minutes! (woohoo)
Public Bus
You'll also be pleased to know that the public bus journey is a nice and easy one too!
Bus from Manuel Antonio to Quepos
Bus from Quepos to Dominical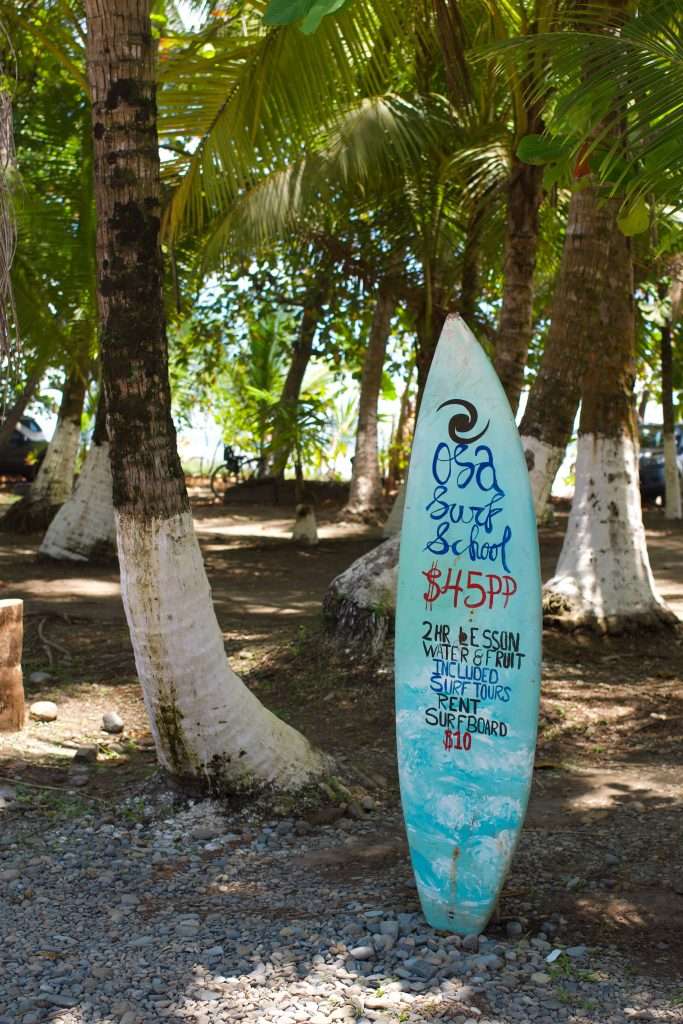 What to do
Dominical is the place to come for surfing, chilled-out days doing yoga and enjoying more of Costa Rica's stunning wildlife.
Some of the best things to do in Dominical include:
Hike to Nauyaca Waterfall
Kayaking down Baru River
Watch the sunset on the beach
Day Trip to Uvita and Whale Watching tour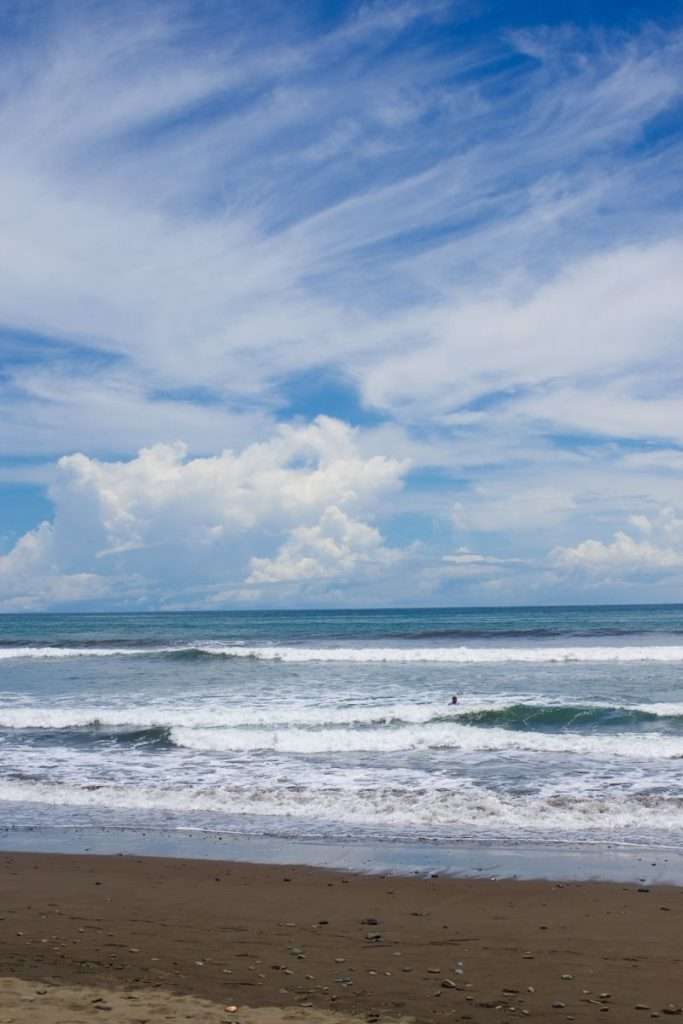 Where to stay
Dominical is very small so accommodation options are limited (it's best to book in advance). We loved our stay at Tribe Boutique Hotel, however, this can be quite pricey if you are on a tight budget. A cheaper alternative is Hotel Tropical Sands.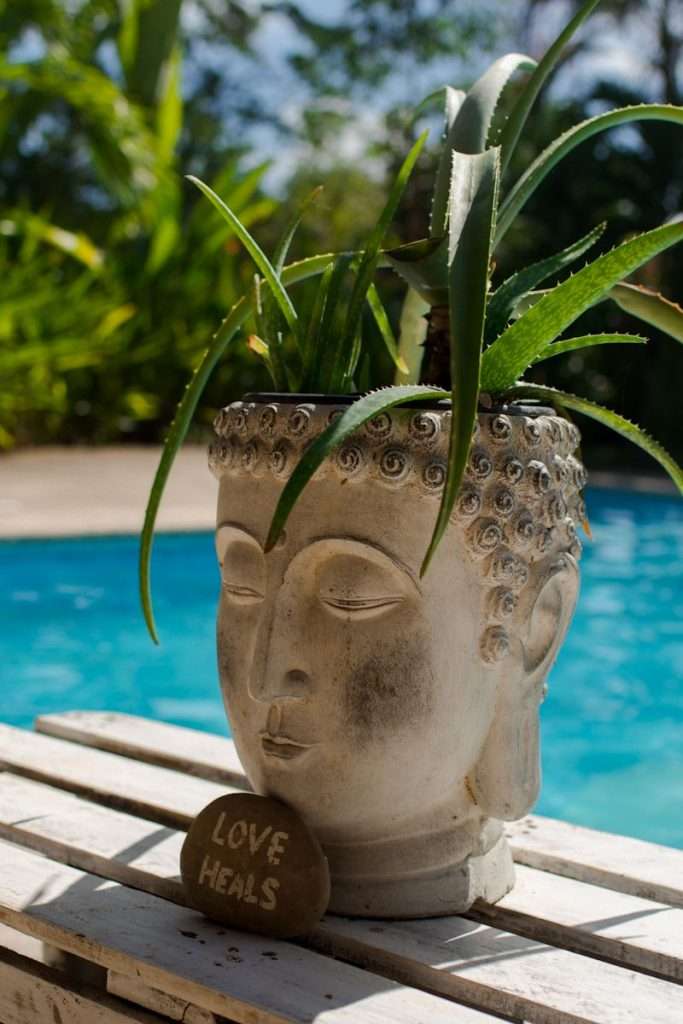 Heading Back to the Airport
Depending on your flight time, you can either head back to the airport on the day of your flight, or stay another night back in San Jose. It is probably safer to head back to San Jose the night before your flight due to traffic and the potentially the late running of public transport
Car
The journey from Dominical back to San Jose is roughly 190 km and will take you around 3.5 hours to drive.
Public Bus
You can catch a direct bus from Dominical to San Jose at 5:30 a.m. and 1 p.m. It departs from Uvita and passes through Dominical.
Alternative Travel to all destinations
Can't rent a car and don't want to take a public bus? You'll be pleased to know that you can book private transfers to and from all the destinations above. One of the best sites to use is Bookaway.com, alternatively, you can find transfers on Viator or Get your Guide.
Happy Exploring
I hope you have a wonderful time exploring all that Costa Rica has to offer. If you have any more questions about anything discussed in this blog post, please feel free to reach out!
Looking for more Costa Rica inspiration? Check out my other Costa Rica guides.