Hidden on the remote riverbanks of Costa Rica's Caribbean coast, lies the sleepy village of Tortuguero. Cut off from the rest of Costa Rica, Tortuguero is home to a maze of waterways and thick, dense jungle.
There are a whopping 11 different habitats in Tortuguero and as a result, an abundance of stunning wildlife, from crocodiles to monkeys to jaguars and even the elusive tapir.
Whilst that list of diverse species is impressive, Tortuguero is best known for its incredible sea turtle nesting season between the months of July-October. In fact, the village and national park are even named after this event, 'Tortuga' being the Spanish translation for Turtle.
This richness in wildlife makes Tortuguero a top destination for animal lovers from all over the globe, and after a trip here myself I can totally understand why!
Following a fantastic 2-weeks in Costa Rica, Tortuguero was one of my favourite places in the country to witness some of Costa Rica's spectacular wildlife.
So, what are the best things to do in Tortuguero? Read on below to find out!
Disclaimer: This post contains affiliate links. If you decide to make a verified purchase through the links in this post I will earn a small commission. This will be at no extra cost to you. Thank you
Best things to do in Tortuguero

Sunrise Canoe tour through the Riverways
One of my favourite things to do in Tortuguero (in fact one of my favourite things to do in Costa Rica) was a sunrise canoe tour through the canals and riverways of Tortuguero.
You will be asked to meet your tour guide at the town's main dock just after sunrise where you and the rest of your group will hop into a canoe to begin your journey. Your guide will steer the canoe and take you on a majestic journey through the waterways of Tortuguero.
You'll bear witness to some stunning wildlife such as iguanas, otters, monkeys as well as caymans and crocodiles (don't worry they are harmless in Tortuguero, or so I'm told).
Your guides will be super knowledgeable about the area and the wildlife. They will be able to divulge lots of cool facts about the animals and the habitats of Tortuguero.
Tours cost around £25 ($30). This is not inclusive on the National Park entrance fee which is $15 per person.
This is one of the best things to do in Tortuguero, so DO NOT miss this!
A Nighttime Jungle Walk
One of the best things to do in Tortuguero is a nighttime jungle tour. The jungle truly comes alive at night and you get the opportunity to see some incredible wildlife like sloths, snakes, spiders poison dart frogs and even an army of working ants. If you're extremely lucky you might be able to catch a rare glimpse of a jaguar.
The jungle night tour costs approximately £25 ($30) and the tour starts at 8 pm lasting 2 hours. The guides will pick you up from your accommodation and you will make your way into the jungle safely. You will each be given a flashlight to help guide your way through the jungle. Your guide will always be at the front of the group so that he can keep an eye out for any animals and ensure that the rest of the group is ok.
Whilst I am a bit jumpy around creepy crawlies and I did flinch at the slightest of sounds this was still one of my favourite things to do in Tortuguero. Make sure you give this activity a try.

Top Tip: Make sure you wear long-sleeved, lightweight clothing and tuck your trousers into your socks. Oh and make sure to use LOTS of bug spray.
Sunset Drinks at Bhudda Cafe
Bhudda Cafe is the perfect place to unwind after exploring all that Tortuguero has to offer. The restaurant is located on the banks of the river and is the best sunset viewing spot in Tortuguero. I highly recommend spending at least one of your evenings here enjoying the sunset and indulging in some delicious Italian food.
This was one of my favourite evenings in Tortuguero.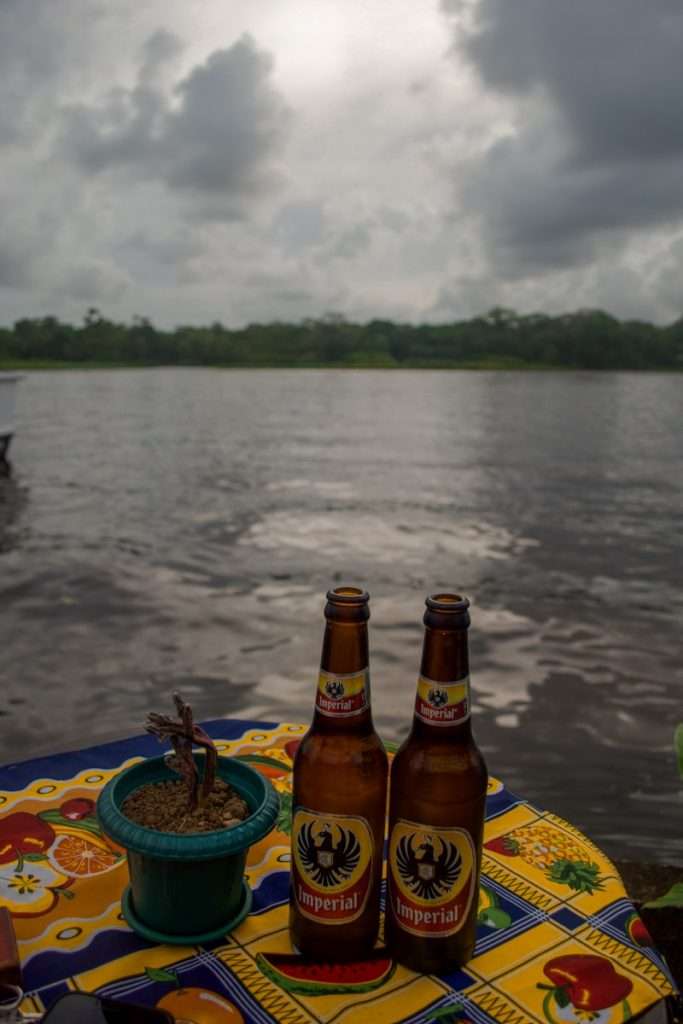 Stroll along Tortuguero Beach (Playa Tortuguero)
Playa Tortuguero is an extremely unique beach. You will see a strip of deep black sand backdropped by a wall of lush green palm trees (it's honestly like nothing I've ever seen before).
Tortuguero beach is not suitable for swimming (due to the risk of riptides and shark attacks). However, it is a great place to leisurely walk and admire nature. And, if it's not too hot, it's a great spot to chill and read a book.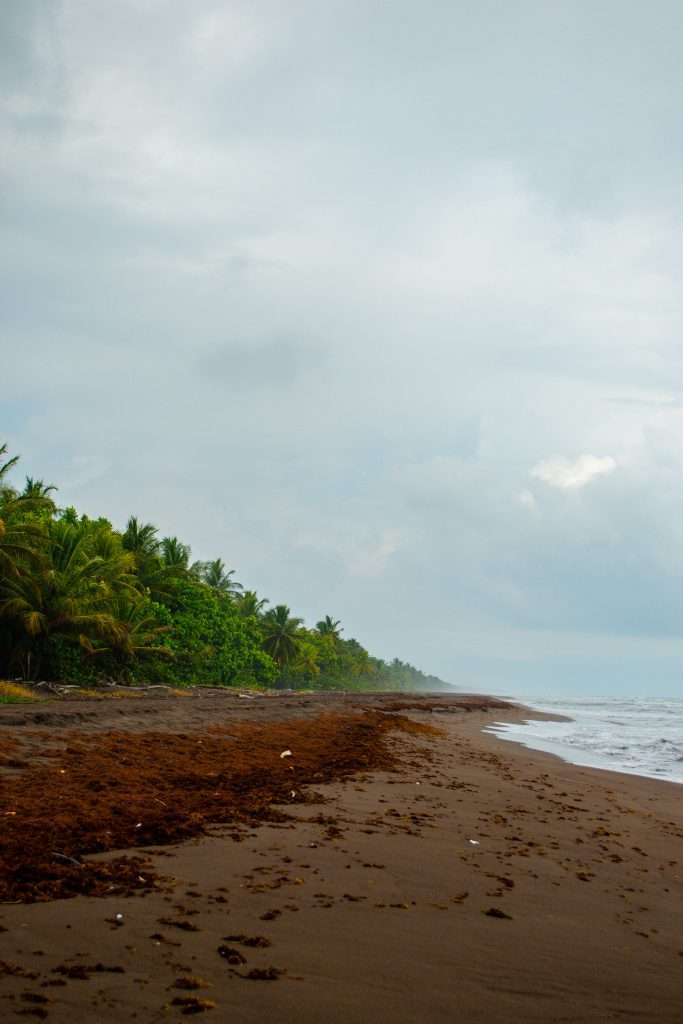 Witness Turtle Nesting Season
For those heading to Tortuguero between the months of July-October, you'll be able to witness turtle nesting season which takes place right on Playa Tortuguero. This is one of the most magical things to do in Tortuguero and is what has made the town so popular. Oh and the best bit, it's a totally free experience!
If you're visiting outside of these months you may be able to catch a glimpse of the turtles, but it's definitely not as likely.
Unfortunately these beautiful creatures a prime prey for Jaguars, and this may also be one of the only times you'll see a jaguar during the day, as they occasionally make their way onto the beach to prey on the turtles.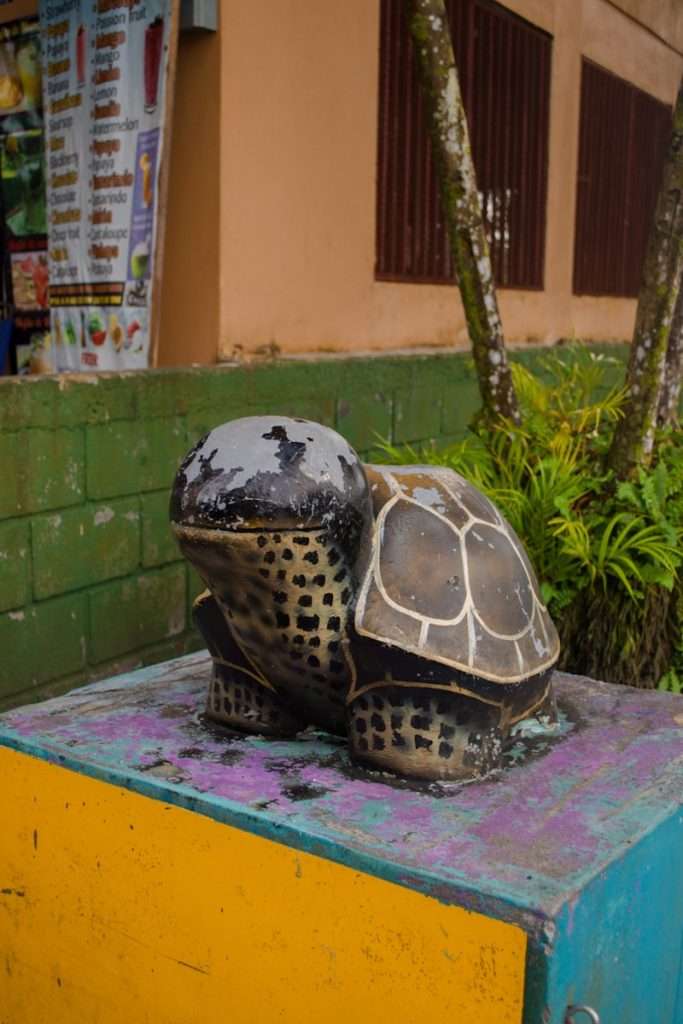 Visit the Sea Turtle Conservancy
Want to understand more about the Turtle nesting season in Tortuguero? Well, a trip to Sea Turtle Conservancy could be for you. The Sea Turtle Conservancy has been open in Tortueguro since 1959, making it the oldest turtle conservation centre in the world.
Here you can learn all about the work the Sea Turtle Conservancy is doing to educate both tourists and locals on the importance of preserving the ecosystem for the green turtles that nest here every year.
You can also learn more about the turtles themselves. There is a lot of information about the species, their migration routes and their lifecycle.
Explore Tortuguero Village
Tortuguero is a super small village which makes it easy to explore. It has lots of cute little cafes, bars and restaurants for you to try. It's important to note that most places close around 9pm in Tortueguro. I wasn't lying when I said this was a sleepy little village.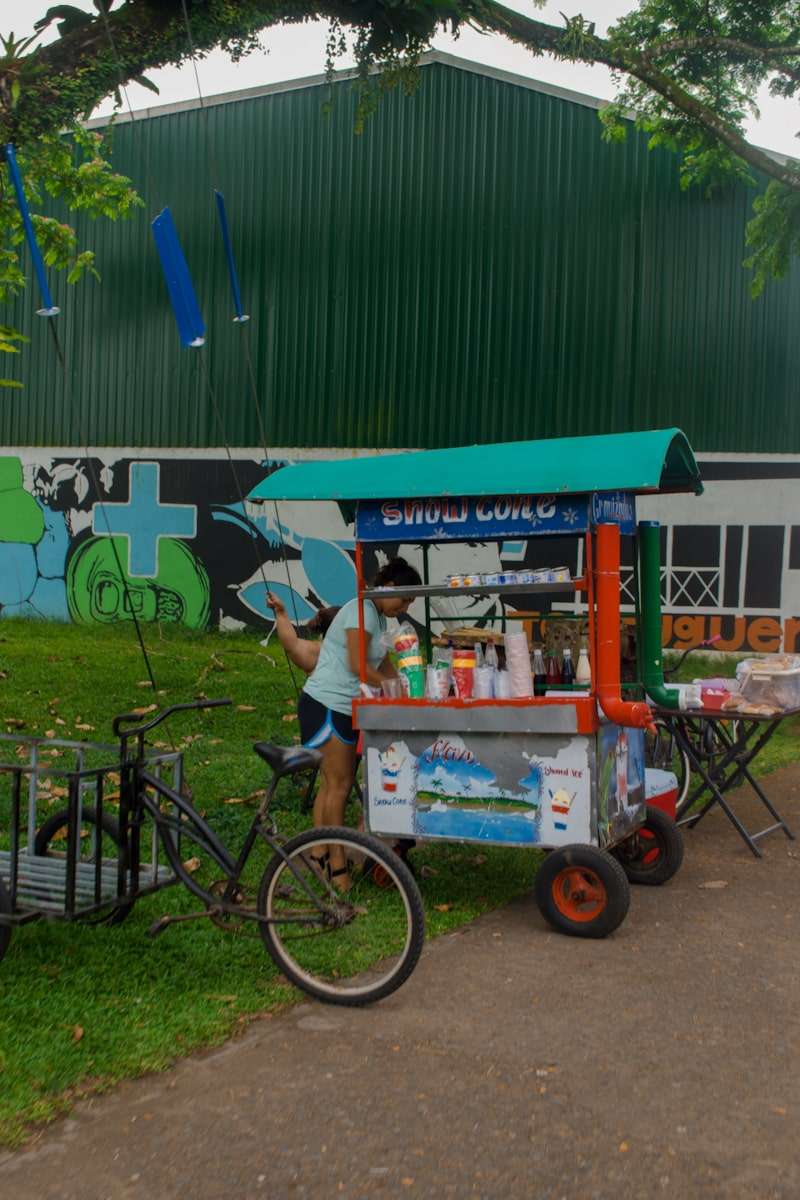 Have Dinner at the Floating Restaurant
Ever had dinner in a floating restaurant? No! Well now is your chance. One of the coolest things to do in Tortuguero is to have dinner at Katonga (the floating restaurant).
Katonga is part of a popular accommodation in Tortuguero called Mawamba Lodge. Thankfully to have dinner at Katonga you don't need to be a guest at the hotel. However, you must book a reservation with the restaurant, as you will need a boat taxi to escort you there and back.
Dinners range from approximately $20-$40 dollars and they offer up a set menu with chicken, beef and fish options.
Walk The Jaguar Trail
The Jaguar Trail begins just outside Tortuguero Village and adjacent to the beach. The trail takes you through the forest where you have the chance to see even more wildlife, such as monkeys and snakes. Whilst this trail is named after the jaguar, it's quite unlikely that you will see one. Jaguars are nocturnal animals and highly avoidant of human interaction.
If you decide to complete this trail I highly recommend walking through the forest and then making your way back to the village via a walk along the beach.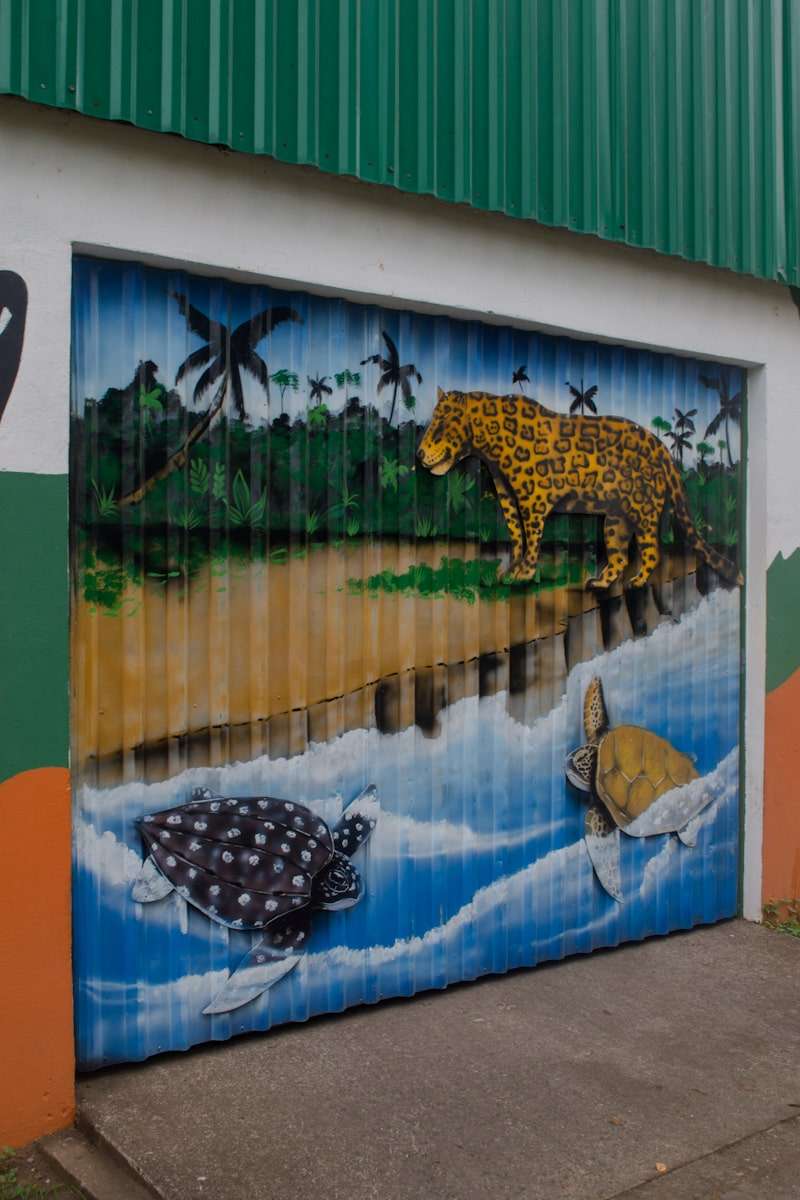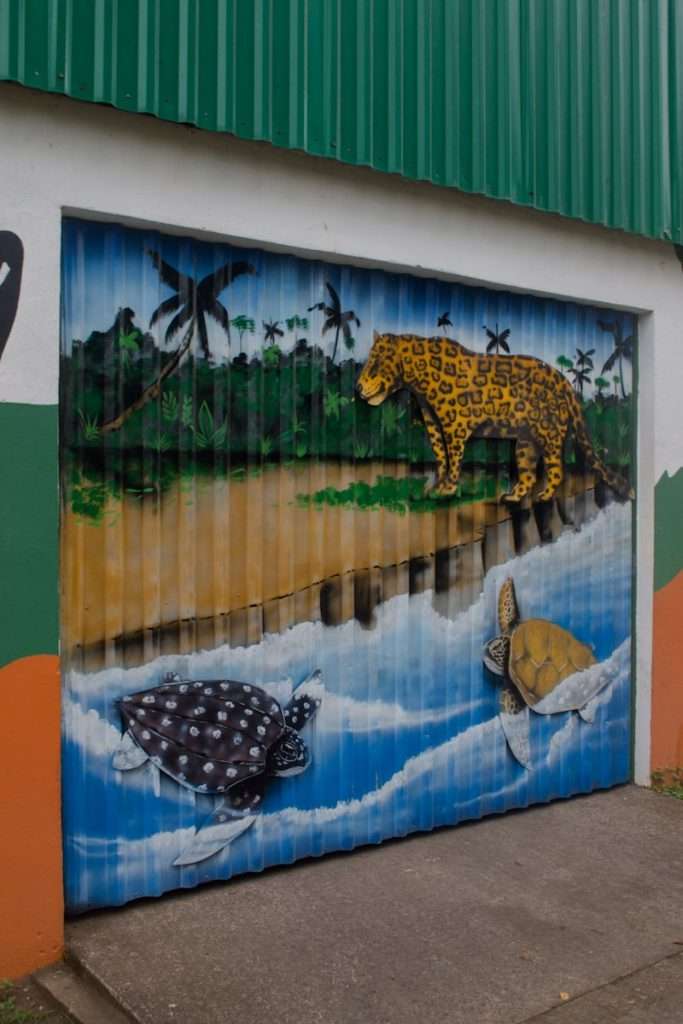 Go on a Canopy Tour
For those who are seeking that extra adrenaline rush, you can explore Tortuguero from above with a super fun canopy tour. Walk along 11 platforms, 4 suspension bridges, 7 cables, 1 scaling wall and a Tarzan swing.
Tours start from $45, last around 2 hours and is suitable for all the family.
Kayak Through the Riverways
Fancy rowing yourself through Tortuguero's waterways? Then why not opt for a Kayaking tour. Much like the Canoe tour, you'll be able to get up close and personal with some of Tortuguero's wonderful wildlife (and even more so in your kayak).
You'll join a small group of fellow kayakers and get guided through the river by yet another super-knowledgeable guide. The tour lasts approximately 3 hours and will cost around £38 ($45).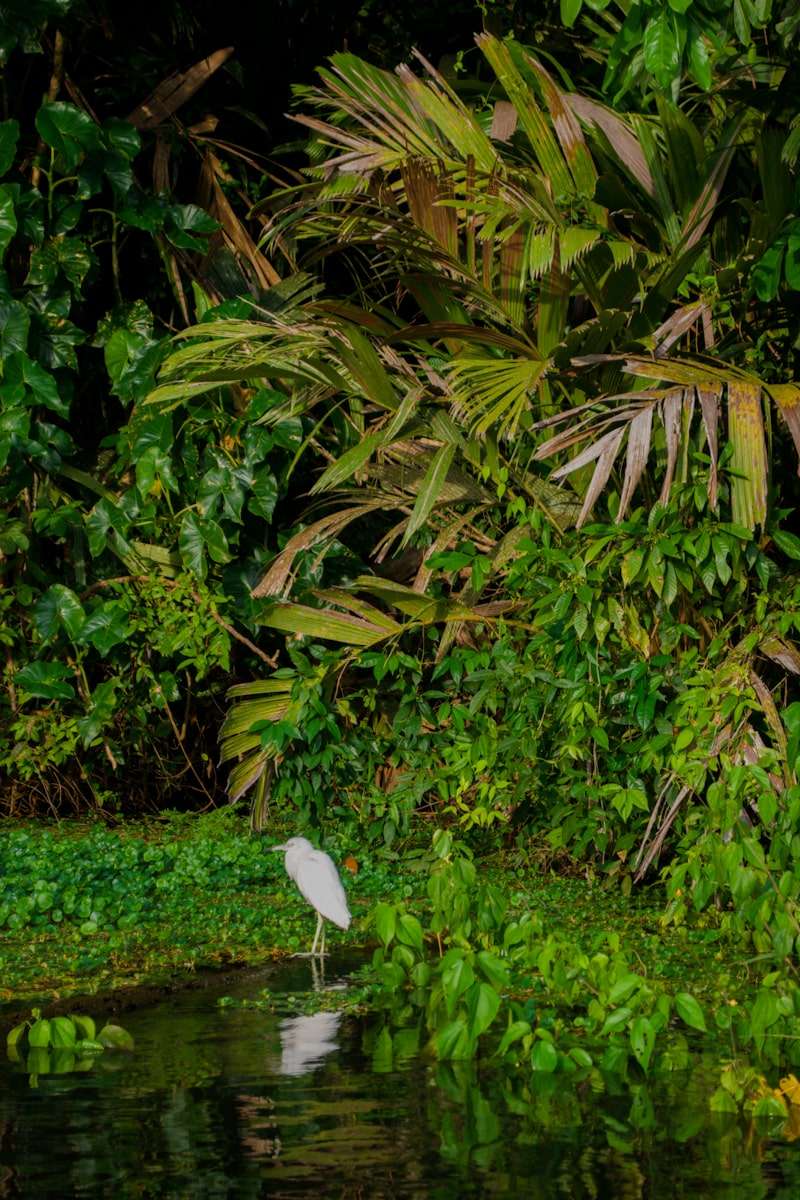 Hike the Sendero Cerro Tortuguero
Sendero Cerro Tortuguero is an extinct volcano and one of the only places of elevation on Costa Rica's Caribbean coast. Hike up to the top to see a stunning view of the riverways meeting the sea. Plus, It's also yet another opportunity to see some more of Tortuguero's wildlife (such as poison dart frogs and vipers) and thick green jungle.
You can hike Cerro Tortuguero as part of a guided tour (usually booked through your accommodation) or you can do this on your own. To get here you'll need to catch a 15-minute boat taxi from the main dock and it will drop you 100m from the start of the trail.
Thankfully the trail is short and not too difficult, which means its a hike suitable for those of all experience levels.
The trail is open from 8 am-4 pm and you will be charged a $2 entrance fee.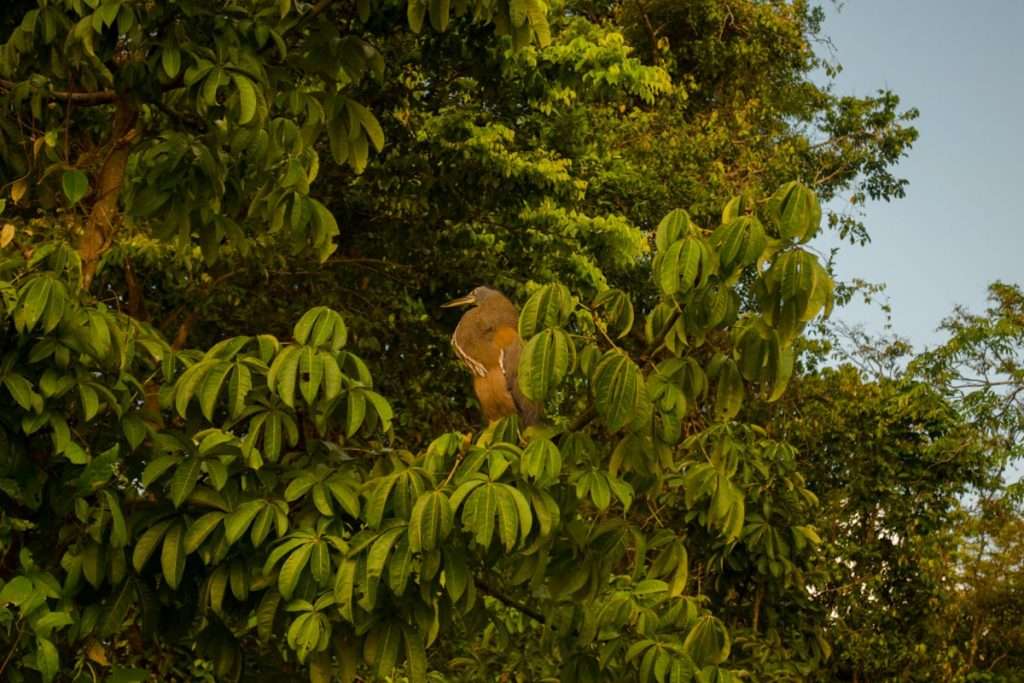 Happy Exploring
I hope you have a wonderful time exploring all that Tortuguero has to offer. If you want to know how to get to Tortuguero, check out my blog post here.

If you have any more questions about anything discussed in this blog post, please feel free to reach out! Looking for more Costa Rica inspiration? Check out my other Costa Rica guides.