Located on Costa Rica's Pacific coast, just a stones throw from the famous Manuel Antonio National Park, lies the sleepy surfer town of Dominical. Every year surfers and yoga enthusiasts flock to this small tropical town to ride the 7ft waves and get some much-needed R&R.
There are so many incredible things to do in Dominical, from learning to surfing, hiking waterfalls, eating delicious food and admiring stunning sunsets at the beach. Whether you are here for adventure, or simply want to chill, you certainly won't be short of things to do in Dominical. You are guaranteed to have the most wonderful time in this laid-back and welcoming town.
After an incredible 2-week trip in Costa Rica, Dominical made it very near to the top of the list of my favourite places in all of Costa Rica (coming in a close second to Puerto Viejo).
So, what are the best things to do in Dominical? Read on below to find out!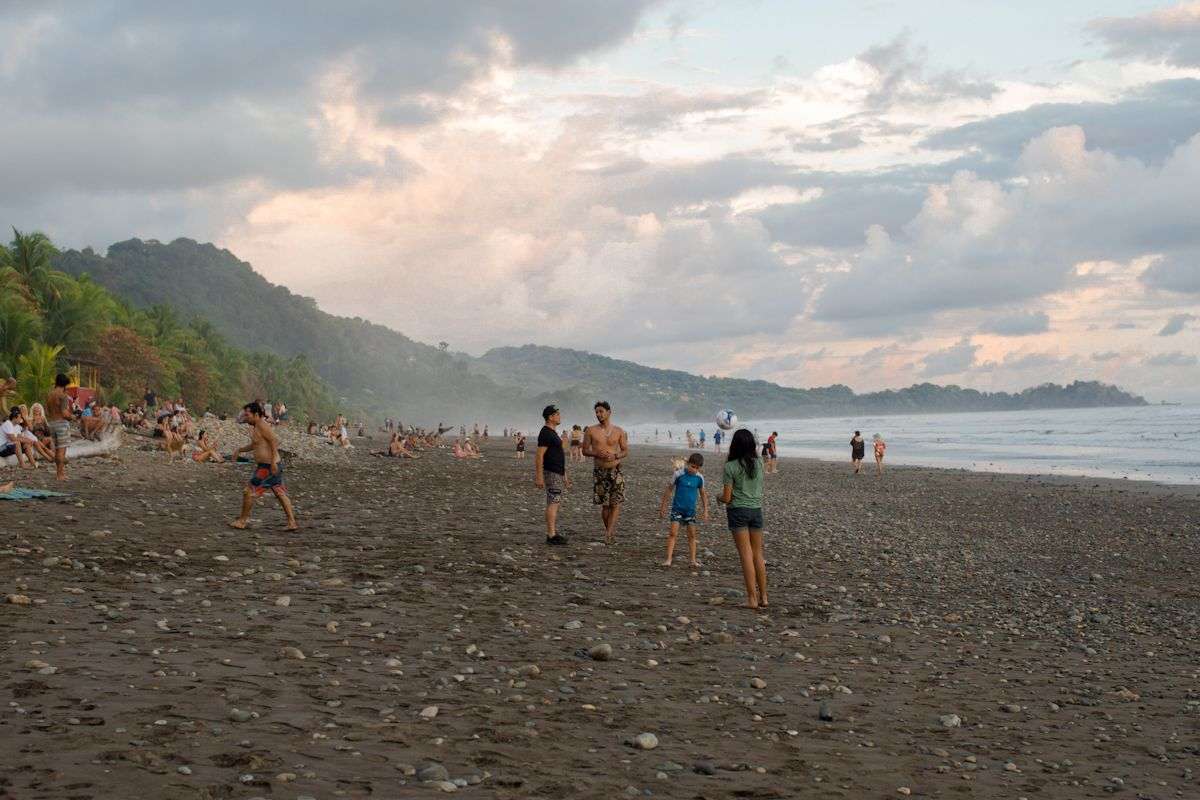 Disclaimer: This post contains affiliate links. If you decide to make a verified purchase through the links in this post I will earn a small commission. This will be at no extra cost to you. Thank you
Go Surfing or take a surf lesson
It would be criminal to come to Dominical and not try your hand at surfing (if you're not already a pro that is). After all, surfing is one of the top things to do in Dominical. Dominical Surf School offer personalised surf lessons for all levels. So, if you are a complete novice or just want to get some more practice, Dominical Surf School has got you covered.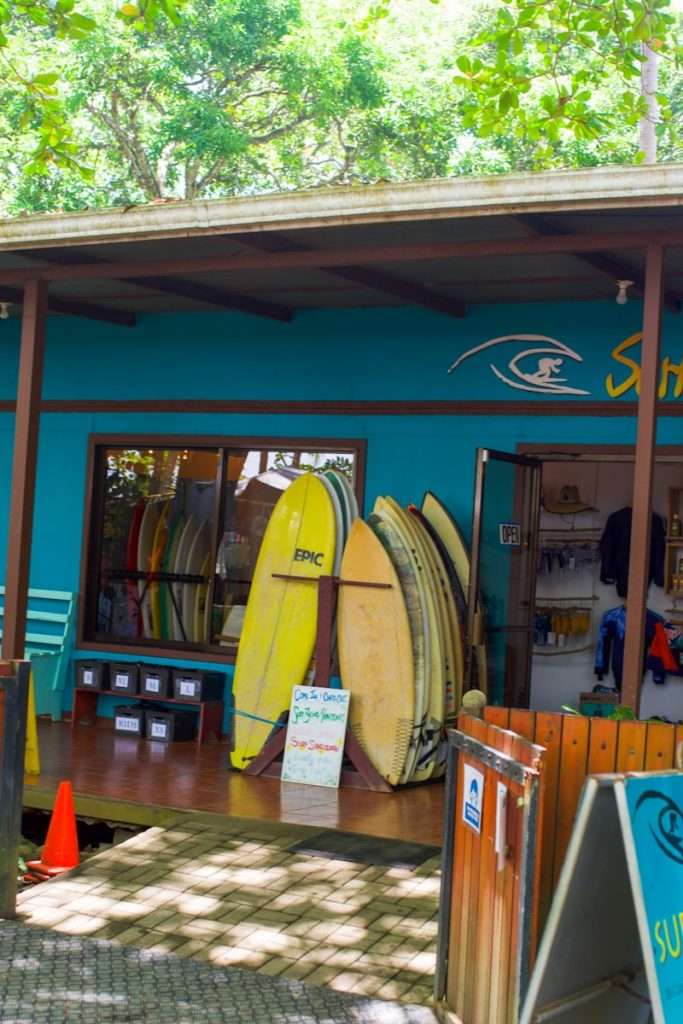 Hike to Nauyaca Waterfall
Nauyaca Waterfall is one of the most famous and popular in all of Costa Rica, for good reason. Nauyaca serves as a tropical oasis in the midst of the lush green and very hot Costa Rican Rainforest. Water cascades down the upper and lower falls (both of which you can climb to) into a large emerald blue pool. A dip into the crisp and refreshing water is just what you'll need after the 1.5-hour hike it takes to get there (but don't worry, the trail is fairly easy).
Nauyaca is only a 20-minute drive from town and is one of the most highly rated things to do in Dominical.
Day trip to Cano Island
60 km off the coast of Dominical lies the rugged paradise of Cano Island. Praised as the 2nd best snorkelling and diving site in Costa Rica, you can expect to see endless schools of rainbow coloured, fish, dolphins and maybe even some harmless reef sharks (if you're lucky).

To get to Cano Island you'll have to make the 20-minute Journey from Dominical to Uvita, where the boats depart. I can highly recommend booking a tour with Bahia Adventures, we had such a great experience with them on the half-day Cano Island snorkelling tour. We got to see a diverse group of stunning marine life, were well fed and learnt a ton of interesting facts about the area from our guides.
Phat Noodle
One of the best things to do in Dominical is to grab a bite to eat from the popular Phat Noodle restaurant. The quaint, shabby-chic setting makes for perfect chilled dinner vibes. You can expect to order a scrumptious array of Asian and Asian fusion delights, with huge portions to match. The food here is SO GOOD, we came back twice. Do not skip a dinner date with a Phat Noodle.
Go to a Yoga Class
As I mentioned earlier, Dominical is super popular with Yoga lovers as well as surfers. If you're not an expert yogi but still want to give it to go, the best yoga studio in Dominical Danyasa Yoga Retreat. Danyasa offers 2 yoga classes a day, plus ecstatic dance and cacao ceremonies. They also regularly hold week-long retreats if you truly want to immerse yourself in the yoga experience.
Playa Matapalo
Just a 15-minute drive from Dominical lies the tranquil Playa Matapalo (also known as Playa Linda). This beach is a true hidden gem, which means you'll find that you're one of the only people there. Playa Matapalo is an amazing Sloth watching spot. Within 5 minutes of my arrival there I saw two in the trees. The best part of all was being able to see the sloths awake, climbing across the trees rather than in their usual sleepy state.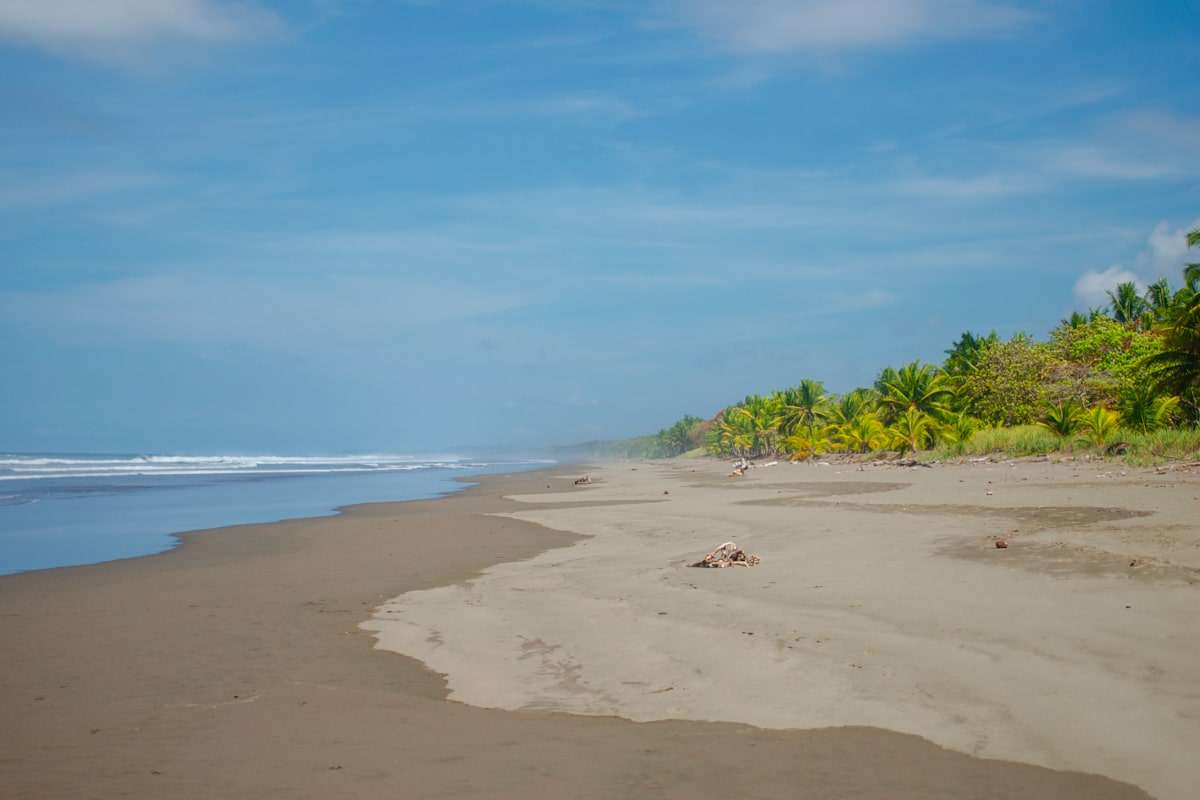 Try Patacones at Fuego Brewing Co
Fuego Brewing Co was probably my favourite restaurant in all of Dominical. They serve up a diverse menu of Latin fusion foods. As you've probably already guessed my favourite dish was the patacones (fried plantains) served up with the most delicious refried beans. I urge you to give it a try.
If you're wondering why "brewing" is in the name, Fuego Brewing company is actually a craft beer brewery first and a restaurant second. They pride themselves on have "the best craft beer in Costa Rica" so be sure to give some of their beers ago (I recommend the pale mango ale)
If that wasn't enough, Fuego also has an onsite cafe, making it the perfect place to get a grab'n'go coffee in the morning before a day of adventures.
We visited Feugo's twice in our 3-day stay so you could say eating here was one of our favourite things to do in Dominical
Playa Dominical
Spend your day lazing close to the shores of Dominical's main beach, Playa Dominical. Grab a book, set your beach towel down in the shade, grab a beer from the nearby beach bar and enjoy the chill time. A visit to this beach is one of the most popular things to do in Dominical.
NOTE: Dominical can get extremely hot and the sun is very strong. Make sure you spend time in the shade and top up on the sun cream.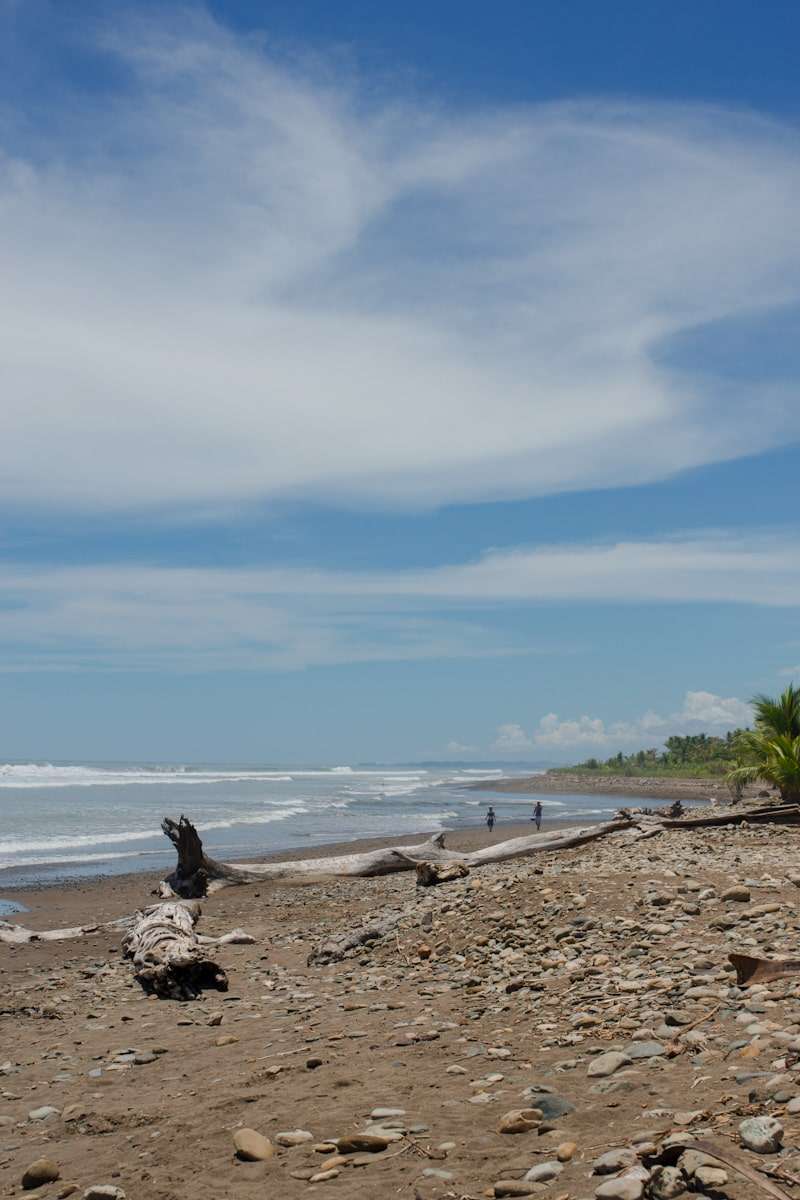 Cafe Mono Congo
On the banks of the Baru river lies Cafe Mono Congo. The cafe is a super popular breakfast, brunch and lunch spot in Dominical. You'll often see long queues of customers at the counter waiting to get a taste of their delicious grub. Think fresh fruit smoothies, granola bowls, breakfast tacos and strong coffee that packs a punch. If you can, try to get to Cafe Mono Congo early and grab the best seats in that house, overlooking the Baru River.
Kayaking down Baru River
Fancy doing something a little different? Why not Kayak or paddleboard through the majestic Rio Baru River with or through the Mangroves of Matapalo? If you're lucky you might be able to spot one or two sloths and monkeys hanging between the trees. One of the top-rated tour companies in Dominical for these activities is Pinapple Tours. Pineapple Tours runs their excursions from December – June (during the dry season) and tours run depending on the tides.
Watch the sunset on the beach
Watching the sunset at the beach was probably one of my favourite things to do in Dominical. Everyone from town heads down to Playa Dominical about an hour before sunset to chill on the sand with a few drinks whilst they wait for the sun to dip below the horizon. What I loved about the sunset moments in Dominical was watching how happy everyone was. From the solo traveller to the surfer in the sea, you could tell that everyone was present and in the moment and enjoying life.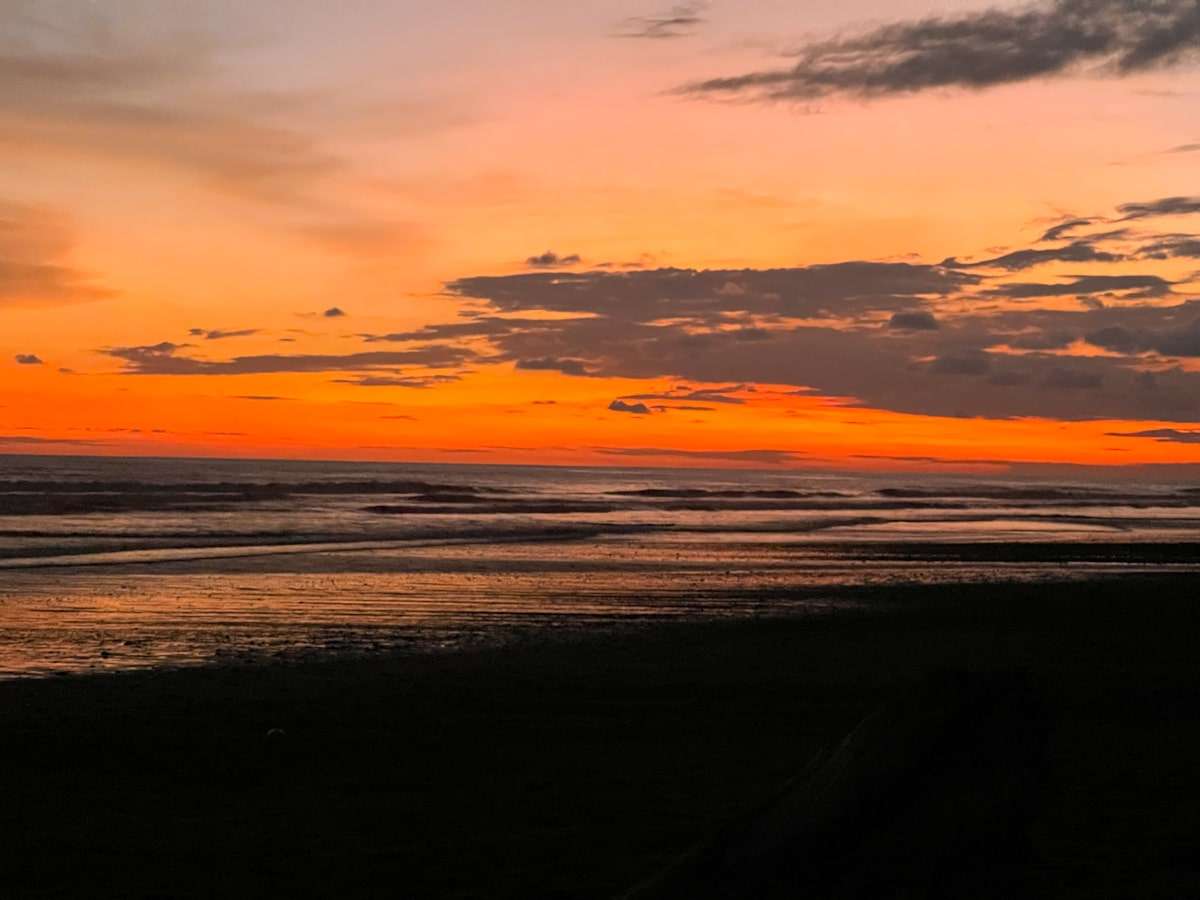 Grab a bite to eat at Shash'uka
Enjoy dinner at the shabby-chic Shak'shuka. As you have probably guessed from the name Shak'shuka serves up Morrocan delights as well as traditional Latin dishes, and to-die-for cocktails. Their breakfast menu is one of the most highly rated in Dominical.
Relax at the Spa
After a hard day of exploring you'll definitely deserve some R&R. So why not indulge in a spa treatment at the Alegra Soul Spa? Massages start at $40 (US) and other treatments such as body wraps start at $50 (US).
Day Trip to Uvita and Whale Watching tour
Just a 20-minute drive from Dominical lies the small province of Uvita, and the famous Parque Nacional Marino Ballena. Every year tourists flock to the national park to grab a glimpse of the impressive 'whale tail' beach. The whale tail occurs during low tide, revealing the tail like the formation of sand and rocks.
Not only is Uvita famous to the whale tail beach, but for real-life whales too!. If you go during the migration season (December – April and July-November) you will be able to catch sight of one of the thousands of majestic humpback whales who pass through this area in search for warmer waters.
Playa Dominicalito
Playa Dominicalito is Playa Dominical's cooler, younger brother. It's just a few short minutes in the car or a 40-minute walk. Playa Dominicalito is a great option for those craving a quieter alternative to Playa Dominical. Unfortunately, there are no restaurants near this beach, so you'll either have to head back to Dominical town or pack a cooler box full of snacks and drinks so that you can settle down for the day.
Happy Exploring
I hope you have a wonderful time exploring all that Dominical has to offer. If you have any more questions about anything discussed in this blog post, please feel free to reach out!
Looking for a place to stay in Dominical? Why don't you check out my review of the Tribe Boutique Hotel?