Looking to find out all about a Komodo Island Day Trip? You're in the right place!
With its real-life Komodo Dragons, Barbie-pink beaches, jaw-dropping viewpoints and whale sharks galore. Komodo Island National Park sounds like something out of a fantasy novel. Nevertheless, I can assure you that this stunning Indonesian national park doesn't just exist in mere fantasy but in real life too.
It's not only the landscapes that are out-of-this-world. There's plenty more natural beauty to be discovered below sea level too. Komodo Island National Park has been regularly voted as one of the best diving spots in Indonesia and also one of the best diving locations on the planet! With dolphins, whale sharks, manta rays, turtles and a whole host of colourful fish, it really is a scuba-diver haven.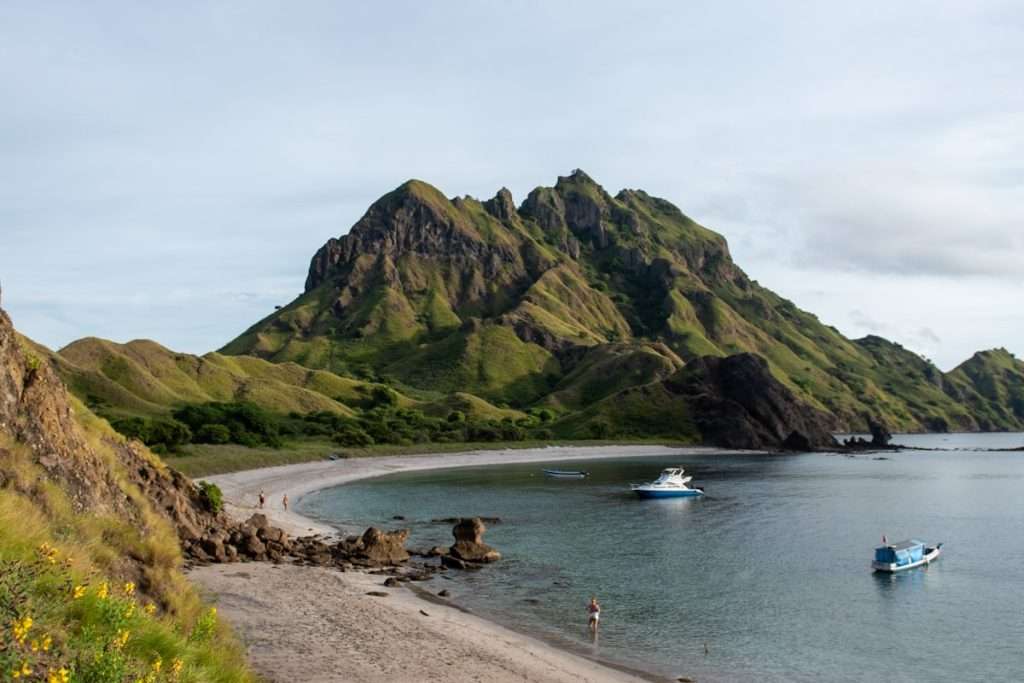 After visiting 54 countries and many national parks, I can safely say that Komodo Island National Park is one of the most awe-inspiring places I have ever visited in my life. And, my Komodo Island day trip is not one I'll be forgetting anytime soon.
Since experiencing my one-day trip to Komodo Island National Park, I have not stopped talking about it to everyone I meet, encouraging them to add this majestic place to their bucket list. I hope this post convinces you to do the same.
So, what do you need to know about a Komodo Island Day Trip? Read on below to find out!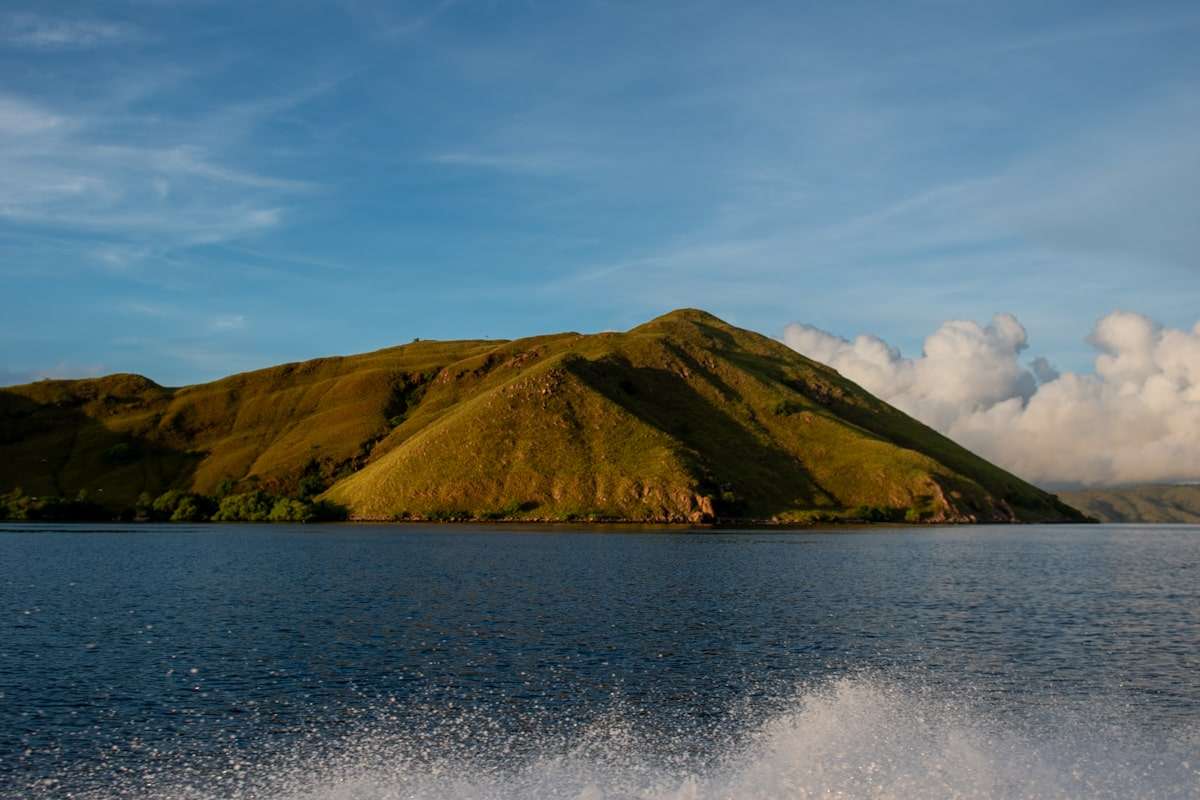 Disclaimer: This post contains affiliate links. If you decide to make a verified purchase through the links in this post I will earn a small commission. This will be at no extra cost to you. Thank you 🙂
Komodo Island Day Trip VS 4 Day Live-aboard Trip
There are two types of tours you can do when visiting Komodo National Park. The first (and most popular) option is a 3-4 day live-aboard boat trip. Here, you will sail around the islands, explore several new spots each day and interact with lots of marine life along the way. The second option is a Komodo Island day trip where you will get to see the top highlights of Komodo National Park across a 10/11-hour period.
Usually, the biggest influence in deciding what type of tour to book comes down to two things: time and money. Whilst, yes, you will get to see and do a whole lot more on a 3-4 day live-aboard boat trip than you would on a day trip. However, it is significantly more expensive and time-consuming.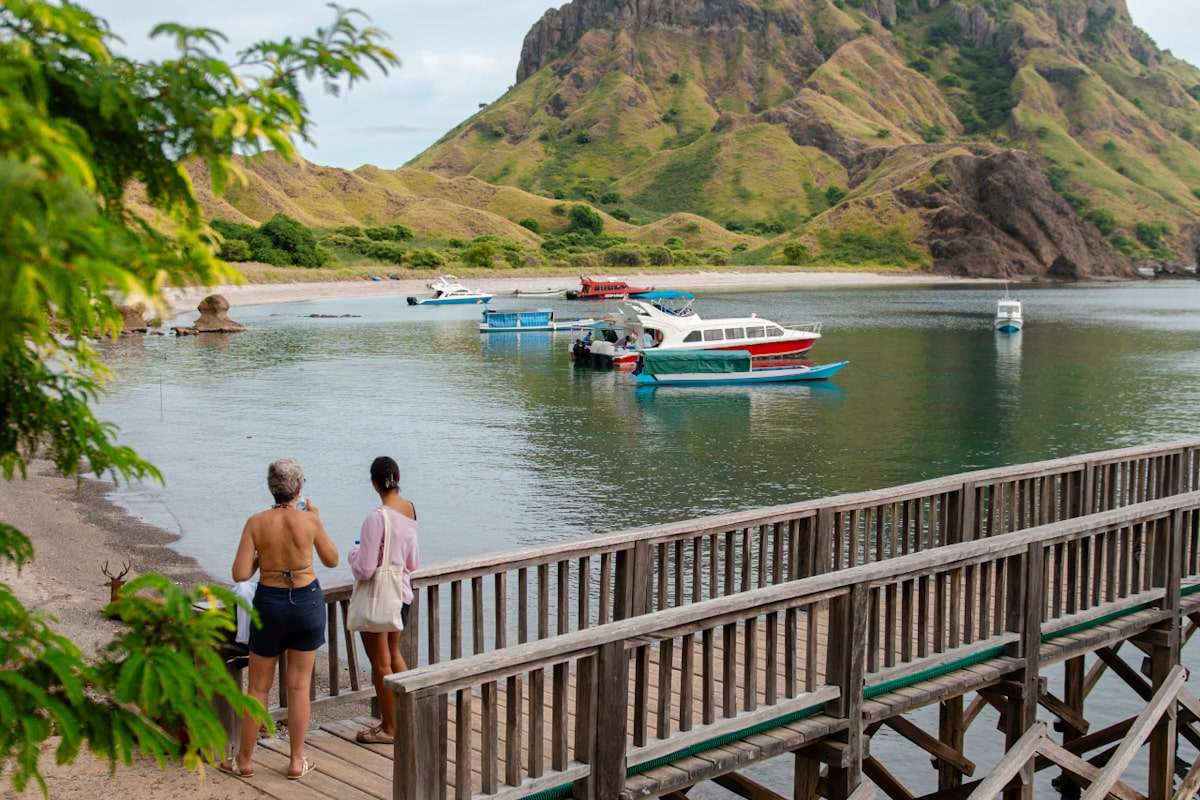 I think a Komodo Island day trip is better suited for someone either on a tight budget or short on time (or both). I made the decision to book onto a Komodo Island day trip simply because I didn't have enough time, as I was only in the region for the weekend.
What I will say is that I've never once felt like I've "missed out" by choosing to do a Komodo Island day trip over the live-aboard experience as I still got to see all of the places that I had dreamt about seeing for a very long time. I left the Komodo Island day trip with a very happy heart and another item ticked off the bucket list.
Where do I need to be to start the Komodo Island day trip?
In order to go on a Komodo Island day trip you'll need to be on the island of Labuan Bajo. Labuan Bajo is approximately a 1-hour flight from Bali and 2.5 hours from Jakarta with regular daily flights.
Once in Labuan Bajo, I'd highly recommend staying at a hotel/hostel called Seaesta Komodo. It's reasonably priced with both dorms and private rooms and is conveniently located close to the port. It also has a rooftop pool and onsite bar and restaurant.
Who to book a Komodo Island Day Trip with?
When deciding who to book a Komodo Island Day Trip with, it's super important to look at both the itinerary and the reviews. Are they taking you to all the top spots in Komodo National Park and are the guests raving about the experience?
After careful consideration looking at both itineraries and reviews, I decided to book with a company called Bintang Komodo Tours through Viator. I had such an incredible experience with them, everything was perfect from start to finish and I genuinely cannot recommend them enough.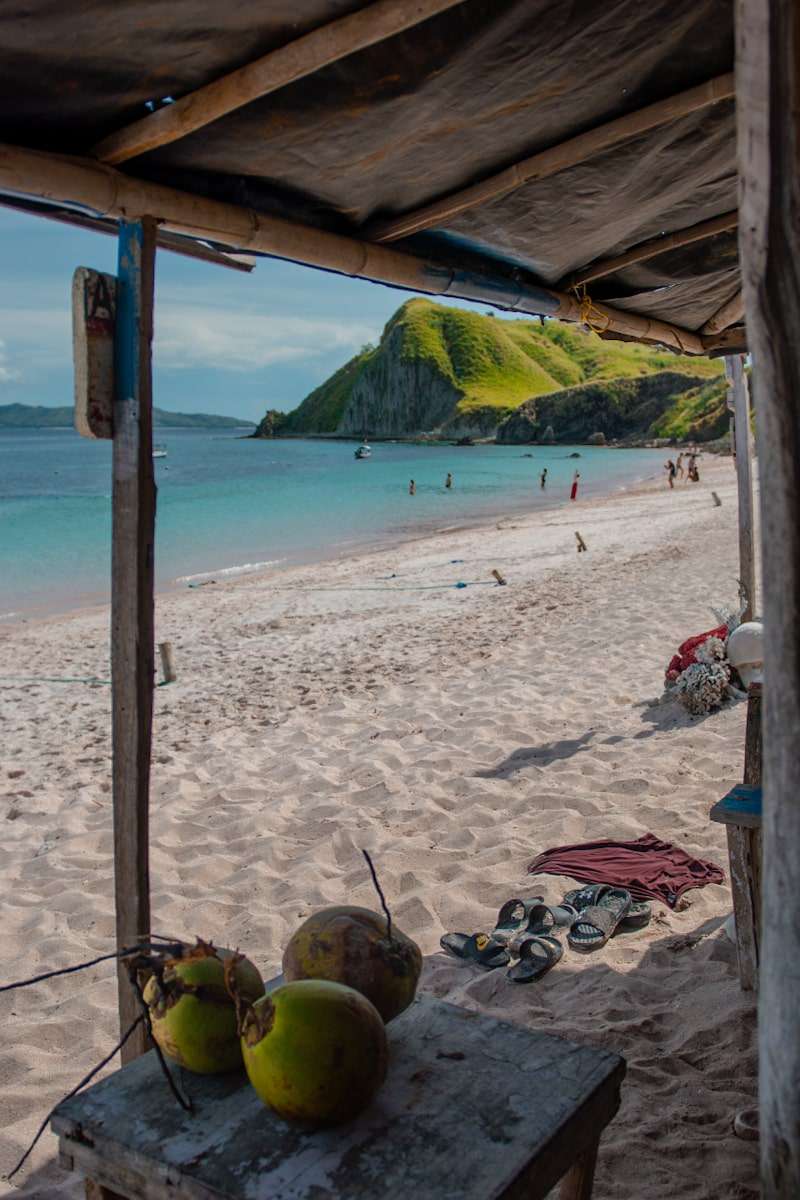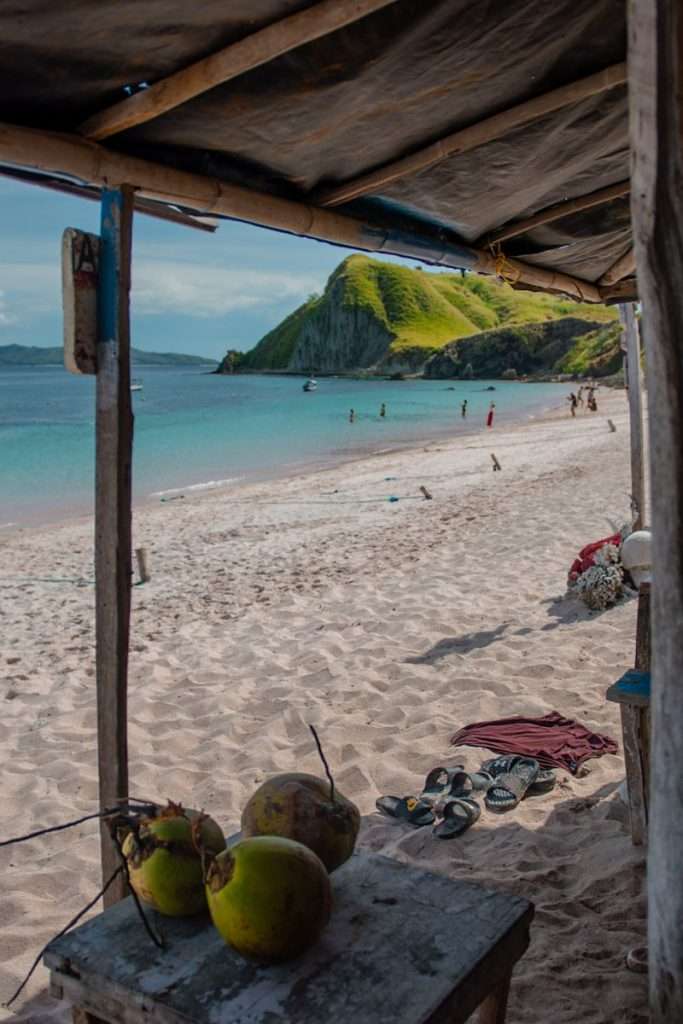 What I loved most about Bintang Komodo Tours is not only how friendly and knowledgeable the tour guides are, but also how well-planned the itinerary is. I never once felt rushed to leave a stop, and felt like we had a really good amount of time in each place.

On top of this, Bintang Komodo Tours is super accommodating to solo travellers. The guide constantly checked up on me and even offered to be my personal photographer at each stop.
By the way, this is not a sponsored post, just a positive review from one very happy customer!
How much is the Komodo Island day trip with Bintang Komodo Tours?
The cost of the Komodo Island day trip with Bintang Komodo Tours is £114 or $145.
What's included in the price with Bintang Komodo Tours?
The price of the Komodo Island day trip includes transport, lunch and water/soft drinks.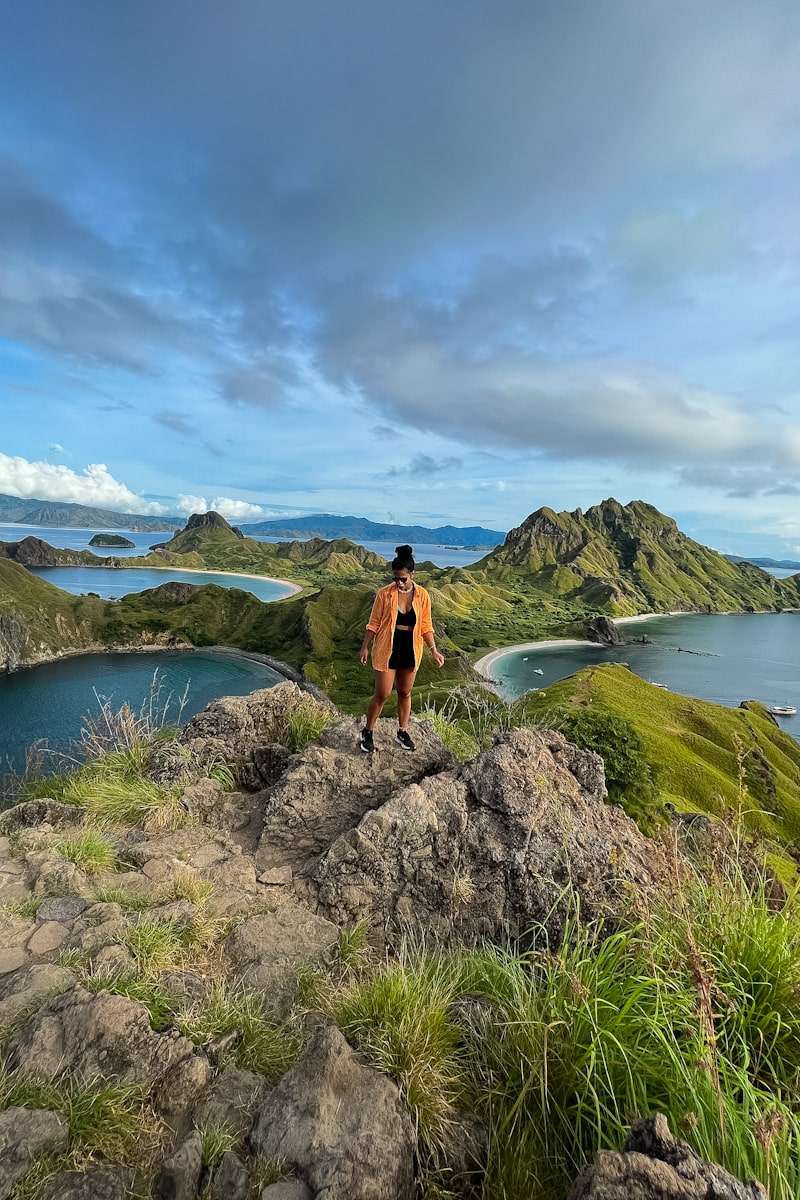 Do I have to pay any additional fees with Bintang Komodo Tours?
Yes. On top of the cost of the trip, you will also have to pay a fee for visiting Padar and Komodo islands, a government tax and a snorkelling fee which is 450,000 IDR per person (£24/$30).

If you wish to fly a drone in Komodo National Park you must purchase a flight licence at the National Park Office in Labuan Bajo 3 days prior to the start of your trip. The cost of the licence is 1,000,000 IDR (£52/£66).
What's included in the itinerary with Bintang Komodo Tours?
The below is included on the Komodo Island day trip with Bintang Komodo Tours:
Padar Island Trekking
Pink Beach Snorkeling 1 hour
Komodo Island Trekking
Taka Makassar Island Snorkeling
Manta Point Snorkelling ​
Kanawa Island Snorkelling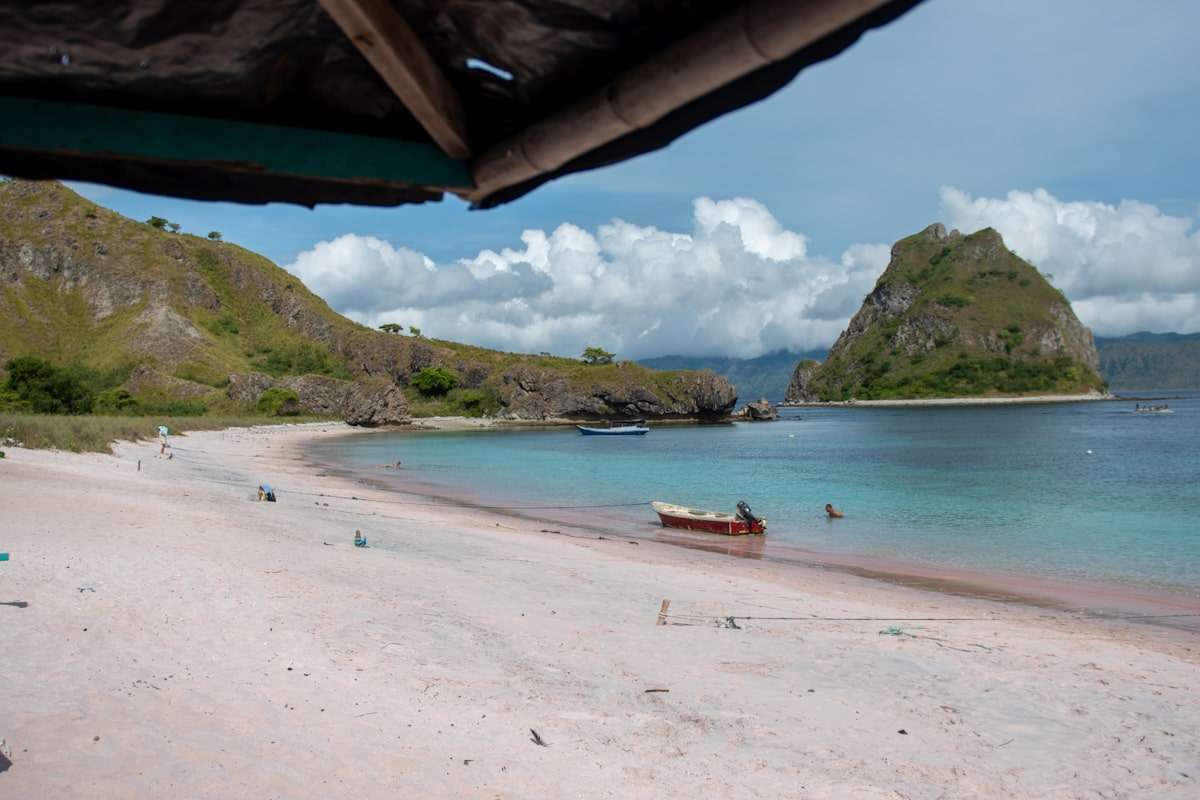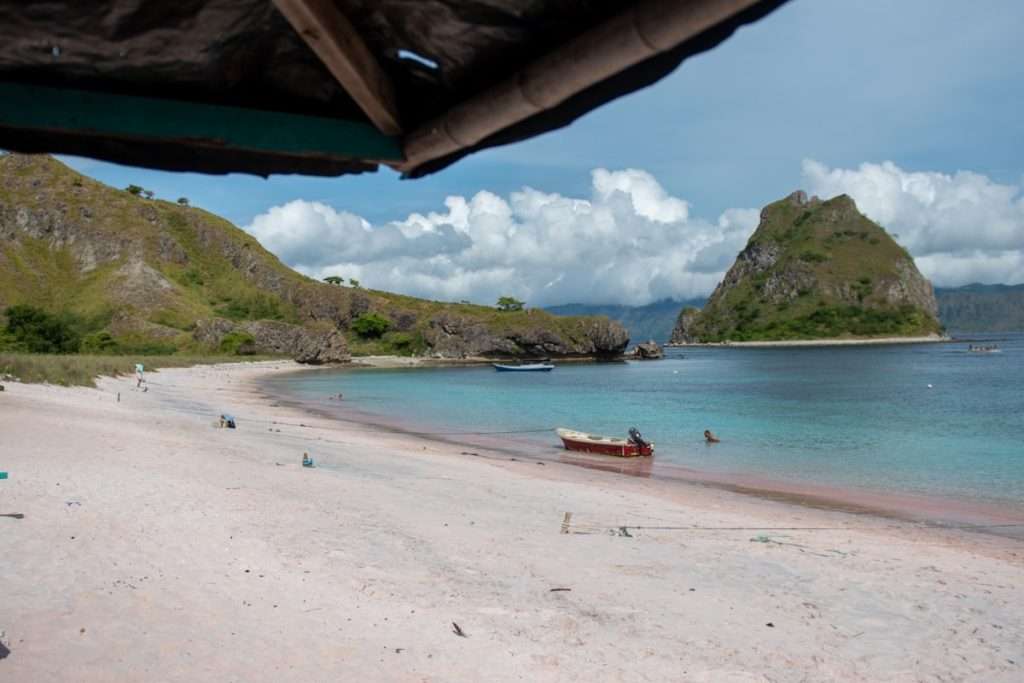 What to Expect on a Komodo Island Day Trip
Pick Up
You'll be getting an early wake-up call to begin your Komodo Island day trip. Your tour guides will pick you up between 5-5:45 a.m. (depending on where your hotel is in Labuan Bajo).
Once all members of the tour group have been picked up you'll then head down to the port and jump onto the boat. The tour guide will give you a quick briefing and also collect the 450,000 IDR fee for visiting Padar/Komodo islands, the government tax and the snorkelling fee.
You'll then speed off to the first stop (Padar Island) and be able to watch the sunrise along the way. The journey to Padar Island is roughly 1 hour.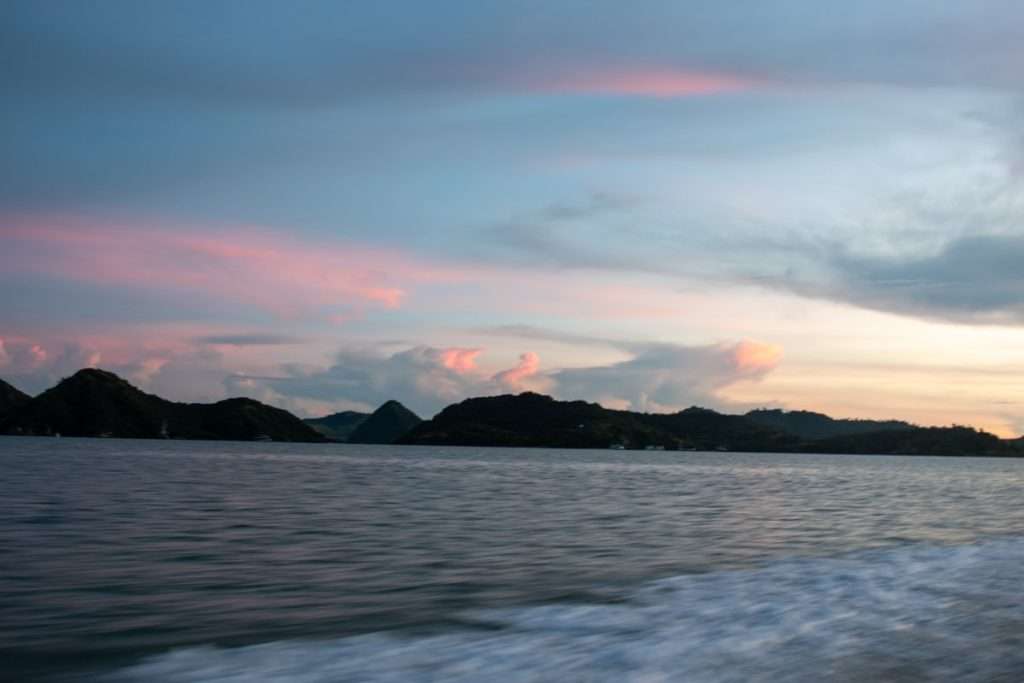 Stop 1 – Padar Island (1.5-2 hours)
Once you have arrived at Padar Island your guide will let you know what time they need you back at the boat (you'll have approximately 1.5-2 hours) and then give you the freedom to hike up to the viewpoint at your own pace.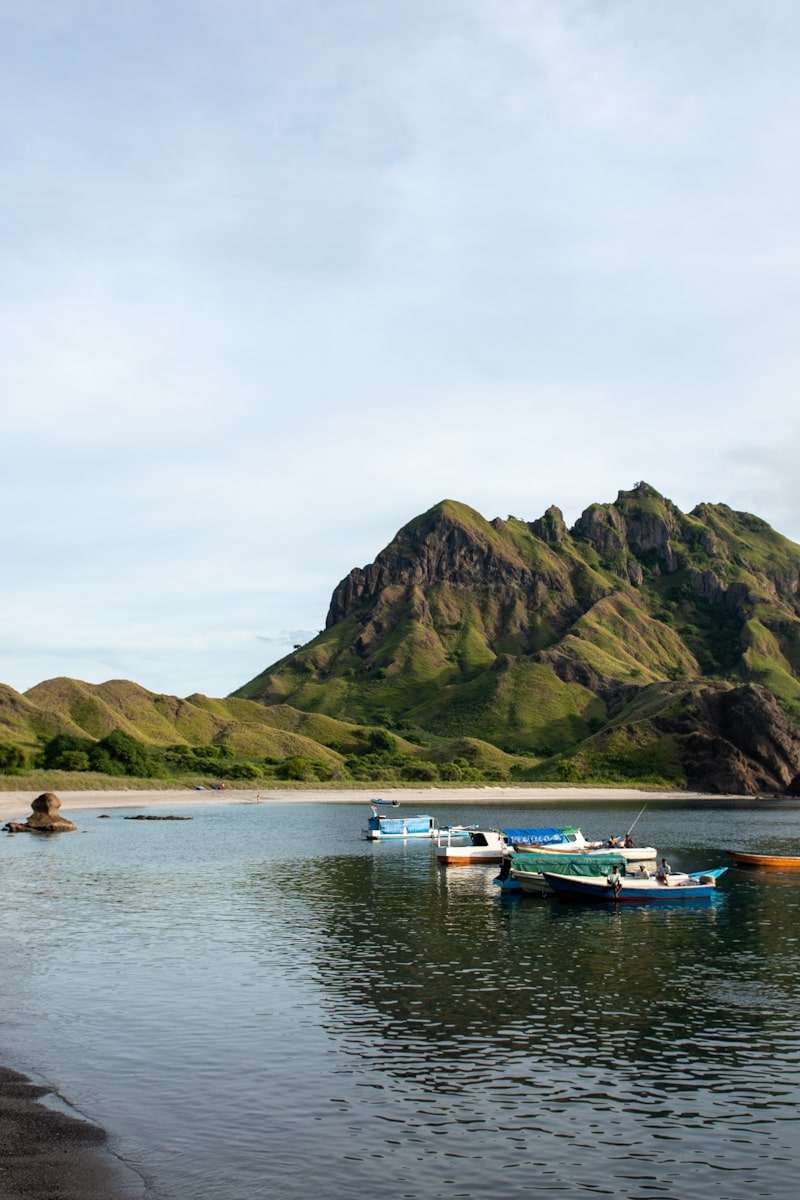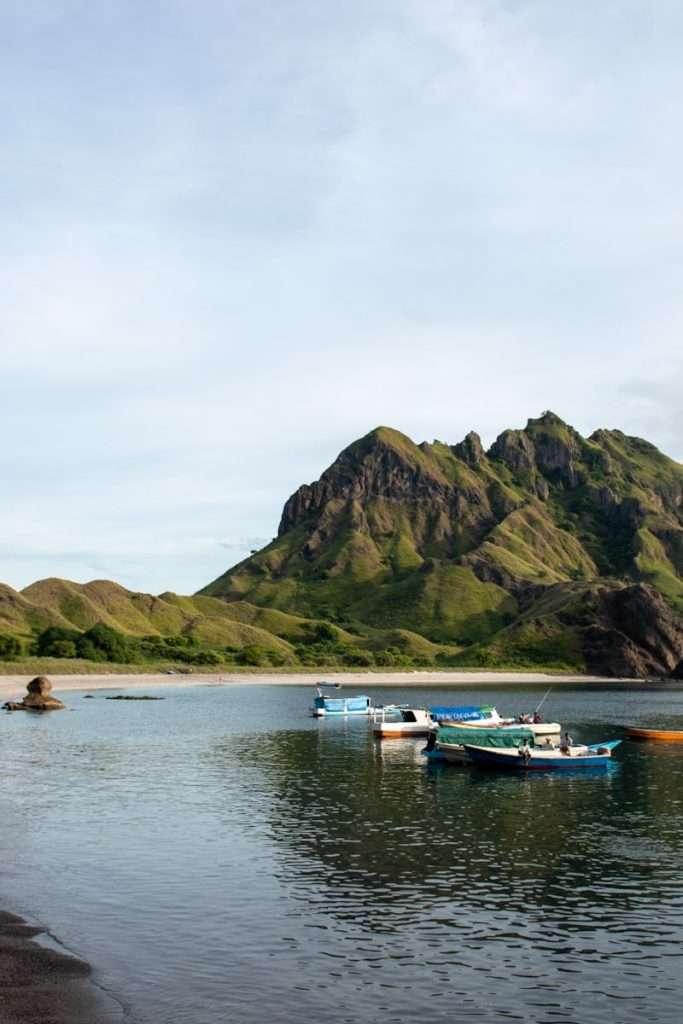 The hike up to the viewpoint is around 20-30 mins. It's a fairly steep uphill climb but is over fairly quickly, and it really is worth the hike. It's one of the most stunning viewpoints you'll ever see and you will most likely spend a lot of time taking in the view as well as lots of pictures.
Please note there will be lots of other tourists here from different boat trips. However, you will arrive at a really good time. Most of the people already on Padar Island are there to watch the sunrise from the viewpoint. So by the time your boat arrives, a lot of the tourists will already be on their way back down to head to their next destination.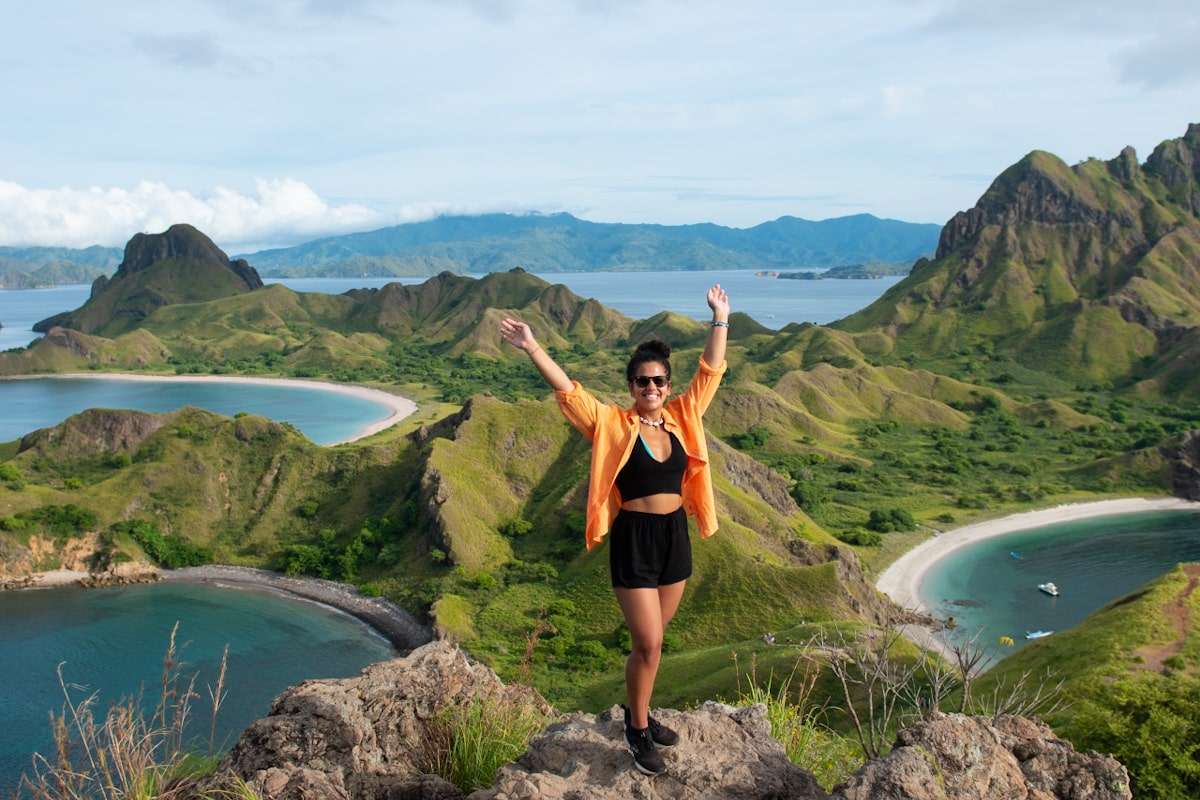 Stop 2 – Pink Beach (1 hour)
After a couple of incredible hours at Padar Island you'll head to the next stop (and my personal favourite) Pink Beach.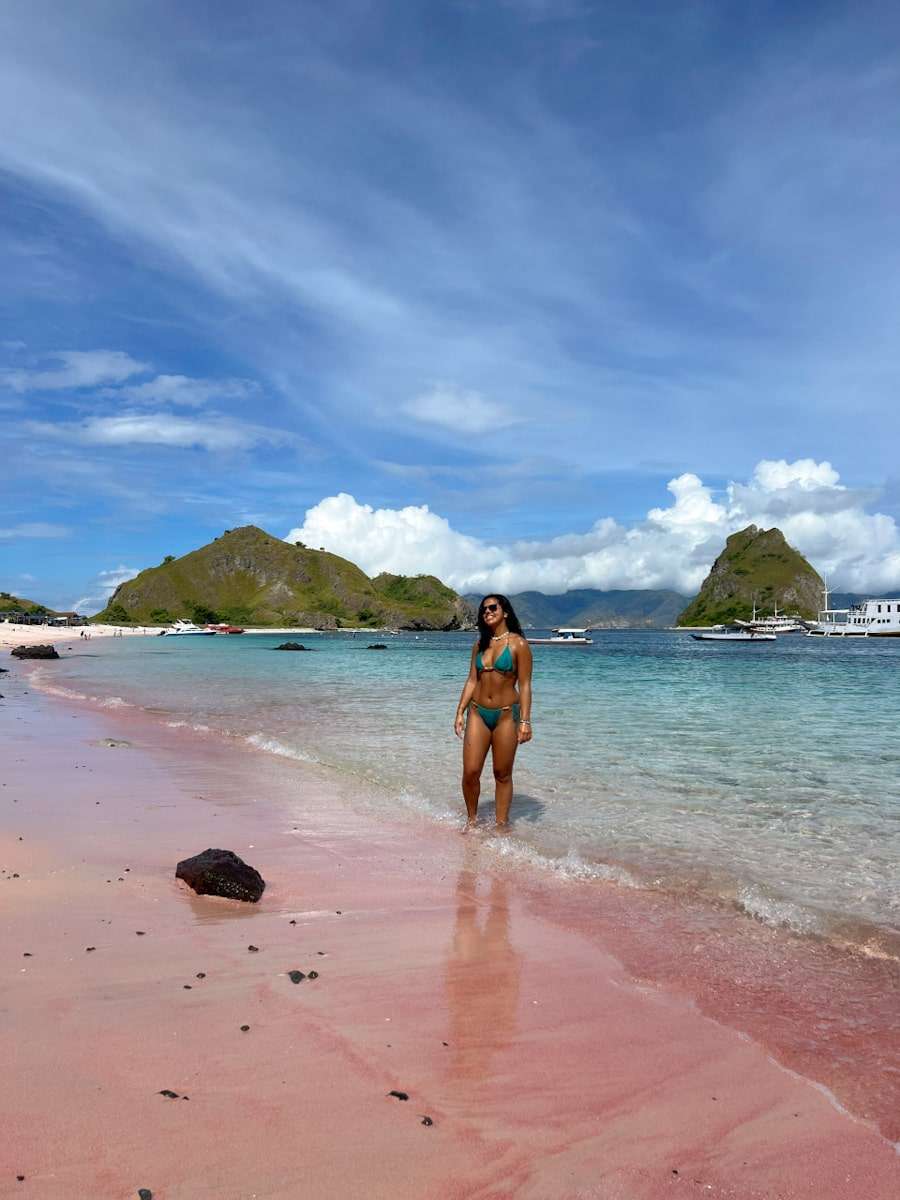 I'd seen pictures of Pink Beach on social media and honestly, I thought all of the images had been heavily edited to make the beach look pinker than it was. Mostly because I have been to "pink" beaches before and they didn't look pink at all.
Anyway, to my pleasant surprise, upon arriving at Pink Beach I could see that it was genuinely as pink as I had seen in the pictures. I was totally gobsmacked at just how beautiful it is.
The beach gets its colour from calcium carbonate materials left behind by foraminifera as well as thousands of broken coral pieces and shells.
Pink Beach has a small beach bar where you can leave your belongings and purchase a fresh coconut.
Visiting Pink Beach was my highlight of the Komodo Island Day Trip.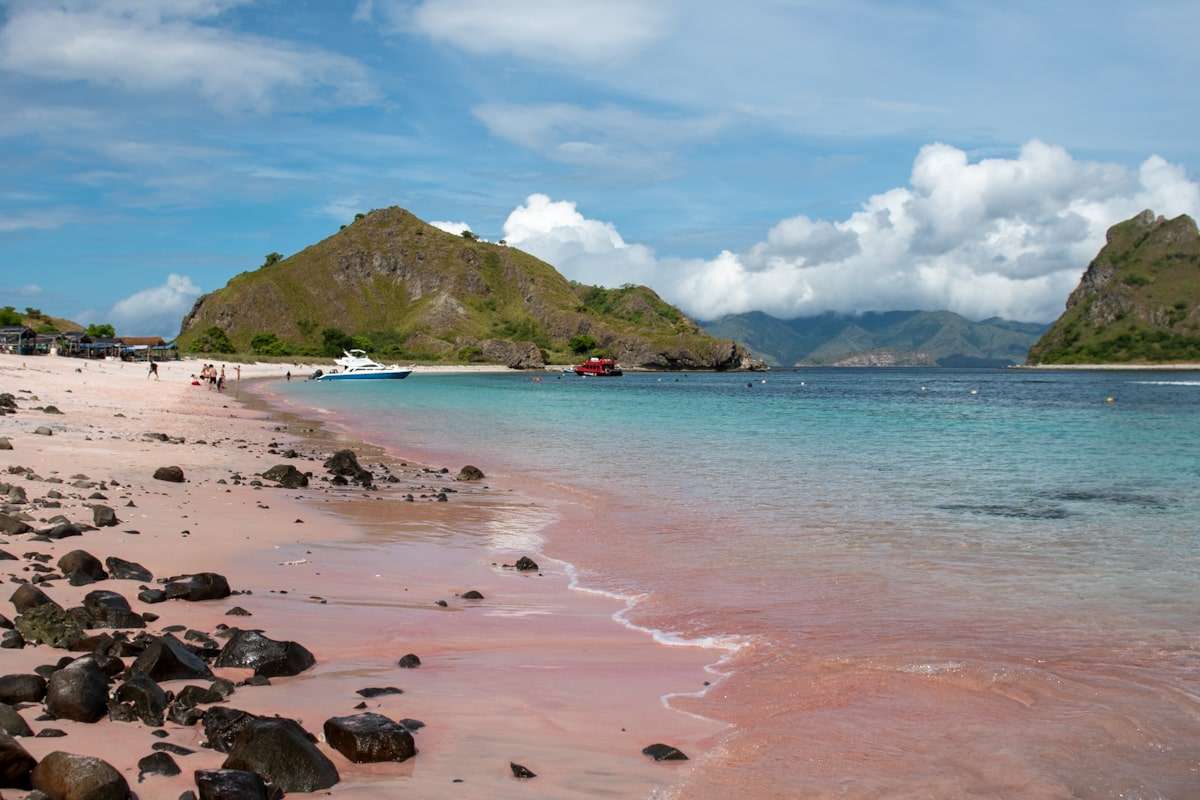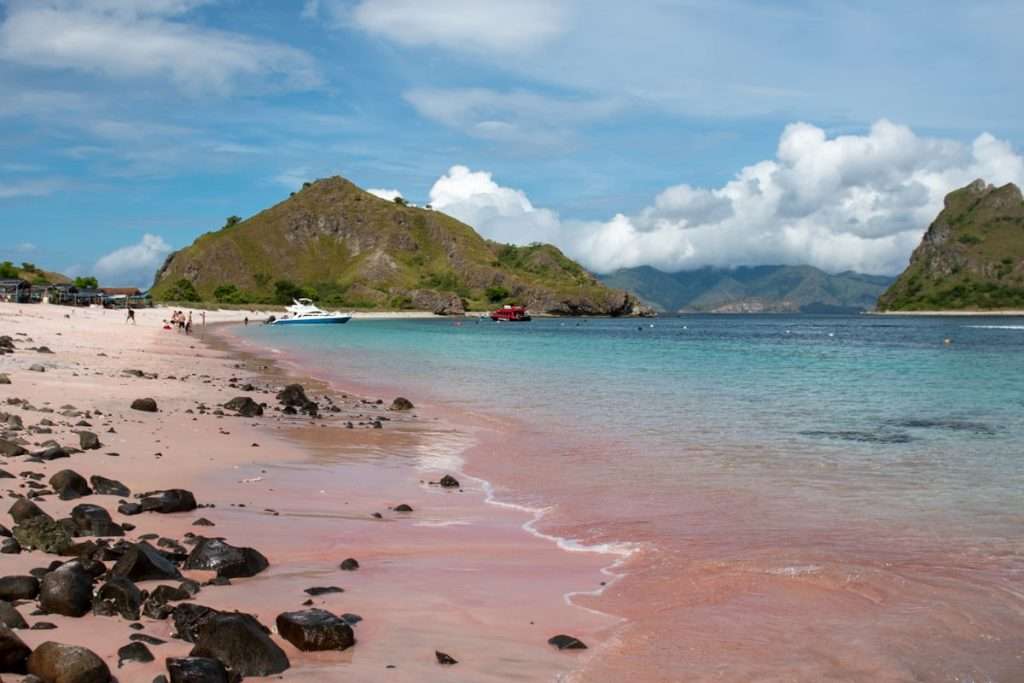 Stop 3 – Komodo Island and Lunch (2 hours)
After Pink Beach, you'll head over to Komodo Island and get to see those famous dragons that this National Park has been named after.
Once you arrive on the island you will be met by some guides who will give you a safety briefing, some information about the island and important tips on how to behave/react around the dragons.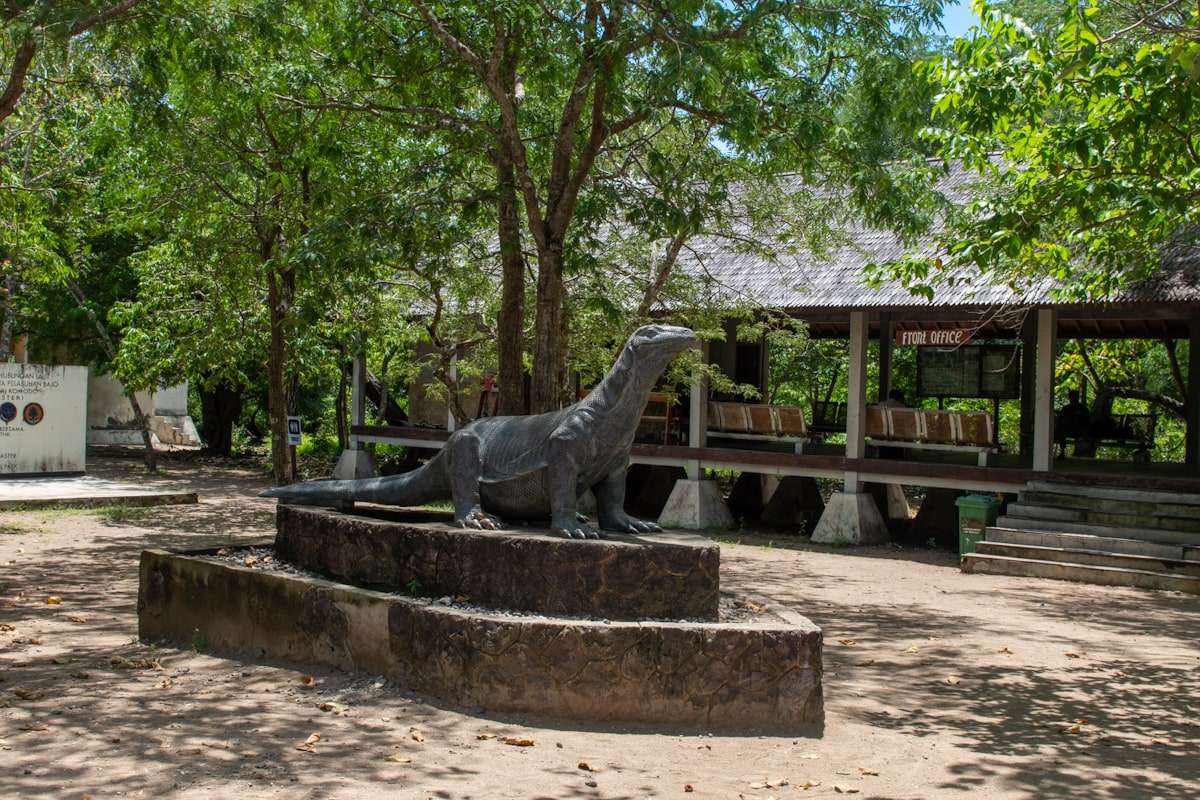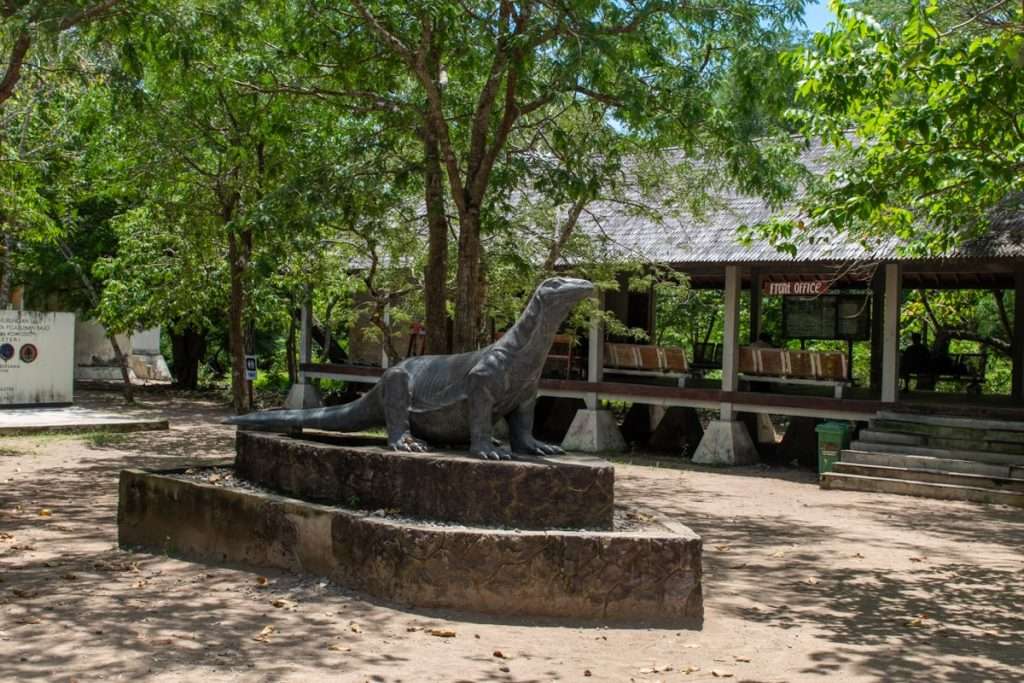 There are 3 walking routes you can take around the island (short, medium or long), and your tour group will be split up depending on preferences. You must stay with a guide at all times, and they will lead your hiking group from the front.
It's almost guaranteed that you will see a Komodo Dragon and don't be disheartened if you don't see one on the trail, you can often find them lazing on the beach.
I used to go to an Indonesian restaurant regularly as a child where they had life-size statues of Komodo Dragons and remember being so impressed by them. It felt like a real full-circle moment getting to see these majestic creatures in real life.
Once everyone has completed their trail you will head to the lunch area and have a freshly cooked Indonesian lunch with a bottle of Bintang to wash it down with (if you wish). Once everyone has eaten and is ready to go you'll head on to the next stop.
Stop 4 – Manta Point Snorkelling ​(1 hour)
After lunch, you will head to your first snorkelling stop of the day. If you are lucky you'll get to see some of the famous Manta Rays that can usually be found at Manta Point.
Unfortunately on my Komodo Island day trip, there were no Manta Rays to be seen. After 15-20 minutes of searching the waters, the guides suggested that we head to the next spot to ensure that we weren't wasting any precious time on the trip.
Stop 5 – Taka Makassar Island Snorkelling (1 hour)
Next up you will head to the gorgeous Taka Makassar Island which is like a little slice of the Maldives in Indonesia.
The boat will not drop you to shore, but outside of the reef instead, and as a group you will snorkel and swim to the island.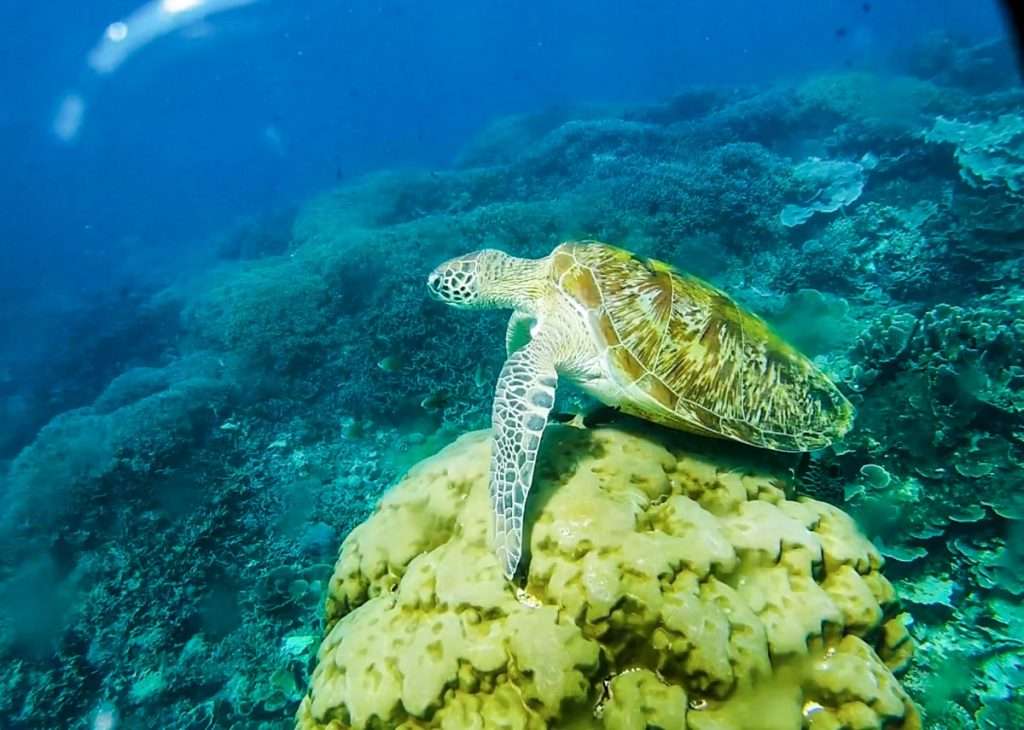 The snorkelling I experienced here is probably some of the best snorkelling I have done in my whole life. The visibility is incredibly clear and the fish are super colorful. We even got to see 3 rather large turtles which made this snorkelling stop extra special.
Once you have finished your snorkelling and arrived at the shore of Taka Makassar Island, you'll have some time to enjoy this stunning spot before heading back on the boat. Thankfully, you won't have to swim back out to the boat, it will be waiting closer to the island for you.
Stop 6 – Kanawa Island Snorkelling (1 hour)
I want to highlight that on my Komodo Island day trip, we did not stop at Kanawa Island, because we spent extra time at the other stops above. Therefore I cannot talk personally about my experience here. However, I have heard great things (and now feel a little bitter I didn't get to see it😂). You can learn more about Kanawa Island here.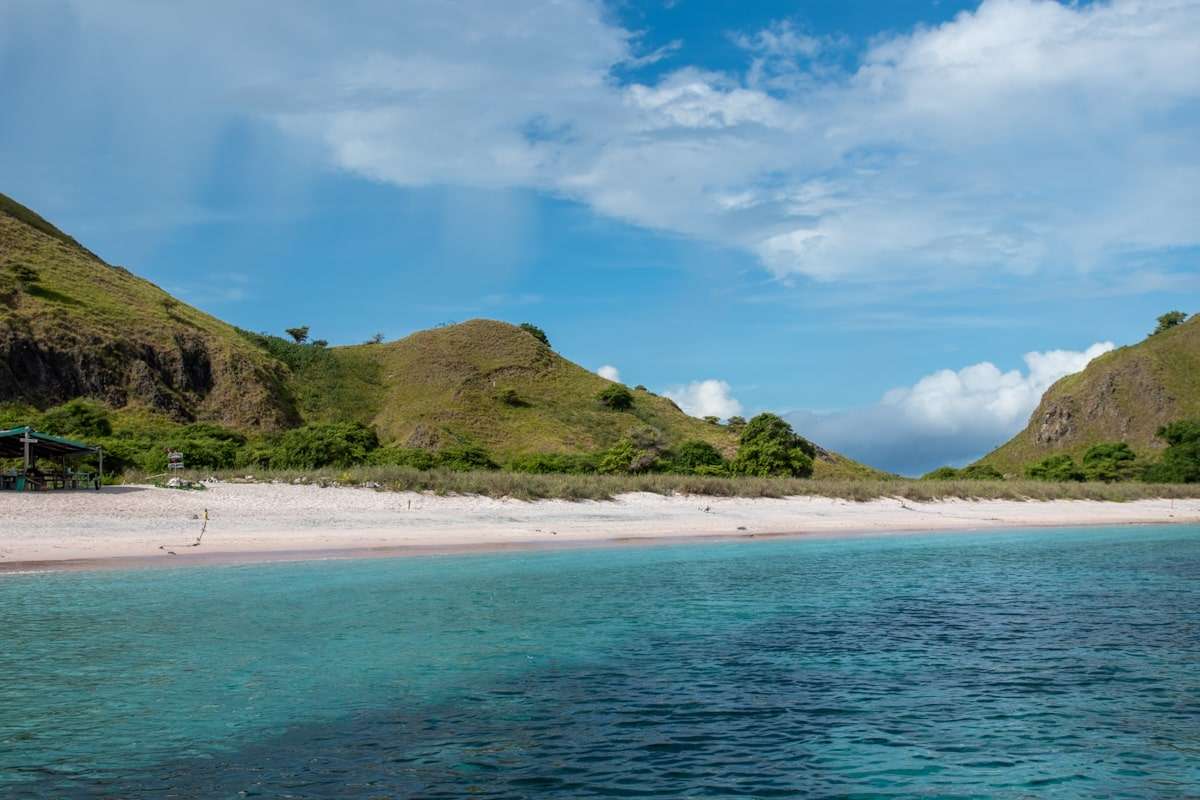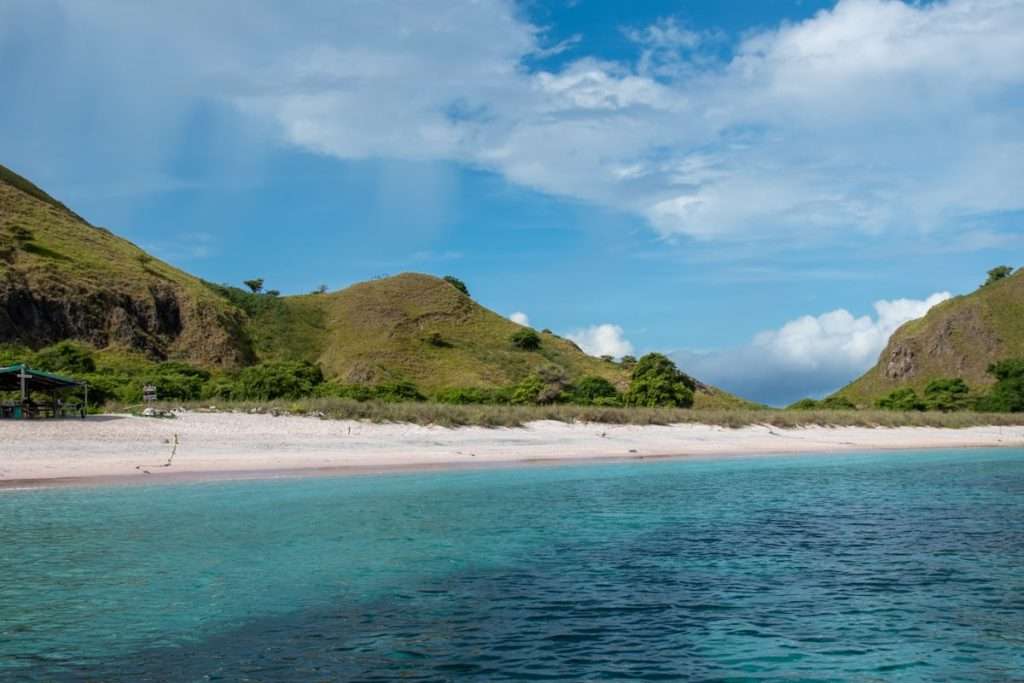 Arriving Back
In total, you will spend approximately 10-11 hours on the trip, and you will arrive back in Labuan Bajo at around 4 p.m.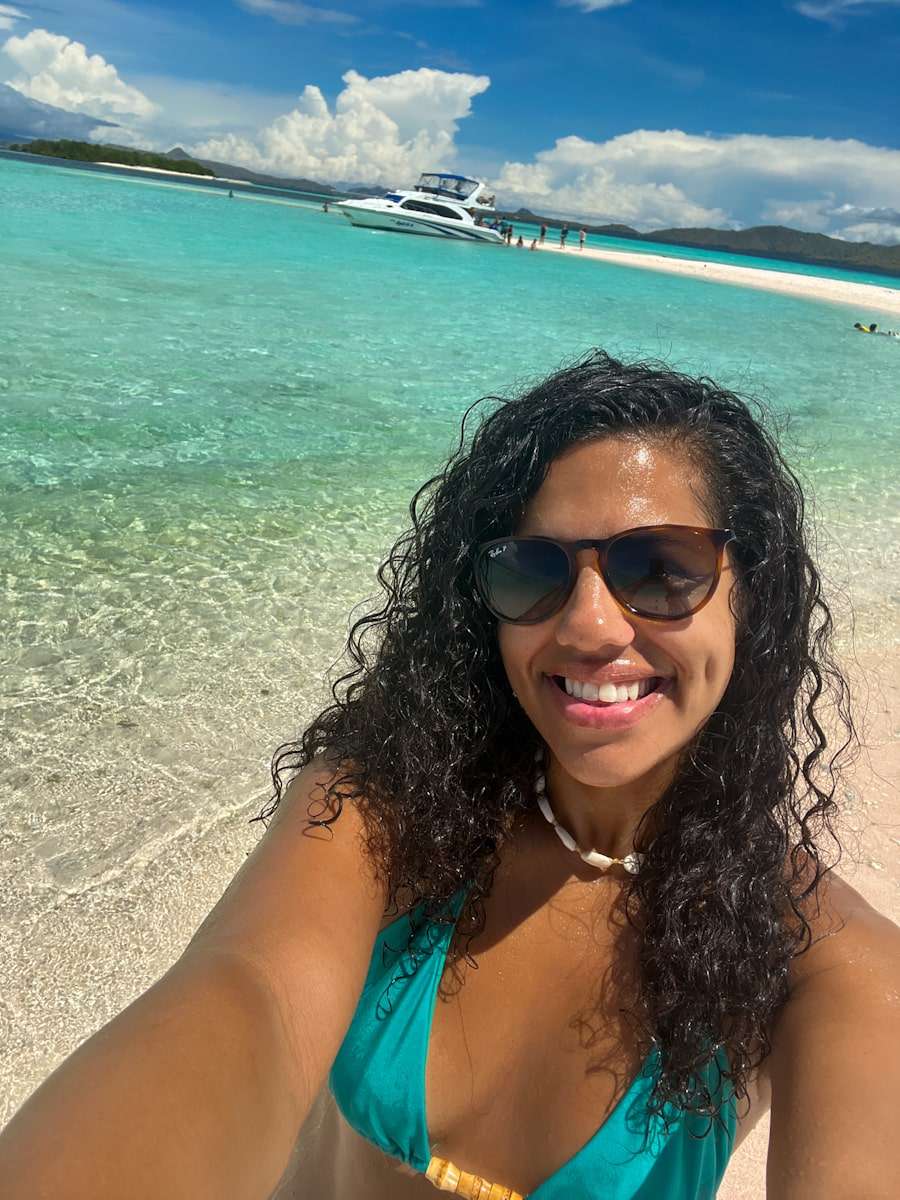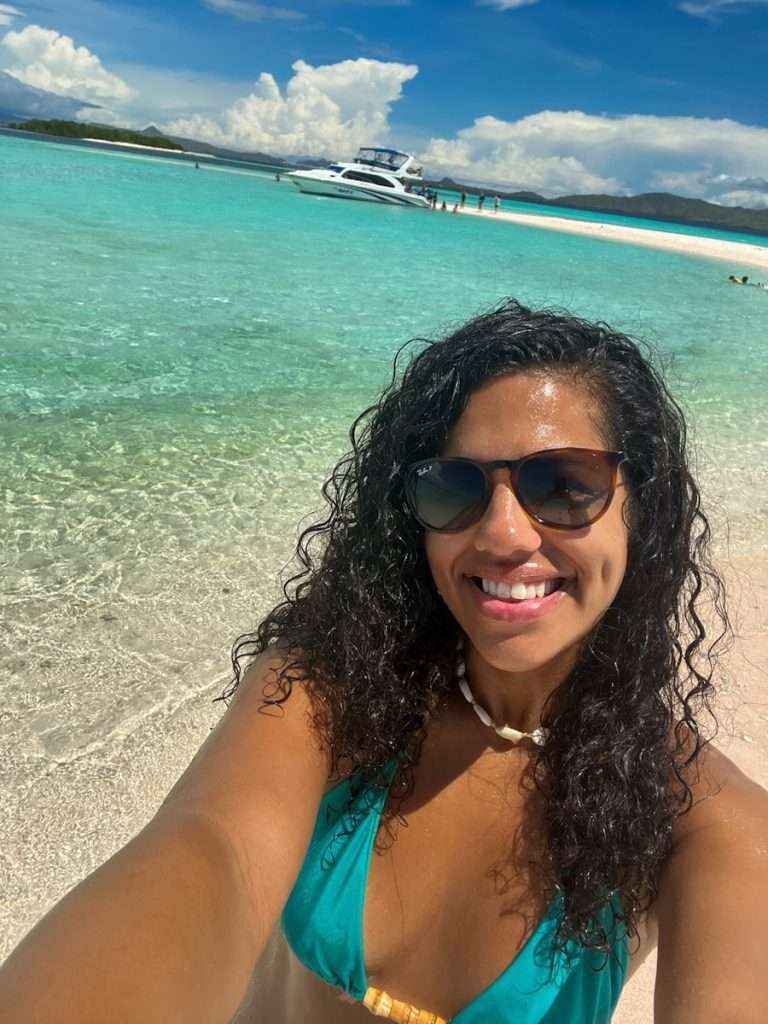 Changes to the Itinerary
It's important to note that the itinerary for the snorkelling stops on the Komodo Island day trip can change depending on the day (and the guides will always give the group a heads-up about any changes).
They could decide to change the snorkelling spots for a number of reasons but it's usually in order to chase marine life that's been spotted in a certain area that's not on the itinerary. Additionally, the guides could also decide to skip past a scheduled itinerary stop because there is no marine life in the area, and so will make the choice to move on to give you more time somewhere else.
For this reason, you'll notice that the order in this blog post is different to what is listed on Viator. We headed to Manta Point before Taka Makassar Island and also only stayed at Manta Point for 15-20 because, after some tireless searching, the guides couldn't find any Manta Rays in the area.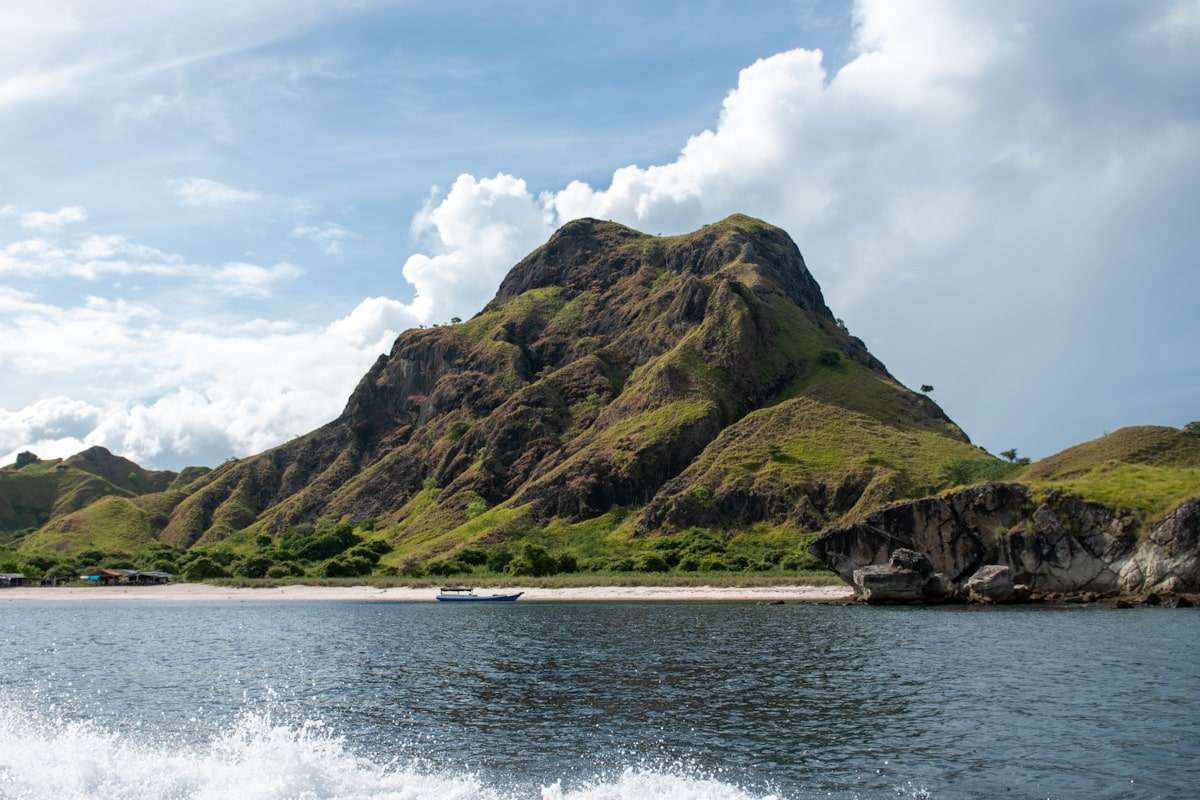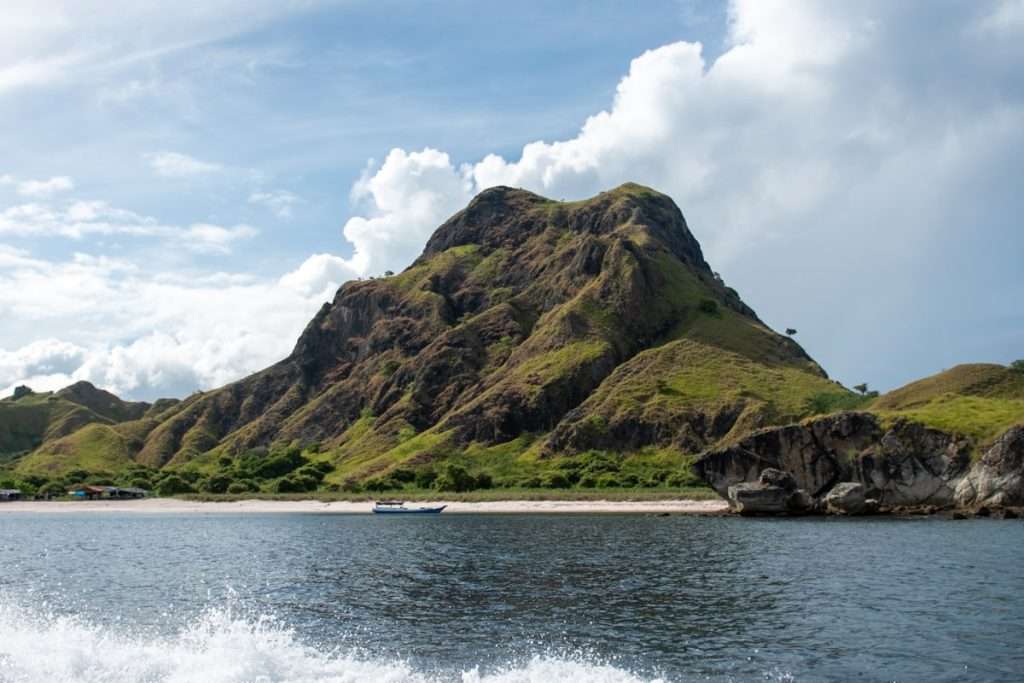 Happy Exploring
I hope this post has helped answer your questions about what to expect from a Komodo Island day trip. If you have any questions about anything in this post please feel free to reach out.
Looking for more Asia travel inspiration? Why not check out my other guides!