Great Exuma Island is one of the most stunning places in the Caribbean, if not the world. With miles of bright white sand, glistening turquoise waters and lush green palm trees, I don't think anyone can deny that this little Bahamian island is the true definition of heaven on earth.
Great Exuma island has been described as one of the best destinations for beachgoers, and as a self-confessed beach bum, I can confirm this to be 100% true. With over 17 beaches to choose from and 365 adjacent Exuma Islands to explore there will certainly be lots of things to do on Great Exuma to cater to every beach lover's need.
In this guide, you'll find the ultimate list of the best things to do on Great Exuma – this dreamy island paradise. I've got you covered whether you want to spend your days lazing on the sand, eating scrumptious foods, or going on an island-hopping adventure.
Disclaimer: This post contains affiliate links. If you decide to make a verified purchase through the links in this post I will earn a small commission. This will be at no extra cost to you. Thank you 🙂
The Best Things To Do On Great Exuma Island
Go on the famous Swimming pigs tour
Chances are if you've ever seen pictures of happy pigs swimming in bright blue waters, you're looking at an image of the famous Great Exuma Island Pigs.
No one really knows how they got to the islands but rumour has it that they were left here by sailors who had planned to cook them. Fortunately for the piggies, the sailors left for an adventure and never made it back, meaning that they were saved from the dinner plate and subsequently became one of The Bahamas biggest celebrities.
Visiting the swimming pigs is the most highly rated activity on Great Exuma Island. You can book a half day swimming pigs and rock iguanas tour with Exuma Water Sports for $190, which includes the following:
Visit to the famous swimming pigs of White Bay Cay
Wild Stingrays
Bahamian Rock Iguanas of Allen Cay
Swimming in Blow hole
Reef snorkelling
Deserted island hopping and scenic beaches
Don't miss out on this trip, it was one of my favourite things to do on Great Exuma.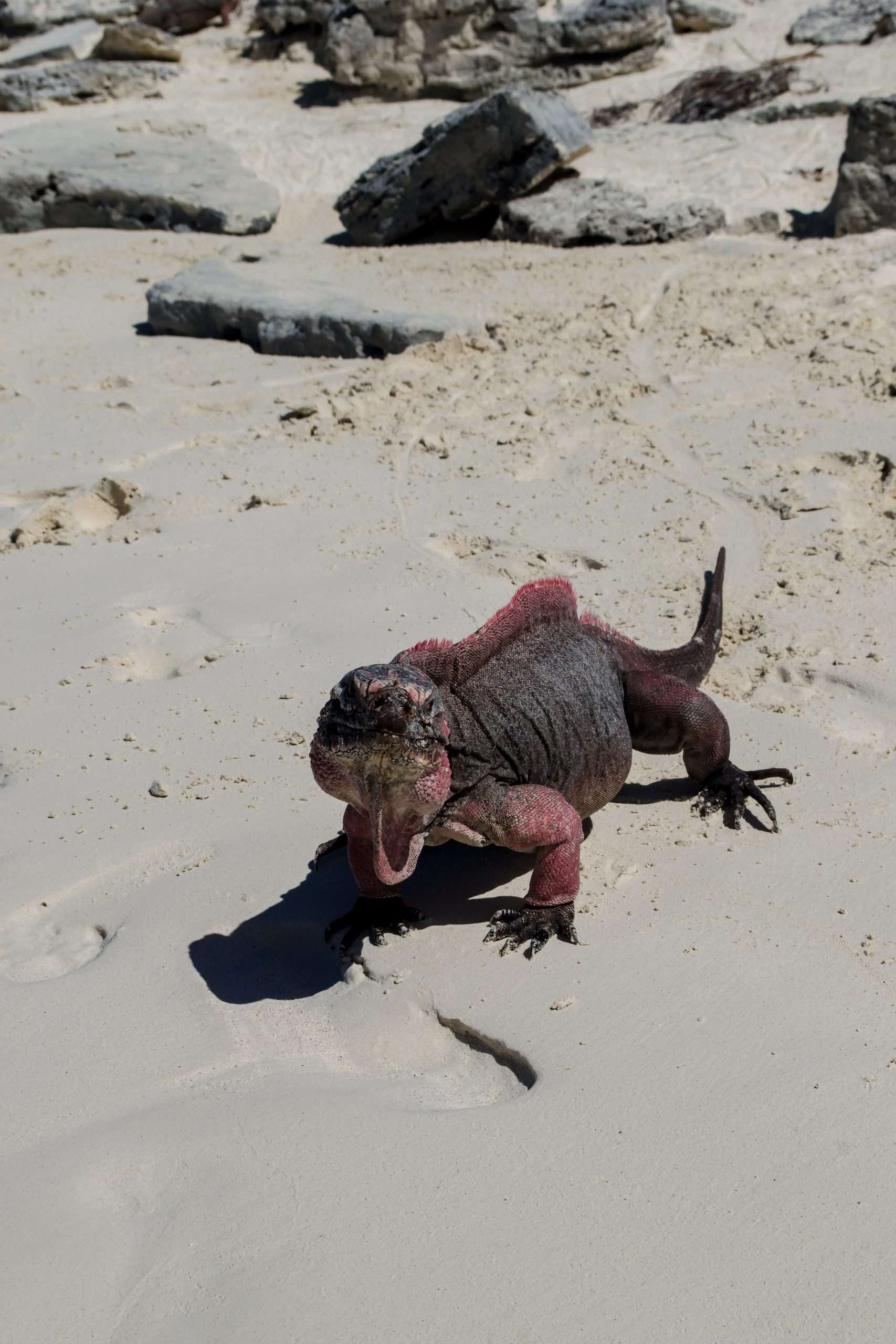 Swim with Nurse Sharks at Compass Cay
Whilst the suggestion to go swimming with sharks might sound extremely mad, this is actually another one of the most popular activities to do near Great Exuma Island. The sharks are well fed and are used to visitors, so you can expect an extremely pleasant experience swimming amongst these beautiful marine creatures. You can get to Compass Cay by booking on the full day swimming pigs tour with Exuma Water Sports for $375
Visit Pablo Escobar's Sunken Plane
Pablo Escobar's sunken plane can be found off the coast of Norman's Cay. Norman's Cay was one of the centres of Escobar's drug-smuggling ring in the 70's and 80's. Before heading on to the USA, planes full of "cargo" from Colombia would land at Norman's Cay to refuel. The plane crash occurred in 1980 when the plane landed well short of the runway. Thankfully no one was injured and passengers even managed to save some of their "cargo" and swim it back to shore. You can visit the plane by booking on the full day swimming pigs tour with Staniel Cay Adventures starting at $279
Please note if you wish to see the swimming pigs, swim with Nurse Sharks AND visit Pablo Escobar's plane on the one excursion, you should book your trip with Staniel Cay Adventures (this trip also includes a stop off at the famous Thunderball Grotto from the James Bond film).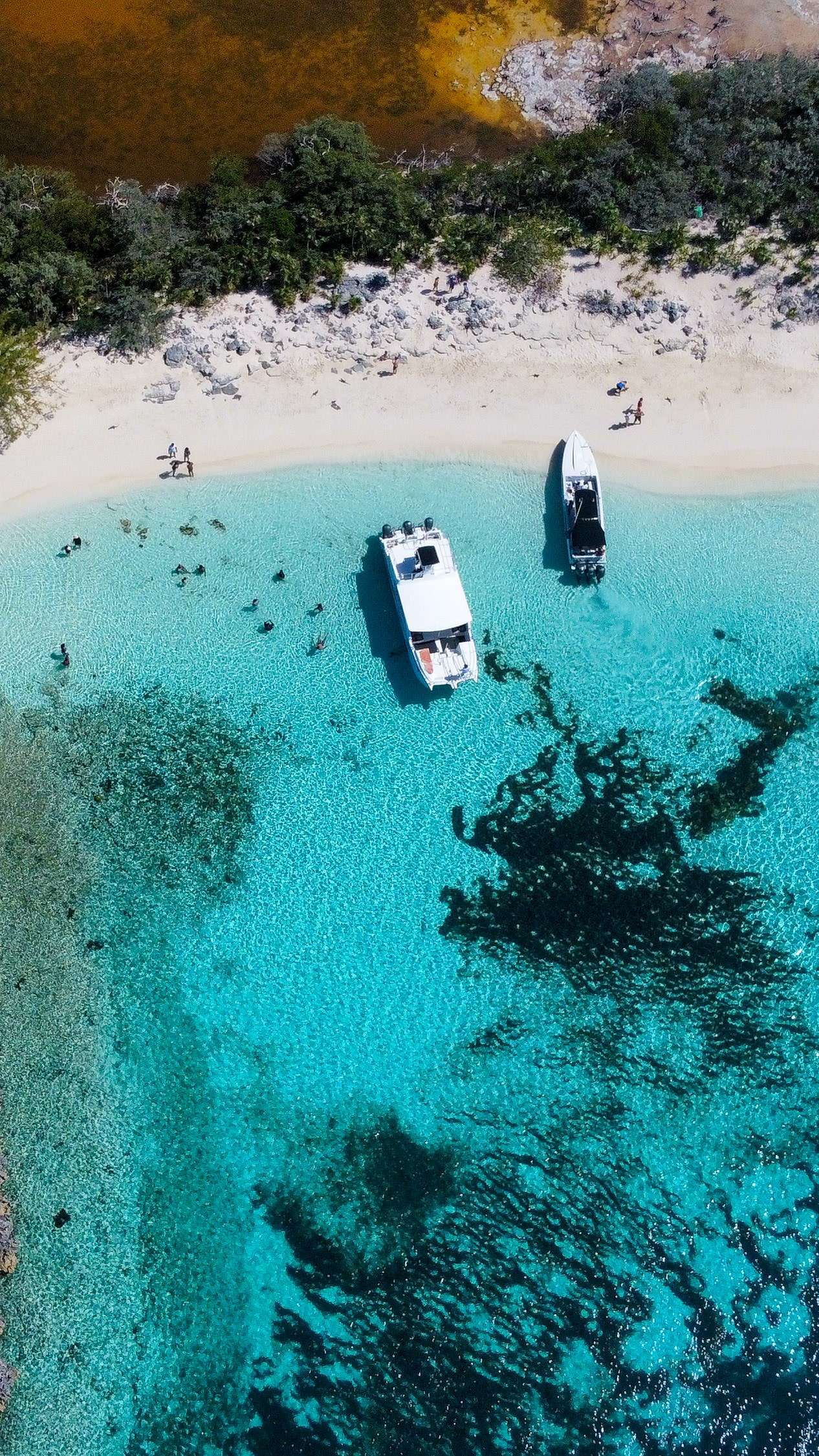 Jolly Hall Beach
Jolly Hall is a small but impressive beach located just over 2km from the capital of Georgetown. This was the first beach I visited on my trip to Great Exuma Island and I couldn't believe my eyes when I realised I had the place all to myself!
So if you are after a slice of paradise that you don't have to share with anyone else, then I would highly recommend a trip to Jolly Hall.

There are no beach bars directly on the beach, but if you do find yourself feeling hungry or thirsty (or in need of the loo) then you can visit Hideaways at Palm Bay which is only a 5-7 minute walk away.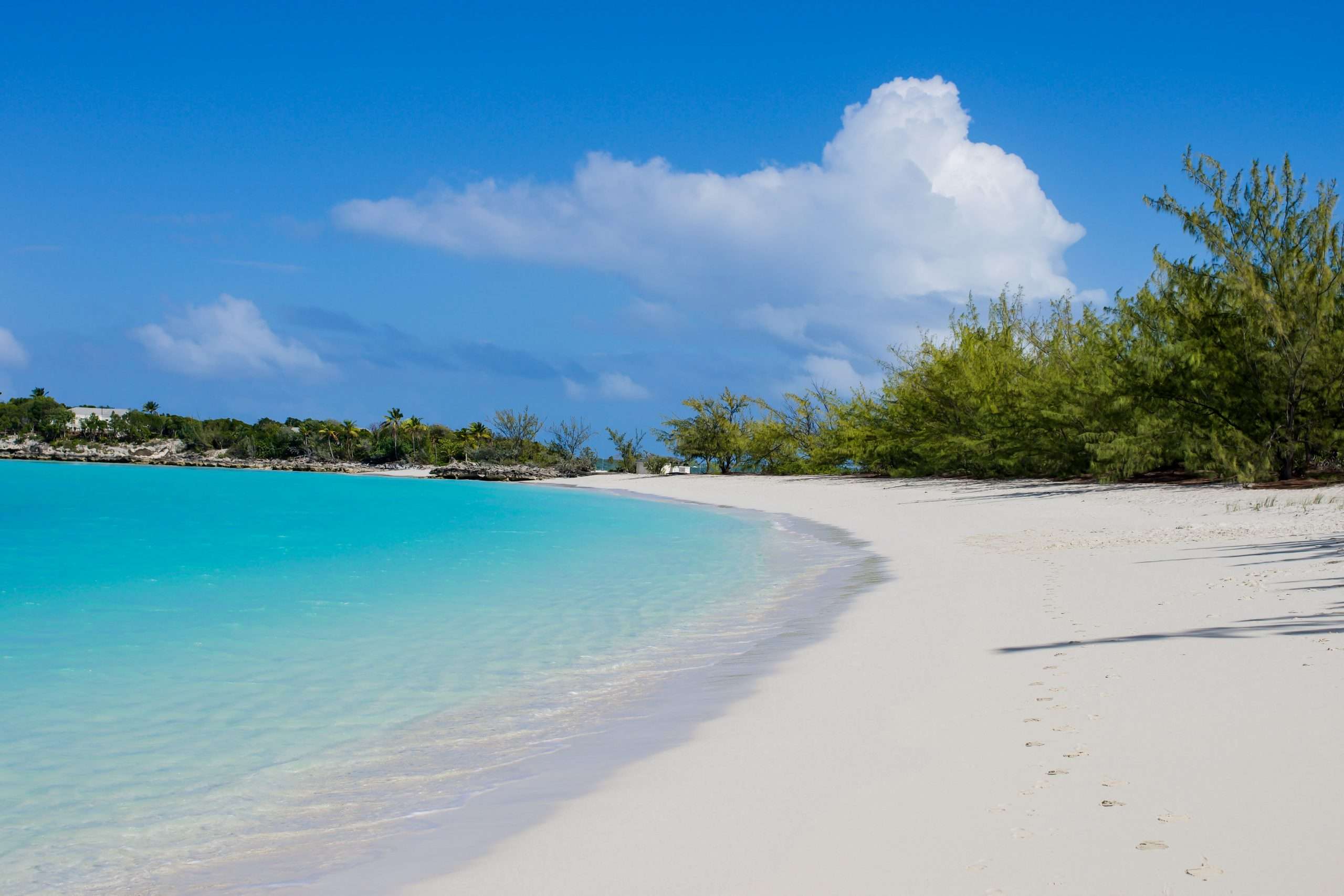 Try Some Bahamian delicacies at Shirley's Fish Fry
Just a stone's throw from Jolly Hall, you will find Shirley's fish fry, one of the most popular restaurants on Great Exuma Island. Not just for tourists, but locals too. The interiors are basic but the food cooked with fresh and local ingredients very much makes up for that. Make sure to try the local Bahamian delicacy that is Conch.
Hoopers Bay
One of the best things do to on Great Exuma is to visit to Hoopers Bay. A trip here will see you living out your ultimate Finding Nemo dreams. Here you will be able to meet the friendliest sea turtles in the world, who are not afraid to come up and say hello at the shore line. The turtles are out in their abundance so your chances of encountering these beautiful creatures are extremely high. Of course, I shouldn't forget to mention that the beach itself is absolutely stunning (like most of the beaches on Great Exuma) and is ranked the 5th best beach on the island.
Please DO NOT feed or touch the turtles.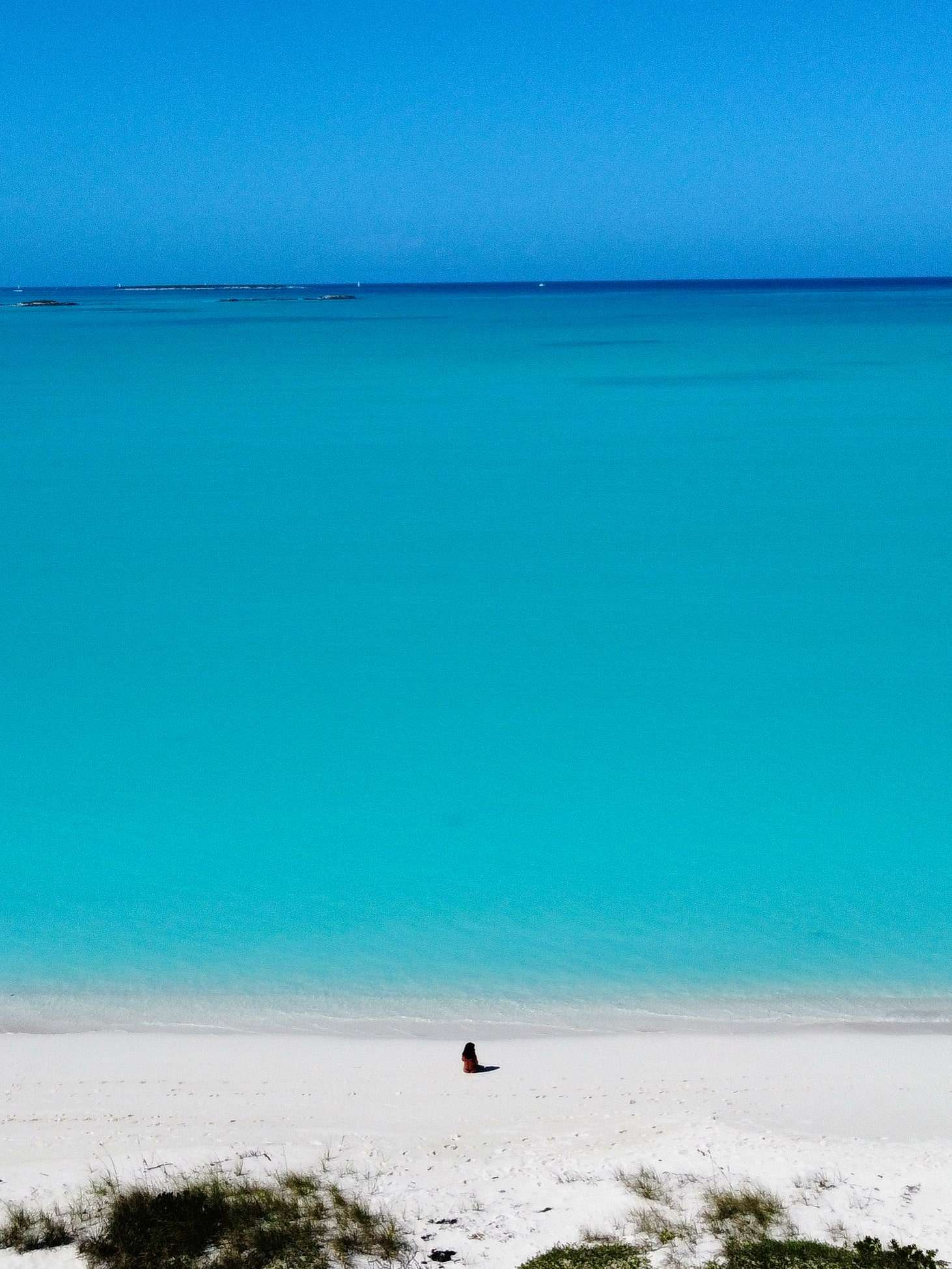 Take a trip to Chat'N'Chill
Spend your Sunday dancing, eating and drinking at Chat'N'Chill on Great Stocking Island. Whilst Chat'N'chill is open 7 days a week, Sunday is the day for their famous Pig Roast and BBQ. Tourists and locals alike head here to snap up a huge plate of food for just $22. Not only is the food great, the music and cocktails are an added bonus too. The atmosphere here is incredible, and it's hard to leave Chat'N'Chill without a smile on your face. Chat'N'Chill was one of my favourite days and up there with one of my favourite things to do on Great Exuma.
To get to Great Stocking Island you can catch the 5-minute water taxi from Government Dock in Georgetown. A return journey will set you back roughly $10-15.The water taxis are regular and reliable.
Please note, you will need to pay for the water taxi in cash, but can use the card once you are on the island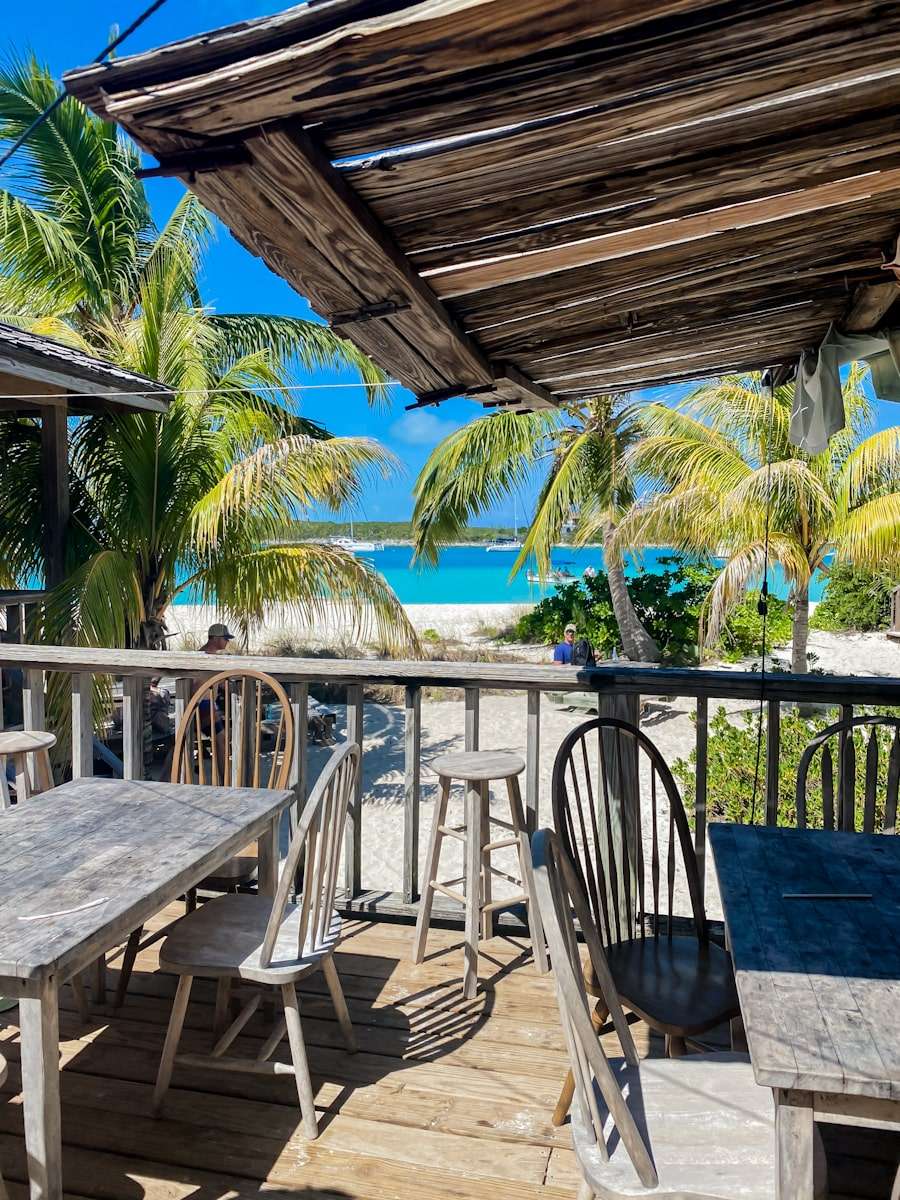 Tropic of Cancer Beach
Named after the latitude that passes directly through it, Tropic of Cancer beach will truly give you that "Wow, I can't believe I am in The Bahamas" feeling. Tropic of Cancer beach is actually on Little Exuma Island, but is easily accessible by car from Great Exuma.
Tropic of Cancer is the longest beach on the Islands and in my opinion the most beautiful. On entrance to the beach you will find a cute beach bar serving up a small BBQ menu and delicious cocktails (make sure to try the Pina Colada). If there is only one beach you visit on Great Exuma Island, let Tropic of Cancer be it. This is one of the best things to do on Great Exuma.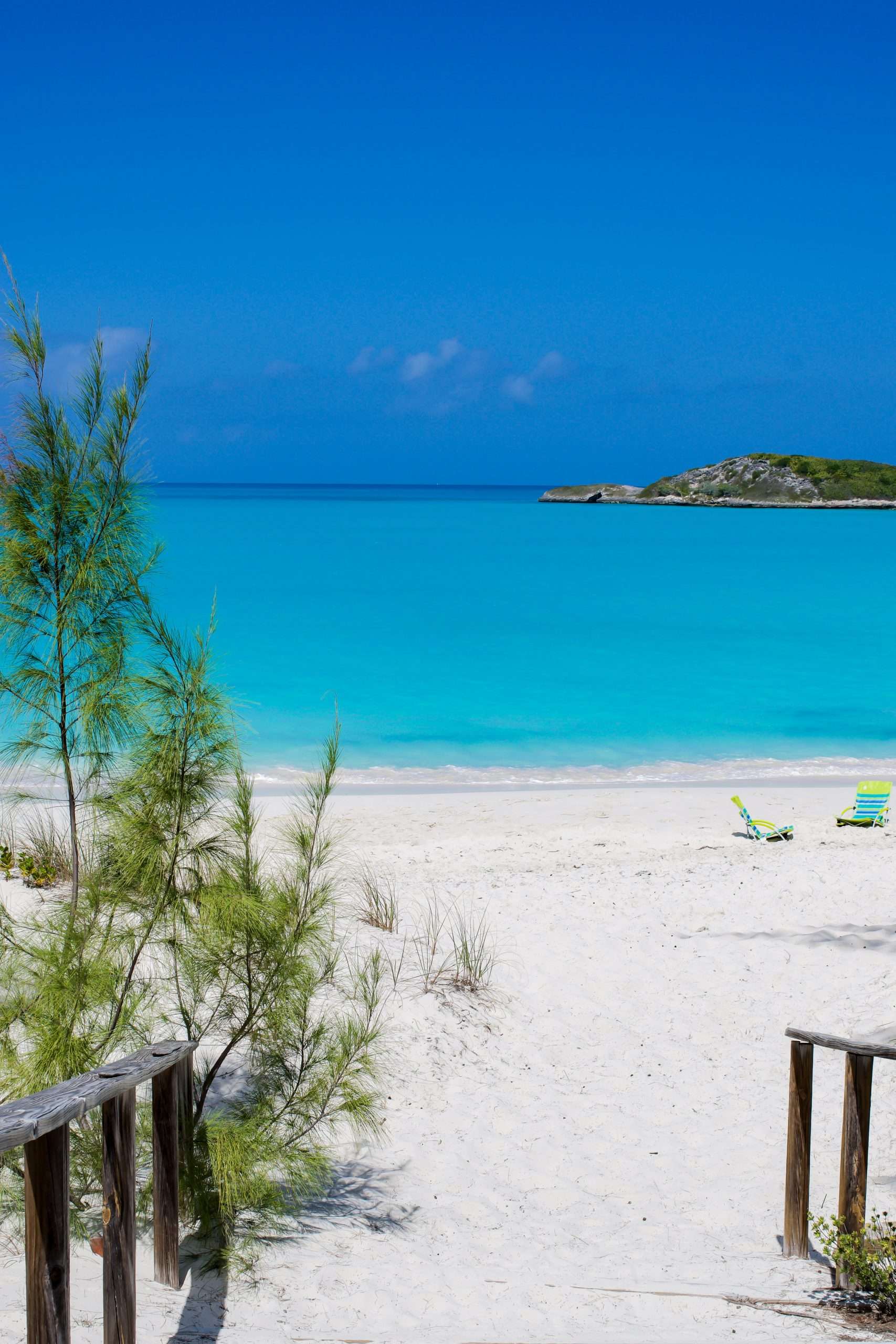 Go for a dive in Anglefish Blue Hole
Located just off the coast of Stocking Island, the impressive Anglefish blue hole. Deans's blue hole is a stunning underwater cave that is 92 feet deep, making it the perfect scuba diving spot. You can book a diving trip with Dive Exuma, which are located in Georgetown by Government Dock.
Have a bite to eat at Santana's Bar and Grill
Just a short 5-minute drive from Tropic of Cancer Beach you will find Santana's beach bar. The food here is mouth-wateringly good (I recommend the jerk chicken) and the scenery from the bar is unparalleled. It is the perfect place to come for a meal with a view. And, if you're lucky you might even be able to spot some fishy friends in the sea whilst you're enjoying your food (we got to see a shark!).
George Town
The Capital of Great Exuma Island is small, but it's worth walking around. If, like me, you love quaint and colourful buildings, you'll enjoy your time here. It's also where you will find one of the only ATM's on the island.
Tar Bay
When I asked a local what his favourite beach on the island was, Tar Bay was the answer. When I asked why, he mentioned how peaceful it was. Much Like Tropic of Cancer, Tar Bay is a very long stretch of bright white sand and clear blue sea. Tar Bay, however, isn't as popular as beaches like Hoopers Bay and Tropic of Cancer, so there is a good chance you'll be able to stretch this beach all to yourself (saying that, you'll probably find that most of the Exuma beaches you visit feel empty in comparison to the more popular Bahamian islands).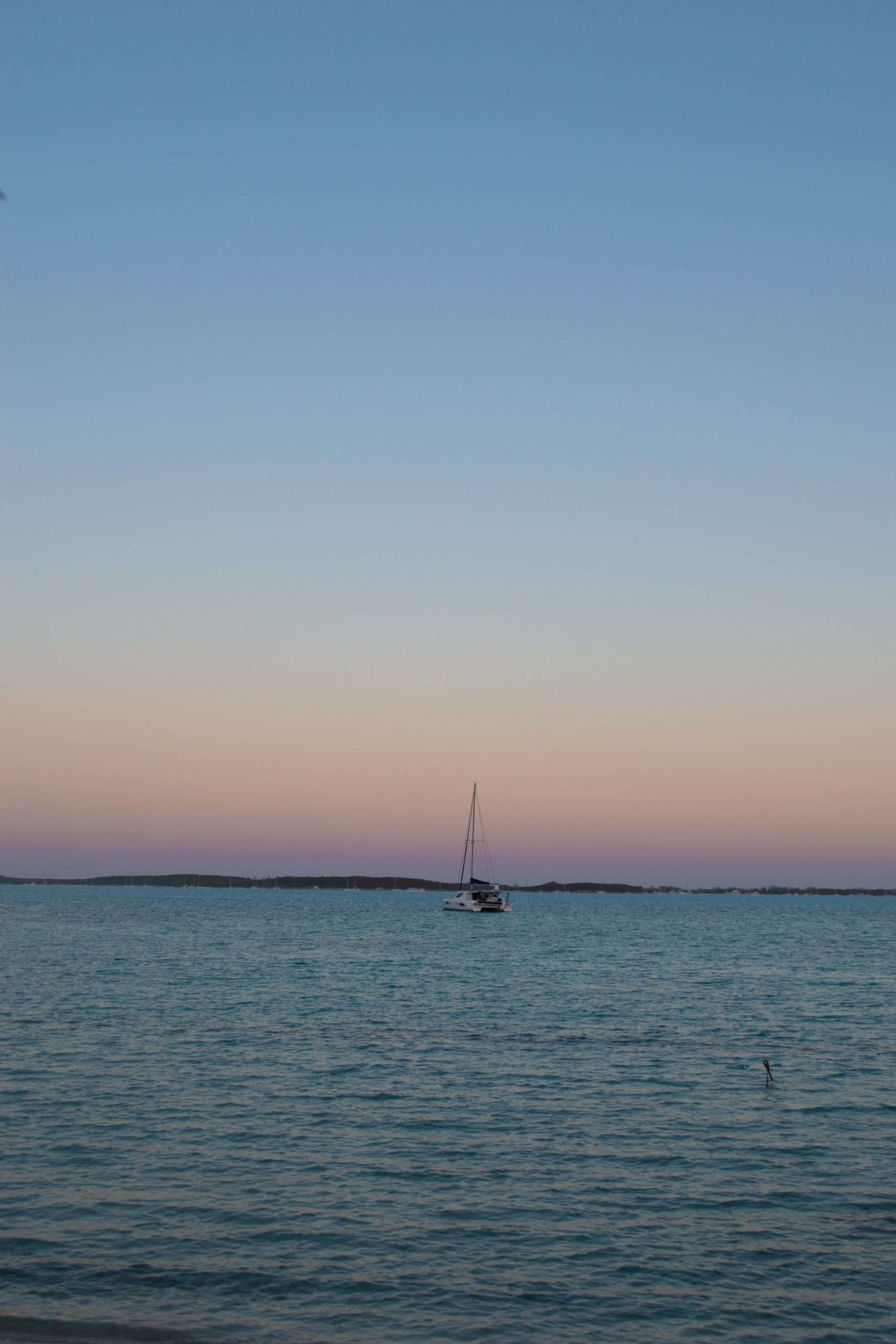 Additional Info
Getting There
You will be able to fly directly to Great Exuma Island from Miami, Charlotte, Ft Lauderdale, Atlanta and Toronto. If you are flying in from alternative destinations, you will have to fly into the main airport Nassau on New Providence Island and catch a connecting flight to Great Exuma from there.
Getting Around
Transportation on the island is quite limited. There are no public buses and only a few taxi services (which can be quite expensive). Your best bet would be to rent a car on the island. The most reputable company is Exuma Car Rentals and can be found just outside the airport. Car rental prices start from $75 per day (excluding insurance).
Note: The Bahamas drive on the left hand side of the road (like the UK), however the cars are imported from America (steering wheel on the left of the car), so make sure you take extra care when looking out of your rear view mirrors.
Not able to rent a car? Here are the list of taxi services you can use on the island:
Ballsound's Taxi Service 1-242-524-0832
Out Junior Taxi Service 1-242-336-2509
Luther Rolle Taxi Service 1-242-345-5003
Leslie Dames Taxi Service 1-242-357-0015 (I can personally vouch for Leslie as a reliable driver)
Remember, If you are staying at a resort, you will be able to organise transportation at your reception desk.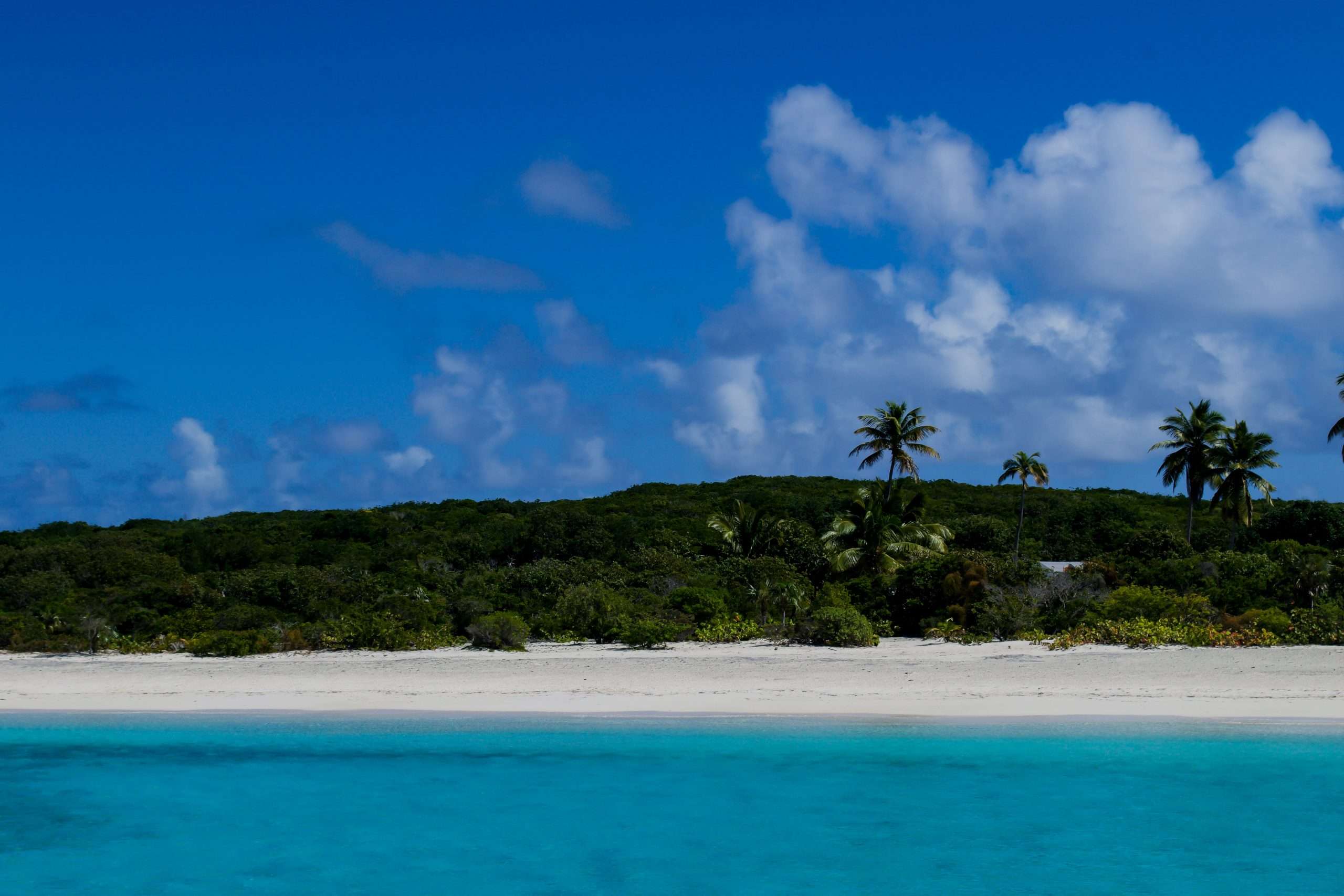 Where to stay
Generally speaking, accommodation on the island is not cheap (lets face it, Great Exuma Island is not cheap full stop). However, if you are wanting to keep costs down you may be able to find some very basic accommodation starting from £100 in the capital of Georgetown. On the whole, you will find that the majority accommodation prices will start from upwards of £200 per night.

You can explore the full list of Hotels and Airbnbs available on Great Exuma island below:
Happy Exploring
I hope you have a wonderful time exploring all that Great Exuma Island has to offer. If you have any more questions about anything discussed in this blog post, please feel free to reach out!
Looking for more Caribbean Holiday Inspo? Check out my guides to Antigua & Barbuda