In this post, you'll find out everything you need to know about the Acatenango Volcano overnight hike.
You're sat cosily around a campfire, drinking hot chocolate, whilst in awe watching orange embers of lava explode into the night sky. You've just completed part of the Acatenango Volcano overnight hike, and it's Volcan Fuego you're watching erupt in the background. It's one of the best feelings in the world.
Situated just 22km from Guatemala's famous colonial town, Antigua, lies the Acatenango and Fuego volcanoes. These volcanoes are referred to as 'twins' and are some of the highest in all of Central America.
Whilst Acatenango has been dormant since 1972, Fuego remains extremely active, erupting almost every 20 minutes.
Tourists from all over the globe flock to Guatemala specifically to complete this bucket list hike, and after finishing it myself, I can totally understand why!
Completing the Acatenango Volcano overnight hike is probably one of the most physically challenging (I would rate this as one of the hardest hikes I've ever done 😅). However, I can promise you this will be one of the most worthwhile and rewarding experiences of your life.
Read on below to learn all about how to prepare and what to expect from the Acatenango Volcano overnight hike.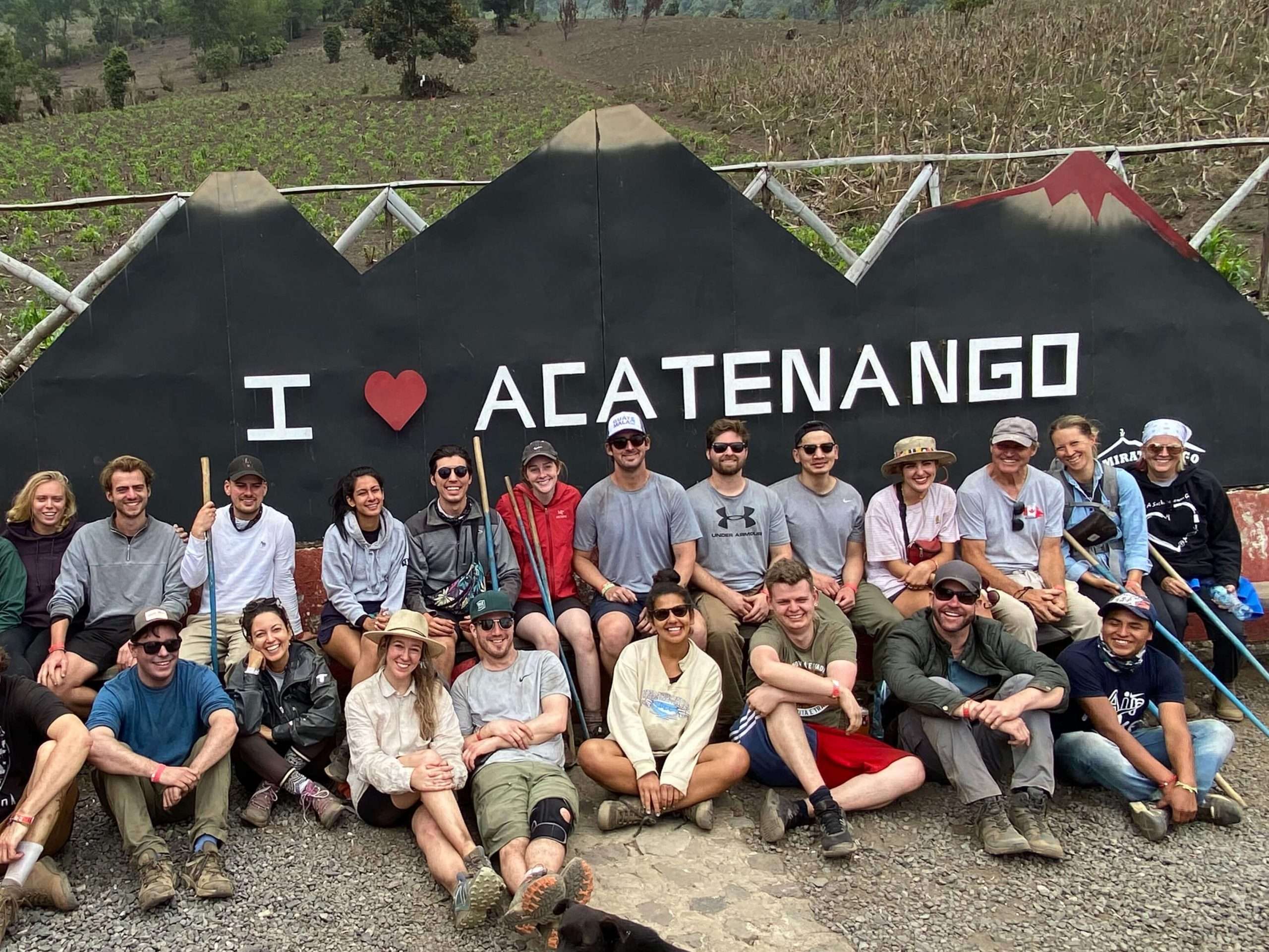 Disclaimer: This post contains affiliate links. If you decide to make a verified purchase through the links in this post I will earn a small commission. This will be at no extra cost to you. Thank you 🙂
Getting There
To complete the Acatenango volcano overnight hike, you must book with a tour company. Most of these companies are located in the town of Antigua (Guatemala's former capital city), where your hiking journey will begin.
You can get to Antigua from most major cities/towns in Guatemala (eg Panajachel & Guatemala City) via public bus (also referred to as chicken buses), pre-booked shuttle and Uber.
| | | | | | |
| --- | --- | --- | --- | --- | --- |
| Town | Distance | Time | Public Bus | Shuttle | Uber |
| Guatemala Airport / City | 39KM | 1 Hour | 10Q (£1.10) | £21 | 280Q (£30) |
| Panajachel (Lake Atitlan) | 80.7km | 2 hours | 35Q (£3.70) | £16 | 400Q (£42) |
The easiest and most convenient way to travel to Antigua is to pre-book a shuttle bus. You can book your shuttle bus on Bookaway where you can choose from the most reputable travel companies in Guatemala.

For more information on how to get to Antigua please click here.
✈️ ⛴️NEED TO BOOK A BUS, PLANE, FERRY OR TRAIN?

💻🎟️CHECK OUT YOUR OPTIONS ON BOOKAWAY.COM
Where to stay in Antigua
Chances are you'll need to do a night or two in Antigua before embarking on your Acatenango volcano overnight hike.

Some of the best places to stay in Antigua are as follows:
Budget
Mid-Range
Luxury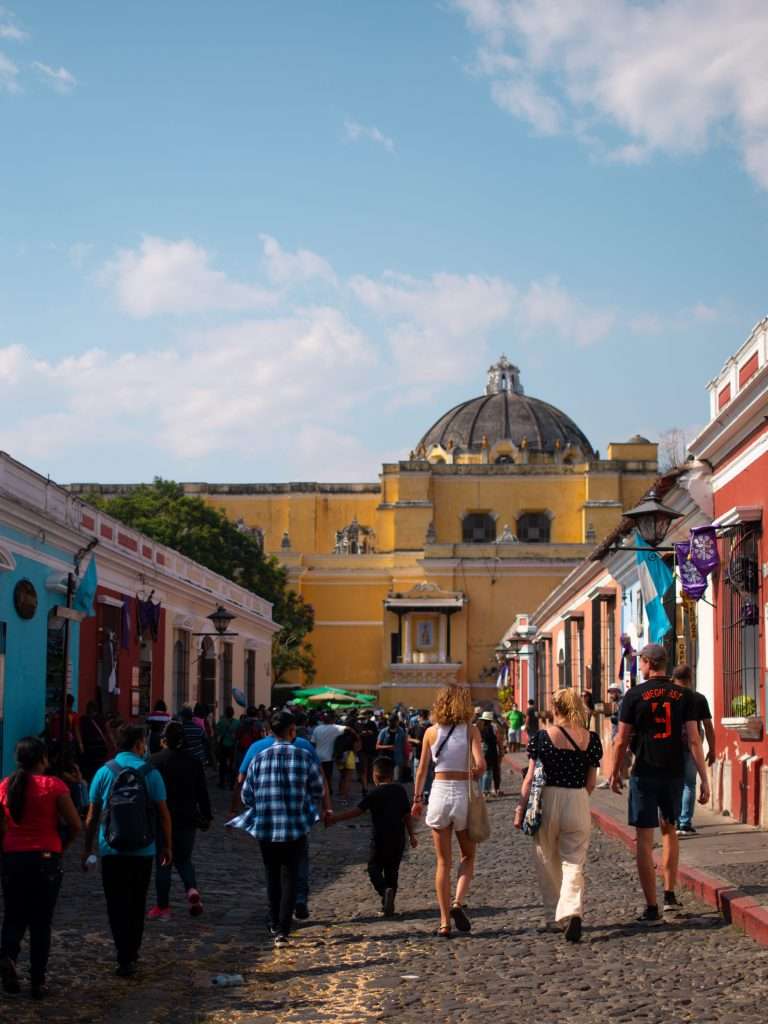 Who to book with
Who you book your tour with is a super important decision. It will undoubtedly have an impact on how pleasurable your hiking experience is.
During my time in Guatemala, I heard horror stories from other travellers who completed the hike and didn't have the best time.
Stories included: guides leaving their group on the volcano, guides getting too drunk, companies not providing enough food as well as collapsing tents in the middle of the night.
In terms of the Acatenango overnight Hike, you really do get what you pay for. The common denominator in all of these stories was travellers picking the cheapest option without much more research.
After some extensive research of my own, taking into consideration price, reviews and ethics, I decided to go with a company called OX Expeditions and I can't recommend them enough.
As a hiking group, we were well looked after, well fed and we all felt totally safe throughout the whole trip. It was a truly fantastic experience with OX Expeditions, not only for the hike itself but also for the energy and enthusiasm of our tour guides (a special shout out to Romeo for being AMAZING).
They also give back to the local community which is a huge plus for me!
So what tour options do OX Expeditions offer?
Tour
Price
Time
Good to know
Acatenango Day Hike
$59 (£50)
Does not include the National park entrance fee ($15/£13)

12 hours
For travellers who are short on time.
Includes a full day of hiking to the Acatenango summit and back.
Acatenango Overnight Hike
$89 (£75)
Does not include National Park entrance fee
($15/£13)

1.5 days
Day 1 includes 5/6 hours of hiking Acatenango base camp.
Day 2 includes 2 hours of hiking to Acatenango Summit and back to the base camp, followed by 3 hours of hiking back to the start.
"Double Whammy" Acatenango and Fuego
$129 (£109)
Does not include National Park entrance fee ($15/£13)

1.5 Days
(Additional hiking hours involved)

Day 1 includes 5/6 hours of hiking Acatenango base camp followed by a short break then, 3/4 hours of hiking to Fuego and back to base camp,
Day 2 includes 2 hours of hiking to Acatenango Summit and back to the base camp followed by 3 hours of hiking back to the start.
Recommended only for those in top physical condition,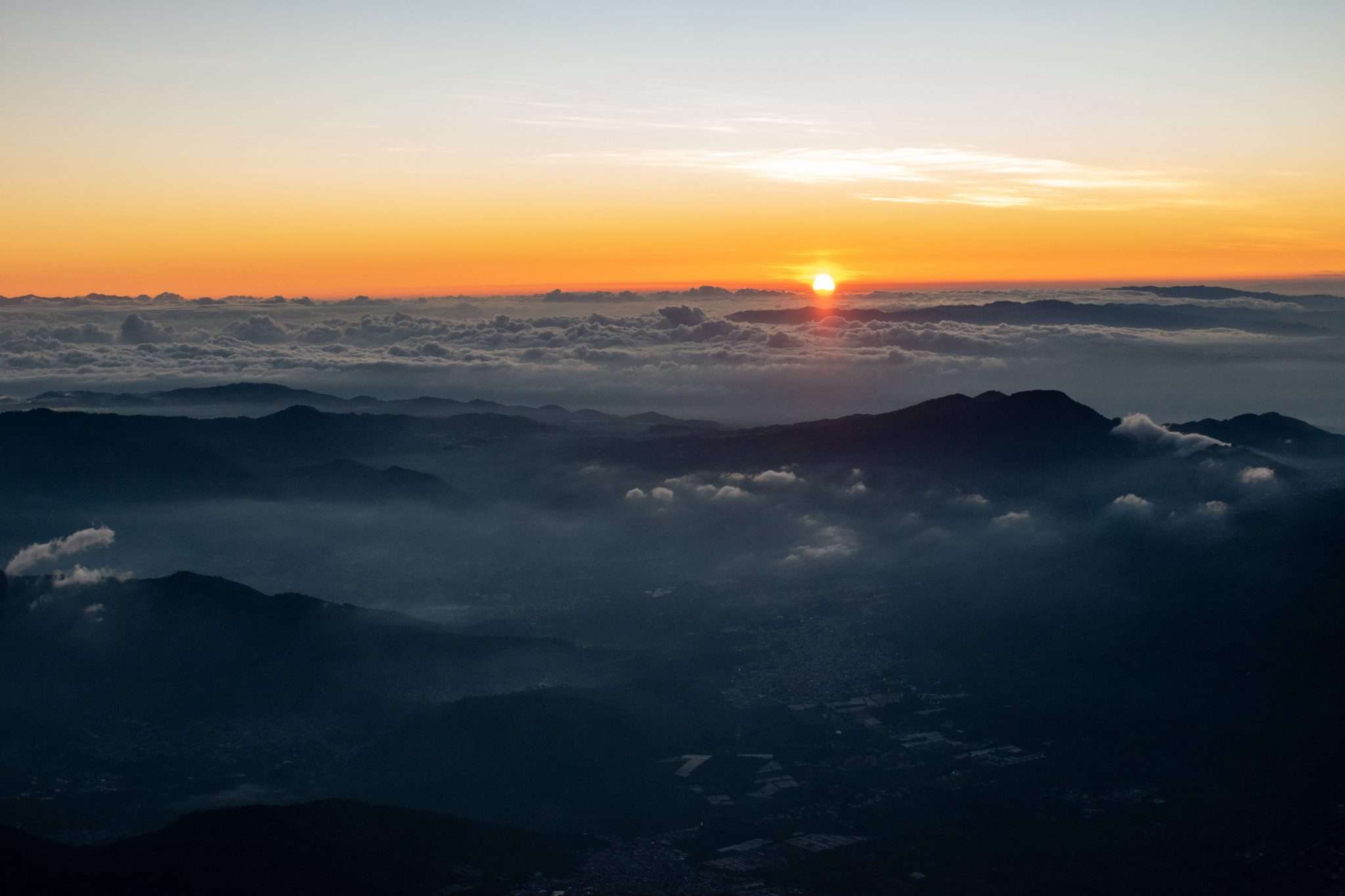 Top Tip
If you have booked the Acatenango overnight hike only, but decide you would want to do the "Double Whammy" trek once the hike has already begun. You will be allowed to book on and pay for the additional cost when you return to Antigua.
In two minds about hiking Fuego? I would highly recommend making use of this option. It can be easy to underestimate just how tired you'll be after the initial 5/6 hours of hiking on the first day.
It's better to air on the side of caution and not waste any money if you end up changing your mind.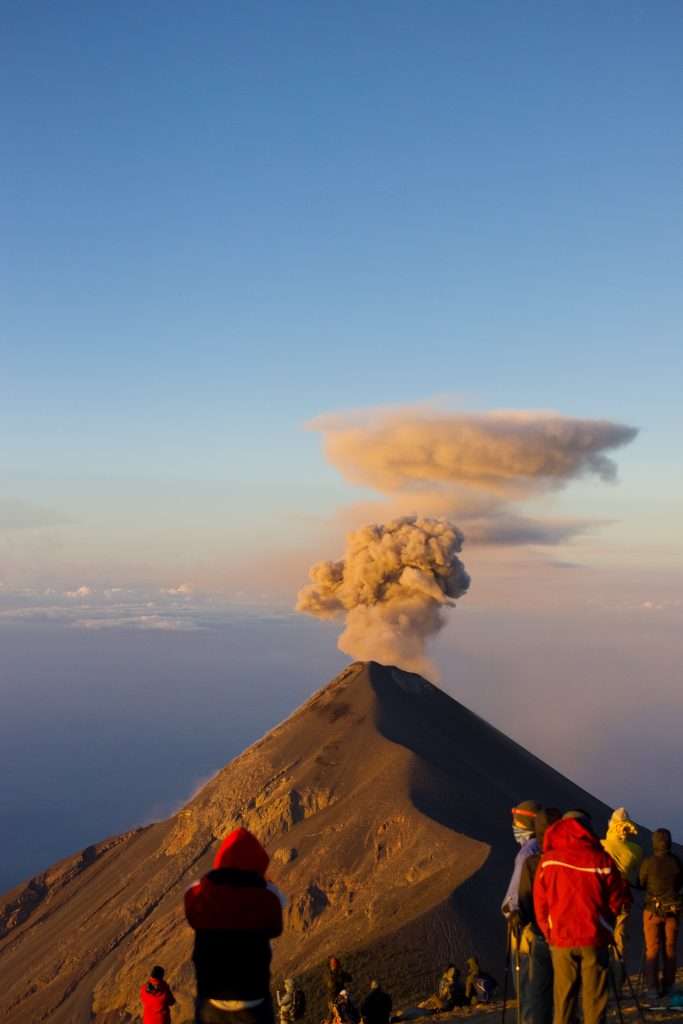 Below you will find a list of other reputable tour companies to book with. Whilst I can't personally vouch for these companies myself, by speaking with other travellers and doing a spot of research, these companies are also highly recommended.
NOTE Guatemala's dry season is from November to April. This period is the best time to complete the Acatenango Volcano overnight hike. You will have a much higher chance of getting clearer views of Volcan Fuego's eruptions (however this is not guaranteed).
🤳🌎 NEED DATA WHILST YOU'RE ABROAD? WHY NOT DOWNLOAD AN ESIM.

➡️➡️ Avoid roaming fees, and have peace of mind that you have internet access when WiFi isn't available.
How High is the Acatenango Volcano Hike?
In this post, I've talked a lot about how hard this hike can be, so let's talk numbers and discuss how high we're actually going!

The Acatenango Volcano hike starts at an elevation of 2400m. Hiking to the summit will see you reach the dizzy height of 3976 meters 🌋(a total elevation gain of 1576 meters).
You'll be able to give yourself a well-deserved pat on the back after this trek.
What to bring for Acatenango Volcano overnight hike
A Medium-sized backpack
You'll need a medium-sized backpack to carry extra layers of clothing, 3-4 litres of water and snacks. Also, when hiking with OX Expeditions, everyone in the group will be expected to help carry supplies needed for lunch and dinner so make sure to save some room!
Warm Clothes
Layers, Layers, Layers! I can't stress enough how much you'll need layers and warm clothing for the Acatenango Volcano overnight hike.
On the walk up to base camp, you'll most likely be a hot sweaty mess (attractive, I know 😅), however, once the sunsets the layers will come into play.
Temperatures at the base camp and at the summit can dip way below 0 degrees Celsius (32F).
Good Walking Boots
This probably goes without saying but a sturdy pair of walking boots will stand you in good stead on this hike. If your walking boots are brand new, try to wear them before starting the Acatenango Volcano overnight hike to avoid any blisters.
Head torch
Day 2 of the Acatenango Volcano overnight hike will start before sunrise, so head torches are needed to help guide your way up to the summit. They also come in very handy for any midnight loo breaks.
Snacks
Whilst main meals are provided, snacks are not. So make sure to pack extra nibbles in your bag for that additional energy boost during the hike. I'd recommend packing energy-dense foods such as granola bars, nuts and dried fruits.
Altitude sickness medication
If you suffer badly from altitude sickness I would recommend packing some tablets. If you've never been at altitude before then I would pack some just in case.
I didn't bring any with me, as I usually don't suffer too badly, however, It hit me really hard on the sunrise hike from base camp to the summit. So, learn from my mistake and come prepared.
Sunglasses
Not only will these protect your eyes from the sun but also the dust and dirt that's lifted up from the track. If you are a contact lens wearer (like me) then packing a pair of sunglasses is a must!
Toilet Roll
You won't be shocked to hear that the toilets on the hike are very basic (expect to do your business in a wooden hut with a long drop loo). So make sure to come armed with enough loo roll to last you.
Toiletries
The toiletries you need to pack will be unique to your needs, but at the very least don't forget to pack:
Toothbrush
Toothpaste
Facewipes (the volcano dirt is real)
Deodorant
Antibacterial Gel
Antibacterial wipes
First aid kit
Your guides will have a first aid kit on them, but this can come in handy should you need any plasters for any minor blisters or grazes you might get along the way. If you suffer from knee issues I would also bring knee supports, especially for the hike back down.
Cash
Ensure you bring cash with you so you can pay for:
Walking Poles – At the entrance of the hike you can rent walking poles for around 50p. I would highly recommend some of these. I think the hike would have taken me a lot longer without them.


Porter – Should you find your bag too heavy to hike with, you can hire a porter for £20 (one way)


Toilets – At the start of the hike there is a small cafe with a toilet which you must pay for


Entrance Fee – The entrance fee to the National park is not included in your tour fair.


Food – There are one or two food stalls mid-way through the hike. If your snacks aren't satisfying enough, then pick up some Guatemalan Garnachas.


Tips for guides – The guides do such an incredible job, so be sure to tip them at the end of the trip.

NOTE: Should you need a backpack, extra layers or a head torch, you can borrow these for free from OX expeditions.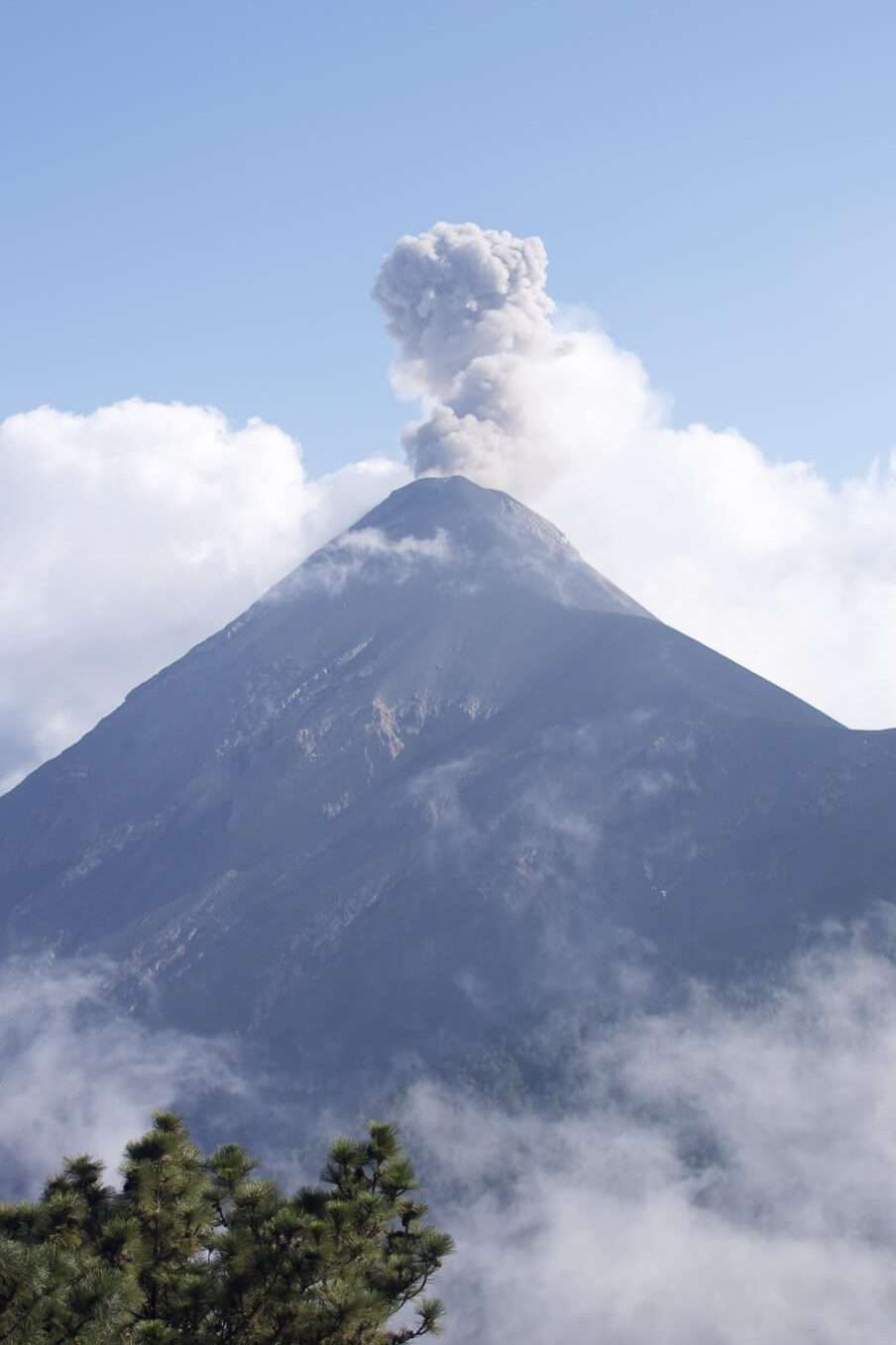 What to Expect on the Acatenango Volcano overnight Hike
The following is based on my experience with OX Expeditions so bear this in mind if you are booking with an alternative company.
So, you've got to Antigua, booked your tour, and you've packed your bags. What can you expect from the hike itself?
Before the Hike
The day before the hike you will be required to visit the OX Expeditions booking office for a pre-trip meeting. In this meeting, you'll learn all about what to expect on the hike.
From the different types of terrain, you'll be trekking on, to what time you can expect lunch and dinner. No stone is left unturned.
Day 1 – Breakfast
You will be asked to arrive at the OX Expeditions office at 7am sharp. At this point you can pick up any extra layers you may need. The guides will also give you the supplies they want you to carry for lunch and dinner.
After the group has finished packing, you will all hop onto a bus that will take you to the day's first stop, breakfast at Rainbow Cafe.
You can expect a typical Guatemalan breakfast and will be given roughly an hour to eat, drink and most importantly; get acquainted with your new hiking friends.
Once breakfast is complete the journey to the Acatenango Volcano hike start point begins. This journey will take roughly 45-60 minutes.
On arrival at Acatenango, you will have the opportunity to rent a walking pole, as well as hire a porter for your overnight back. I recommend both if you are not an experience hiker.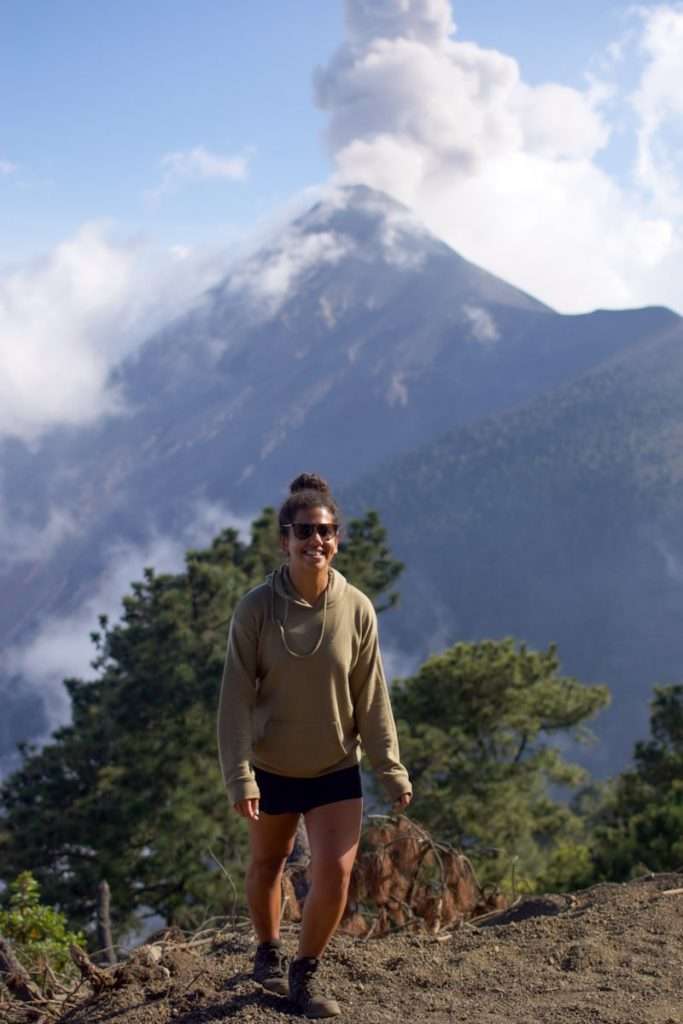 Day 1 – Hike to Basecamp
Now the real fun starts: The hike officially begins!
For the next 5-6 hours you will be hiking up steep hills en route to base camp. Don't worry there are plenty of stops along the way.
This includes a trip to a cafe about 15 minutes in, a pit stop to pay the entrance fee, snack stops and lunch. Plus lots of mini breaks for those who need it.
If you're worried about being the slowest hiker, don't! Take your time and remember that there will always be a guide (and fellow hikers) by your side to ensure you are not left behind.
Picture this…
The trail is tough but you're really enjoying yourself. You're getting to know your fellow hikers and you are all motivating each other through it. You are in awe of the incredible views along the way!
The time is 3 pm and after 6 hours of hiking, you have finally arrived at base camp.
You throw down your bags and stare in amazement and the puffs of smoke shooting into the sky from Volcan Fuego.
Whilst you sit and take it all in, your guides are setting up your tents for the night, lighting up a campfire and organising a round of hot chocolate for the team.
Looking for more Central America inspo? Check out my other guides here.
Those who have decided to hike Fuego only have an hour to rest before they set off for the next 4 hours of hiking.
The rest of you the next few hours sitting around the campfire and watch as the clouds start to roll in, annoyingly blocking your view of Fuego.
You're not too worried though. You're still having fun, laughing with your campmates, eating dinner and drinking wine.
It's a few hours after sunset and the clouds have finally cleared. You're watching Fuego erupt bursting orange into the sky every 20 mins. Each eruption is just as impressive as the last. Nature has put on its finest show.
It's time for bed, but you don't get much sleep. It's painfully cold and you can't stop watching the eruptions through the door of your tent!
Day 2 – The Sunrise Hike
Your guides have given you a delightful 3:30 am wake-up call. You're about to begin the sunrise hike to the summit of Acatenango! For this portion of the hike, you really have to dig deep.
Tiredness, altitude, darkness, the steep climb and rugged terrain are making this part of the hike a lot more challenging than the day before.
After a gruelling 2 hours, you finally reach the summit and the sun is starting to rise. The wind is forceful and bitterly cold, but the scenery makes up for it all. There are tears of joy, you finally made it!
Back Down
Once you have completed the summit hike, you will head back down to base camp to have breakfast and pack up. You'll then make your way back to the start which will take you roughly 3 hours.
Once your group has completed the Acatenango Volcano overnight hike, you'll need to return any walking poles you have rented. You'll then jump back into the van and head to Antigua, arriving back around 12pm.
Happy Hiking
I hope this guide has been helpful and that my brutal honesty hasn't put you off. As I said earlier in this post, the reward is greater than the challenge and the sense of achievement you'll feel at the end is unparalleled.
If you have any more questions about this hike, please feel free to reach out!