Everything you need to know about Volcano Boarding in Nicaragua.
Whilst there are lots of amazing activities to do in Nicaragua. From surfing to hiking, to exploring untouched Caribbean Islands, there is one particular activity in Nicaragua that travellers rave about time and time again. And that activity is Volcano Boarding.
So, what is Volcano Boarding exactly you may ask? Essentially, Volcano Boarding is exactly what it says on the tin. Think snow sledging, but instead of sliding down a snow-covered hill, you're sliding on volcanic rock down the slopes of an active volcano. Pretty cool right?
Despite Nicaragua being home to around 40 volcanoes, this activity takes place on only one of these, known as Volcan Cerro Negro (black hill).
Whilst Volcano Boarding in Nicaragua is not for the faint-hearted, it's definitely an adrenaline-filled experience like no other, and definitely one to try for the thrill-seekers among us!
After an amazing 10 days in Nicaragua, It's safe to say Volcano Boarding in Nicaragua was one the most exciting and unique activities of the whole trip. And definitely one of the coolest things I've done in my life! So, if you are headed to this beautiful country then make sure to give volcano boarding in Nicaragua a go!
So what do you need to know about Volcano Boarding in Nicaragua? Read on below to find out!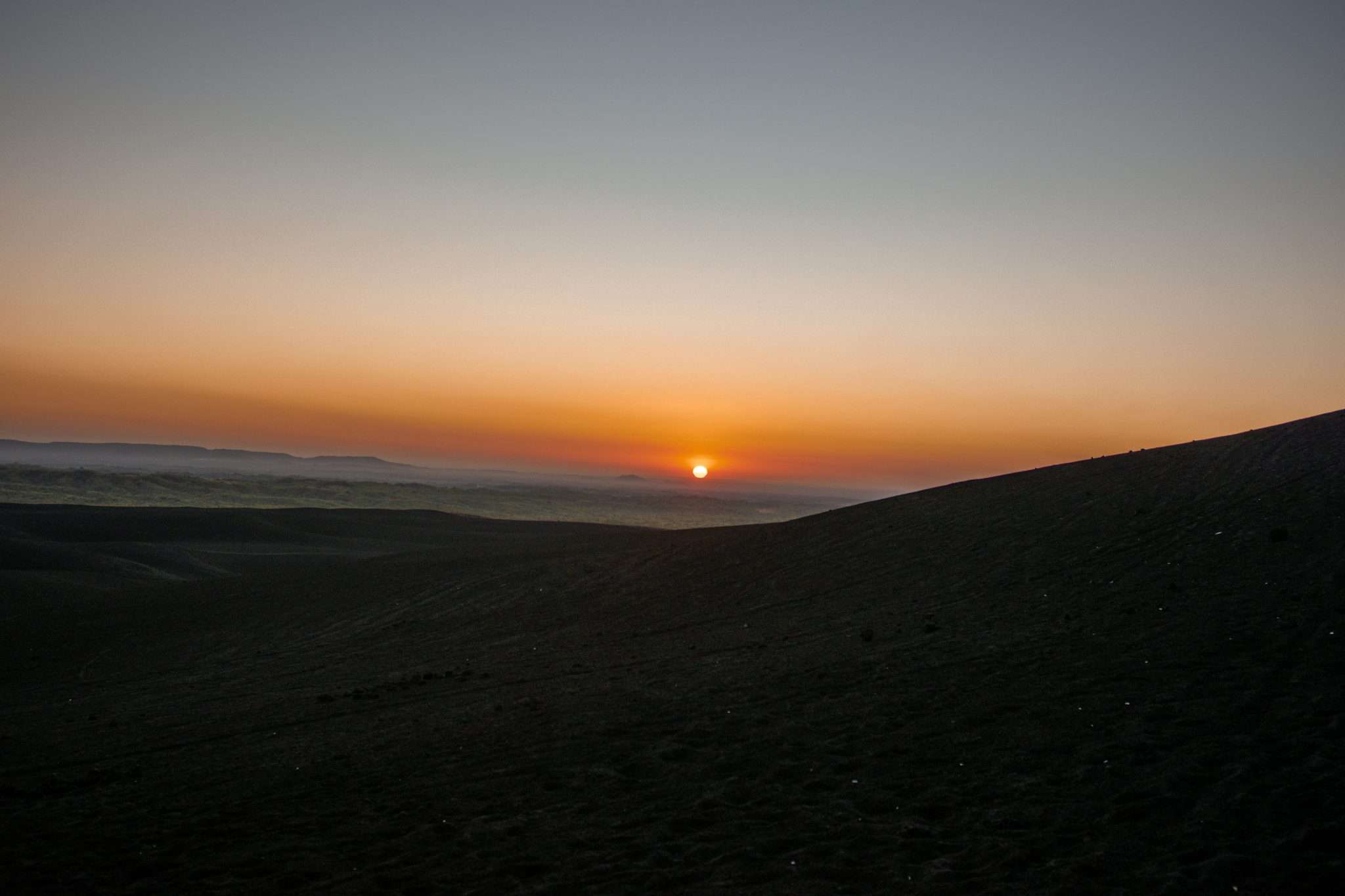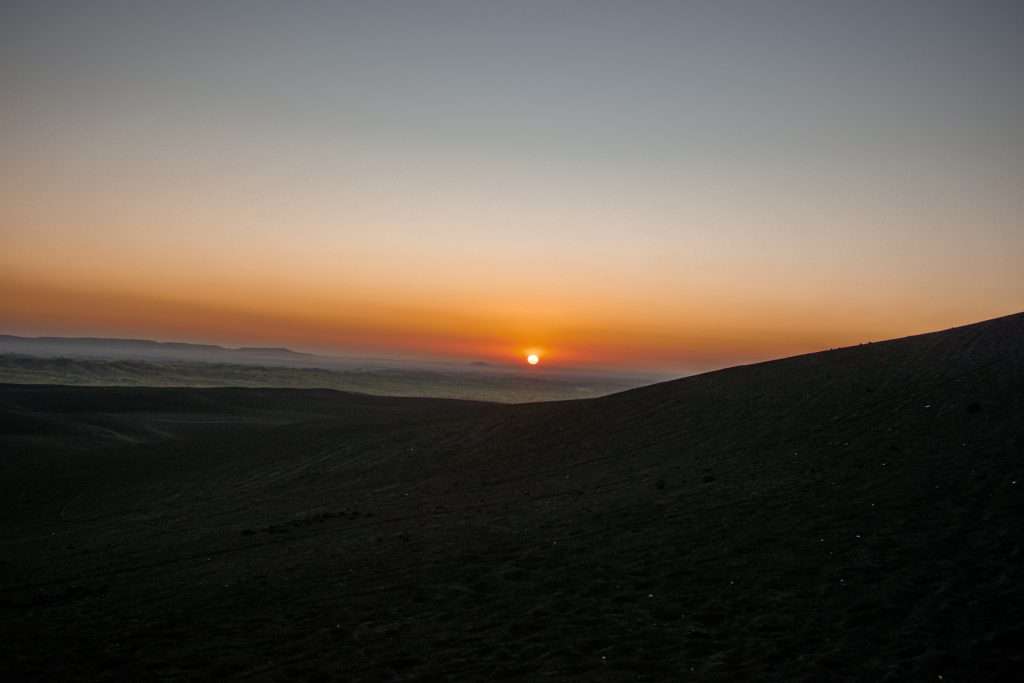 Disclaimer: This post contains affiliate links. If you decide to make a verified purchase through the links in this post I will earn a small commission. This will be at no extra cost to you. Thank you
Where to go Volcano Boarding in Nicaragua?
To begin your Volcano Boarding in Nicaragua you will need to get to León, one of Nicaragua's famous colonial cities. This is the closest city to the Cerro Negro Volcano, where the activity will take place. León is approximately a 1.5-hour drive from Nicaragua's capital, Managua and approximately 2.5 hours from the famous city of Granada.
León is easily accessible by public bus, private shuttle or taxi.
Public Bus
Managua to León
You will need to get to the UCA bus station in Managua City and from there take the bus to León. Tickets will cost roughly 120 cordobas.
Granada to León
You will need to head to Granada Microbus station and take the bus to Managua's UCA bus station. This journey shouldn't cost you any more than 100 cordobas. From Managua, you will then need to catch the bus to León. Again, tickets will cost roughly 120 cordobas.
Please note you might be charged an additional cost for luggage.
Private Shuttle
Managua to León
You can get a shuttle bus from Managua to Leon with Gekko Trails Explorer for $35. The shuttle leaves at 1 pm and takes approximately 2 hours. You can either get picked up from the city or the airport.
Granada to León
The shuttle from Granada to Leon will cost around $15-$25 and can take between 4-6 hours. Shuttles usually leave between 11 am-12 pm. You can book with tour operators located in Granada city, or online. My preferred shuttle bus provider in Nicaragua is Gekko Trails Explorer
Facts about Cerro Negro Volcano
As mentioned earlier in this post, your Volcano Boarding activity will take place on the Cerro Negro volcano. Cerro Negro is the youngest volcano in Central America and was only formed back in 1850. Cerro Negro stands at 728 m (2,388 ft) and is one of the most active volcanoes in Nicaragua! Yes, you read that right, you'll be boarding down one of the most active volcanoes in the country. BUT don't let that put you off, Cerro Negro's last eruption was back in 1999.
Who to book Volcano Boarding in Nicaragua with?
There are several companies that offer Volcano Boarding tours, however, the two most popular (and highly rated) companies to book with are listed below.
Out of the two listed here, Bigfoot is the most popular company to book your Volcano Boarding tour with (probably because it's also the most famous party hostel in León). They offer three types of Volcano Boarding tours which include the sunrise tour, the day tour and the sunset tour. Prices range from $30-$35 depending on which tour you book.
Volcano Day offers 4 different types of Volcano Boarding tours. These include the basic tour, the sunset tour, the "all-in" tour and the twice tour. Prices again vary between $25-$40 depending on which tour you book.
What to pack for Volcano Boarding in Nicaragua?
Make sure to come fully prepared for your Volcano Boarding adventure and pack the following items:
Hiking boots / walking shoes
1L water
Hat
Sunscreen
Bandana/Scarf – if you forget you can buy one from your tour provider
Sunglasses
Goggles – Whilst your tour operator will provide you with goggles, these can be quite old and loose-fitting. If you are a contact lens wearer I would highly recommend bringing your own, tight-fitting goggles to avoid getting dust in your eyes. I can tell you from experience it was super painful and If I was to do this again I would bring my own tight-fitting goggles
What to expect from Volcano Boarding in Nicaragua?
Below is an account of the $35 sunset Volcano Boarding experience with Bigfoot Hostel. The sunset tour starts at 1 pm. If you are not staying at Bigfoot Hostel you'll have a hotel transfer included in the cost of your tour.
Preparing for the hike
If you are not staying at Bigfoot Hostel, you will be collected from your hotel around 1 pm. You might expect to be picked up in a small minivan, but Bigfoot doesn't do things by halves, so you'll be collected in a rather large chicken bus instead. Once collected, you'll be transported to Bigfoot Hostel, where the initial briefing will begin.
The briefing will include a short intro from your tour guides as well as a brief video guide about volcano boarding in Nicaragua. You will then be given a free Volcano Boarding t-shirt (woo) and will then be required to pay your remaining balances (if you haven't already paid in full). This will also be your opportunity to pick up a bandana if you haven't got one of your own. This will only set you back $2.
Once everyone is ready, you will hop back on to the chicken bus and head towards Cerro Negro. Don't be shocked if there a more people than seats. Be prepared to get cosy with your fellow tour mates!
Hiking Cerro Negro
The drive to Cerro Negro from Bigfoot Hostel will take around an hour. Once you arrive you will be given a bag to carry your belongings in (eg phone and water), the famous orange jumpsuit, some goggles and a board. If you don't want to carry your board, you will get the opportunity to hire a porter for a small fee.
Once everyone is ready you'll begin the hike. Thankfully the hike is quick and painless (for the most part) and should only take around 45 minutes to an hour. It can get quite windy on the walk, so this is where you may need to pop on your lightweight jacket, and if like me you are a contact lens wear, you might want to pop your goggles on too to protect your eyes from the dust!
Once you reach the top this is time to get properly kitted up, pop on your orange jumpsuits and collect your board if you hired a porter.
Volcano Boarding
Once everyone is suited and booted you'll head to the edge of the slope and get instructions on how to safely get down the slope and how to control your speeds (lean back to go faster and lean forward to slow yourself down).
Then it's time for the real action to start, and begin heading down the slope. It could take a few minutes for the bravest person to volunteer to go first, but after that, you'll all get going. You, do however, need to be mindful that if you have a large group it can take a while to get to your turn.
There will also be a tour guide at the bottom measuring your speed and there will be a prize for the fastest male and female.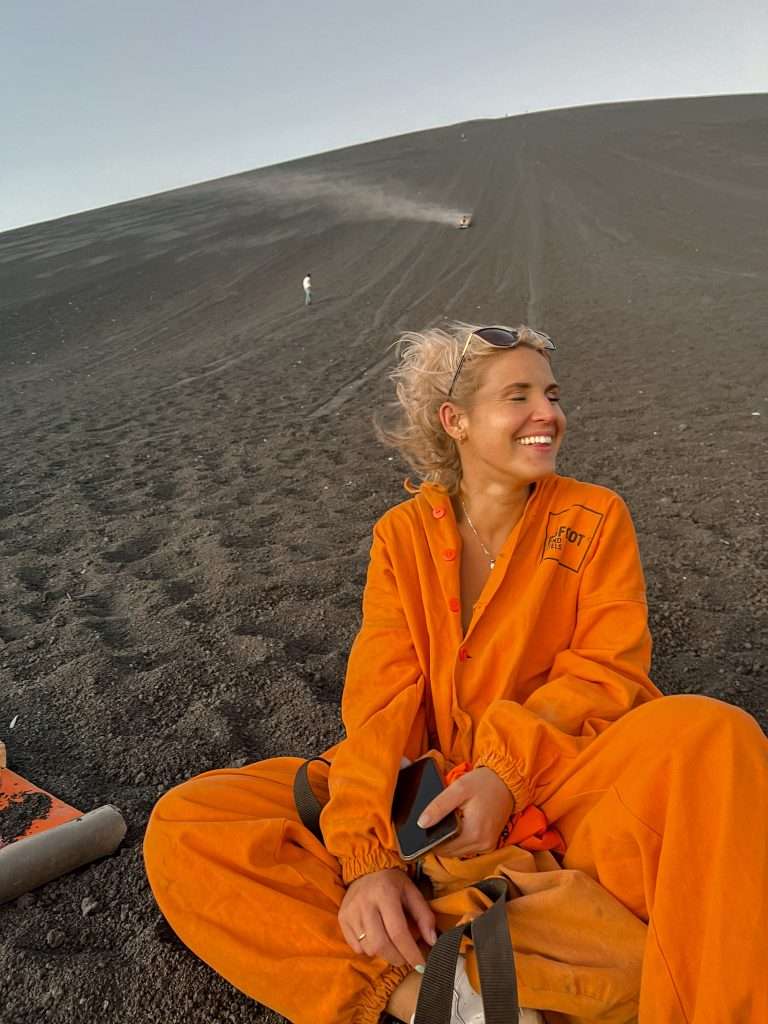 Post Volcano Boarding
Once everyone has had their turn you'll all be able to witness a very magical sunset together. In fact, it's probably one of the best sunsets I have ever seen.
Once the sun goes down you'll have a little party underneath the stars, which is absolutely incredible and one of those surreal travel moments. The guides will pop on some music, hand out some snacks and, most importantly, some drinks for everyone. You'll be able to choose from hard seltzers and rum and coke.
After an hour, you'll all hop back on the bus and head back to León. BUT, don't be sad, the party doesn't stop here (which was to my shock and surprise 😂). The guides will put the music up super loud, hand out even more rum and coke and everyone will get up and start dancing down the aisle of the bus.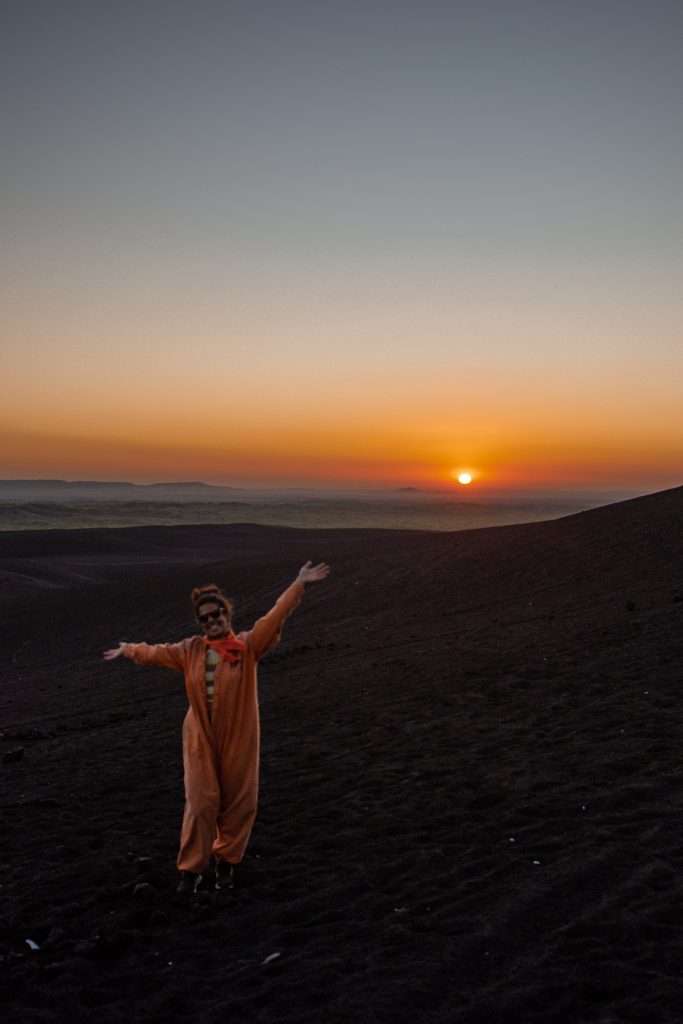 Whilst this was fun for the younger ones on the bus, I didn't enjoy it as much, as it felt like the bus was going to topple over with all the dancing and the movement (gosh, I'm starting to sound like my mum 😂). I also didn't enjoy the fact that people were smoking throughout the bus (but it is Central America and anything goes I guess).
Once you arrive back at Bigfoot Hostel you'll get an incredible dinner and can stay on longer to mingle with your new friends. After that you'll probably want to rush home for a shower because you'll have volcanic rock in places you didn't think were possible (and will 100% be washing volcanic rock out of your hair for at least 3 days 😂).
Happy Boarding
I hope you have a wonderful time at Volcano Boarding in Nicaragua. If you have any more questions about anything discussed in this blog post, please feel free to reach out!
Looking for more Nicaragua inspiration? Check out my other Nicaragua Guides.