Hidden on the glistening shores of Costa Rica's Caribbean coast lies the laid-back, hippie town of Puerto Viejo de Talamanca. Due to its location, this tropical paradise often gets missed on the 'traditional' tourist path. Which, in my opinion, makes Puerto Viejo all the more appealing.
Whilst the town is small, there are still many wonderful things to do in Puerto Viejo. Whether you want to sip Pina Coladas overlooking the beach, try your hand at surfing, or go in search of some sloths. You are guaranteed to leave this town with a full heart and a smile on your face.
After a fabulous two-week holiday in Costa Rica, I realised that Puerto Viejo was my favourite place of all. I completely fell in love ❤️ with the chilled-out vibes, the vibrant atmosphere, and the influence of Caribbean culture (I certainly won't be shocked if you do too).
If you are looking for a destination that will truly capture your attention then Puerto Viejo is the place you need to visit!
So, what are the best things to do in Puerto Viejo? Read on below to find out!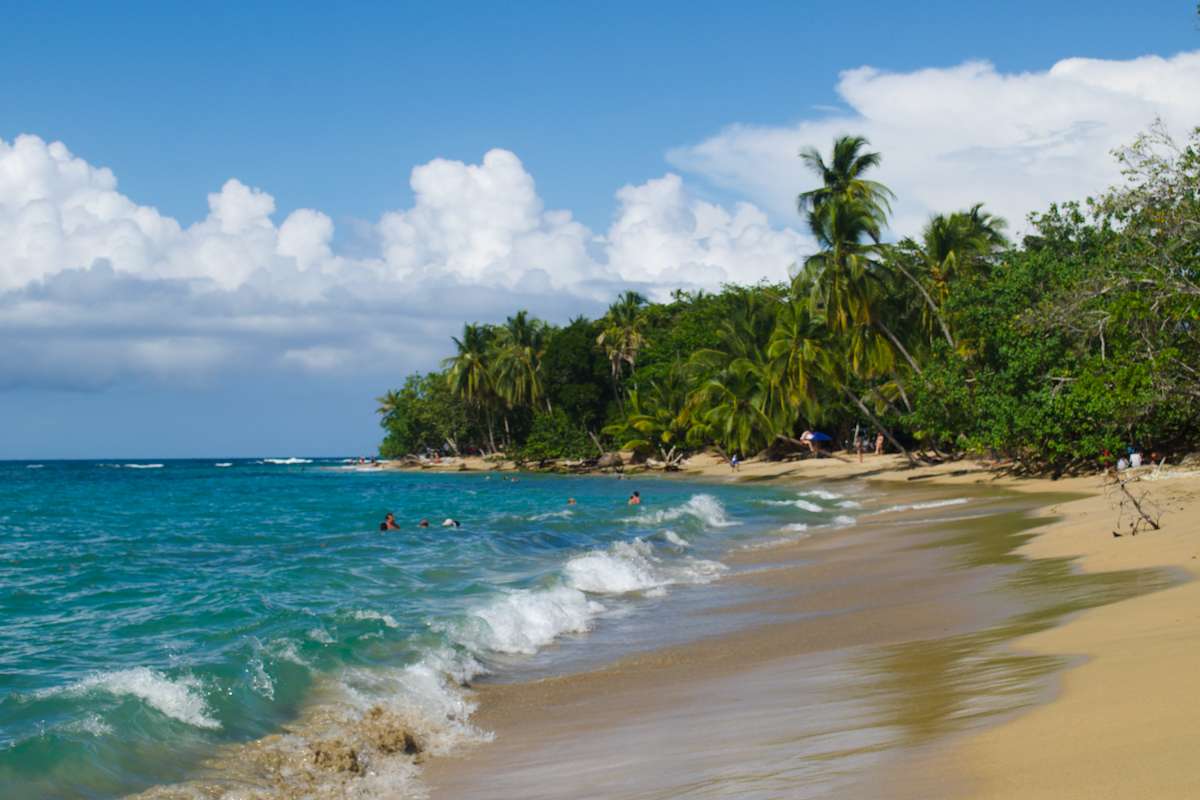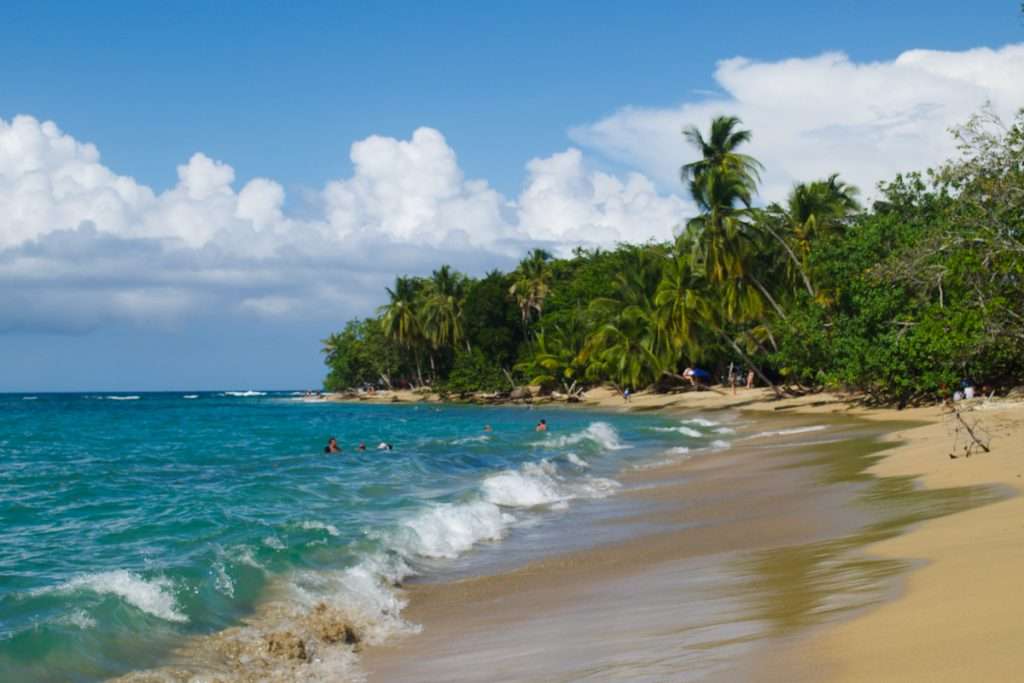 Disclaimer: This post contains affiliate links. If you decide to make a verified purchase through the links in this post I will earn a small commission. This will be at no extra cost to you. Thank you
Sunset Cocktails at Puerto Pirata
Overlooking Puerto Viejo beach lies the super cool Tiki Bar, Puerto Pirata. Puerto Pirata is one of the best sunset viewing spots in all of Puerto Viejo, it also has the best cocktails in town and extremely friendly and helpful staff. One of my favourite things to do in Puerto Viejo of an evening was to head down to Puerto Pirata just before sunset and sip on some delicious Pina Coladas whilst watching the sun sink below the horizon.
Playa Cocles Beach
With Crisp white sand and impressive 7-foot waves, Playa Cocles is one of the best things to do in Puerto Viejo for those who love to surf (or want to give surfing a go). There are a handful of well-established surf shops and schools in Playa Cocles, so you will be well looked after whether you just want to rent a board or take some lessons. One of the top-rated surf schools in Playa Cocles is Surf Meds Carbe.
Playa Cocles is just a short 10-minute drive (and 50-minute walk) from Puerto Viejo and is easily accessible by car/taxi, cycle and foot.

There isn't much else to do in Playa Cocles apart from surfing, so if that's not your thing you can probably give this one a miss! 😅
Cahuita National Park
Recognised as one of the best places in Costa Rica to see sloths, a trip to Cahuita National Park should definitely not be missed off your Puerto Viejo itinerary.
Expect to see pristine white sandy beaches, an abundance of unique wildlife and thick lush greenery. And don't be shocked if you hear some strange noises coming from the depths of the jungle, that's probably the sounds of the Howler Monkey echoing through the canopy.
Being able to completely immerse myself in nature made visiting Cahuita National Park one of my favourite things to do in Puerto Viejo.
Cahuita is located just 30 minutes from Puerto Viejo and is easily accessible by public bus, shuttle or taxi. Alternatively, If you have rented a car or bike there are guarded car parks which you can pay to use (expect to pay around $2-3 USD to park for the day).
It's also important to note that whilst the entrance to the park is actually free (Cahuita is one of the only free national parks in all of Costa Rica) you will be asked for a donation of $5 USD for park maintenance. I would definitely recommend donating this if you can.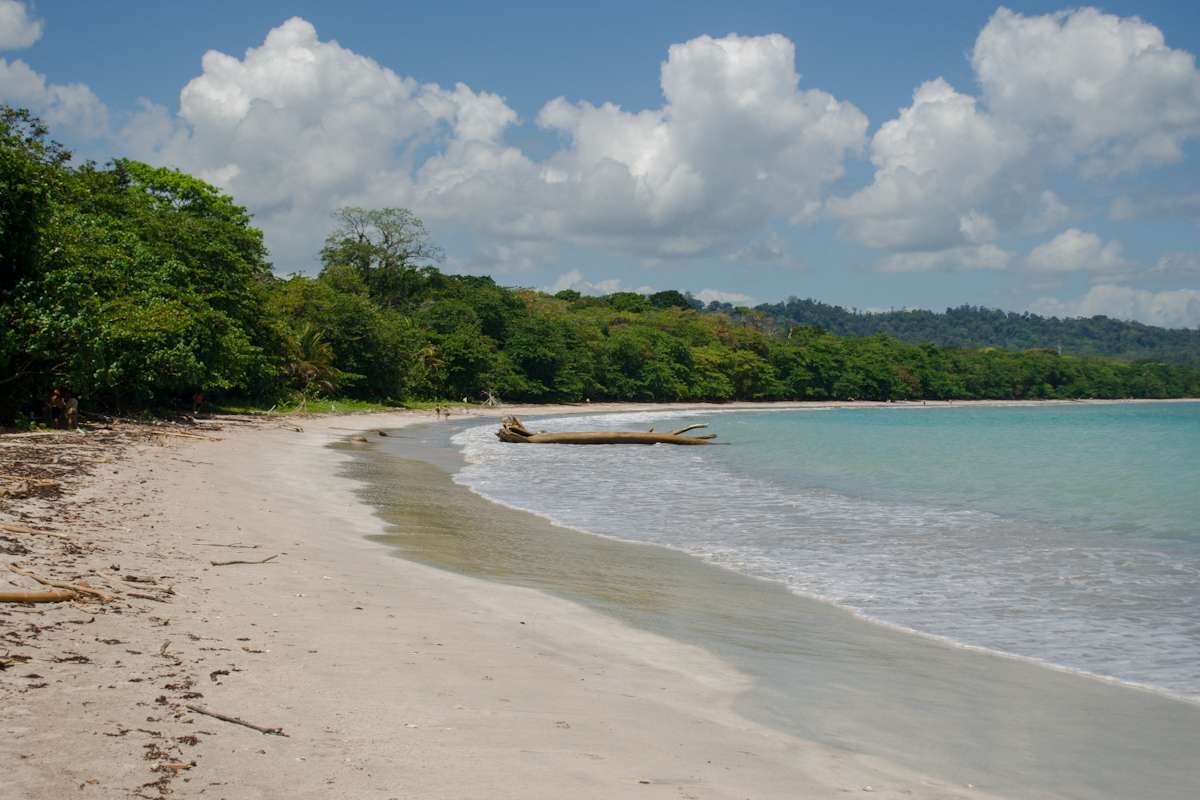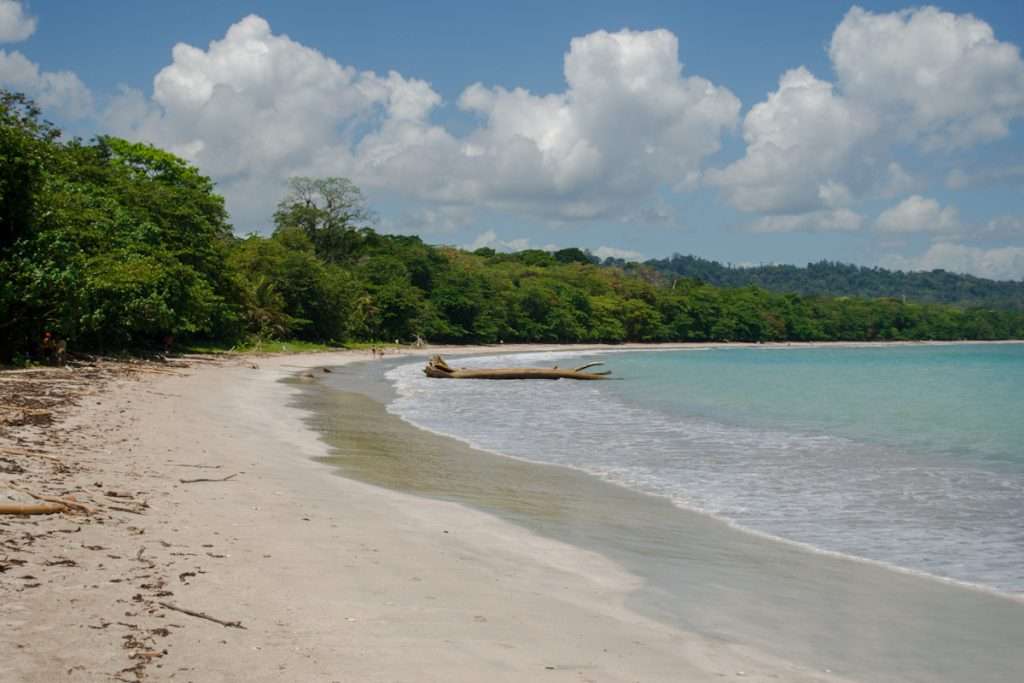 Explore the town by Bicycle
One of the best things to do in Puerto Viejo is to cruise through the town and its surrounding areas by bicycle. Almost all of the places that I have mentioned in this post are easily accessible by bike. Plus, it's a great way to soak up all of the stunning scenery that Puerto Viejo has to offer.
And, one of the best things about Puerto Viejo is that the roads have been newly paved, so unlike most of Costa Rica, the roads are pot-hole free and cycle ready!
There are a handful of bike rental companies in the town centre so you won't be short of choice. You can rent a cycle for as little as $5 USD a day. Make sure you are super-mindful about locking your bike when you park. I've heard some stories about bikes getting stolen and tourists having to pay out to the companies to resolve the issue.
Puerto
Dinner at Koki Beach
Seafood lovers, dinner at Koki Beach is the one for you. As you would expect from a seaside town the seafood is super fresh and just all-around delicious. I had the grilled octopus dish and it was honestly the best octopus I have ever eaten! Do not skip dinner at Koki Beach.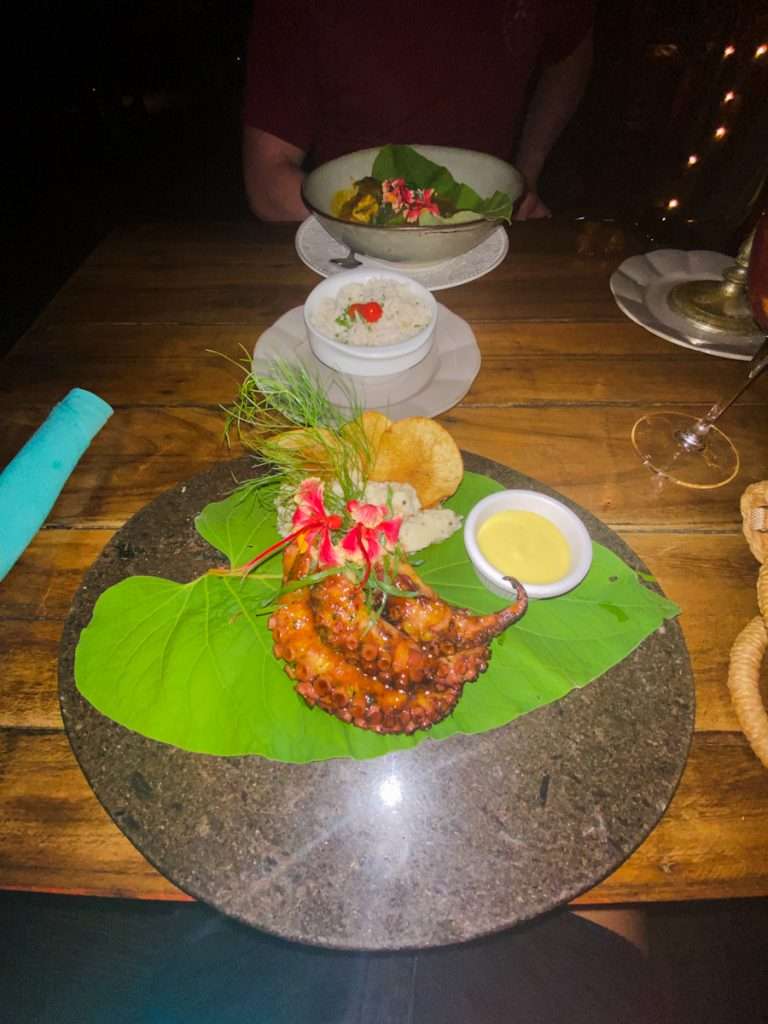 Kayak through Punta Uva Mangroves
At high tide, you can meander through the thick, lush mangroves of Punta Uva in search of more of Costa Rica's fantastic wildlife. Such as toucans, monkeys and of course, the sloth! Willies tours are one of the top-rated companies to book with. Don't miss out on this trip as it's one of the most incredible things to do in Puerto Viejo.
Party at Salsa Brava Rasta Bar
Love Reggae, Reggaeton Music and chilled-out vibes? Then make sure you pay a visit to Salsa Brava Rasta Bar both during the day and at night! The bar itself is no-thrills and it's probably better to order a beer from here rather than a cocktail, BUT the music and the atmosphere is vibrant and it overlooks the beach. I totally fell in love with the place.
I honestly could have stayed in this bar all night, but unfortunately, my jet lag got the better of me!
Take a trip to Manzanillo
Not to be confused with the Playa Manzanillo on Costa Rica's west coast. This Manzanillo is just a 20-minute drive from Puerto Viejo. Manzanillo is a calm and tranquil fishing village with yet another stunning beach and some great cafes and restaurants. If you are craving some respite from the livelier Puerto Viejo then a trip to Manzanillo could do the trick.
Relax on Punta Uva Beach
Featured on the list of Costa Rica's Blue-Flag (cleanest) beaches is the beautiful Punta Uva. Punta Uva is one of the best beaches in Puerto Viejo if not all of Costa Rica. The rich golden sand and the palm tree-studded shores make Punta Uva a popular destination for both tourists and locals alike.
What makes Punta Uva even more special is the law against building anything within 50 metres of the high tide line. Meaning the beach is free, open and ready for you to enjoy. Make sure you do not skip a trip to Punta Uva as it's one of the most beautiful things to do in Puerto Viejo.
Book on a Chocolate Tour
One of Puerto Viejo's greatest exports is chocolate and it has an abundance of cacao farms in the area. During the tour, you'll learn all about how they grow and harvest cacao and how they transform this into delicious chocolate. No chocolate tour would be complete without some taste-testing, so you'll be pleased to know you'll get to try a variety of different types of chocolates. You can book your chocolate tour here
Wander through the boutique shops
As you are strolling through Puerto Viejo town you'll notice that there are lots of cute and quirky clothes/souvenir shops. If like me, you're keen to get your hands on some sloth-themed memorabilia then make sure to have a peak inside some of these stores.

These shops came in very handy when my boyfriend's luggage was lost in transit en route to Costa Rica. He managed to pick up some really nice t-shirts from a super cool Costa Rican Brand at Wanderlust Puerto Viejo (and I also nabbed a very cute beach bag). Wanderlust Puerto Viejo in my opinion is the best clothes/souvenir shop in all of Puerto Viejo.
Visit the Jaguar Rescue Centre
The admirable Jaguar Rescue Centre looks after ill, injured, illegally trafficked and orphaned animals. These can include wild cats, sloths, monkeys, and reptiles as well as a few other endangered species.
The purpose of the JRC is to provide 24/7 care to these animals in order to rehabilitate them and hopefully (if possible) re-introduce them to the wild.

You can help to support the JRC by booking a tour around the grounds, where you will be able to get up close with the animals and learn all about their plight from extremely knowledgeable and passionate guides. Tours start from $24 USD and you can here to book your tour directly with the JRC.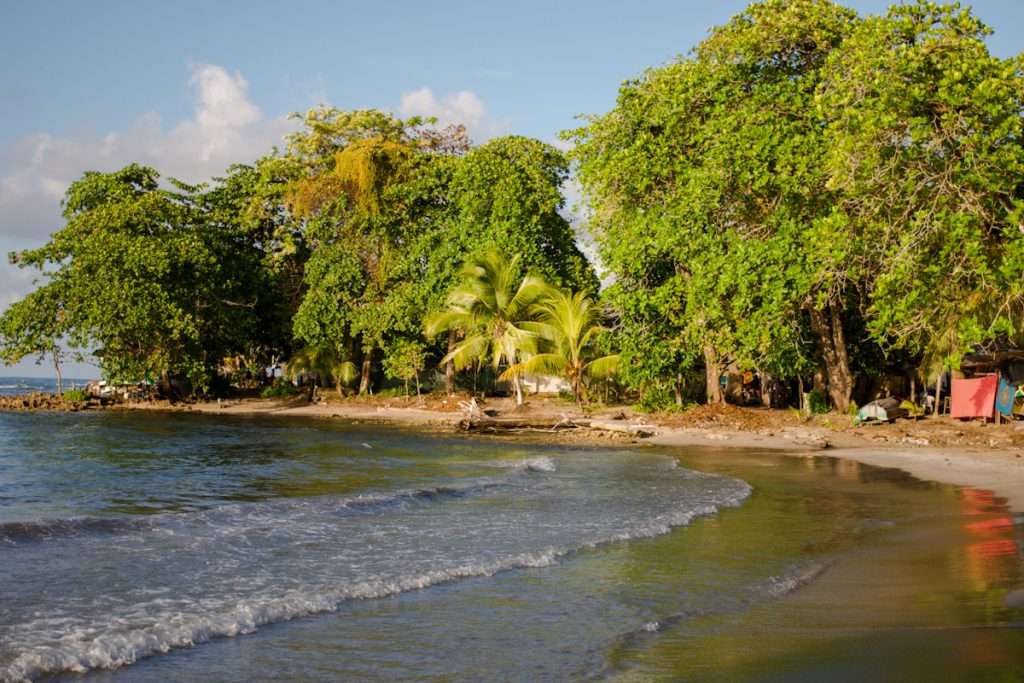 Happy Exploring
I hope you have a wonderful time exploring all that Puerto Viejo has to offer. If you have any more questions about anything discussed in this blog post, please feel free to reach out!
Looking for more Costa Rica inspiration? Check out my guide to Dominical