Situated on the banks of Nicaragua's tranquil Laguna De Apoyo lies the beautiful Paradiso Hostel. With incredible panoramic views of Laguna De Apoyo, Paradiso hostel is the perfect place to press pause and reconnect with nature.
With a location that is just a short drive from both Managua and Granada, Paradiso Hostel provides a serene and calming escape from hustle and bustle of city life. Here you have the perfect opportunity to get stuck into some soul-soothing activities such as kayaking, swimming, reading and even giving back to the local community..
Staying here is a truly magical experience. If you want to chance to switch off, restore and reset then a stay at Paradiso Hostel is the one for you. And as someone who spends their days looking for unique and chilled out places to stay, I can say that Paradiso Hostel ticks every box.
So what's it like to stay at Paradiso Hostel? Read on below to find out!
Disclaimer: This post contains affiliate links. If you decide to make a verified purchase through the links in this post I will earn a small commission. This will be at no extra cost to you. Thank you
Where is Paradiso Hostel Located?
Paradiso is just a short 40-minute drive from Managua and a 25-minute drive from Granada.
How to get to Paradiso Hostel?
Taxi
A taxi from Managua will cost you around $40 and from Granada around $12.
Shuttle
Paradiso Hostel has a daily shuttle that leaves from Granada (outside Hostel Oasis) at 10am. There is a return daily shuttle at 5 pm. The shuttle costs $3 for a single trip and $5 for a return.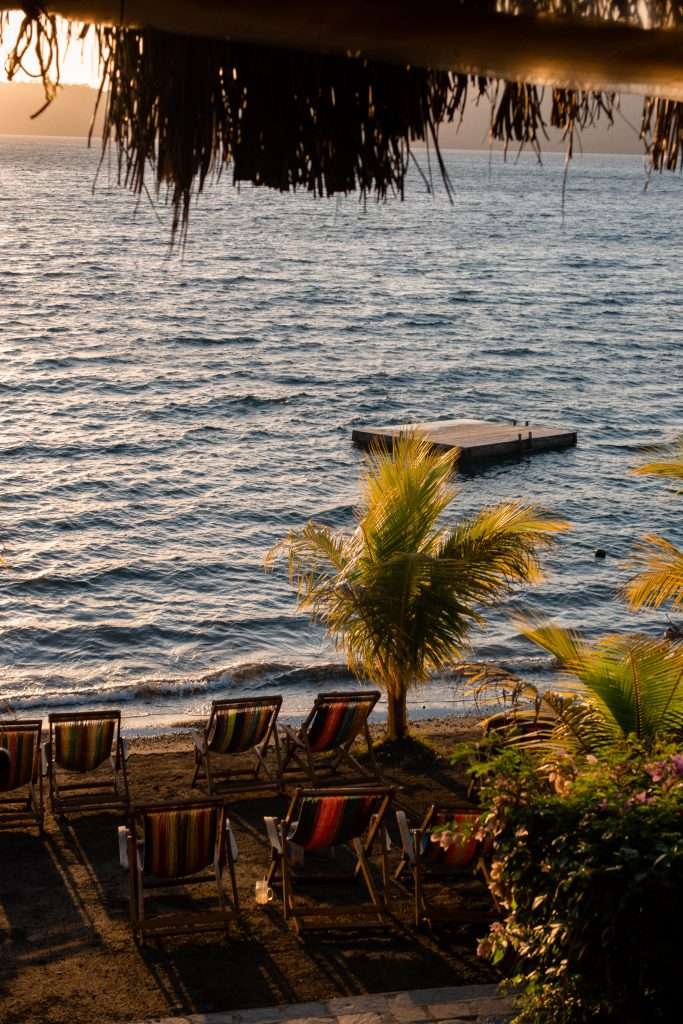 Public Bus
There are no public buses that will drop you to Paradiso, however, Paradiso Hostel state that "you can take any Masaya (and most Managua) bound bus from Granada and ask to be dropped off at Laguna de Apoyo, or "la entrada de la laguna" / Puentecito". As the bus will drop you off at the entrance of the Lake, you will need to catch a taxi to drop you outside Paradiso.
What is the Accommodation like at Paradiso Hostel?
Paradiso has a HUGE range of accommodations to suit all types of travellers, from the solo backpacker to families of 6.
Accommodation options are as follows:
Double Room | Shared Bathroom
Double Room | Private Bathroom
Double Superior Room | Private Bathroom
Triple Superior Room | Private Bathroom
Quadruple Deluxe Room | Private Bathroom
Sextuple Family Room | Lake View
Quintuple Family Room | Lake View
Dorm room with Garden View
Dorm rooms start at $15 per night whilst Private rooms start from around $35 per night up to $100.
Please note prices may vary between seasons.
What Facilities and activities do they have at Paradiso Hostel?
Swimming
The water in this lake is SO warm which makes it perfect for a little swim. They have rubber rings for those who want to have a little float, as well as a small pontoon out in the water, perfect for a spot of sunbathing.
I only found this out recently, but Laguna De Apoyo is the cleanest lake in all of Central America! Pretty cool eh?
Kayaking and Paddle-boarding
On the banks of the lakes there are kayaks, paddleboards and life jackets waiting for you to use (free of charge). You can use these pretty much all day, however you may occasionally not be able to go out if the wind is too strong. This makes the lake extremely bumpy!
Hammocks
Spend your day chilling out in a hammock reading a good book!
Spa
If you are interested in taking your relaxation to the next step you can take a visit to the onsite spa and treat yourself to a massage. Prices are below:
Massage: 1/2 hour 10$, 1 hour 20$
Manicure: 10$
Pedicure: 10$
Learning Spanish
Fancy brushing up on your Spanish skills? Why not learn Spanish at Paradiso Hostel? They have a handful of highly qualified teachers who can teach the basics to the super advanced. This would best suit those who are planning to stay at Paradiso for a while!
Community Activity
If you are passionate about giving back to local communities on your travels then you will get the chance to do so at Paradiso. You'll get the option to spend your morning with local children from Laguna De Apoyo where you can educate them on how to look after the planet as well as just to spend some time having fun with them.
After the community morning, you will also get the chance to opt-in for quiz night at the bar. All proceeds will go to helping the children of Laguna De Apoyo.
Games
Fancy a game of volleyball, ping pong, billiards, or bocci ball? Well, you are in luck, you can find them all at Paradiso Hostel.
Salsa night
Whether you're as stiff as an ironing board, or you have smooth liquid hips… you'll be invited you join an evening of Salsa at Paradiso Hostel. The salsa lessons are completely free, however, Paradiso Hostel will accept donations. All donations will go towards community projects within Laguna De Apoyo.
Laguna Beats
Every Monday, Paradiso Hostel invites local DJs over to play an afternoon of music for its guests. You can enjoy electronic and house music whilst in a hammock or sun lounger whilst you have a drink in hand and are watching the sunset behind the lake. PERFECT!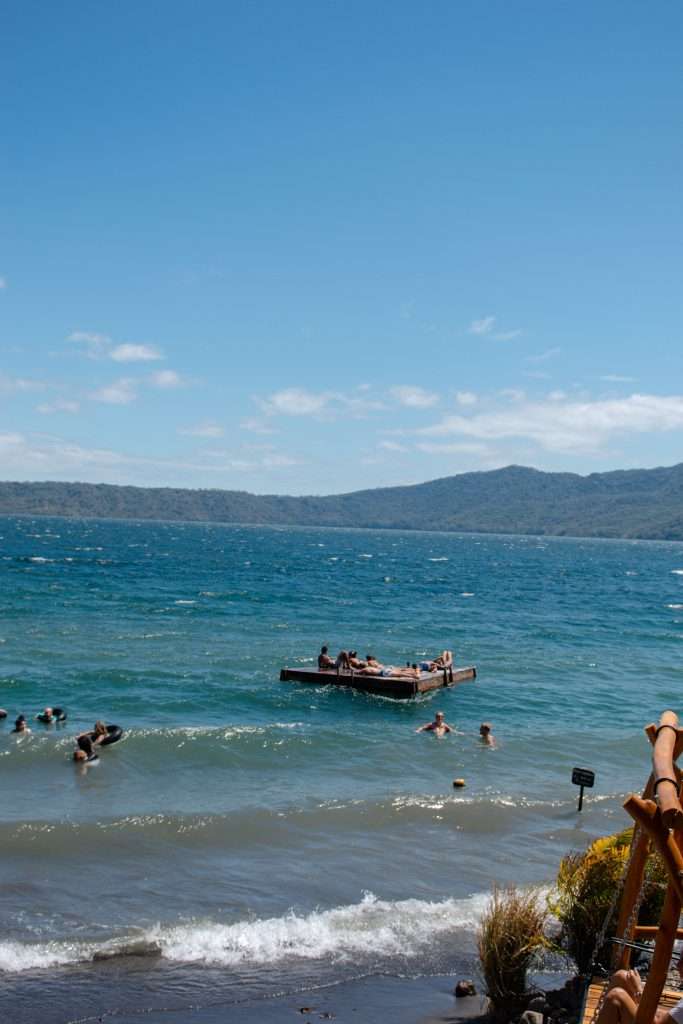 Trips and tours
Whilst staying at Paradiso Hostel you can book a handful of amazing tours. At just $25 one of the most popular tours to book is a trip to Masaya Volcano. This is just a short journey from Paradiso and you get to watch epic lava flows, so definitely not one to miss!
Other tours include Catarina: The Mirador & Birdwatching and the islets of Granada Tour.
Shuttle buses
As well as daily shuttle buses to and from Granada, Paradiso Hostel also offer transport to other hot spots in Nicaragua such as Managua, Leon and San Juan Del Sur. All you need to do is ask at reception to see what is running that day or week.
Laundry service
Paradiso Hostel offers an onsite laundry service. You will be charged by the kilo and can expect you to get your laundry back in 24 hours!
Are there onsite restaurants at Paradiso Hostel?
There is an onsite restaurant at Paradiso Hostel and the food here is so delicious. They have a mix of traditional Nicaraguan/ Central American food as well as a few Western options too.
I highly recommend getting the guacamole and the ceviche!
The restaurant works on a tab system, so you show your room key and will be billed at the end of your stay. The same applies if you are visiting for the day (you will be given a visitor number).
If you are staying here you can also enjoy a fabulous complimentary breakfast. You can have a sneak peek at their menu here.
What are the pros and cons of staying at Paradiso Hostel?
Pros
Calming
Friendly staff
Great Food
Reasonable prices
Lots of activities to do
Cons
Would I stay here again?
100% We actually changed our plans so that we could stay at Paradiso Hostel an extra night. There is something about the atmosphere and energy here that leaves you feeling so chilled out and relaxed (who knows maybe the lake has magic powers). If you have been travelling Central America for a while (or like myself, on a jam-packed trip through Nicaragua) it's the perfect place to catch some downtime, and maybe catch up on a book! My favourite thing about staying here was being able to watch the sunrise over the lake every morning whilst everyone else was sleeping!
Looking for more hotel inspiration? Why don't you check out my hotel reviews here? OR looking for more Nicaragua inspiration? Check out my other Nicaragua Guides.