Nestled on a small, leafy green bay in southern Sri Lanka, lies the magical surf town of Hiriketiya. Hiriketiya is one of the south coast's best-kept secrets, but not for long, the town is becoming increasingly popular, and for very good reason.
Whether you want to unwind with some yoga and meditation, learn how to surf or simply want to party the night away, there are lots of wonderful things to do in Hiriketiya for you to choose from.
I found out about Hiritkeya through an Instagram post, and thankfully it was one of those situations where Instagram truly did match up to reality. When I first laid my eyes on Hiriketiya Beach, I instantly felt relaxed and at home, and knew that there was something special about this town.
The chilled-out and relaxed vibes that you can find in Hiriketiya will draw you in, so much so, you'll never want to leave. Take it from me I loved Hiriketiya so much that I went back twice in the space of a month, and very nearly went again for a 3rd time.
So, what are the best things to do in Hiriketiya? Read on below to find out.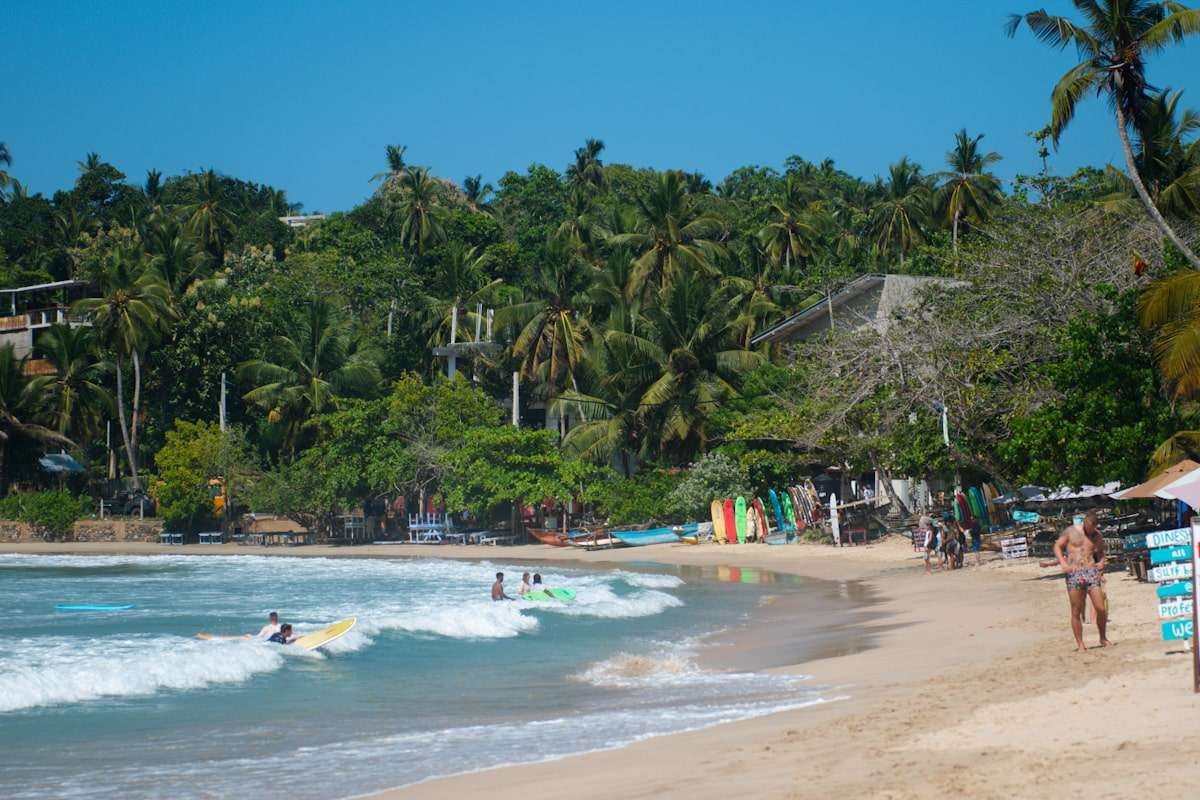 Disclaimer: This post contains affiliate links. If you decide to make a verified purchase through the links in this post I will earn a small commission. This will be at no extra cost to you. Thank you
Sign up to a surf camp
Keen to throw yourself into the world of surfing? One of the best things to do in Hiriketiya is to sign up for a surf camp. Kima Surf Camp is one of the best camps to sign up for in Hiriketiya. During your stay, you will get to surf twice a day with some of the best instructors in the area. It's also a great opportunity to explore all of the different surfing spots in the region.
Surf Lesson
If you're not ready to commit to a surf camp and just want to test out whether you'll actually enjoy surfing, then booking a one-off surf lesson is a great idea. Along the shore of Hiriketiya Bay, you'll be able to find an abundance of stalls offering surf lessons and board rentals. Most surf lessons take place in the early morning, around 8 am and start from around £12.
Get a massage
Feeling a bit battered and bruised after all the surfing, or simply just want to chill out? One of the best things to do in Hiriketiya is to get a massage. There are quite a few massage parlours in the area. If you are looking for a cheap, no-thrills option then "The Massage Shed" is a good one to choose. However, if you are after a more luxurious option then "Tonic Spa" is the best option.
Try all the amazing food
For a beach town so small there are a tonne of incredible restaurants to try. One of my favourite things to do in Hiriketiya was to try out all the delicious local eateries from the cheap local eats to the boujee western bites.
Some of the best places to try are:
Garlic Cafe
Smoke and Bitters
Mond
Dots
Dunis Hoppers
There are so many more restaurants to try in Hiriketiya and you can read my full list of favourites here.
Swim with Turtles at Batheegama
Hop in a tuk-tuk for 6 minutes and head to Batheegama beach. Here you'll be able to swim with some of Sri Lanka's famous turtles. If you are struggling to spot them, there are a couple of beach bars on the shore and the staff here will happily help you try to find them free of charge (maybe just buy a drink from the bar to say thank you).
The best time to come is in the morning around 8 or 9 am.
Watch the sunset at Dickwella Pehebiya Beach
Just a short walk from Hiriketiya bay lies the beautiful Dickwella Beach. This is the best place in the area to watch the sunset. You'll find a lot of people tend to stay around Hiriketiya Bay to watch the sunset but they are missing a trick! Grab a drink from one of the local beach bars and watch the sun go down with a nice cold beer (or watermelon juice).
Pool day at La Playa
My favourite place in Hiriketiya to spend a chilled day was La Playa. This is a boutique bar and hotel and one of the only places in Hiriketiya with an accessible pool (as long as you buy some food and drink) that overlooks the beautiful Hiriketiya Bay. Not only is the location and decor amazing, but the music is incredible and it's one of the best places in Hiriketiya to get a cold glass of wine!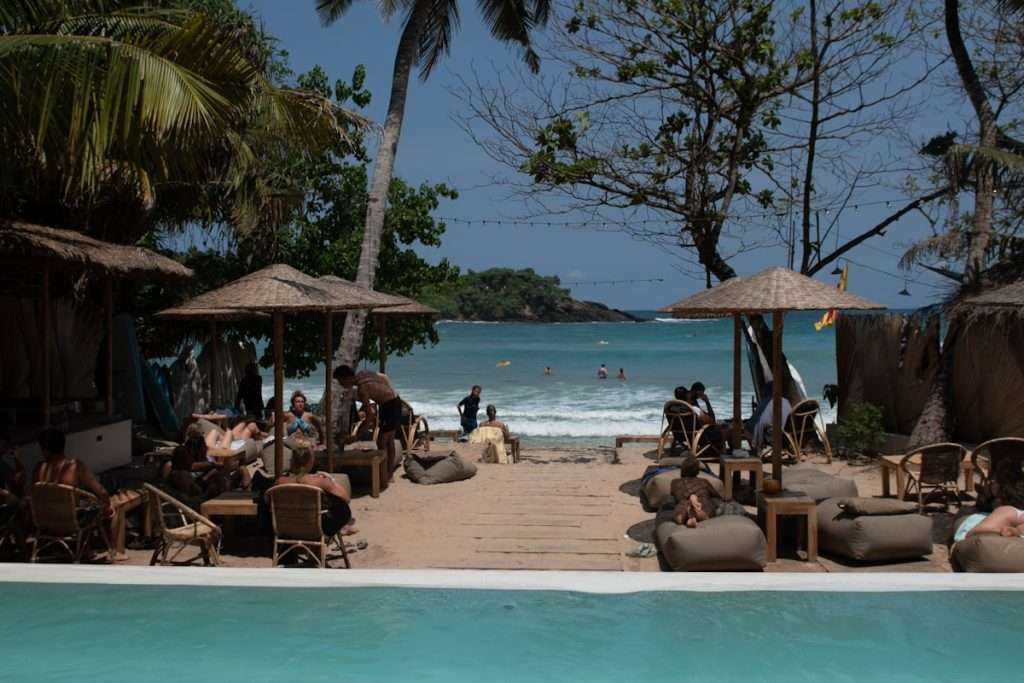 Unwind with some Yoga
After surfing, one of the most popular things to do in Hiriketiya is yoga. There are lots of places in town that will offer yoga and meditation sessions, however, you'll find some of the best classes and the following places:
Head to one of these for some much-needed R&R.
Visit Silent Beach in Tangalle
Just a 20-minute tuk-tuk ride from Hiriketiya lies the stunning Silent Beach. Silent Beach is a large stretch of bright golden sand next to a long line of lush green palm trees.
Silent Beach, is well and truly silent with just a handful of small beach bars spread out across the shore. You can spend the day here at one of the local bars, soaking up the sun and drinking fresh coconuts, and truly embracing the silence.
The waves at silent beach can get quite strong, so just be mindful of this if you're planning on going for a swim.
This is certainly one of the best things to do in Hiriketiya, and probably one of the most unique and beautiful beaches i have ever been too. Do not miss this one.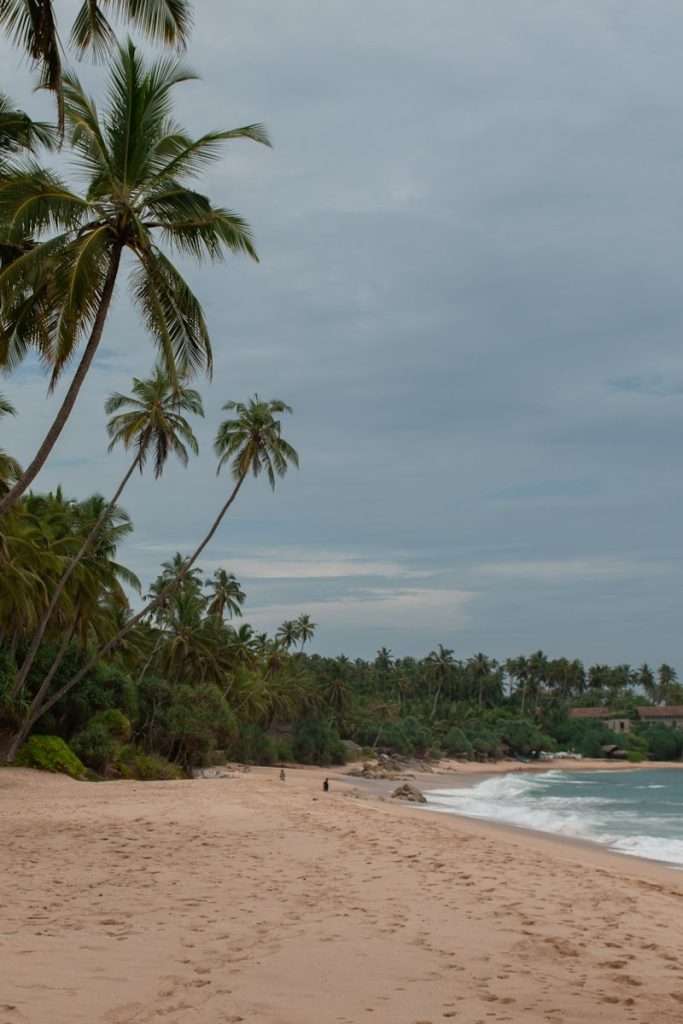 Go on a safari at Udawalawe National Park
Ready to escape the beach for the day? Then a trip to Udawalawe National Park is in order. Udawalawe National Park is just a 90-minute drive from Hiriketiya. It's the perfect opportunity to see some of Sri Lanka's finest wildlife, including elephants crocodiles, water buffalos, and if you're super lucky, even leopards!
If you are planning a day trip from Hiriketiya then you can book your half-day safari tour here.

However, if you would prefer to stay in the area for the night then I would recommend getting a taxi to Udawalawe and staying the night at Lizard Safari Point.
You can book a Safari tour directly through the hotel for just £40 and also get a 3-bed treehouse for just £15 per night (with a huge breakfast included). This is the option I went and it was such an incredible experience.
Party and Dots and Zig Zag bar
If you're up for a party then make to check out Dots and Zig Zag bar. During the week these bars take turns to host the "official" party night in Hiriketiya. On a Tuesday and a Saturday, Dots is the place to be. On a Friday night, you'll find everyone heading to Zig Zag bar. Don't be surprised if there is a bit of karaoke going on.
Get some work done
The digital nomad scene in Sri Lanka is on the rise and Hiriketiya is a great spot to come if you're looking to meet fellow digital nomads, and of course, get some work done. There are 3 dedicated co-working spaces in Hiriketiya. All of which I have tried and tested and can definitely recommend.
These are:
My personal favourite was Clics Co-living as it had the best Wi-Fi. However, if you want a space that also provides food then Dots and Verse Collective will be the best options for you.
Visit Blue Beach Island
Blue Beach Island is a great option if you are looking for a change of scenery from the usual Hiriketiya Beach. You can either catch a 10-minute tuk-tuk or if you prefer to get your legs moving, a 30-minute walk. Blue Beach Island is attached to the mainland by a small sand bar, giving it that private island feel.
The water here is super clear (and blue) hence the name Blue Beach Island. You can spend the day here chilling, swimming and snorkelling. If you are after a bit more adventure you can also scuba dive here, as well as book an overnight camping experience.
Happy Exploring
I hope you have a wonderful time exploring all that Hiriketiya has to offer. If you have any more questions about anything discussed in this blog post, please feel free to reach out!
Looking for more Sri Lanka inspiration? Check out my other Sri Lanka Guides.