For a small surf town located in southern Sri Lanka, the food and drink scene in Hiriketiya certainly packs a punch. From delicious local delights like Hoppers and Dahl to scrumptious western brunches like the classic avocado toast, there are so many incredible restaurants in Hiriketiya.
I'm no expert food critic, but I certainly am a big foodie and spent most of my 2 weeks in Hiriketiya trying out all of the coolest food spots it has to offer.
After my extensive taste testing, I can promise you that I uncovered some of the best restaurants in Hiriketiya, with options to satisfy every palate and every budget.
In this post, you will find the top places to eat (and drink) in Hiriketiya, from cheap local eats to boujee western bites and meals to take you all the way through from breakfast to dinner.
Hiritketya is a very special town, so not only will you be leaving with a full heart, but definitely a full belly too!
So what are the best restaurants in Hiriketiya? Read on below to find out
Disclaimer: This post contains affiliate links. If you decide to make a verified purchase through the links in this post I will earn a small commission. This will be at no extra cost to you. Thank you
Garlic Cafe $
Garlic Cafe was my favourite restaurant in all of Hiriketiya. Not only was the traditional food so damn good, but the portions were huge and the prices unbeatable. I think I must have visited Garlic Cafe at least 10 times in the space of a week, so much so the wait staff used to laugh at us when we arrived and give us the "you're back again?!" look 😂.
Garlic Cafe is definitely one of the best restaurants in Hiriketiya and not to be missed. I recommend trying the Kottu Roti and the Dahl.
Dots $$
There is absolutely no doubt you'll be hearing lots about Dots if you are planning a visit to Hiriketiya. It's one of the few hostels in the area, and also where the main party is held on a Tuesday and Saturday night.
Not only is Dots one of the best places to party, but it's also one of the best restaurants in Hiriketiya. With healthy juices and Western brunches. Plus traditional Sri Lankan cuisine mixed in more dishes inspired from all over the world, you'll be sure to find something you like.
Dots also source all of its produce from nearby farms and work with local fishermen and villages to source all of its seafood.
With that being said, I personally think Dots is best visited for breakfast.
Blue Bay Chill Out Lounge $
Blue Bay is probably one of the lesser-known places in Hiriketiya, but one of the best places to enjoy some very fresh seafood. Here, I had the most incredible dish of freshly steamed tuna with vegetables with a side of coconut rice. I still dream about this dish from time to time and, if I ever go back to Hiriketiya, will be returning to have it again.
Mond $$
Mond is home to the best coffee in Hiriketiya, as well as some decent brunch food. To top that off it also has incredible roof top views of the ocean and in my opinion, is the perfect place to start off your day.
The only downside is that great coffee and great views come with great price tags. I was paying roughly £3.40 for a coconut latte which is what I normally pay back in the UK, so definitely more expensive considering the average prices in Sri Lanka.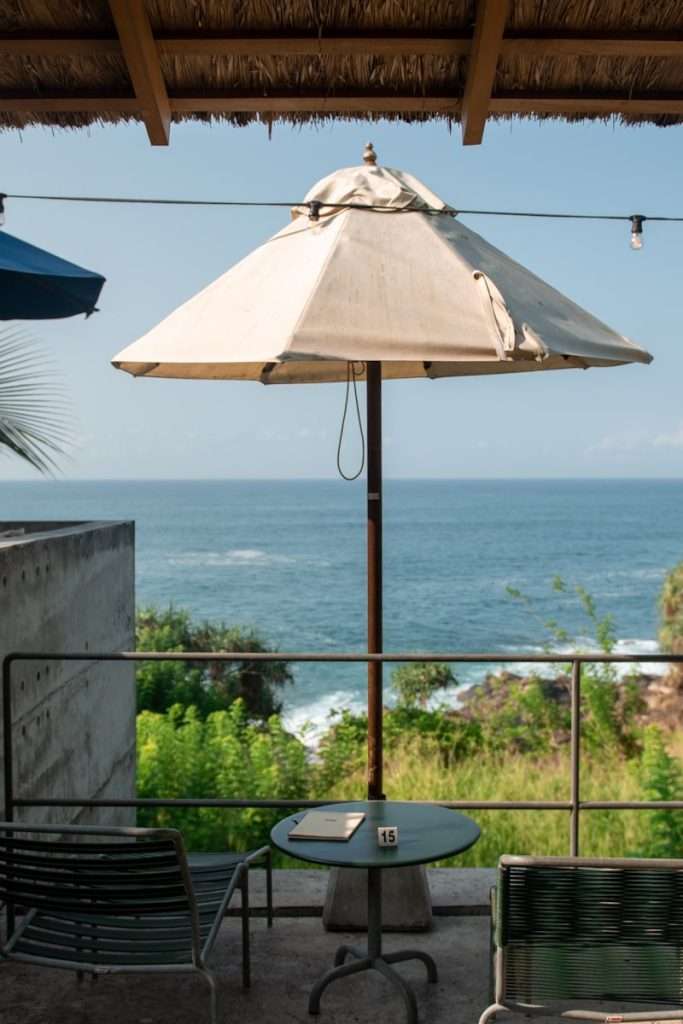 Smoke and Bitters $$$
Looking for an interesting place to eat in Hiriketiya? Smoke and Bitters is not only hailed as one of the top restaurants in Hiriketiya but also one of the top 50 restaurants in all of Sri Lanka. Smoke and Bitters is a unique concept where all of the food is smoked and all of their cocktails contain bitters.
The food here is absolutely to die for but also comes with a hefty price tag (albeit worth every single penny). If you're on a backpacker's budget a trip to Smoke and Bitters will definitely be one of those 'treat yourself" nights, but oh so worth it.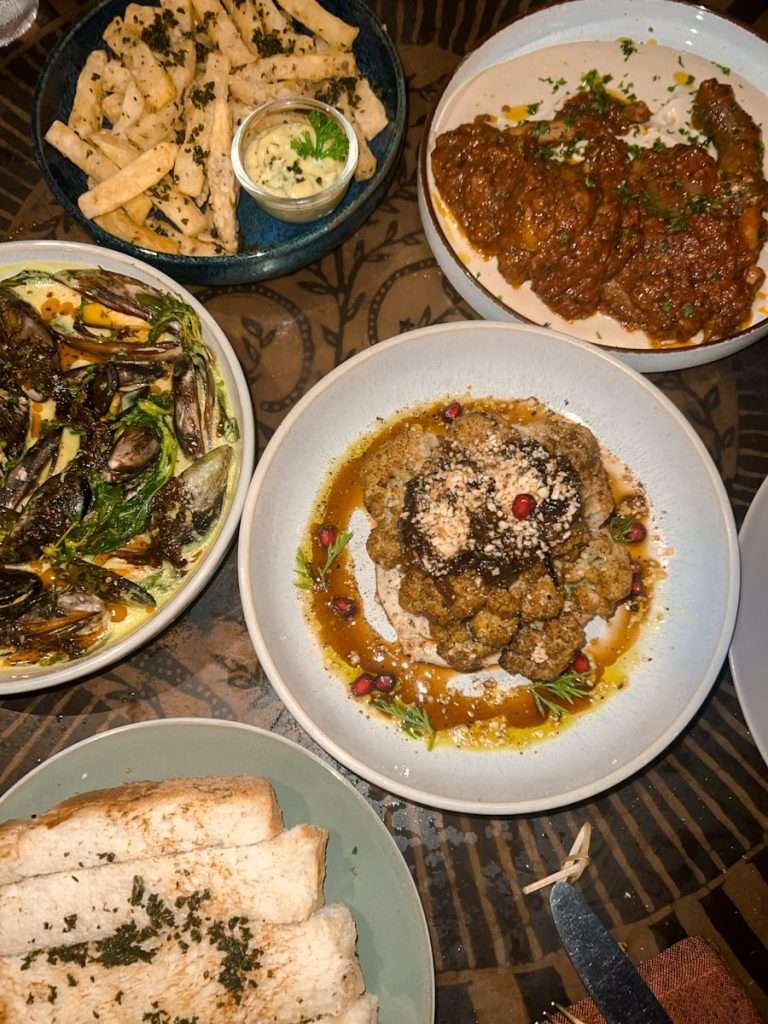 Rotti Hut $
If you're after a cheap and quick snack then a trip to Roti Hut is in order. This isn't an official restaurant in Hiriketiya. It's simply a man and his food cart who are parked on the road adjacent to the beach. With that being said I can't promise you he'll still be there when you visit (but if he is you're in for a treat). He serves up a range of savoury and sweet rotis, and yes that does include Nutella.
Hiriketiya Seafood Restaurant $
Hiriketiya Seafood Restaurant is one of those restaurants you decide to try, but don't expect much. However, this is definitely a case of looks being deceiving. This was one of my favourite local restaurants in Hiriketiya. I highly recommend trying the rice and curry buffet which will cost you less than £3.50.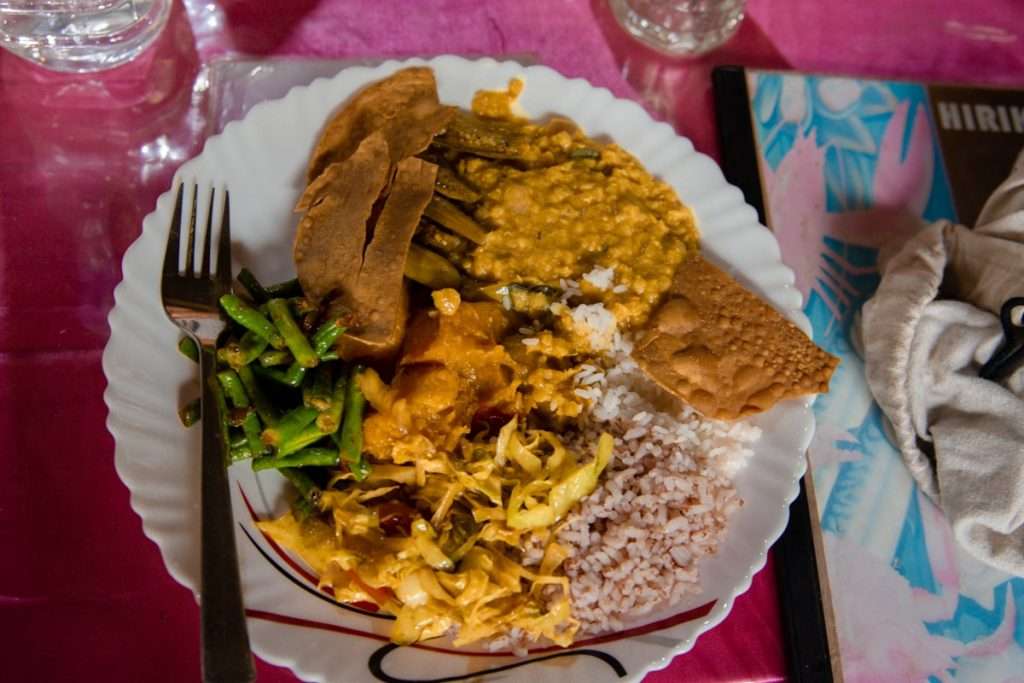 Verse Collective $$
Located on the other side of town, opposite Dickwella Beach lies Verse Collective. As well as being a hostel and popular co-working spot, Verse is also one of the best restaurants in Hiriketiya. Much like Dots, they serve a mixture of well-presented Asian and Western food so you'll be sure to find something that takes your fancy.
Dunis Hoppers $
Hoppers is a traditional Sri Lankan dish that is a type of noodle or pancake. At Duni's, you can find the "pancake" style hoppers that are bowl-shaped thanks to the shape of the pan. The hoppers are then filled with toppings of your choice, and this often includes egg, spinach and Dahl. This is a great alternative breakfast option. If hoppers don't sound like your cup of tea, then don't worry you can also get smoothie bowls too.
I would highly recommend visiting Dunis Hoppers, not only are the hoppers incredible, but Dunis was started by a local Dickwella resident. This is the perfect opportunity to support a local business and give back to the community.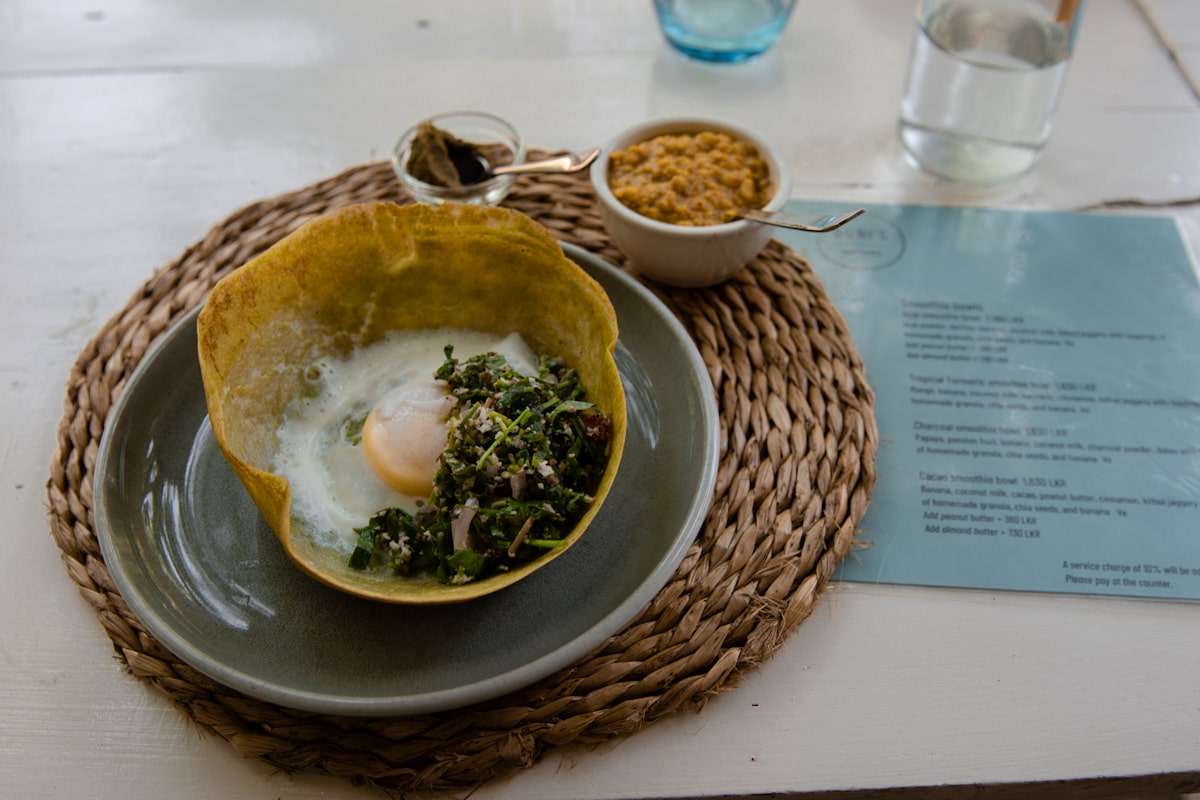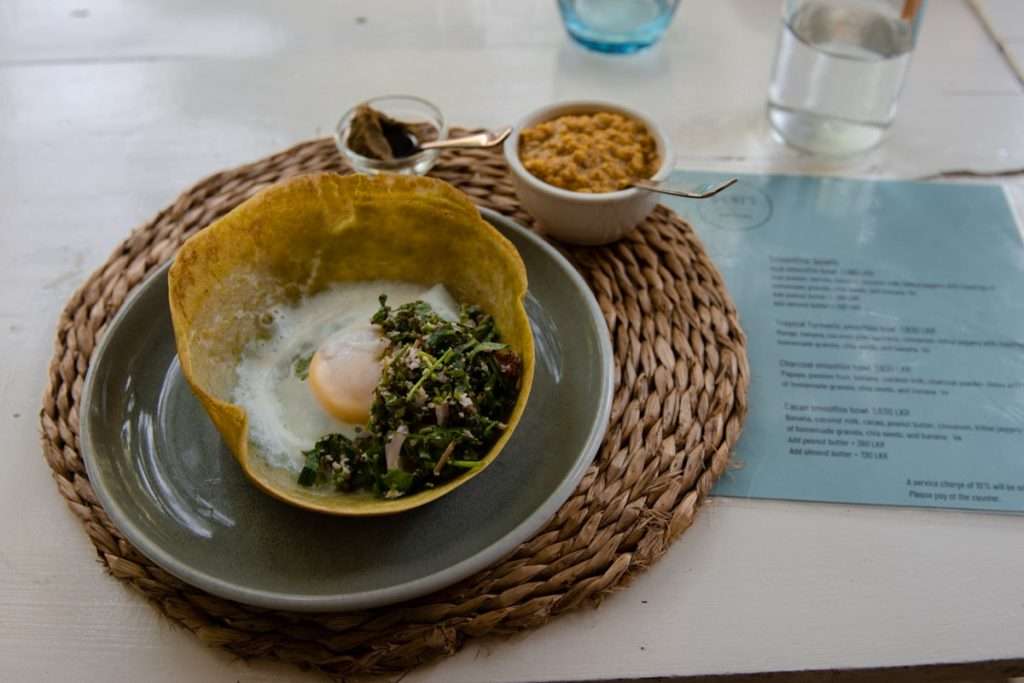 La Playa $$$
La Playa was my absolute favourite place in Hiriketiya. A combination of the views, the decor, the music and of course the food and drink make it the perfect place to spend your day. This is one of the best restaurants in Hiriketiya if you're after a good old pizza and are craving a nice cold glass of white wine. I highly recommend the pumpkin and blue cheese pizza (trust me, give it a go).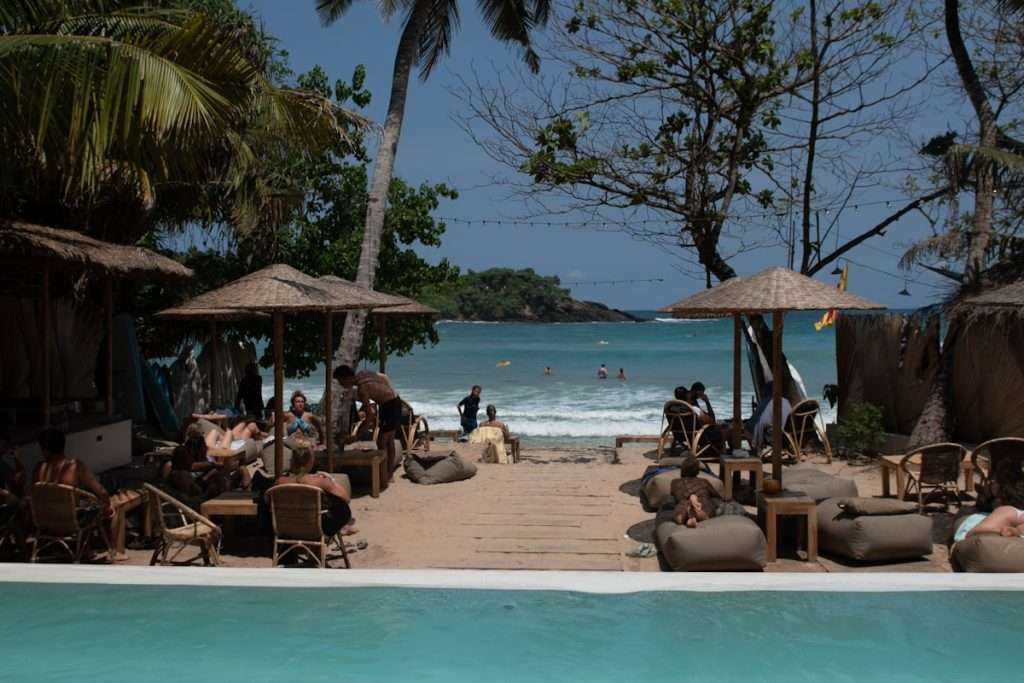 Bahia $$
After Mond, I would say Bahia has the next best coffee in Hiriketiya as well as some very fancy-looking brunches. And, great news for Vegans, you'll also be able to find an array of vegan pizza options here.
Fun Fact: Bahia is owned by the same owners as La Playa so you may notice some similarities in the menus.
Kingsley Hot Kitchen $
Kingsley Hot Kitchen is yet another place to get scrumptious traditional Sri Lankan food. Much like the earlier mentioned Garlic Cafe they serve up a mean Roti as well as some curry options too.
Big Mighty $$
After days (or weeks) of living off local Sri Lankan cuisine, sometimes you'll just be craving a big old juicy burger – this is where Big Mighty comes in. Whether you want a classic beef, crispy chicken or veggie burger, Big Mighty has got you covered.
They also have another branch in the neighbouring town of Ahangama.
Malu Poke $$
After a little health kick? Then make sure you head to Malu Poke. Here you will get to build your very own poke bowl. You'll be able to choose from a variety of bases, meats/fish, toppings and sauces. Malu Poke is located right next to the beach, so you'll be able to enjoy your favourite poke bowl all whilst taking in a stunning view of the ocean.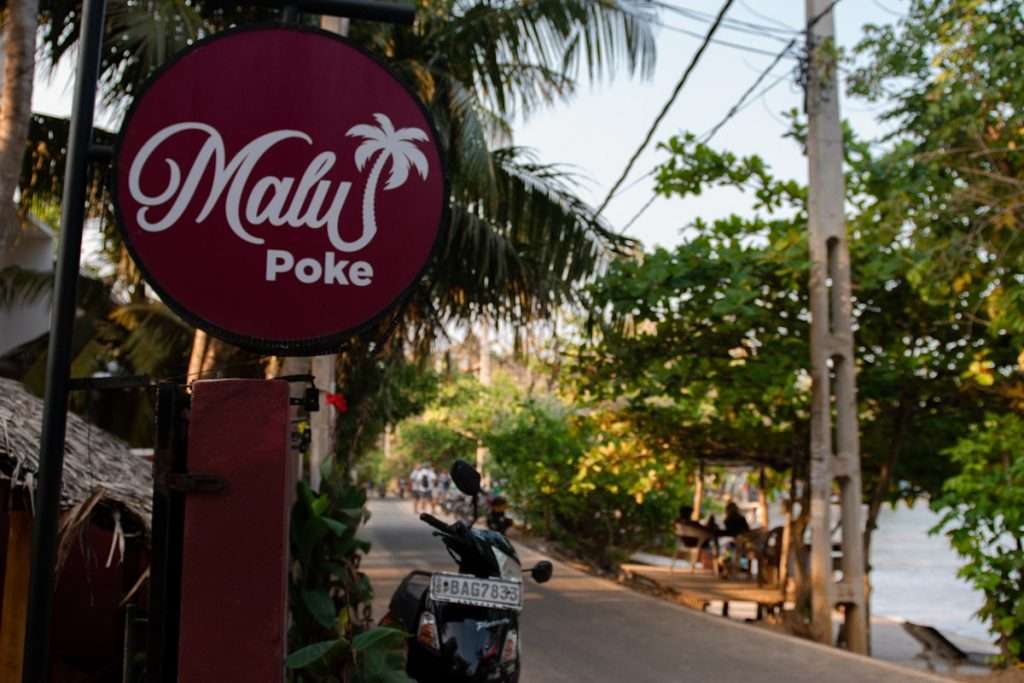 Happy Eating
I hope you have a wonderful time eating at all of the best restaurants in Hiriketiya. If you have any more questions about anything discussed in this blog post, please feel free to reach out!
Looking for more Sri Lanka inspiration? Check out my other Sri Lanka Guides.