Located on the glistening golden shores of Sri Lanka's southern province lies the hipster surf town of Ahangama. Whilst most travellers head to this hotspot for surfing, you might be surprised to hear that this stunning little town is an up-and-coming foodie spot in Sri Lanka.
Ahangama might be small in size but the restaurant scene is one to die for. From delicious traditional cuisines like Kottu and curry to scrumptious western brunches like fluffy berry pancakes, there are so many drool-worthy restaurants in Ahangama
As a self-proclaimed massive foodie, I spent my 10 days in Ahangama trying out all of the best places to eat (and drink). So, you can trust me when I tell you I found the best of the best when it comes to cafes and restaurants in Ahangama. And that I have found options to satisfy every palate and every budget.
So what are the best Restaurants in Ahangama? Read on below to find out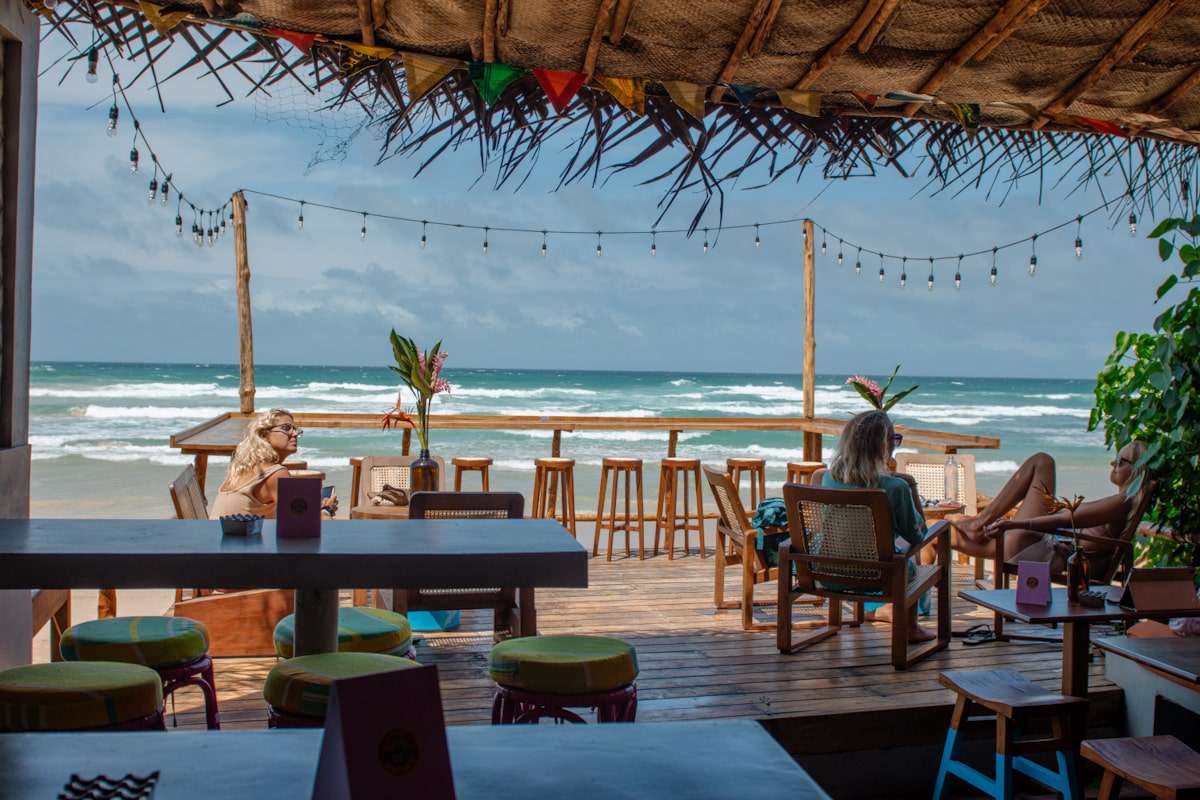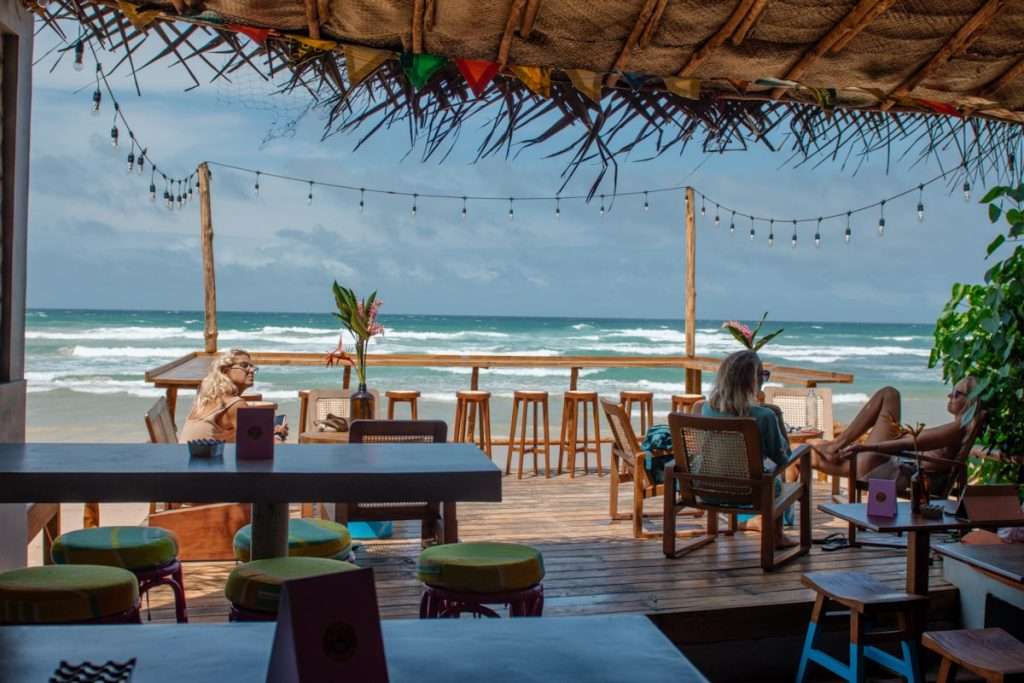 Disclaimer: This post contains affiliate links. If you decide to make a verified purchase through the links in this post I will earn a small commission. This will be at no extra cost to you. Thank you
*Please note some of the restaurants in Ahangama discussed below will shut down for the low season which is June-October in southern Sri Lanka.
House of Uncle $
This newly opened restaurant serves up a Rotti and Dahl combination that is to die for and one that I couldn't stop ordering. So much so, that I went back enough times for them to remember my order 😂.
Not only was the food AH-MAZING, but the service was excellent and the staff were super friendly. This was one of my favourite restaurants in Ahangama so make sure to give House of Uncle a visit.
Marshmellow $$
Marshmallow is a small boho-style cafe located in central Ahangama. This cute cafe offers delicious smoothie and poke bowls, freshly baked cakes and some very impressive elephant latte art.
Black Honey $$
Black Honey has to be one of the most aesthetically pleasing restaurants in Ahangama. It's tucked away from the beach in a hidden jungle oasis. It's the ideal spot to enjoy some coffee in peace and quiet whilst taking in epic views of lush Sri Lankan greenery.
Their coffee menu is one of the most unique and diverse in Ahangama, so definitely worth a try!
Cactus $$
Cactus is THE place to come for mouth-watering brunch food in Ahangama. Devour on fluffy berry pancakes, avocado breakfast bowls, or (my personal favourite) the cheesy breakfast bagel whilst you sip strong coffee or a nourishing green juice.
They also have a small boutique store where you can pick up boho-style products including coasters and candles.
This was another of my favourite restaurants in Ahangama so be sure to give it a go!
UFO $$
Just after a coffee? Head to UFO! This extremely aesthetically pleasing pink and grey establishment is one of the best restaurants in Ahangama for delish coffee served with a side of panoramic ocean views.
Crust $$
The BEST pizza in Ahangama can be found at Crust. Located on the beautiful Ahangama beach, Crust is the ideal place to come for pizza (and tacos) at extremely fair prices. Not only is the food amazing, but they also whizz up some of the most delicious cocktails in town. Oh, and I can't forget to mention how super friendly the staff are!
Big Mighty $$
After days (or weeks) of living off local Sri Lankan cuisine, sometimes you'll just be craving a big old juicy burger – this is where Big Mighty comes in. Whether you want a classic beef, crispy chicken, veggie burger, or even a falafel wrap, Big Mighty has got you covered. Big Mighty is located close to Kabalana Beach (so just outside of central Ahangama).
They also have another branch in the neighbouring town of Hiriketiya.
Soul and Surf $$
Want to eat one of the best Tuna steaks you'll ever try in your life? Then head for an evening at Soul and Surf. This stunning hotel restaurant is located in a private cove. It's the perfect place to come for a nice peaceful meal whilst you listen to the waves crashing on the shore (and eating the best tuna steak of your life 😉).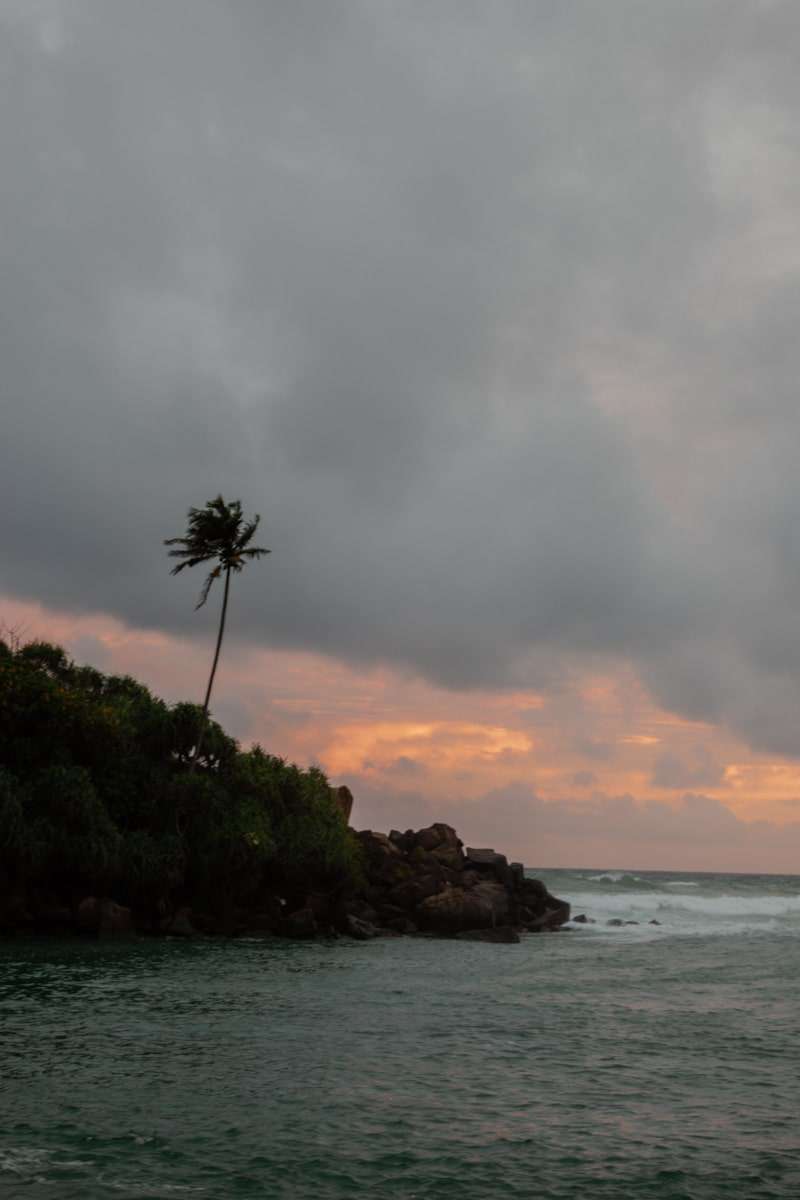 Yaya's $$
Located in Kablana, Yaya's is a small hotel with a rooftop restaurant that looks out over the Ahangama skyline. They have a small menu that mixes Sri Lankan cuisine with some other Asian and Western favourites. They also (in my opinion) served some of the best coffee in Ahangama.
Oh, and if you're interested in mindfulness, they also run weekly ice bath and breath-work sessions here (usually on a Friday).
Pickled Pelican $$
Giving Big Mighty a run for its money is the super popular Pickled Pelican. Pickled Pelican is another one of the best restaurants in Ahangama for big juicy burgers. And, If I had to pick between Big Mighty and Pickled Pelican. Pickled Pelican wins the top spot.

Not only are the burgers delicious but they also have a happy hour between 5 pm-7 pm every day where you can grab 2-4-1 cocktails. The dream.
Little Bang Kitchen $$$
Sometimes all you need in life is just a big comforting bowl of Ramen and this is where a visit to Little Bang Kitchen is in order. Little Bang Kitchen has a small but mighty menu of different ramen to try such as Tonkatsu. This is served along with sides such as sushi and the world's most elite side dish: gyoza dumplings.
The only downside to Little Bang is the price. This is one of the most expensive places I ate in not only Ahangama but Sri Lanka too. Expect to pay the same prices as you would see somewhere like London.
Follow The White Rabbit $$
White Rabbit is the epitome of chilled vibes and is another wonderful place to come for delicious cocktails and a sunset dinner. The menu here is small (which for me is always a good sign) but the food is nothing short of amazing. From the mouth-watering filet of snapper with mashed potatoes to the delectable rice and curry dishes you'll be sure to find a dish that you like. And you'll probably be going back more than once.
Carrie's $$
Just a stone's throw from Pickled Pelican lies the hidden gem that is Carrie's restaurant. This small and cosy restaurant in Ahangama is one of the best places in town to get a nice big bowl of pasta. BUT you don't just have to come here for pasta, the menu is eclectic, with a range of food to suit all taste buds from Middle Eastern meze, curries, burgers and seafood, Carrie's has got you covered.
Sri Lankan Rice and Curry House $
Hailed as one of the best local restaurants in Ahangama, Sri Lankan Rice and Curry House is THE place to go for delicious Sri Lankan curries at extremely affordable prices. Expect to pay no more than £4 for a huge portion of food! The menu here is super small (with only 4 types of curry on offer) but once you take a bite you'll realise that there is a whole lot of love poured into each dish.
Hakuna Matata $$
If you're looking for a late-night dining spot then Hakuna Matata is the one for you. They have a wide range of tasty local dishes, but it's their seafood options (such as the calamari and tuna steak) that really stand out.
Whether you're on a romantic date, just hanging out with your pals or even solo, this place is perfect for soaking up some sunset views, listening to chilled music and of course enjoying some great food and drink.
Le Cafe French Bakery $$
If you're craving a warm crusty baguette or a slice of cake (I mean why wouldn't you be) then Le Cafe French Bakery will be the answer to all of your prayers. Tucked away off the main road, with oceanside views, Le Cafe French Bakery is the perfect breakfast spot in Ahangama. All food is freshly prepared daily on the premises, so you know you're getting the best of the best. And, don't worry, if you're not craving baguettes or cake you can also devour some smoothie bowls, omelettes and fresh juices.
Happy Eating
I hope you have a wonderful eating at all of the best restaurants in Ahangama. If you have any more questions about anything discussed in this blog post, please feel free to reach out!
Looking for more Sri Lanka inspiration? Check out my other Sri Lanka Guides.