Situated on Sri Lanka's south coast lies the palm tree-studded, golden shores of Ahangama.
Ahangama is one of Sri Lanka's up-and-coming hipster surf towns with many a surf camp popping up among this dreamy coastline.
Whilst most people do come here to surf, there is so much more to Ahangama than the "gnarly waves". Whether you want to unwind with some yoga, see the famous stilt fishermen of Sri Lanka, or simply try out all of the incredible restaurants. There are so many wonderful things to do in Ahangama (and its surrounding towns).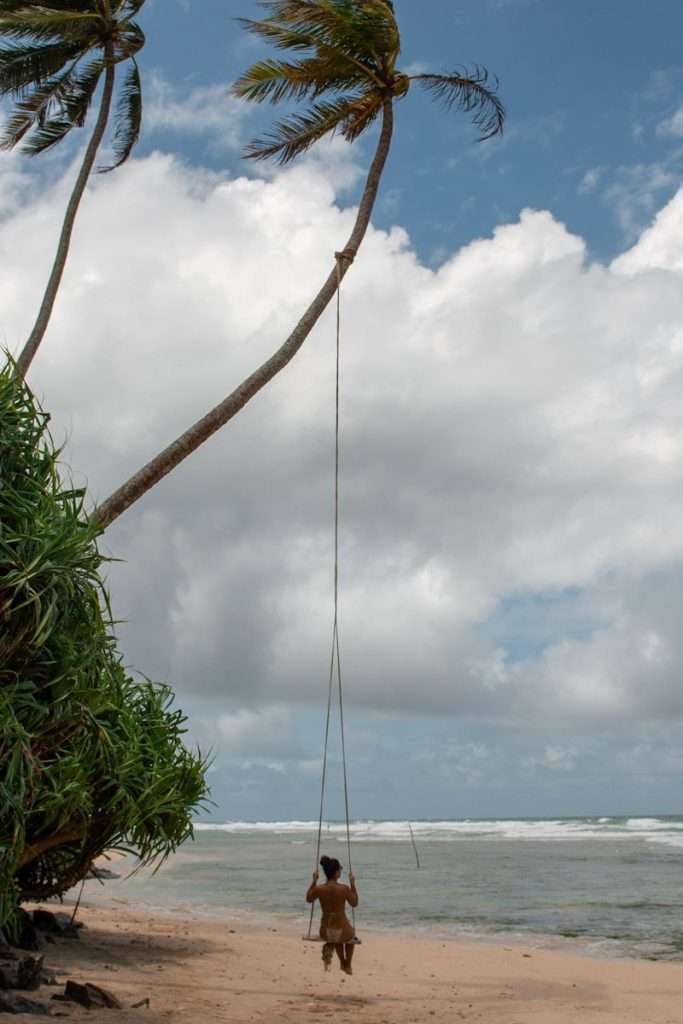 Now I'll be honest, it wasn't love at first sight with Ahangama. In fact, we cut our stay here short to head back to Hiriketiya (my favourite beach town in Sri Lanka). However, when we decided to come back a second time to see a friend we totally and utterly fell in love (and realised our initial dislike was all to do with where we stayed and the lack of people we met). 
I'm so glad we gave Ahangama a second chance. It's such a special place and one that definitely deserves a visit. And if you're thinking of taking a trip to one of the more popular beach towns in Sri Lanka such as Mirissa, Hikkaduwa or Weligama – I'd encourage you to have another think and put Ahangama at the top of your Sri Lanka beach bucket list instead.
So what are the best things to do in Ahangama? Read on below to find out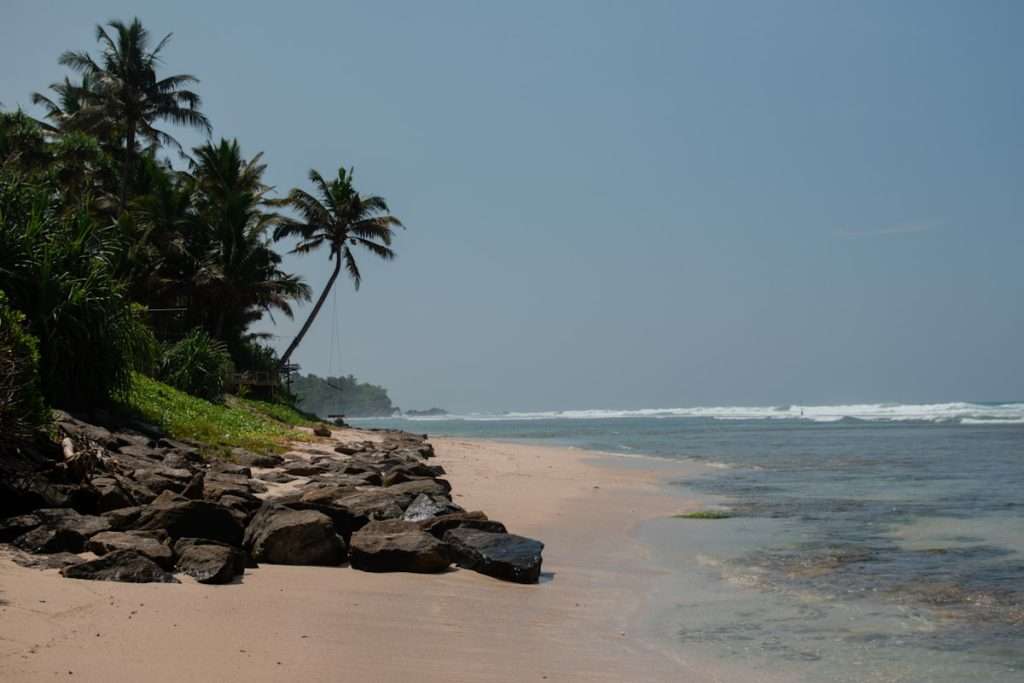 Disclaimer: This post contains affiliate links. If you decide to make a verified purchase through the links in this post I will earn a small commission. This will be at no extra cost to you. Thank you
Book on a Surf Camp
Booking a Surf Camp is one of the most popular things to do in Ahangama. With both sandy-bottom and rocky reef surfing spots Ahangama can cater for both learners and intermediate surfers. This puts Ahangama in a unique position in comparison to other surfing towns in Sri Lanka such as Weligama and Unawatuna.
Some of the best surf camps in Ahangama include:
Get some work done 
The digital nomad scene in Sri Lanka is on the rise and Ahangama is a great spot to come if you're looking to meet fellow digital nomads, and of course, get some work done. There are a few dedicated co-working spaces in Ahangama. 
These are:
Focus Hub Co-Work
Hari Hari
Coworksurf
Nomads Coworking
Cafe Ceylon
My personal favourite was Focus Hub Co-Work. This is located in the centre of town and they also do great food and even better coffee!
Pool day at Dreamsea 
Dreamsea is one of the only places in Ahangama that will let you use its swimming pool even if you are not a guest at the hotel. As long as you buy at least a coffee (or other kind of drink), you'll be able to spend your day here chilling by the pool, reading a book or listening to some tunes. Not only that, Dreamsea is located adjacent to Ahangama's beautiful golden sand beach, so perfect for those who love to alternate between pool dips and sea swims. Oh and it's also home to a palm tree swing, so you can get yourself some of those instragrammable shots!
Enjoy a Saturday session at The Lighthouse
Head down to The Lighthouse at the weekend for good tunes, good vibes and a good time. Every Saturday The Lighthouse will host a "sunset session" with a BBQ, live DJs and a constant flow of drinks. This is the place to be on a Saturday so you'll probably find that most of the travelling community in Ahangama will end up here to enjoy the vibrant atmosphere and watch the sun go down.
Admire the Stilt Fisherman
The Stilt Fishermen of Sri Lanka are a cultural icon and some of the most photographed people in the country! Stilt Fishing is a traditional style of fishing in Southern Sri Lanka. Fishermen perch upon a cross-shaped beam attached to a stilt and wait there (sometimes for hours on end) for their catch of the day.
Head down to Koggala Beach to watch the fisherman in action.
Visit Galle Dutch Fort
This is one of the most fun things to do in Ahangama and is not to be missed if you're in town on a Saturday.
No trip to Ahangama, or even Sri Lanka in fact would be complete without a visit to Galle Dutch Fort. Galle Dutch Fort is one of Sri Lanka's best-preserved colonial towns which was once used as a trading port for spices and other goods. Today, it's best known for its famous lighthouse, colourful streets, and quite surprisingly, its abundance of gelato stores.

Make sure to come to Galle to admire the lighthouse, devour some gelato and pick up some seriously cool art from Stick No Bills.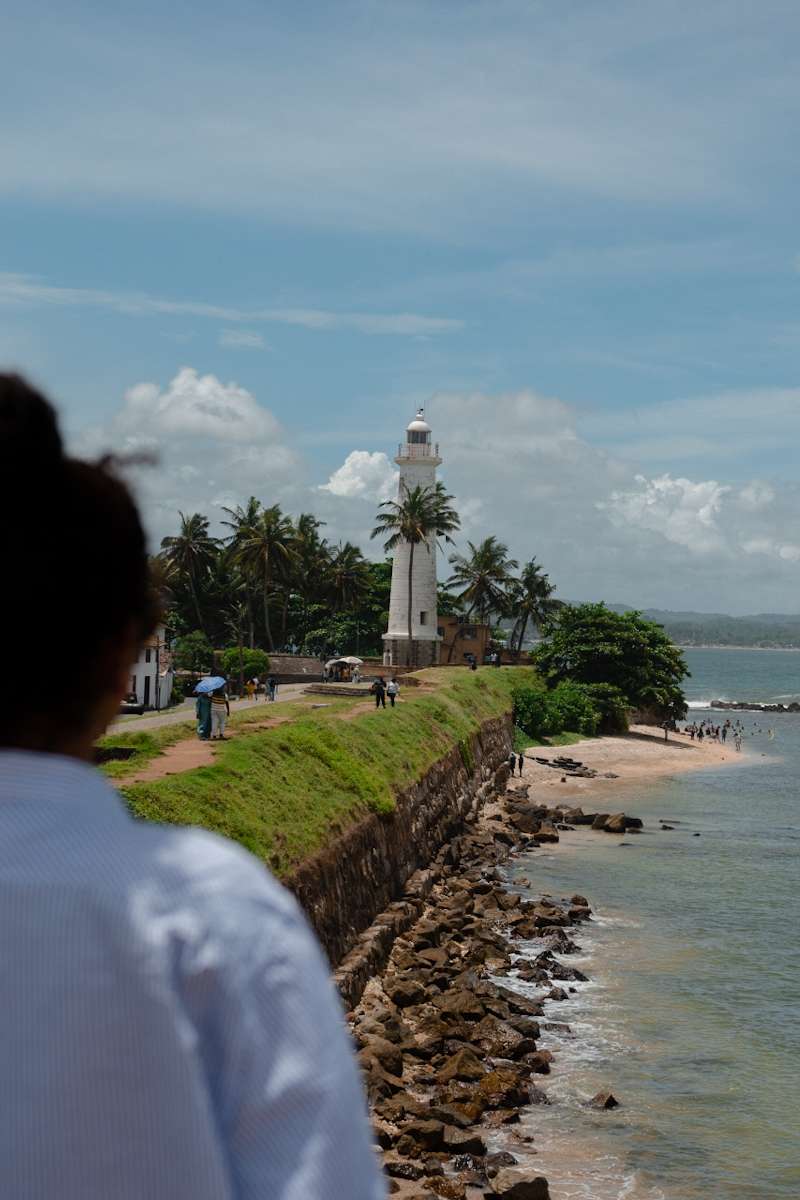 Dance the night away at Trax
On a Friday night, once the sun has set the travelling community in Ahangama will all descend down to Trax for their Friday night party. Trax is a super cool club that is set in a jungle garden oasis and (as you might have guessed by the name) is located adjacent to one of the train tracks that runs through Ahangama.
Whether you want to party on the dance floor or just have a few drinks in the garden Trax is the place to be on a Friday. Trax is best reached via tuk-tuk and all of the local drivers will know where to take you! This is one of the coolest things to do in Ahangama, so if you like a party then don't miss out!
Party at Doctors house
So, Doctors house is a little bit outside of town to be considered Ahangama (just a little over 30-minutes away in a town called Madiha) BUT you'll find that most travellers who are staying in Ahangama will head down to Doctors house on a Wednesday night for their famous live DJ sessions.
Doctors House is a 200-year-old former Dutch Ayurvedic hospital turned hotel, restaurant and music hotspot. If you're in the area make sure to give Doctors House a visit.
Get a Tattoo
Now I totally understand that this activity is a niche one, however, if you are in the market for a tattoo then you're in one of the best areas for it. I highly recommend visiting Tattoo Color U (which, like Doctors House is also located in Madhia). The owner, Nisal is an extremely talented artist, who I can personally recommend. I came to him with an idea that he totally bought to life and now I have another tattoo that I'm completely in love with.
Explore Unawatuna
Just a 15-minute ride from Ahangama lies the town of Unawatuna. Unawatuna is one of the more touristy towns on Sri Lanka's south coast (which is why I recommend having Ahangama as your base and visiting here for the day). In Unawatuna, you'll find cute brunch spots, a turtle sanctuary and the famous Jungle Beach, which is definitely worth a visit.
Eat at all the amazing Restaurants
One thing Ahangama is not short of is fantastic places to eat. One of my favourite things to do in Ahangama was to try all the incredible food it had to offer. 
Some of my favourite places included:
House of Uncle
Cactus
Pickled Pelican
Soul and Surf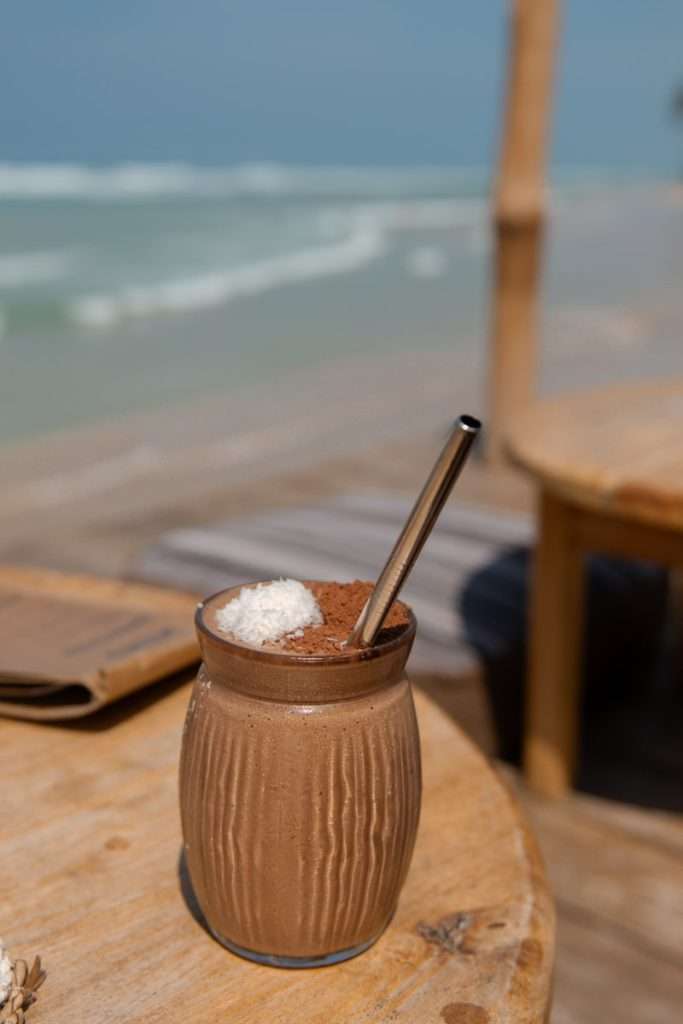 Sunday Sessions at House of Uncle
Talking of House of Uncle, this newly opened restaurant not only serves up delicious food but also hosts a super chilled Sunday night session with a live saxophone player. House of Uncle is situated right on Ahangama Beach, so it's the perfect place to enjoy some food, drinks and music whilst you watch the sun go down.
Kabalana Beach
Just a short walk or tuk-tuk ride from Central Ahangama lies Kabalana Beach. This is a slightly bigger beach than Ahangama with more space to sunbathe, so if you fancy a small change of scenery then this is a good place to come!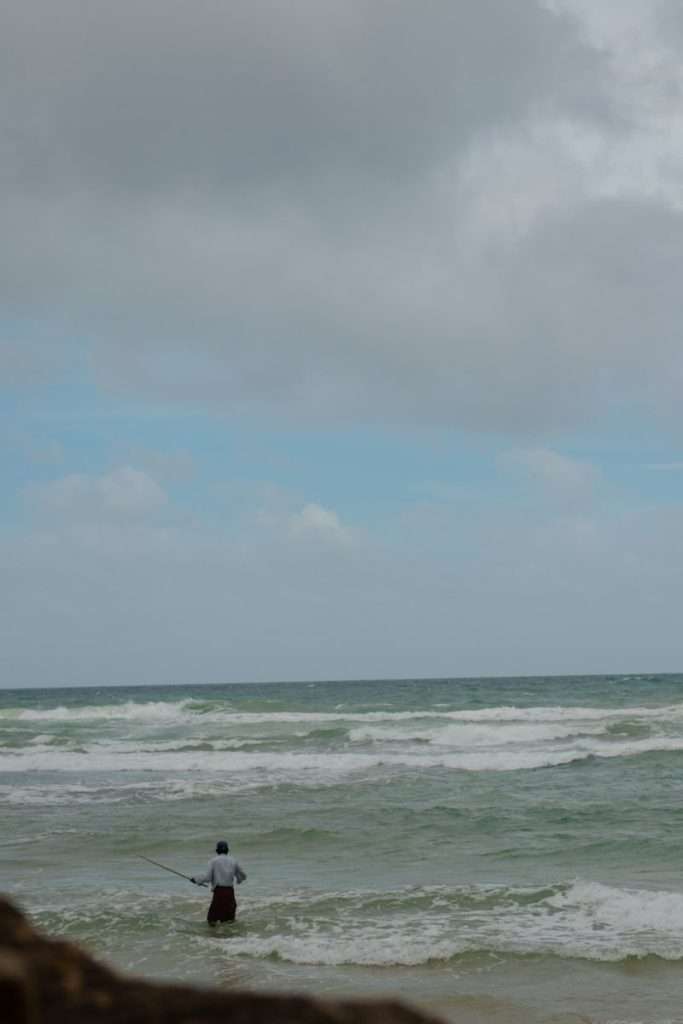 Koggala Lake
One of the most unique things to do in Ahangama is to visit the serene Koggala Lake. You can head here to go on a boat safari. You will get to see some of the local wildlife, as well as take a trip to the famous Cinnamon Island where you can watch the cinnamon being stripped and ground.
Did you know that Sri Lanka is one of the largest cinnamon producers in the world?
Kathaluwa Temple
If you are a bit of a culture vulture then a trip to Kathaluwa Temple will be right up your street! This is right next to Koggala Lake so could definitely be done on the same trip. Kathaluwa Temple was first built when the British colonised Sri Lanka back in the 1800's. The temple is most famous because of the intricate wood murals that can be found in the state house.
Go on a safari at Udawalawe National Park
Ready to escape the beach for the day? Then a trip to Udawalawe National Park is in order. Udawalawe National Park is just a 2-hour drive from Ahangama and it is the perfect opportunity to see some of Sri Lanka's finest wildlife, including elephants, crocodiles, water buffalos, and if you're super lucky, even leopards!
If you are planning a day trip from Ahangama then you can book your half-day safari tour here.

However, if you would prefer to stay in the area for the night then I would recommend getting a taxi to Udawalawe and staying the night at Lizard Safari Point. You can book a Safari tour directly through the hotel for just £40 and also get a 3-bed treehouse for just £15 per night (with a huge breakfast included). This is the option I went for and it was such an incredible experience.
Happy Exploring
I hope you have a wonderful time exploring all that Ahangama has to offer. If you have any more questions about anything discussed in this blog post, please feel free to reach out!
Looking for more Sri Lanka inspiration? Check out my other Sri Lanka Guides.