Want to plan the perfect Bruges one-day itinerary? Read on below for a little inspiration!
Bruges is one of the most popular cities to visit in mainland Europe and unsurprisingly, often gets referred to as one of the most beautiful cities on the continent, if not the world.
With impressive Gothic Architecture, cobbled streets and modest canals weaving through the city, a one-day trip to Bruges will leave you feeling like you've been transported into a real-life fairy tale.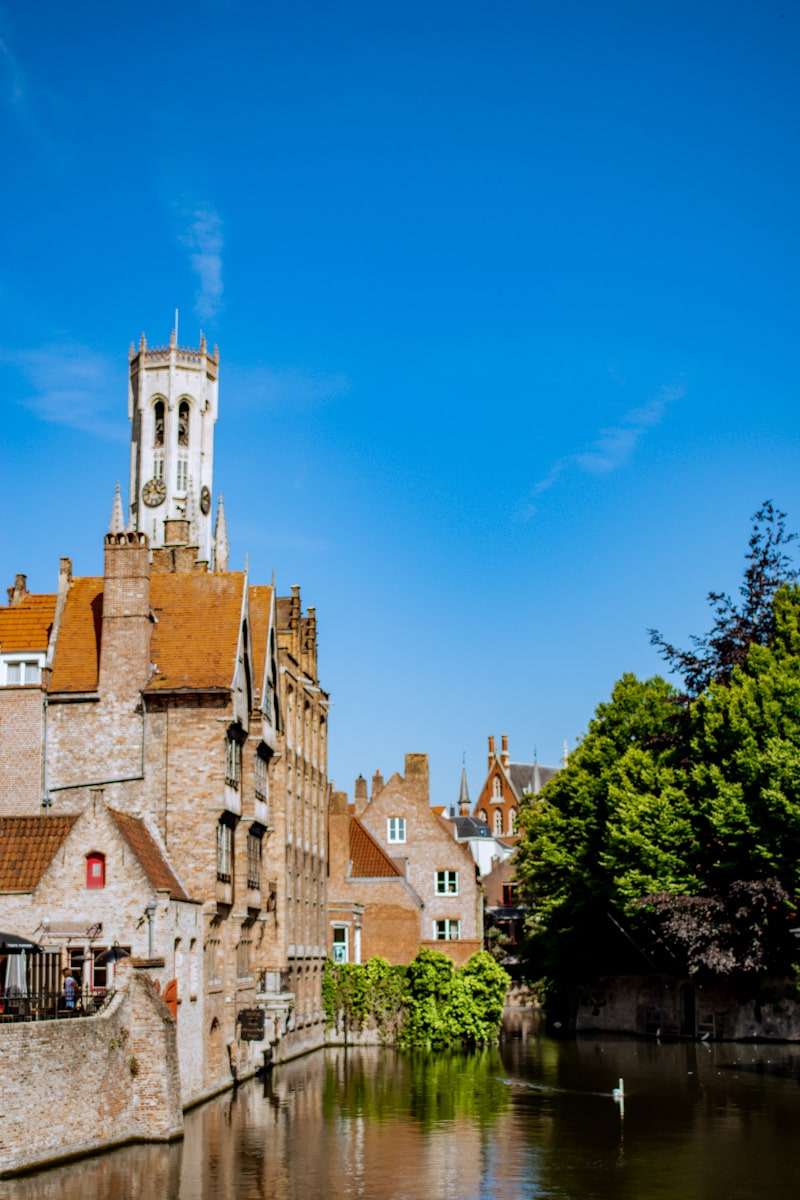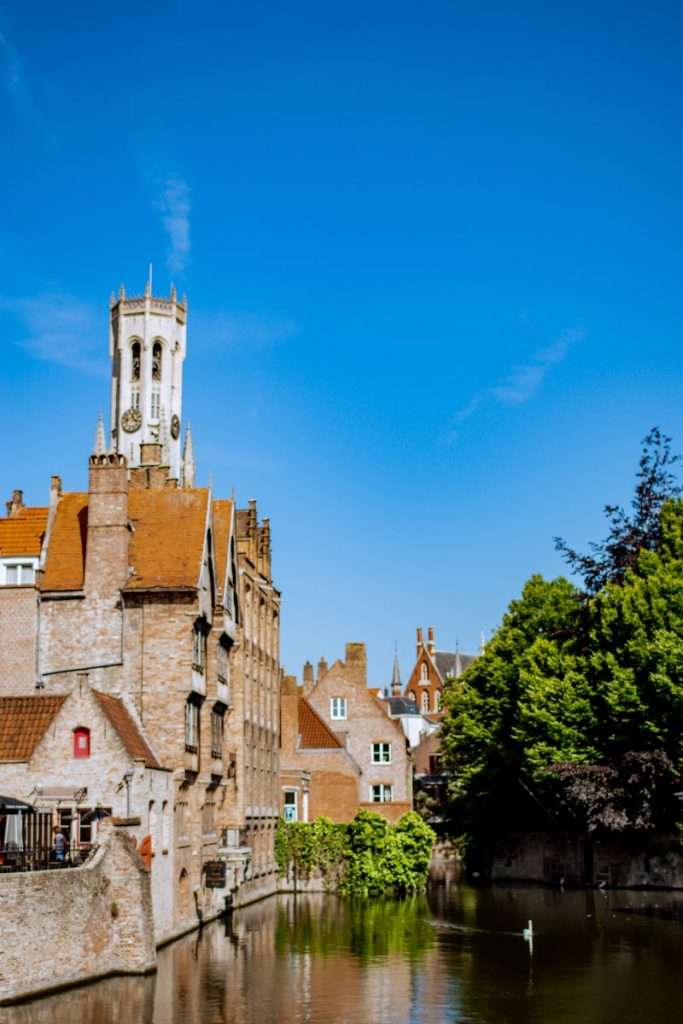 Living in London, I have spent much of my life embarking on quick getaways to over 20 different European cities.
With this, I can confidently say that Bruges ticks all the boxes for a pretty perfect European getaway. Impressive scenery, rich culture and drool-worthy food, what more could you want?
With Bruges being such a small, quaint city, one day in Bruges really is enough time to see all of the incredible things to do here and immerse yourself in all of the magic this city offers.

So what's included in a Bruges one-day itinerary? Keep reading below to find out!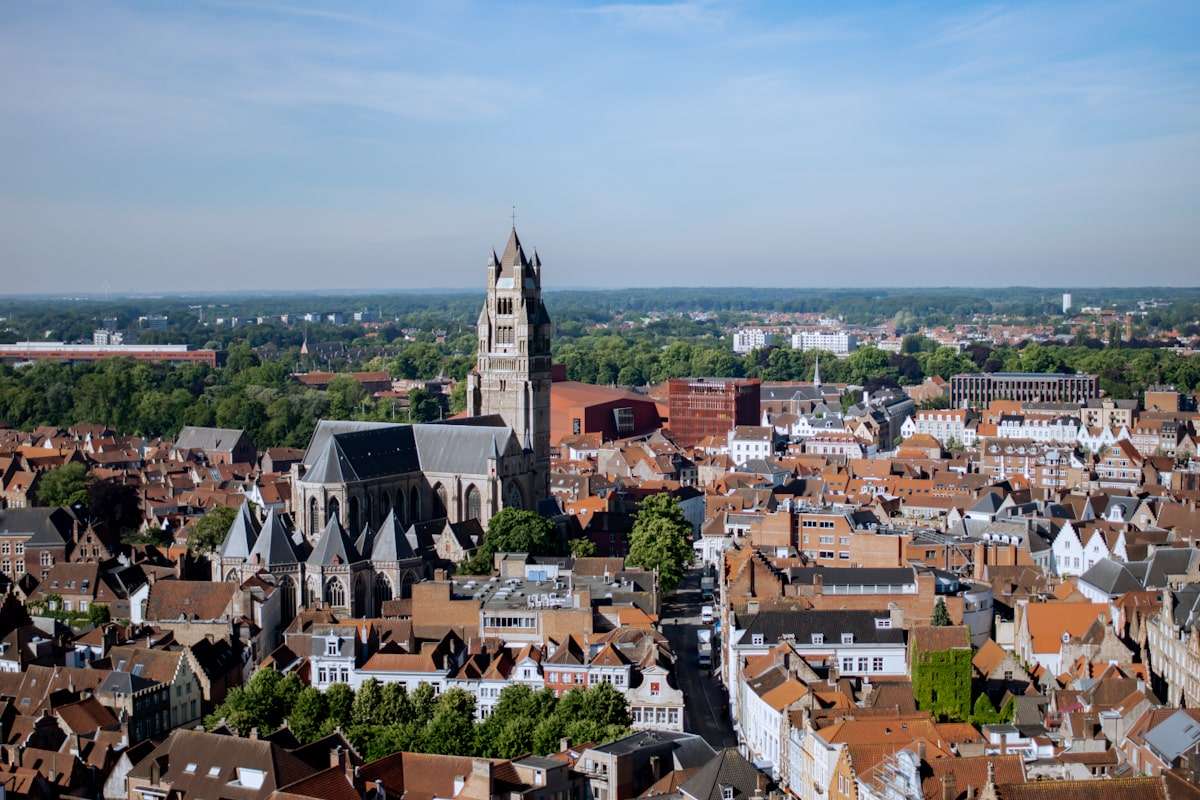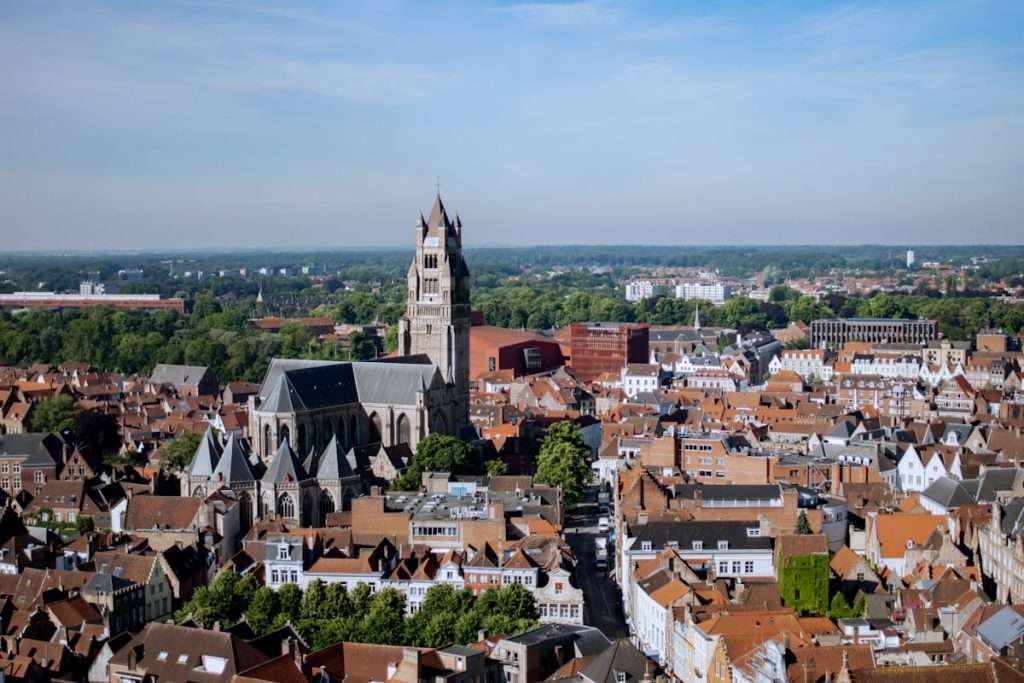 Disclaimer: This post contains affiliate links. If you decide to make a verified purchase through the links in this post I will earn a small commission. This will be at no extra cost to you. Thank you 🙂
About this Bruges one-day itinerary
This Bruges one-day itinerary has been created based on my own weekend getaway to Bruges. We had booked 3 nights/ 2 days in Bruges and found that we uncovered all of the best things to see and do in Bruges in just one day.

With that being said, the route we took through Bruges during that trip saw us zig-zagging all over the city in a nonsensical order.
The Bruges one-day itinerary you will find below will hopefully see you looping the city in a strategic fashion, to avoid having to go back on yourself and passing ground that you have already covered.
🤳🌎 NEED DATA WHILST YOU'RE ABROAD? WHY NOT DOWNLOAD AN ESIM.

➡️➡️ Avoid roaming fees, and have peace of mind that you have internet access when WiFi isn't available.
Stop 1 – Breakfast at That's Toast
This Bruges one-day itinerary starts with fuelling up properly at the best brunch spot in Bruges, That's Toast. You can guarantee there is always a queue to get in because the brunch here is just that good (so try to get here as early as possible).
Whether you're craving a refreshing fruit smoothie, a frothy oat latte, or delicious toasted treats, That's Toast will be sure to have something to satisfy your palate.

It's comforting to know that even if you decide not to head here for breakfast, That's Toast serves up its brunch menu all day long!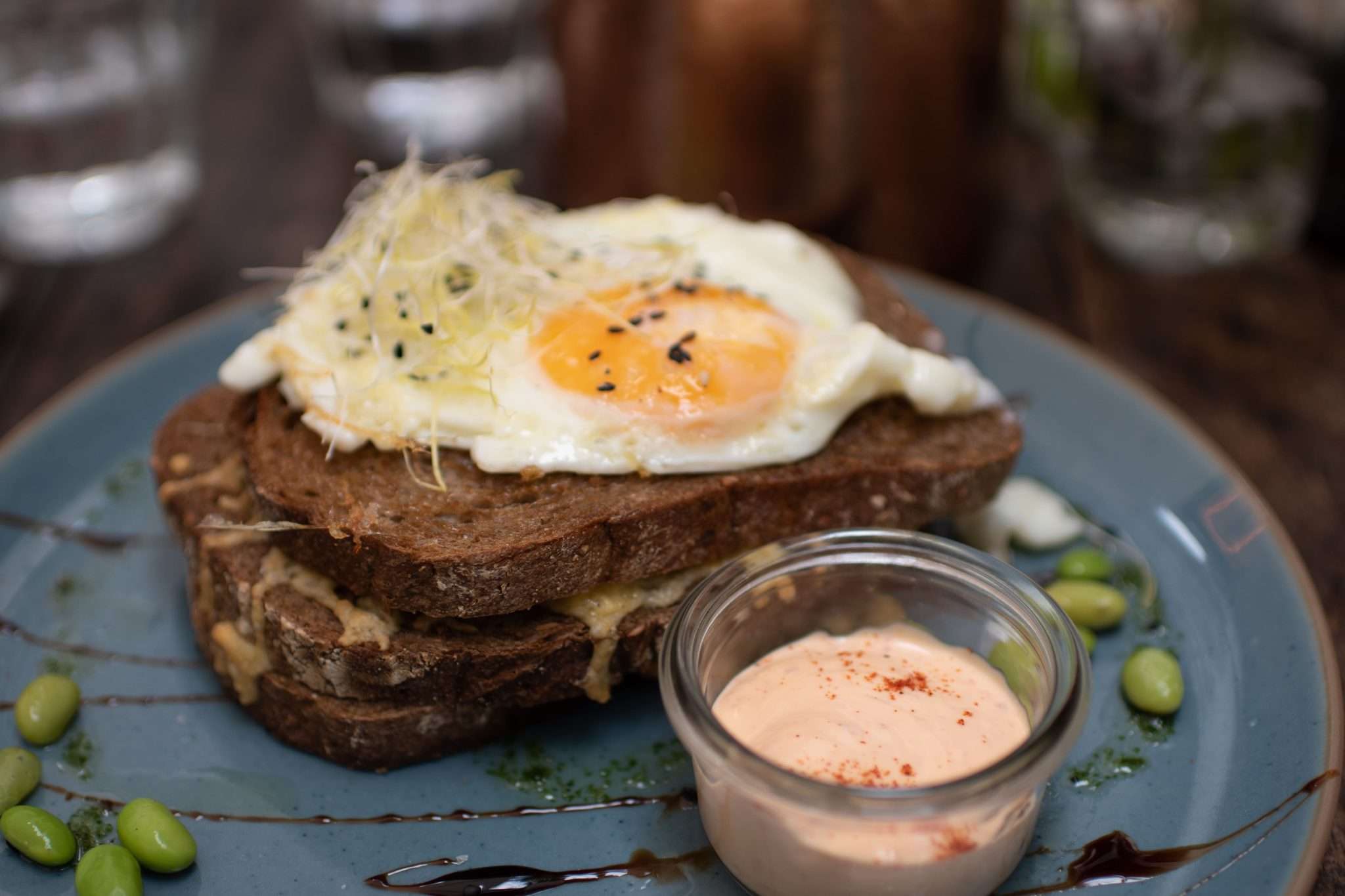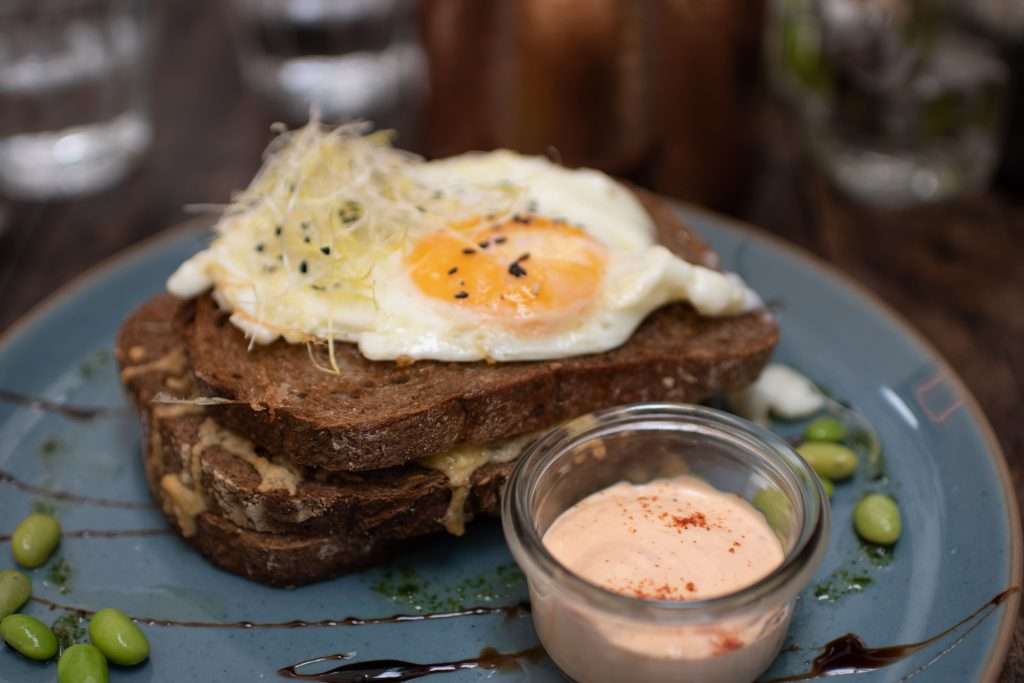 Stop 2 – Wander through the Market Square
Market Square is the most popular tourist attraction in Bruges. It's most famous for its multi-colored Gothic buildings which resemble a scene out of a traditional Disney princess movie.
The square is home to other popular sites in Bruges like the Bruges town hall and the Belfry Tower as well as lots of bars and restaurants. It's even the place to catch a horse and carriage should you fancy exploring the city that way.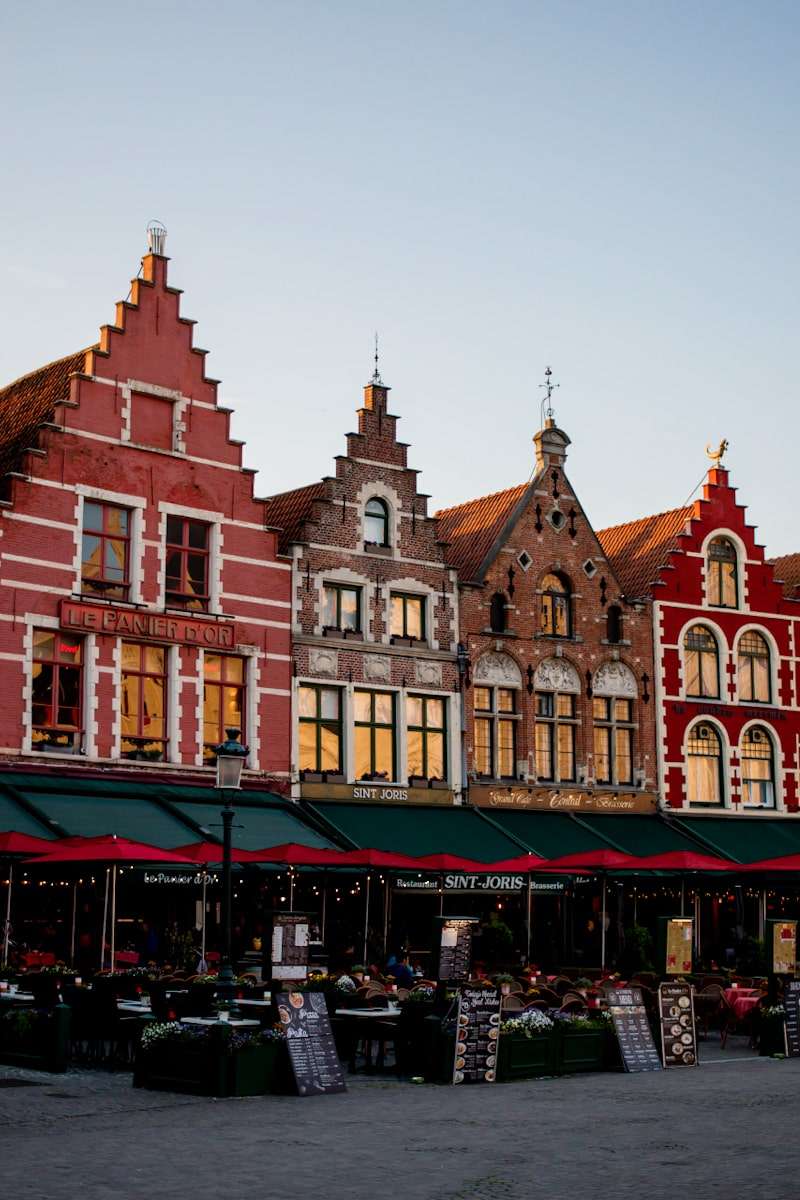 Stop 3 – Climb up the Belfry Tower (Belfry of Bruges)
The Belfry Tower is located at the heart of the city square. It graces the Bruges skyline, making it visible virtually anywhere in the city.

During its operational era, the Belfry Tower was both an observation post to spot incoming danger and a repository of a treasury. These days it's one of the most popular tourist attractions in Bruges.

Ascending the 366 steps along the winding spiral staircase offers an unmatched bird's-eye view of the city. Entrance to the tower is between €12 to €14 for adults, while children under the age of 6 can enter for free.
This is one of the best places to visit in Bruges so whatever you do, do not skip this off your Bruges one-day itinerary.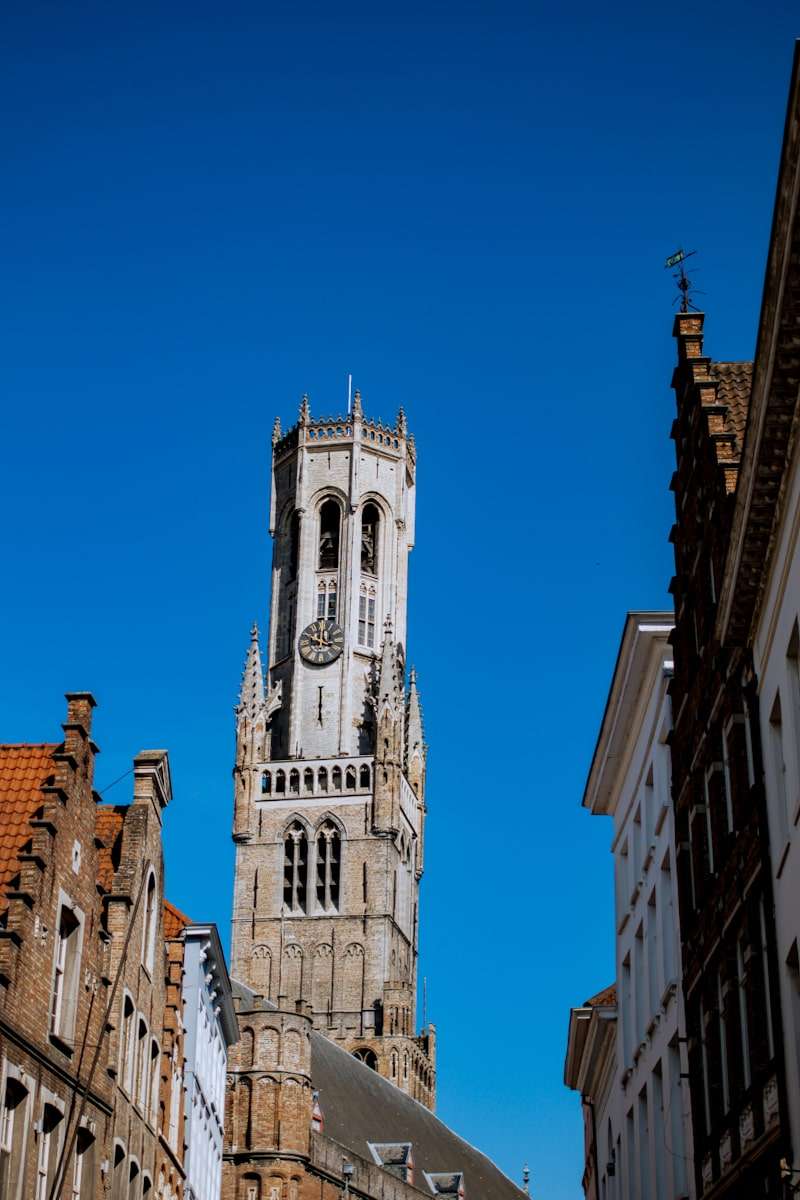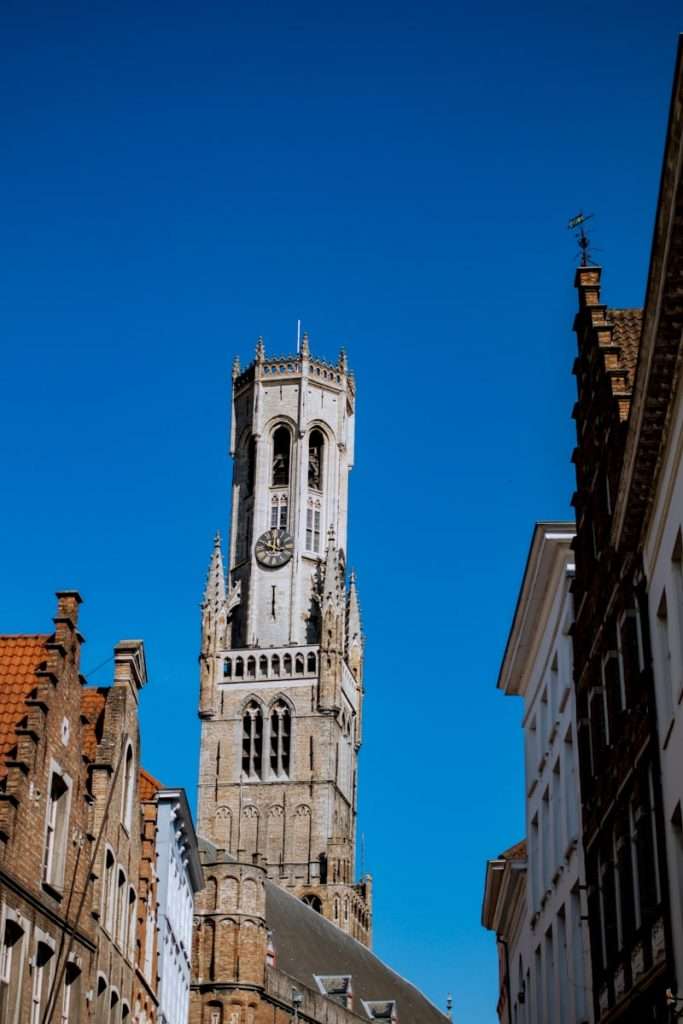 Stop 4 – Explore Burg Square
Located right next to Market Square, lies the equally beautiful Burg Square. It is home to the city hall and boasts yet another display of impressive Gothic Architecture.
Here you will find the Basilica of the Holy Blood. This church dates back to the 12th century and houses a relic of the Holy Blood.
You can also find Liberty Palace, a luxurious building dating back to the 17th century.
Stop 5 – Walk through the cobbled streets to Sint Anne's Quarter
One of the best things about Bruges is exploring all the quaint and quiet cobbled streets, so make sure you carve out time for this on your Bruges one-day itinerary.

A good way to explore these stunning streets is to make your way to the area of Sint Anne. Sint Anne is one of the quieter areas of Bruges, so a great place to escape the crowds for a little while.

If you're feeling a little parched at this point, why not pick one of the bars along the Predikherenrei and have a drink (Punta Est was our favourite).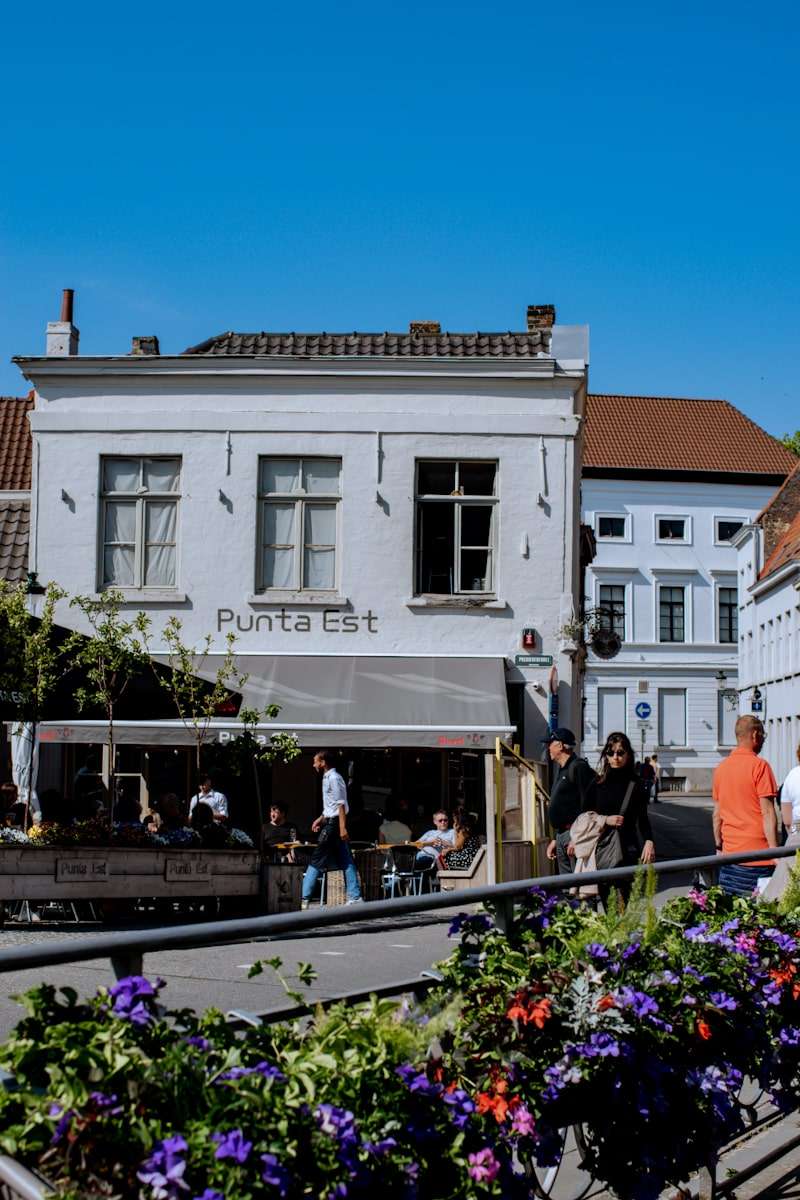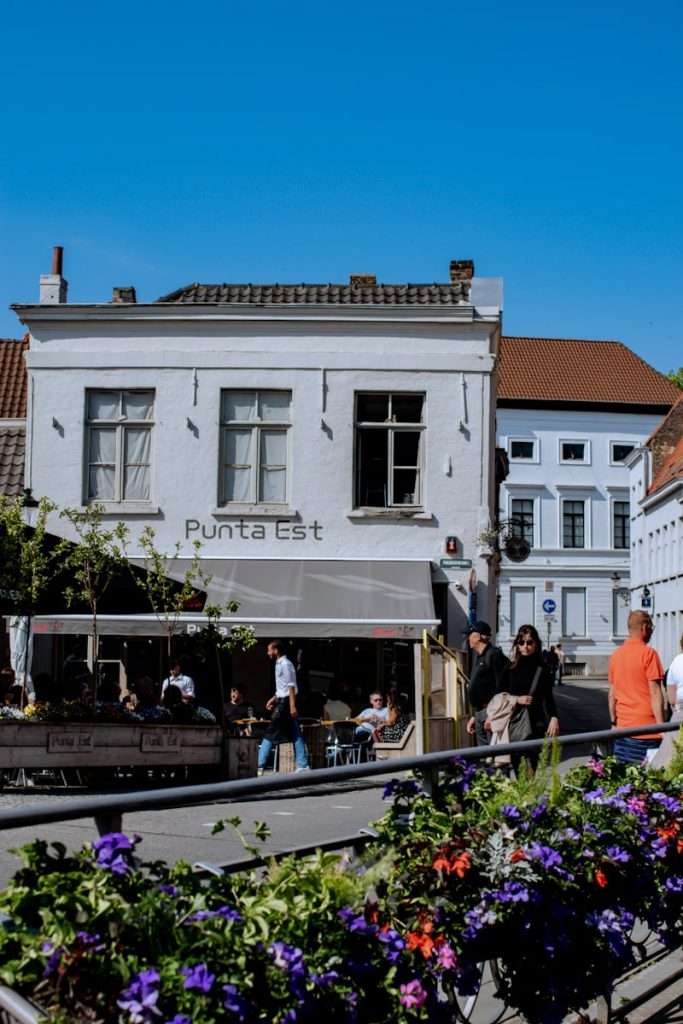 Stop 6 – View the Rozenhoedkaai
Stop 6 on this Bruges one-day itinerary is the Rozenhoedkaai. The Rozenhoedkaai is a small quay in the heart of the city and one of the most photogenic spots in Bruges.

The area is abundant with Gothic Architecture, canals and regal swans gliding through the water, making it hugely popular with tourists.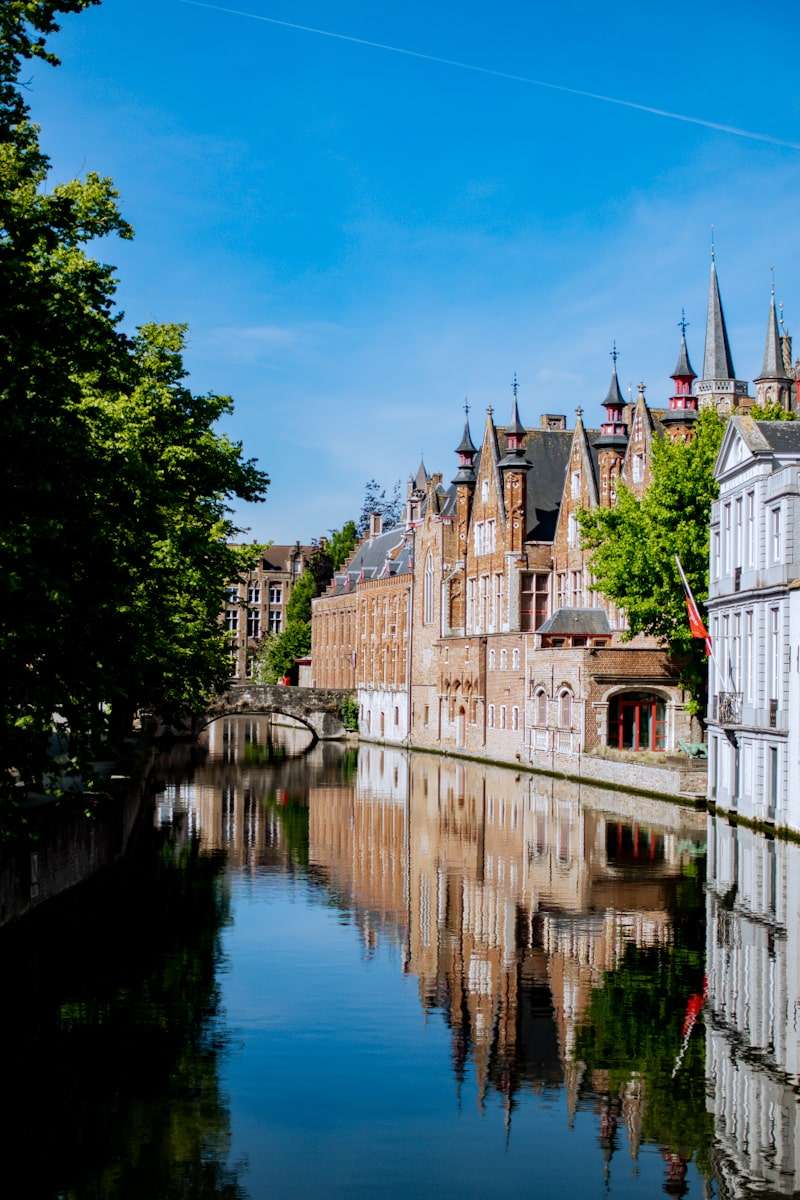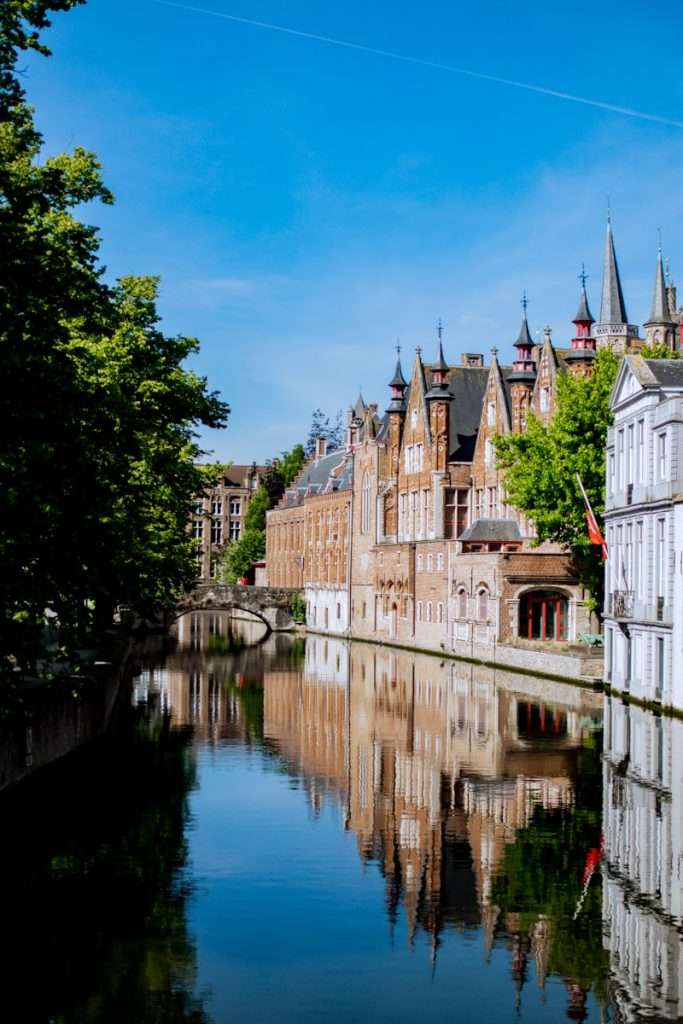 Stop 7 – Enjoy some famous Belgian Beer
No Bruges one-day itinerary would be complete without trying some traditional Belgian Beer. Depending on your preference, you can either head to a bar or go to an actual brewery.
If it's a bar you prefer then 2be Beer Wall is a fantastic option (yes, it really does have a wall of beer).
If you want to learn more about the brewing process then a trip to Bourgogne Des Flandres Brewery will be good for you.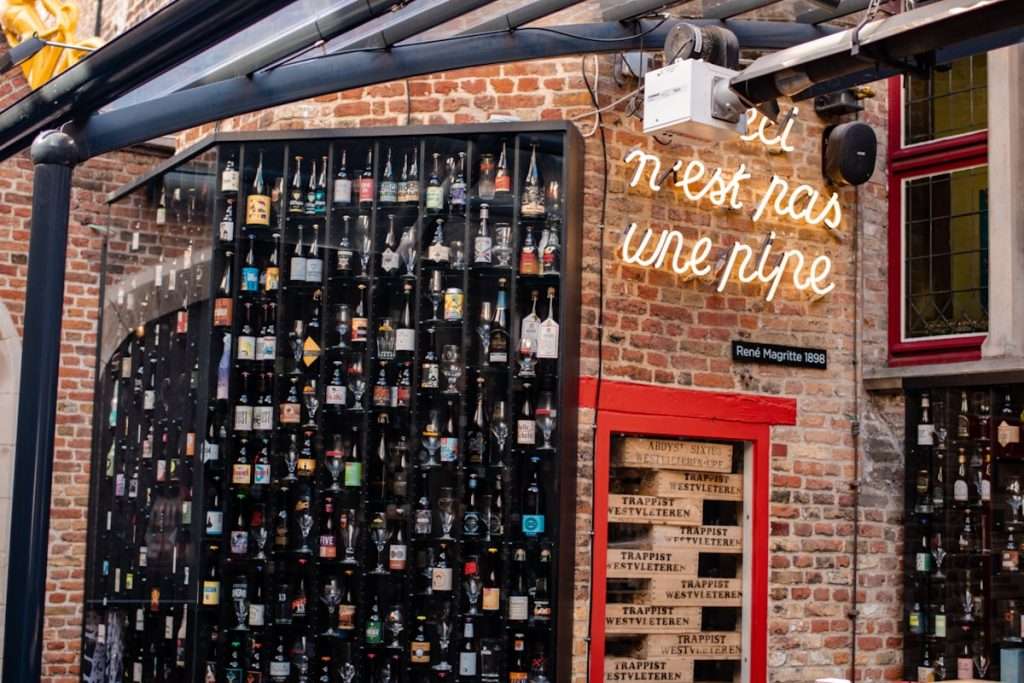 Stop 8 – Enjoy Some Lunch
All the walking that's involved in this Bruges one-day itinerary will see you working up an appetite so now it's time to enjoy some lunch.
Some of my favourite food spots in Bruges included Poules and Moules and De Gastro.
For some in-depth Bruges restaurant recommendations check out my guide here.
Stop 9 – Walk along St Bonifacius Bridge
Bonifacius Bridge is a beautiful little bridge, situated close to a thriving green courtyard. It's well known for being a "romantic" spot in the city (which was affirmed to me when I witnessed a proposal in this exact spot).
You won't need to stay in this place for too long, but it is definitely worth the visit to admire the beauty of the bridge and its surroundings.
Stop 10 – Get some chocolate treats at Chocolatier Dumon
It would be criminal not to come to Bruges and not pick up some delicious Belgian Chocolates, which is why this is an important stop on your Bruges one-day itinerary.

As you can probably imagine, there are a whole host of chocolate shops in the city, but my favourite one has to be Chocolatier Dumon.
There are a few branches dotted across Bruges but if you are following this itinerary explicitly then the closest branch to St Bonifacius Bridge is Chocolatier Dumon Walplein.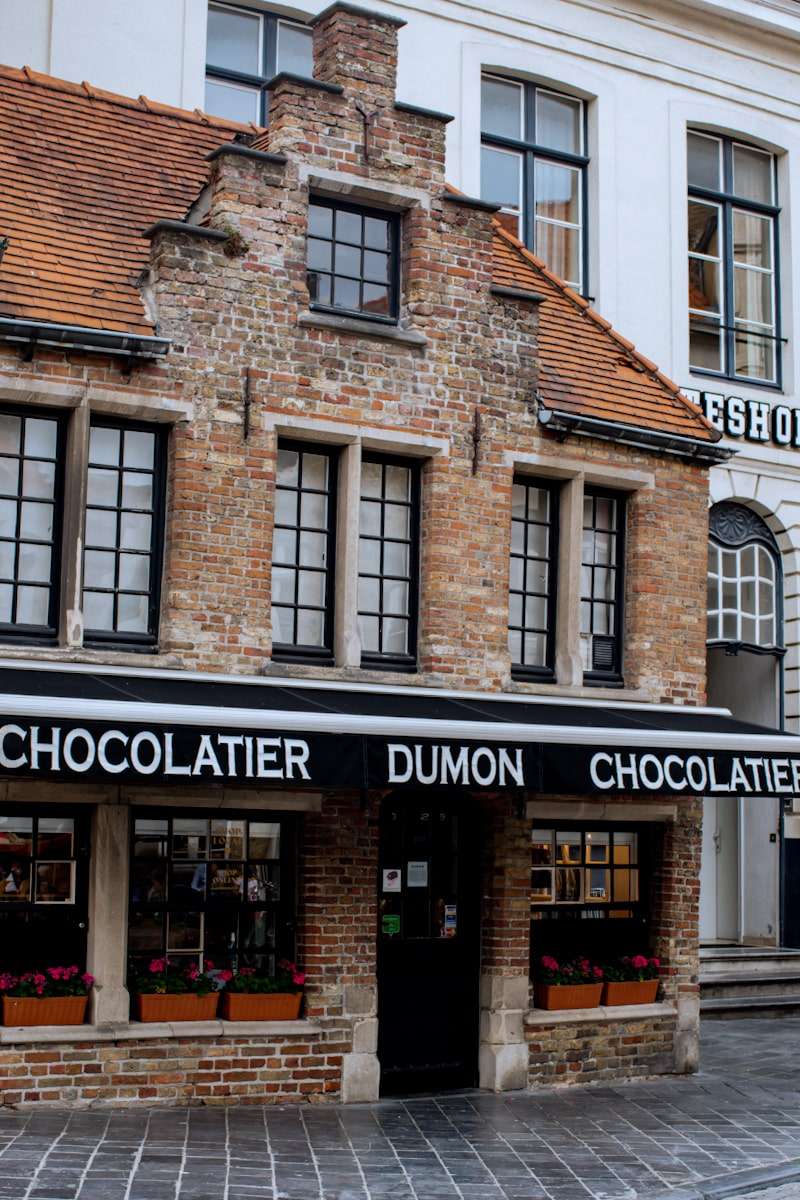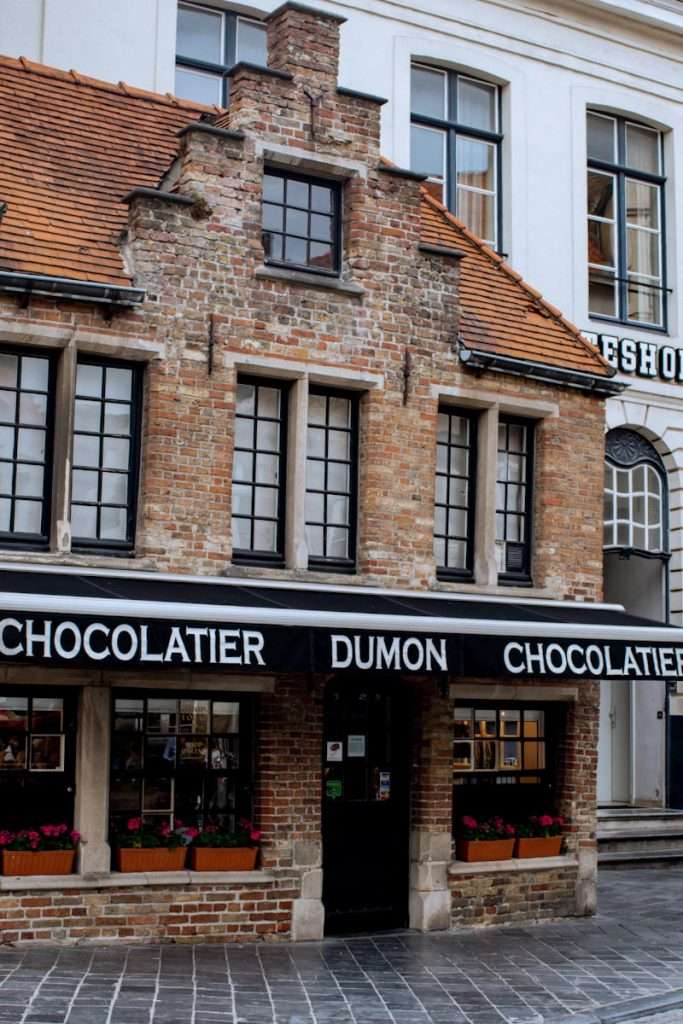 Stop 11 – Stroll through Minnewater Park
Minnewater Park and its serene lake are a breathtaking natural oasis nestled in the heart of Bruges. This makes it an ideal destination for picnicking, reading a good book, or people-watching.
Legend has it that the name 'Minnewater' is named after a young girl named Minna, who strolled into the forest to reunite with her one true love (romantic, eh?).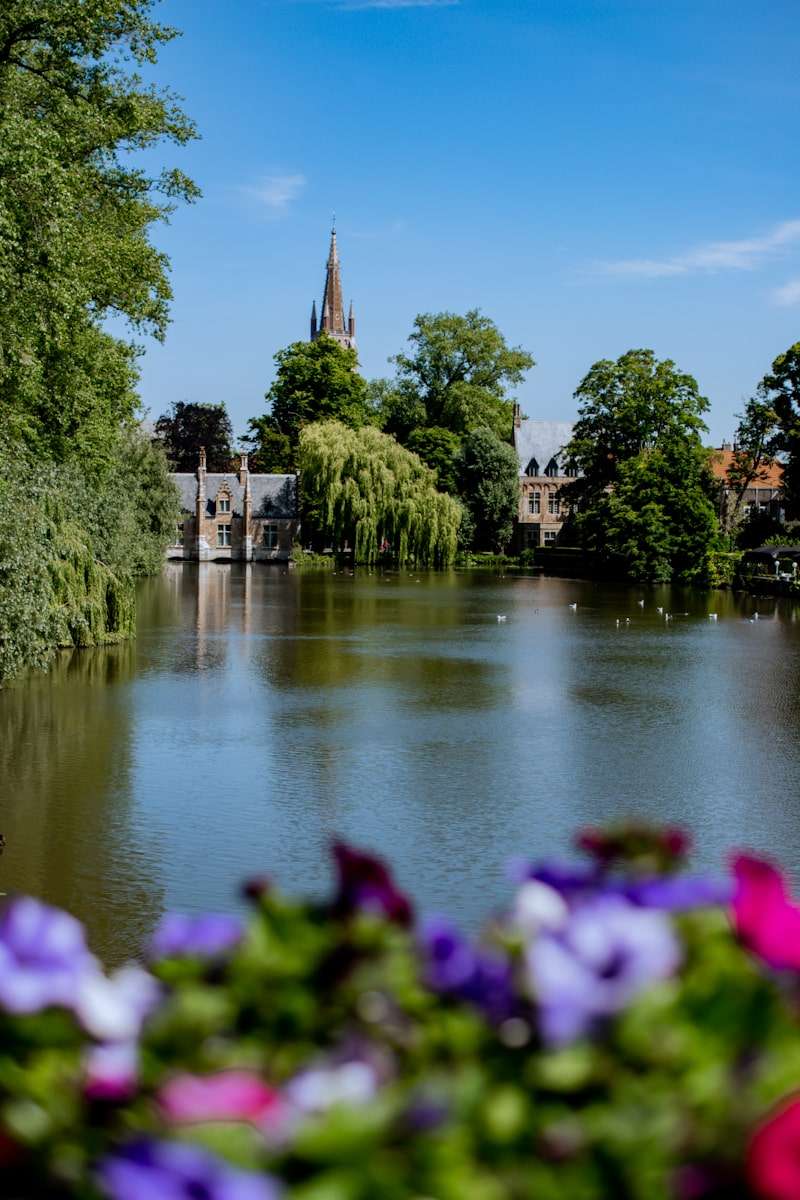 Stop 12 – Enjoy the evening
Fancy winding down your day with an evening of cheese and meat fondue? Then make sure to head to Bieratelier restaurant, located close to Minnewater Park.
If that doesn't sound like your cup of tea you can find more of my Bruges restaurant recommendation in this guide.

Have room for dessert and drinks after dinner? Check out Fred's Waffles for some freshly made waffles as a dessert option and head to Le Trappiste for beers, a unique bar located in a 13th-century crypt.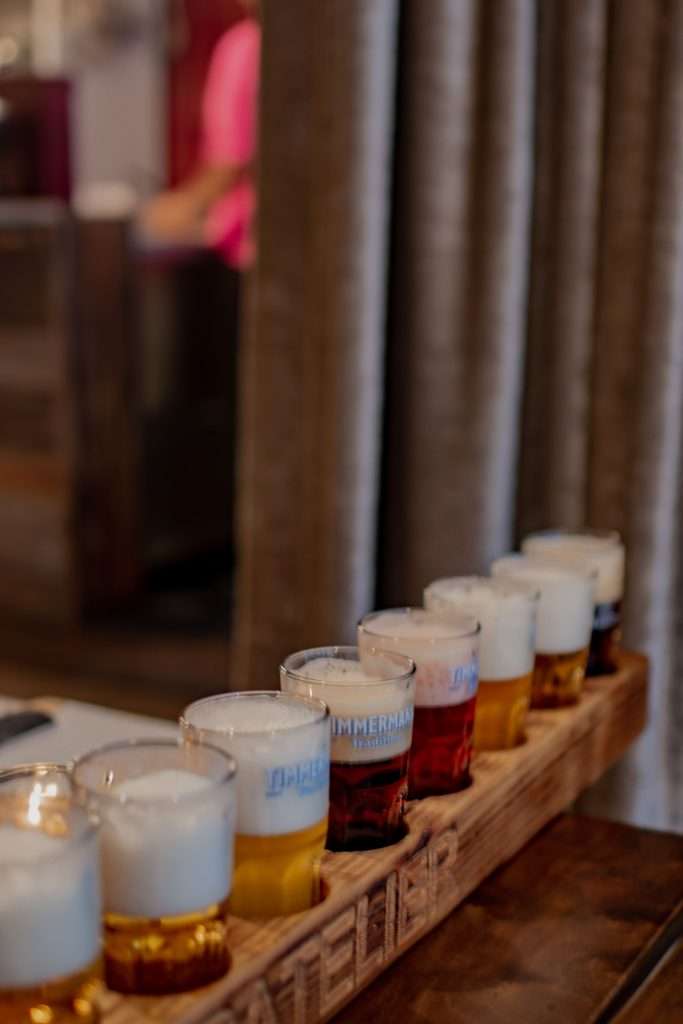 Have more time?
If you find yourself getting through this Bruges one-day itinerary super quickly then why not add some more activities into the mix?
Canal Cruise
One of the most popular things to do in Bruges is a canal cruise.

This is a unique way to explore the city, gaining access to secret corners of Bruges that are unattainable on foot.
The Rozenhoedkaai (stop 6 on this Bruges one-day itinerary) is 1 of the 5 points in the city where you can catch a boat.

The boat tours offer a 30-minute journey through Bruges. Tickets are priced at €12 for adults, €7 for children aged 3-11, and complimentary for children under 3 years old.
Alternatively, you can combine a boat trip and a walking tour which you can purchase here.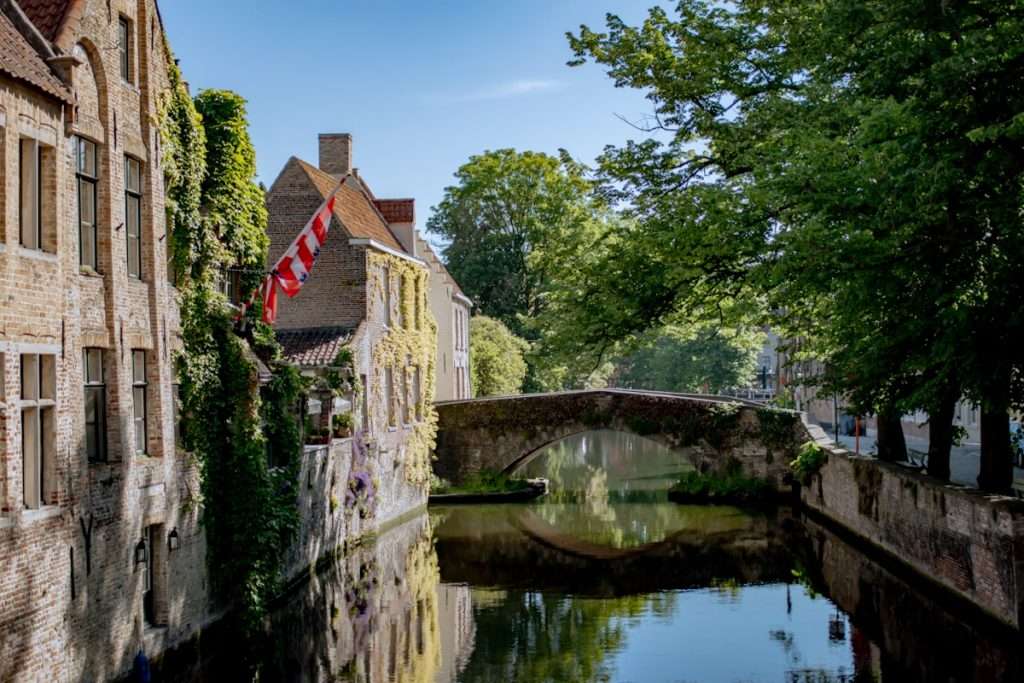 Visit a Museum
Want to get informed on the history of Bruges and even learn about why Belgium is famous for its fries? Then why not try to fit a trip to a museum into this Bruges one-day itinerary.

Here is a list of some of the museums you can visit:
Looking for more European Inspiration? check out my other guides here,
How to get to Bruges, Belgium
Travelling to Bruges is easy from most major European cities.
Flight + Train
To get to Bruges by plane you will need to fly to Brussels International Airport. From Brussels airport, you can then catch a direct train to Bruges.
Train tickets from Brussels Airport to Bruges will cost you approximately €20 – €22.
Train
Bruges Central Station has many well-connected routes to most major European cities. You can check out the best train routes for your journey here.

If you are travelling from London, you can also catch the Eurostar to Brussels and catch a connecting train to Bruges (Eurostar will allow you to purchase a ticket all the way through to Bruges).
Bus
You can easily get to Bruges by bus from many European cities such as London, Paris and Amsterdam. One of the best and most economical bus services that provide routes to Bruges is Flixbus.
Head to their website to reserve your ticket.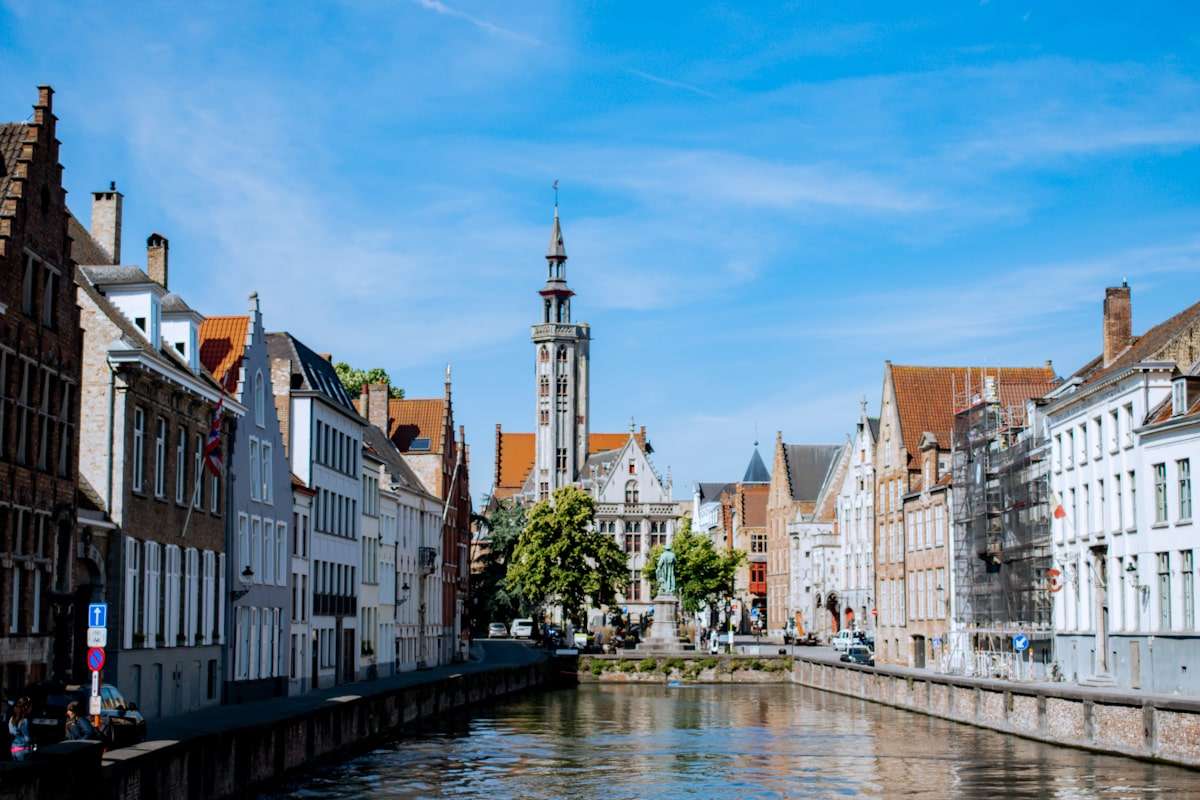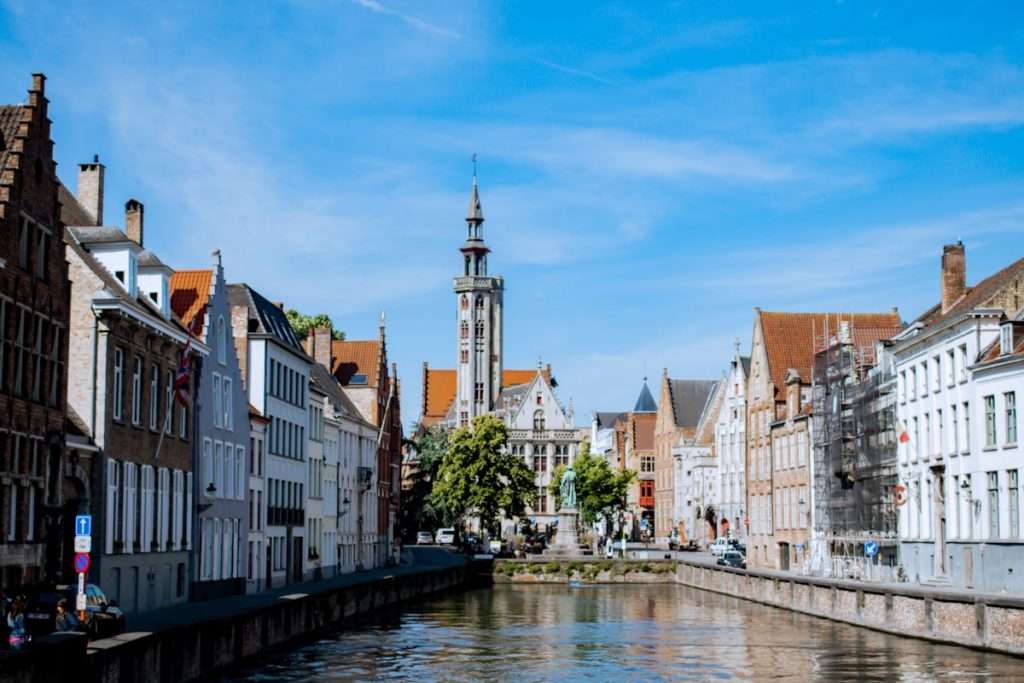 Where to stay in Bruges, Belgium
If you're planning on staying the night in Bruges before or after completing your Bruges one-day itinerary, then I'd recommend staying somewhere central.
The best central areas to stay in Bruges include:
Markt and Burg
Markt and Burg will see you stay in the cultural epicentre of Bruges, located by the Markt and Burg squares. Some of the best hotels to stay in the Markt and Burg areas are:
Sint Anna
Sint Anna is a stunning but quiet quarter of Bruges. It's close enough to all the main attractions of Bruges, but far enough to ensure you get a little bit of peace and quiet at bedtime.
Preparing for one day in Bruges, Belgium
So, there's not too much to prepare for your one day in Bruges. However, what I would say is to make sure you pack some comfortable walking shoes as this Bruges one-day itinerary will see you walking around the city from morning to night.
you might also enjoy…
Happy Exploring
I genuinely hope you have a wonderful time exploring Bruges in one day and that this Bruges one-day itinerary was useful in helping you plan your trip!