Looking for the best things to do in La Digue? Look no further!
Home to one of the top-rated beaches in the whole world and some of the most laid-back island vibes you will ever come across, La Digue Island is one of the Seychelles' true gems.
After visiting 4 different Seychelles Islands, I can confirm that La Digue was my absolute favourite. It's not just the stunning beaches, landscapes and unique granite rock formations that captured my attention. I also loved just how chilled out La Digue was.
If you're heading to the Seychelles, make sure you add La Digue to your Seychelles Itinerary.
La Digue is a beach lovers paradise and therefore most of this guide will include beaches, beaches and (yep you guessed it) more beaches!
So, what are the best things to do in La Digue? Read on below to find out!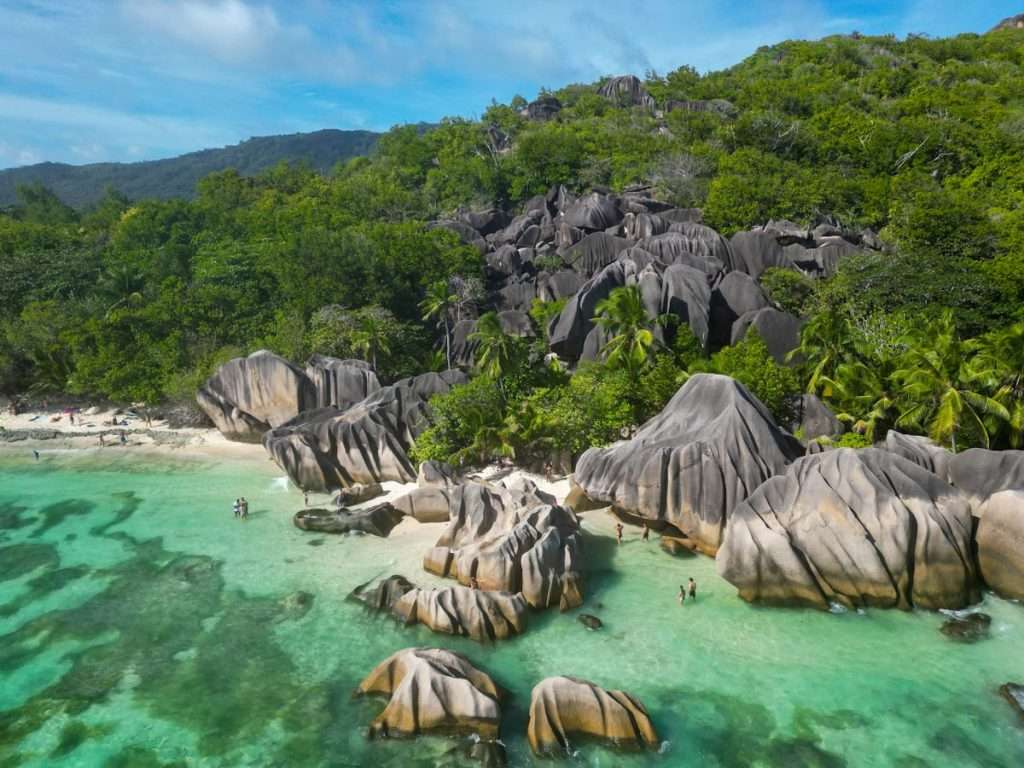 Disclaimer: This post contains affiliate links. If you decide to make a verified purchase through the links in this post I will earn a small commission. This will be at no extra cost to you. Thank you 🙂
Hire a bike
One of the best things to do in La Digue is to hire a bike to transport yourself around the island. This is the main mode of transport on the island and is the easiest to see all of the stunning sites that La Digue has to offer.
Most hotels will offer bike rental services, however if not, there are some bike rental stalls close to La Digue's town centre. Bike rentals start from roughly £10 ($13) a day.
With everyone on La Digue (both locals and tourists) using bikes it's important to make sure that you memorise what your bike looks like. Otherwise you might find your bike lost in a sea of other cycles especially in the most popular areas of La Digue. My top tip would be to take a picture as a reminder of exactly where you put your bike.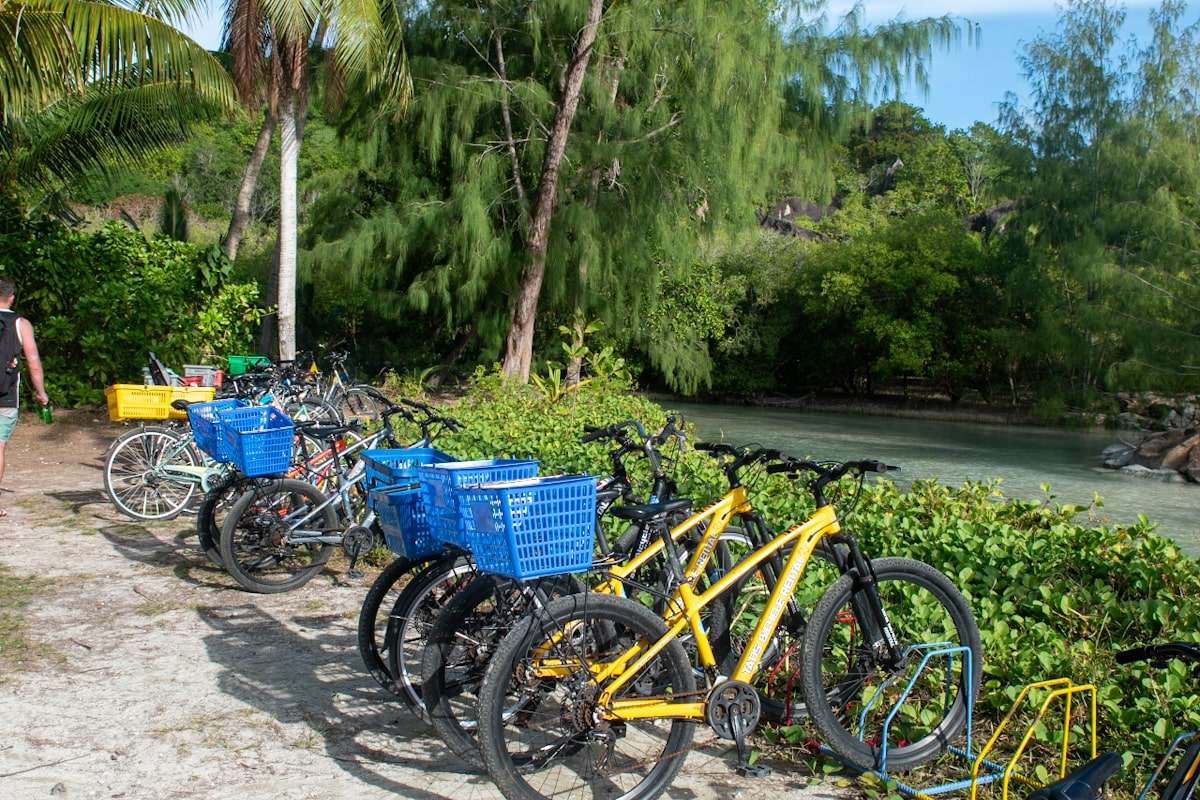 Visit Anse Source D'Argent
Anse Source D'Argent is not just one of the best things to do in La Digue, but it's also voted as one of the best beaches to visit in the world. If that doesn't convince you to visit, it also holds the title of one of the "most photographed beaches in the world". I'm not entirely sure how that award is worked out, but after seeing Anse Source D'Argent for myself I can certainly see why. I can also confirm that left with more than 100+ photos of the place 😂.
Anse Source D'Argent is located in the L'Union estate which costs 300 SRe (£18/$23) to gain entry. You'll get a wrist band for the day so that you can leave and come back if need be.
There are 3 different sections to Anse Source D'argent which are separated out by stunning granite rock formations. You can get to each section by either walking around the rocks, or walking the trails that are located behind the rocks, adjacent to the beach.
In each section of the beach you will find some beach bars where you can get fresh coconuts and some strong rum cocktails!
Take a ride with Crystal Water Kayaks
One of the most unique things to do in La Digue is to sail through the waters of Anse Source D'Argent in a glass kayak. You can go on a kayak tour with Crystal Water Kayaks. They offer a 3-hour kayaking adventure which includes coral views, beach time, beach hikes and exploring natural pools and caves. This tour costs 550 SRe.

After something a little cheaper? You can rent a kayak for 250 SRe.
Explore L'Union Estate
Its not just Anse Source D'Argent that you can find in L'union Estate. You can also come here to see:
The Coprah factory
The coconut and vanilla plantation
The planation house
The Aldabra tortoise enclosure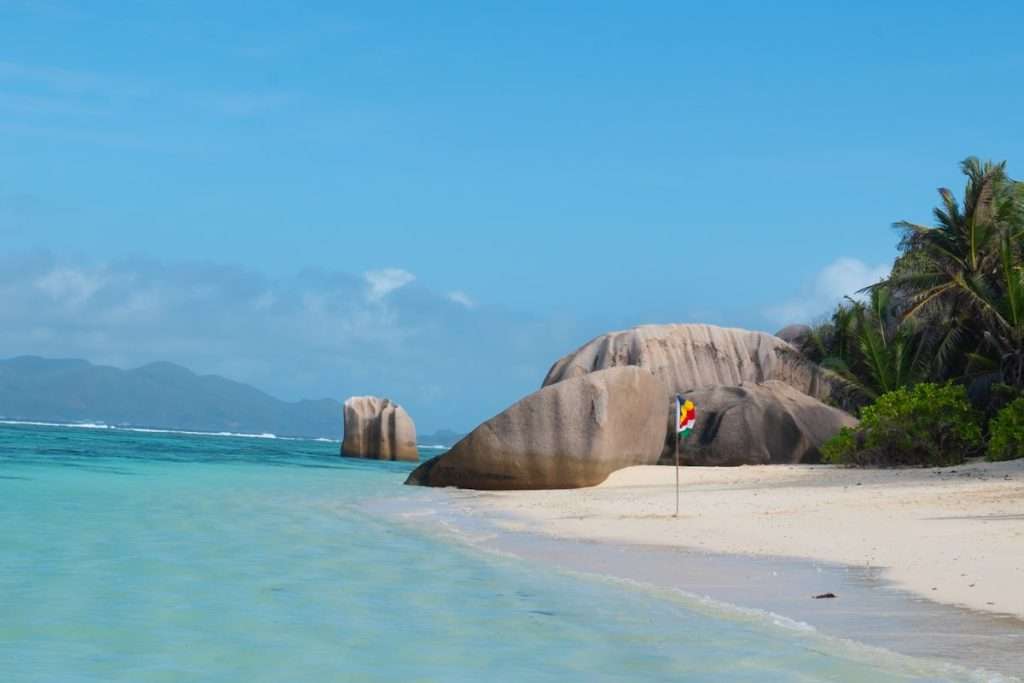 Admire Notre Dame de L'Assomption Church
The Notre Dame de L'Assomption Church is the only church on the island. With its bright yellow and white exterior this church is extremly hard to miss. You'll be passing this church If you're heading off to visit Anse Source D'Argent/ L'Union Estate. Why not make a quick stop off to admire church.
Enjoy the rock pool at Anse Marron
At the southern tip of La Digue, nestled behind granite boulders, lies Anse Marron, home to one of the Seychelles' most stunning natural pools. Anse Marron is an idyllic location for swimming or snorkelling as it is sheltered in a small inlet with crystal-clear waters.

Anse Marron is quite a difficult hike, so this trail must be completed with a guide. You can book a guide here.
Hike the Anse Cocos Trail
Anse Cocos is another one of La Digue's stunning beaches. Anse Cocos is located on the east of La Digue Island. Anse Cocos requires a little effort to get to which means that this paradise beach rarely sees more than 20-30 visitors a day. To the right of the beach, you can find a local beach bar which serves up delicious cocktails and an even better BBQ. To the left of the beach, you can find a pretty impressive rock pool. 
En route to Anse Cocos you will also be able to pay a visit to both Grand Anse and Petite Anse which you can find along the trail.
Hiking the Anse Cocos Trail was one of my favourite things to do in La Digue. Not only was the beach beautiful, but it was super quiet too with no more than 15 of us sunbathing at the beach bar. 
Please note that Anse Cocos is not safe for swimming so make sure to stick to swimming in the rock pool only. If you are unsure, please double-check with the beach bar staff.
Find my complete guide to the Anse Cocos Trail here.
Hike the Anse Caiman Trail
Fancy going a little further than Anse Cocos? Then why not hike to Anse Caiman trail instead? Anse Caiman is said to be the best place in La Digue to snorkel, with a high chance of coming across sea turtles close to the shore. The Anse Caiman trail will see you continuing on past Grand Anse, Petite Anse and Anse Cocos to walk to Anse Caiman. The trail is approximately ​​3.15km long.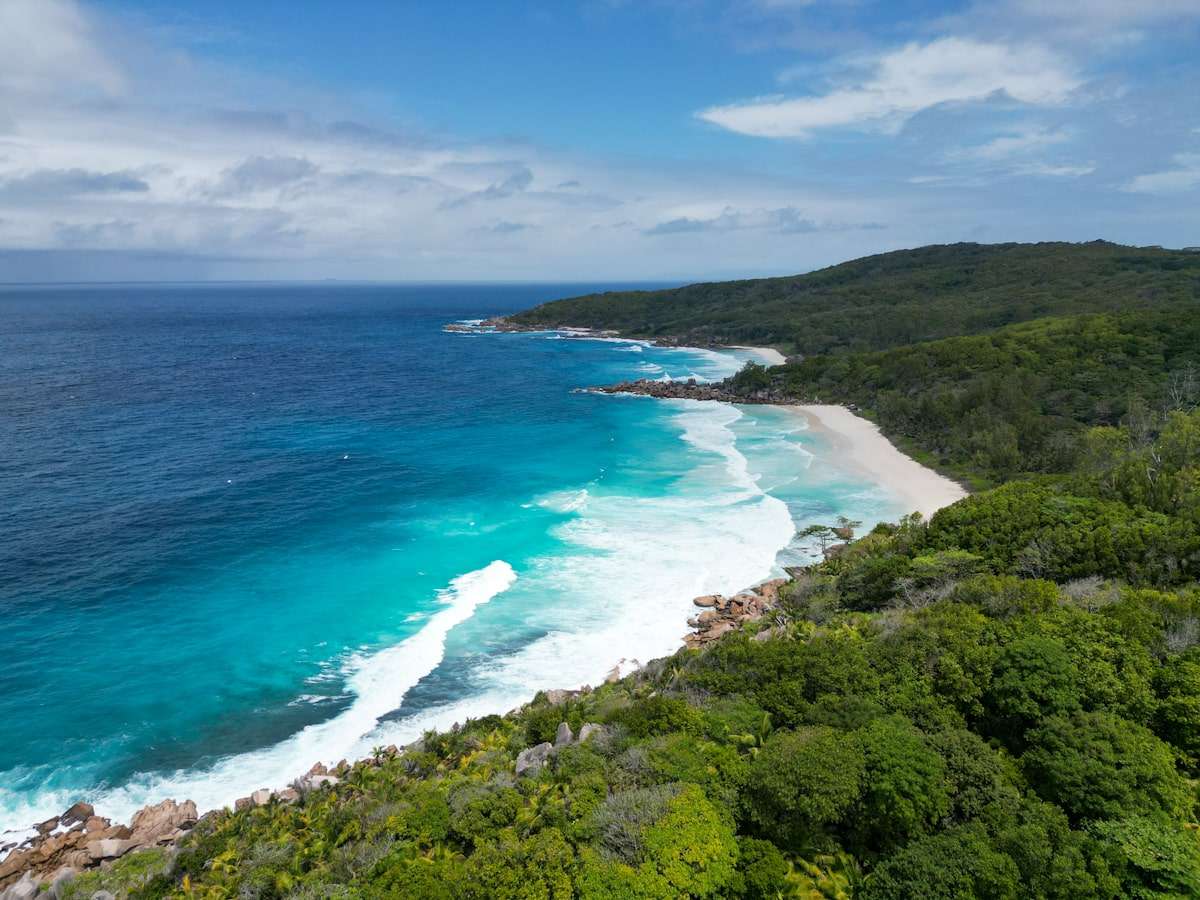 Book on an island-hopping tour
Want to see even more stunning Seychelles Islands? Why not book on an island hopping and snorkelling tour. There are lots of tour companies located at the ferry port whom you can book boat tours with. These tours will take you to incredible places such as Felicite and Coco islands.
This is one of the most beautiful things to do in La Digue and a great way to see more of the Seychelles.
Watch the sunset at Anse Severe
Looking for the perfect sunset spot? The best place to watch the sunset in La Digue is at Anse Severe. Anse Severe is roughly a 15-minute walk from town (or a 8-minute cycle). Make sure to visit Anse Severe at least once during your time in La Digue.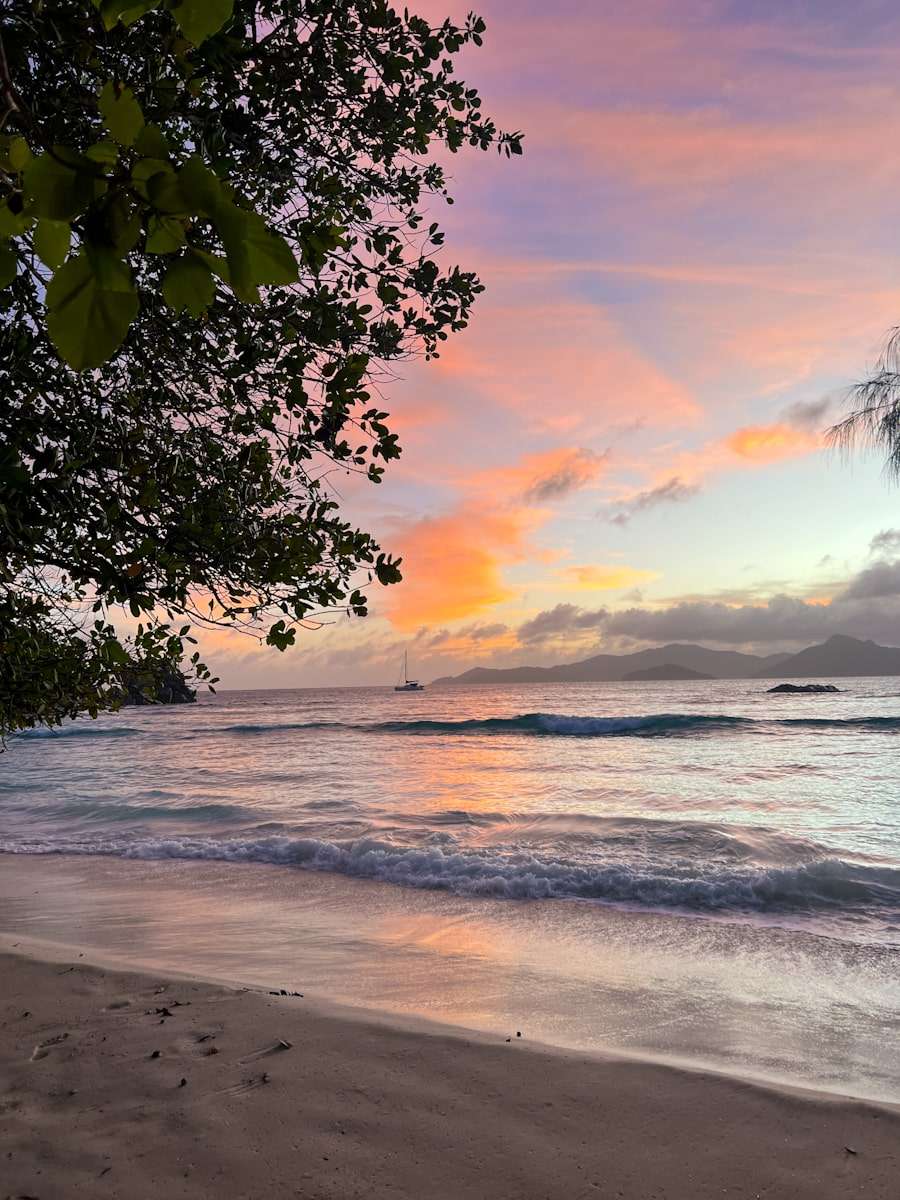 Have Sunset Cocktails at Bikini Bottom
If you do decide to head to Anse Severe for sunset, I'd highly recommend grabbing some sunset cocktails at Bikini Bottom. This brightly coloured bar is hard to miss and the cocktails are some of the best you'll find on the island (although, there is a bit of a hefty price tag that comes with that 😂). This is one of the coolest bars to visit in La Digue.
Get a delicious fish BBQ at Avalunch
This unassuming dinner spot was one of the best dinners we had on our 7-day trip to the Seychelles so is definitely worth the visit. I recommend not eating inside the actual restaurant but at the takeaway area instead.

The atmosphere is vibrant, and if you head down during the weekend, chances are you'll be able to listen to some traditional live music. Be sure to order the tuna steak (you won't regret it).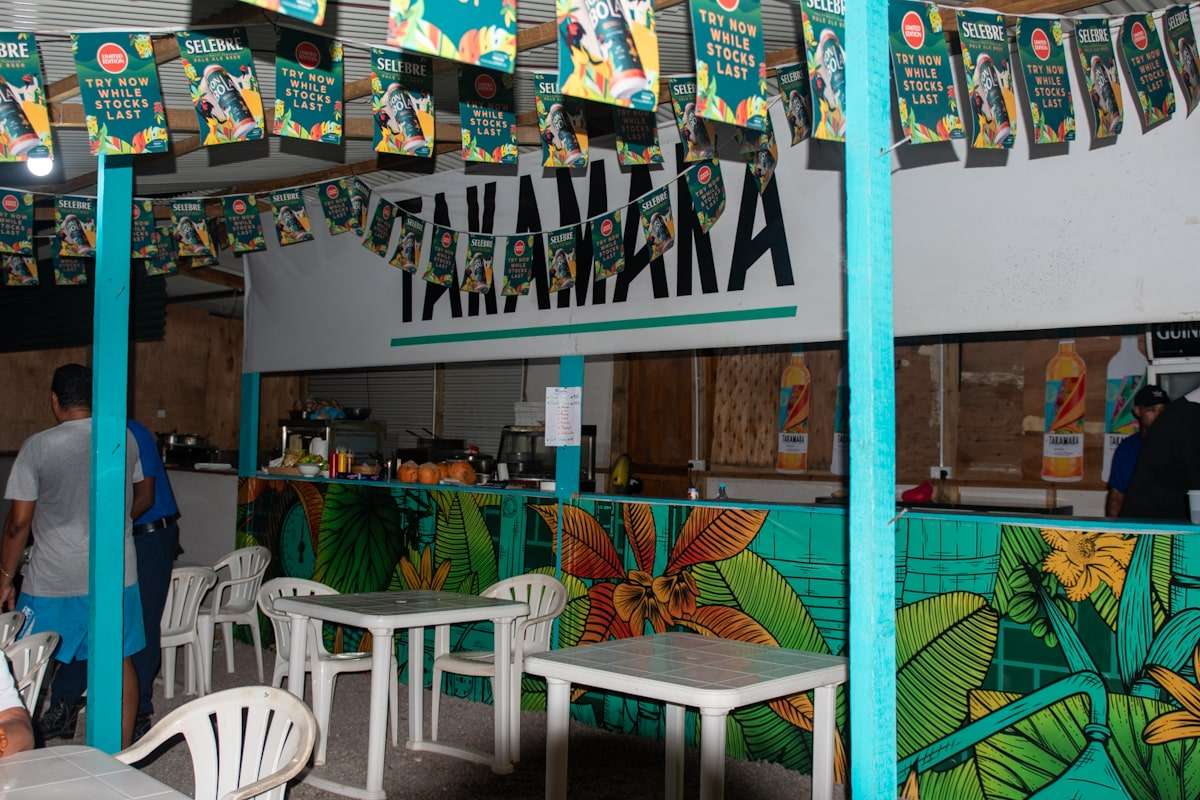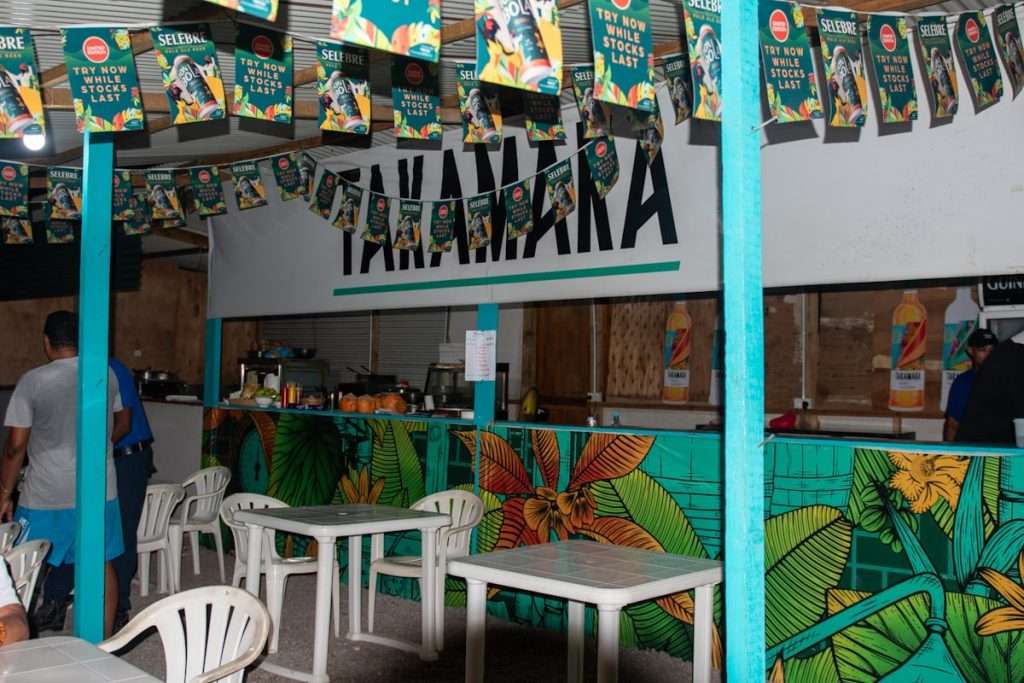 Relax at Anse Banane
Located on La Digue's east coast, Anse Banane boasts an amazing view of the Indian Ocean.
It is an ideal beach for many tourists in La Digue. It has a small snack bar, beautiful views, and is easy to get to. Swimming here isn't recommended due to the shallow water, however, it is the perfect beach to relax on with a good book. 
Eat at Chez Jules
If you do plan on heading to Anse Banane, then a lunch a Chez Jules should be added to your itinerary. Chez Jules is one of the most popular lunch spots on the island for creole food, delicious cocktails and stunning beach views.
Take a Day Trip to Curieuse Island
It would be criminal to come to the Seychelles and not go and see some of the oldest living creatures in the world, the famous Aldabra Tortoise. Curieuse Island is located just a 15-20 minute boat ride from La Digue. It is the best place in the Seychelles to see these majestic creatures living happy lives in the wild.

Curieuse Island is easily accessible from La Digue by booking on an all-day boat tour.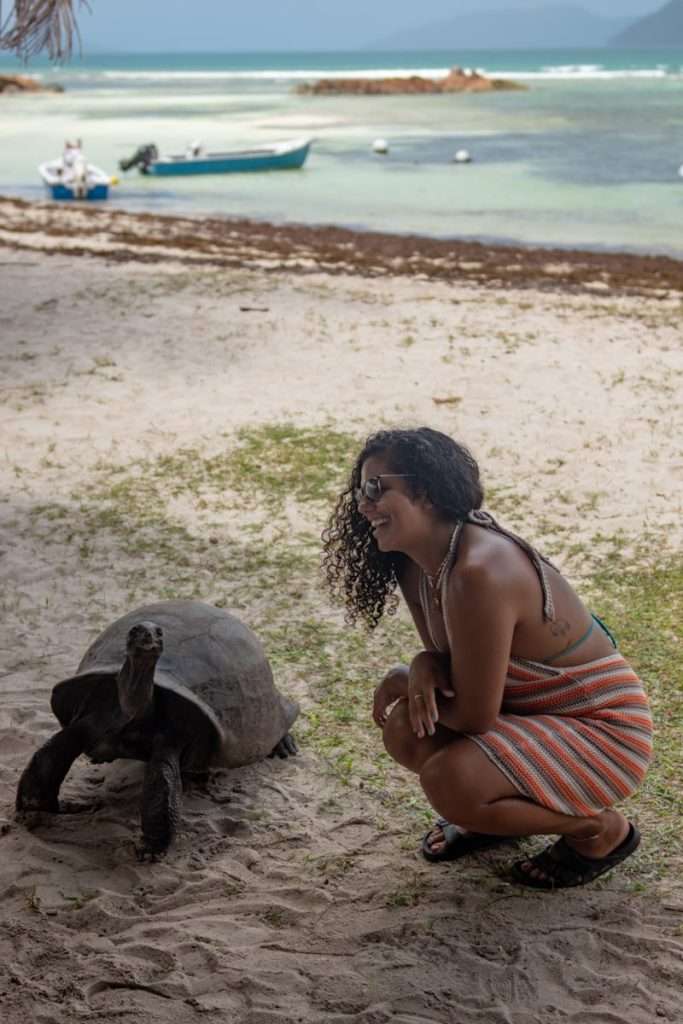 Enjoy a night at Reggae Bar
Reggae Bar was one of our favourite spots in La Digue to end the night. After dinner each evening we would head down to Reggae Bar for some more drinks and of course to listen to the Reggae music. The bar is huge and is based on two floors. There are also a couple of pool tables for those who fancy a game. Reggae Bar serves food as well so if you fancied it, you could come here for dinner too.
This is one of the most fun things to do in La Digue at night, so make sure to give Reggae Bar a visit.
How to get to La Digue
Before you get to experience all of the best things to do in La Digue, you'll have to get there first. Getting to La Digue is straightforward and easily accessible by ferry.
Getting to La Digue from Mahé
You can get to La Digue from Mahé with the Cat Cocos ferry company. They run 2-3 journeys per day (this varies throughout the week). Ferry times are 8:00 a.m., 10:00 a.m. and 4:30 p.m. (please be sure to check the Cat Cocos website for any timetable updates). The journey will take approximately 1hr 45m with a brief stop in Praslin to let more passengers on and off. 
The journey costs approximately £63 ($80).
Alternatively, you can fly from Mahé to Praslin. The flight is just 15 minutes and flight prices range from £110-£170 ($140-$215). From Praslin, you can then catch the ferry from La Digue (see below).
Gettting to La Digue from Praslin
There are two ferry operators that run routes between Praslin and La Digue. Both the Cat Cocos and Cat Rose ferry companies travel to La Digue meaning that there is an extremely regular service to and from La Digue.
The Journey to La Digue from Praslin is only 15 minutes and costs approximately £14 ($18) per person.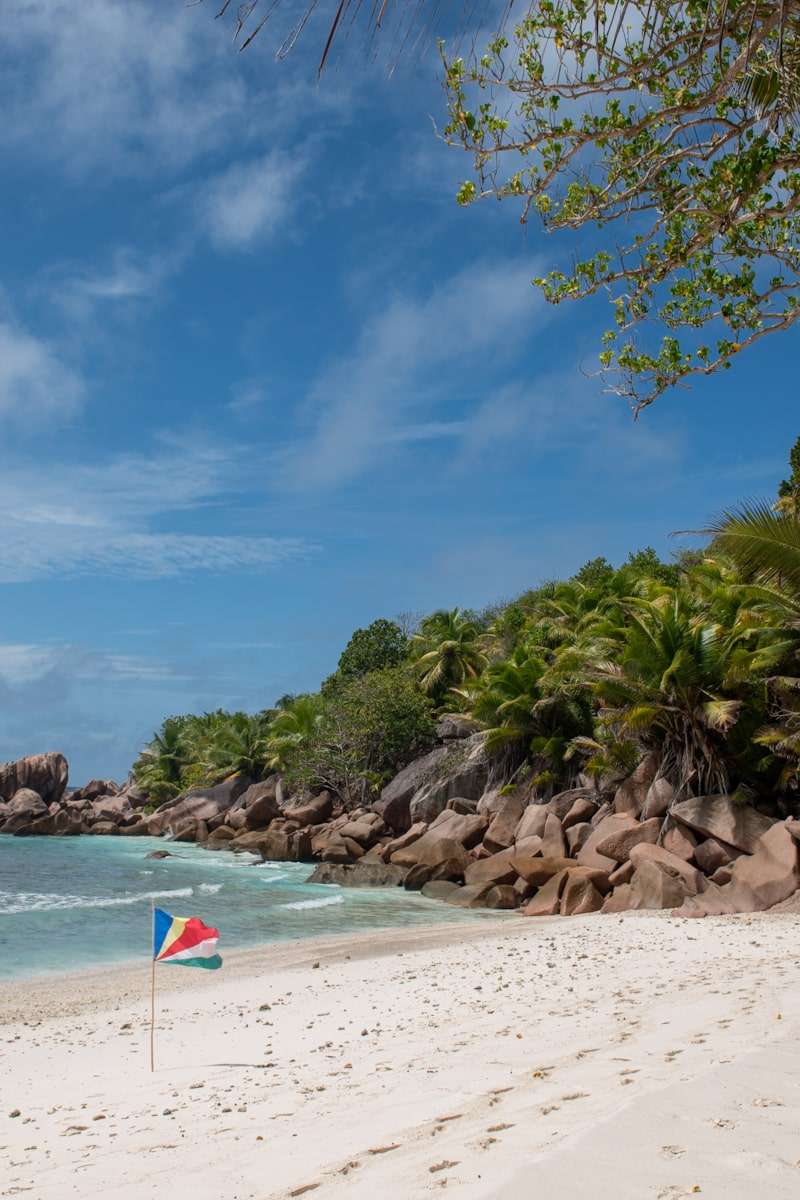 Where to stay in La Digue
La Digue is an extremely small island (5 km long and 3 km wide) so it doesn't matter too much where you stay. I can guarantee that you'll never be too far from some of the best things to do in La Digue.
What I would advise is staying somewhere close to the ferry port so you dont have to carry your luggage to far to your hotel. There are some taxi/shuttle services on La Digue, however they are limited as the main form of transportation on the island is bicycle.
If you are thinking about staying at a more remote part of the island it would be a good idea to check if your hotel offers a shuttle service.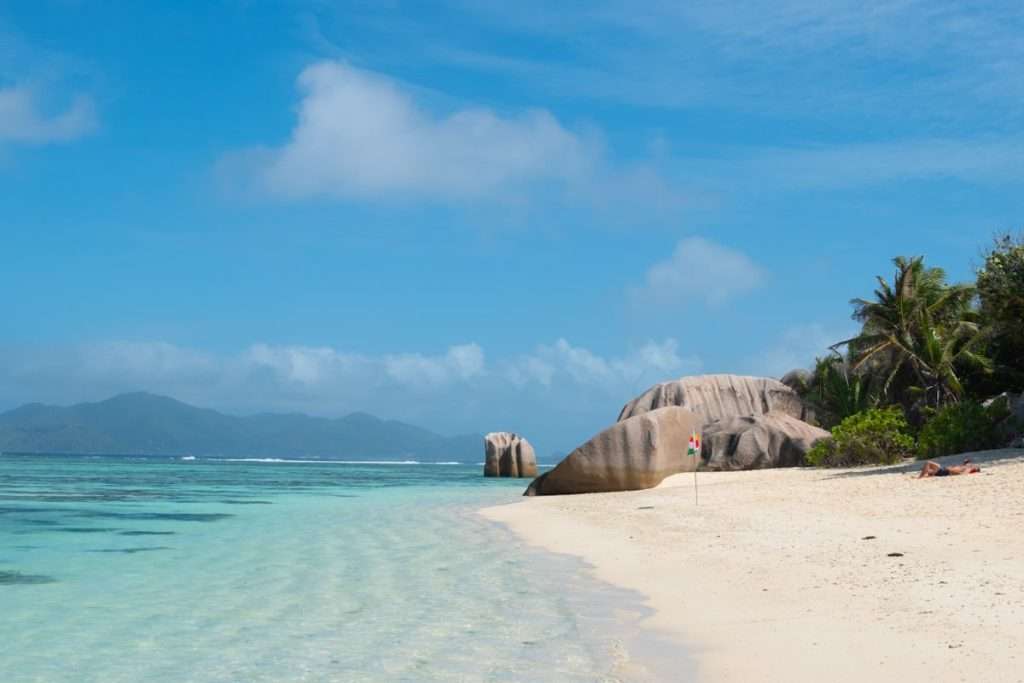 Budget Hotels In La Digue
Island Bungalow For a nice budget option I'd recommend staying at Island Bungalow. They offer spacious rooms and free breakfast at a stunning beach front location. The endless 5* reviews for Island Bungalow speaks for itself.
Chloes Cottage is another great budget option that is located super close to the best beach in La Digue, Anse Source D'argent. The apartments are self-catering and come complete with a microwave, toaster and kettle.
Mid Range Hotels in La Digue
Secret Villa For an remote off-grid experience in La Digue then you have to stay at Secret Villa. Each room has a balcony with stunning ocean/mountain views and comes with a complimentary breakfast.
Patatran Village Hotel is another fabulous mid-range option, located at the very north of the island. Rooms come with stunning ocean views and the hotel also has a pool.
Luxury Hotels In La Digue
Personal recommendation
We stayed at Coral Apartments which was less than a 10-minute walk from the ferry port. The rooms were no thrills, however were super spacious and breakfast is included. This is exactly what we needed for our 3 nights in La Digue. This is a great option for couples, friends or families.
How long to spend in La Digue
Whilst you'll probably want to stay on La Digue forever, I'd say that 3-4 days is the perfect amount of time to spend on the island and uncover all of the best things to do in La Digue.
Happy Exploring
I hope you have a wonderful time uncovering all of the best things to do in La Digue and I hope this post has helped to influence your La Digue itinerary. If you have any questions please feel free to reach out.