Looking to find out all about the Anse Cocos trail? You've come to the right place!
Regularly hailed as one of the most beautiful but underrated beaches on La Digue Island, Anse Cocos is definitely worth the visit if you are heading to the Seychelles.
Like most things in this life that are worth having/doing/seeing, getting to Anse Cocos requires a little bit of work (in the form of a hike) but it truly is worth it.
What I love about beaches that require a little bit of effort to get to, is that the hike often deters the masses from visiting. This means that, for the most part, you get to have a little slice of paradise all to yourself. The Anse Cocos trail is no different.
If you are heading on a trip to the Seychelles and plan on staying on the island of La Digue, then make sure that you add the Anse Cocos trail to your itinerary. Anse Cocos is one spot that's not to be missed.
So, what do you need to know about the Anse Cocos Trail? Read on below to find out!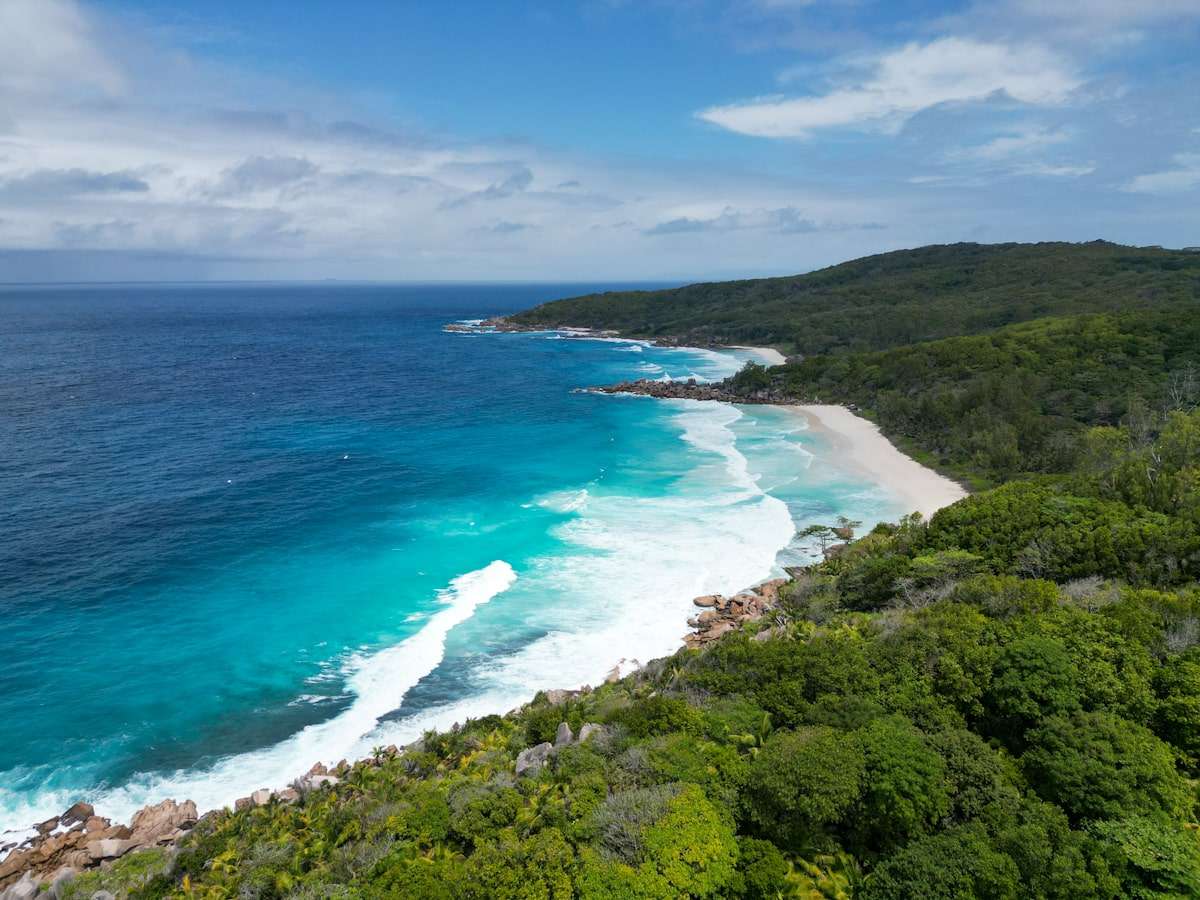 Disclaimer: This post contains affiliate links. If you decide to make a verified purchase through the links in this post I will earn a small commission. This will be at no extra cost to you. Thank you 🙂
About Anse Cocos
Anse Cocos is a pristine beach located on the east of La Digue Island. With bright white sand and glistening blue waters, it really is a hidden gem of the Seychelles.
Whilst this beach is absolutely stunning, Its location on the island and tourists' preference for more popular beaches on La Digue (like Anse Source D'Argent) means that this little slice of paradise rarely sees more than 20 visitors a day.
In my opinion, this makes it all the more appealing to visit (There's nothing better than having a beautiful beach all to yourself right?)
Anse Cocos was originally one of La Digue's first settlements, and the area used to be a large copra producer and home to a small village. Just off the beach, you can still see some remains of the abandoned buildings.
Most of the beach isn't suitable for swimming due to strong currents, however, there is a small rock pool at the end of the left-hand side of the beach which you are able to swim in. Swim or no swim I certainly believe that completing the Anse Cocos trail is worth it just to be able to witness the true beauty of this beach.
How long is the Anse Cocos trail?
The trail itself is roughly 2km and takes about 40-60 minutes to complete. However, I would suggest allocating a whole day for this trip to ensure that you have ample time to relax and enjoy Anse Cocos.
How challenging is the Anse Cocos trail?
I would rate this hike as easy to moderate. Whilst the hike is quite short there are some steep uphill and rocky sections. The All Trails app rates this hike as easy.
Preparing for the Anse Cocos trail
Head out early to hike
It's a good idea to start this hike early in the day so that you are not hiking in the peak of the mid-day sun. There are lots of shaded areas to lay when you arrive at the beach too.
Wear sensible shoes
This hike involves a lot of rocky terrain as well as quite a bit of ascending and descending, so make sure you do this hike in sensible shoes (and not in flip-flops like I did 😂).
Pack Sunscreen
Like anything involving the outdoors and hot climates, it's important to pack sunscreen to avoid getting burnt and causing further issues with sunstroke and/or dehydration.
Don't forget to bring water
This one really goes without saying but make sure you pack enough water to last you the duration of the hike. Hydration is key, especially in the hot Seychelles temperatures.
Bring Cash
There is a small beach bar on Anse Cocos which accepts cash only so if you're not planning on bringing a packed lunch with you, make sure to bring cash so you don't go hungry or thirsty.
Getting to the Anse Cocos trail
The Anse Cocos trail starts at Grand Anse. Grand Anse is located approximately 4km from the centre/ferry port of La Digue. The trip from this point to Grand Anse will take you approximately 55 minutes to walk or around 25-30 minutes by bicycle.
I personally think the bike journey to Grand Anse is more difficult than the Anse Cocos trail itself. There is a lot of uphill cycling en route to Grand Anse and most of the rental bikes in La Digue are very old and without any gears.
The easiest way to navigate your way to Grand Anse is to pop Loutier Coco or Grand Anse into your Google Maps before you set off. Loutier Coco is a restaurant located next to Grand Anse and it's where you will park your bike before you begin the Anse Cocos trail.
If by any chance your Google Maps fails you, then you can simply follow the signs for L'union Estate (home to Anse Source D'Argent) and then keep going left once you pass the entrance for L'union Estate. The road from here will take you all the way to Grand Anse.

Once you arrive at Loutier Coco/Grand Anse you can park your bikes in the designated area. I would recommend taking a picture of your bikes so that you don't get confused as to which one is yours upon your return.
What to expect on the Anse Cocos trail
The first part of the trail is a narrow and flat path running adjacent to Grand Anse. Be sure to have a little peek at this beach before heading off on the rest of the hike.
As you continue along the path you will come across a small rocky lagoon on your left-hand side. Keep walking past that and you will eventually reach an open green field.
Keep on walking through the field and you will reach the first uphill climb on the Anse Cocos trail. Thankfully as you climb up the hill you will be protected from the sun by a leafy green canopy. Keep on following this path for a few minutes. You will eventually see an opening in the canopy and some steps leading down to yet another stunning beach. This is not Anse Cocos, but Petite Anse instead.
There is a small beach bar on Petite Anse with shaded seating so this is a good rest point if you are feeling a little hot and sweaty or just need a drink. Also, don't forget to spend a little time admiring the views at Petite Anse as well!
Once you are ready to go again walk along the trail adjacent to Petite Anse. This path will eventually lead you onto an uphill path into the forest. Again, this part of the hike is in the shade, protected by a canopy. Take extra care on this uphill portion of the hike as it is probably the most rocky part.
You'll then begin your descent onto Anse Cocos and you'll know you are close because there will be signs for the beach bar aptly named "Coco Bar".
When you see the beach swing and the Seychelles flag in sight you'll know you have arrived.
The Anse Cocos trail is signposted along the way so you don't need to worry about getting lost.
What to do at Anse Cocos
Relax! There isn't much to do at Anse Cocos apart from chill at the beach and enjoy some drinks and food from the local beach bar. This is located on the right-hand side of the beach. Alternatively, you can go for a swim in the rock pools on the left-hand side of the beach.
It's important to note that if you are planning on having lunch at the beach bar, the food is not made to order. Instead, it is a buffet-style BBQ that is prepared for customers around 12/1 p.m. This costs around 250SRe (£15/$19). This BBQ was one of the best meals I had in the Seychelles so definitely give it a try if you can.
As I mentioned earlier in this blog post Anse Cocos isn't super safe for swimming. Make sure you stick to the designated areas if you want to go for a swim and ask the staff at the beach bar if you're not sure where these are.

Please note there are no toilets on Anse Cocos so make sure you make use of the facilities at Loutier Coco before heading off on the Anse Cocos trail.
Leaving Anse Cocos
The only way to leave Anse Cocos is to hike the trail back to Grand Anse where you have parked your bike. Unfortunately, unlike the Anse Major hiking trail on Mahé, there is no option to catch a home.
Is the Anse Cocos trail worth it?
Yes! This short but sweet hike gives you stunning views of the La Digue coastline as well as access to one of the most beautiful and secluded beaches in all of La Digue. It's also a great opportunity to get a closer look at the Seychelles' unique rock formations.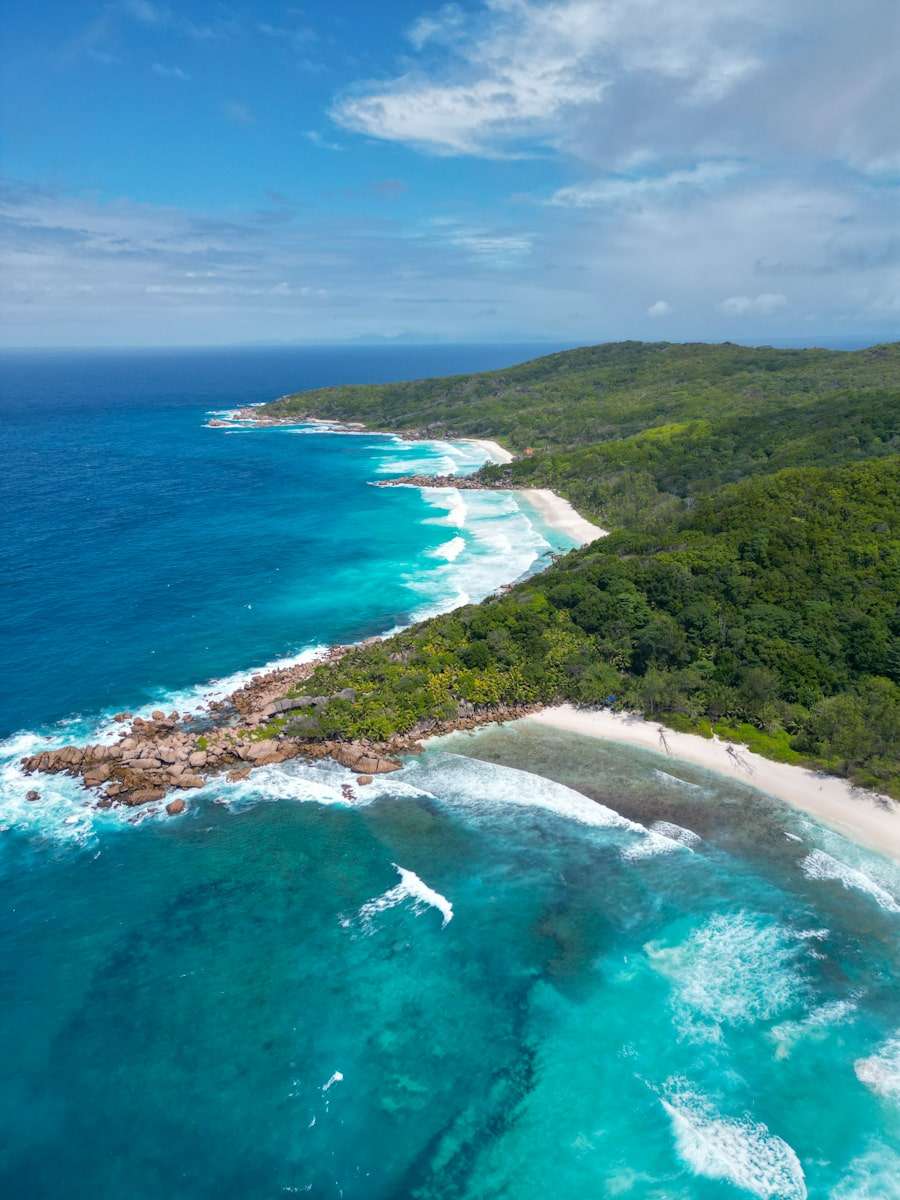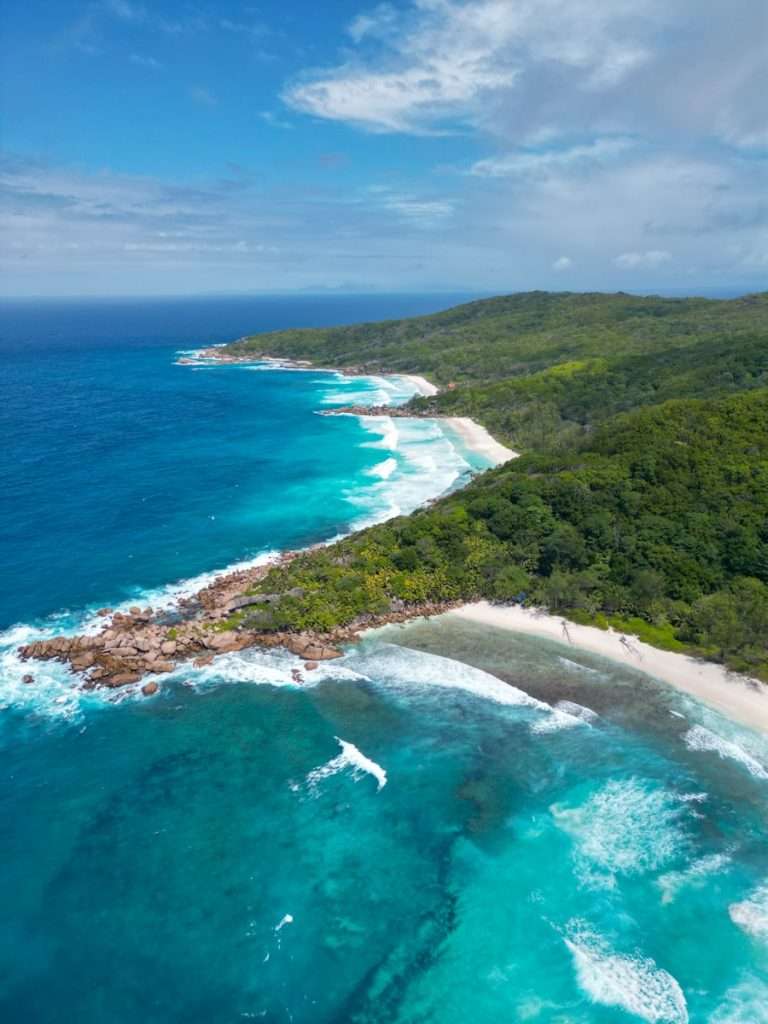 Happy Hiking
I hope this guide has provided you with all the information you need to hike the Anse Cocos trail. If you have any additional questions about the Anse Cocos trail on La Digue, please feel free to reach out to me directly.
Looking for more Seychelles Inspiration? Check out my guides here.