Looking for the best things to do in Ericeira, Portugal? Look no further!
Located just a stone's throw from the Portuguese capital Lisbon and home to the famous world surfing reserve is the stunning town of Ericeira.
This charming town attracts tourists from all over the globe not only for surfing but for its natural beauty and vibrant and bustling community.
From surfing to yoga to hiking, to music festivals and not forgetting delicious Portuguese seafood, there are so many incredible things to do in Ericeira, Portugal to cater to everyone's tastes.
After spending 3 weeks in Ericeira I can safely say that I tried and tested all of the coolest things to do in Ericeira, Portugal and in turn, truly fell in love with this gorgeous seaside town. I feel like a left a small bit of my heart in Ericeira and I am already itching to get back.
So what are the best things to do in Ericeira, Portugal? Read on below to find out!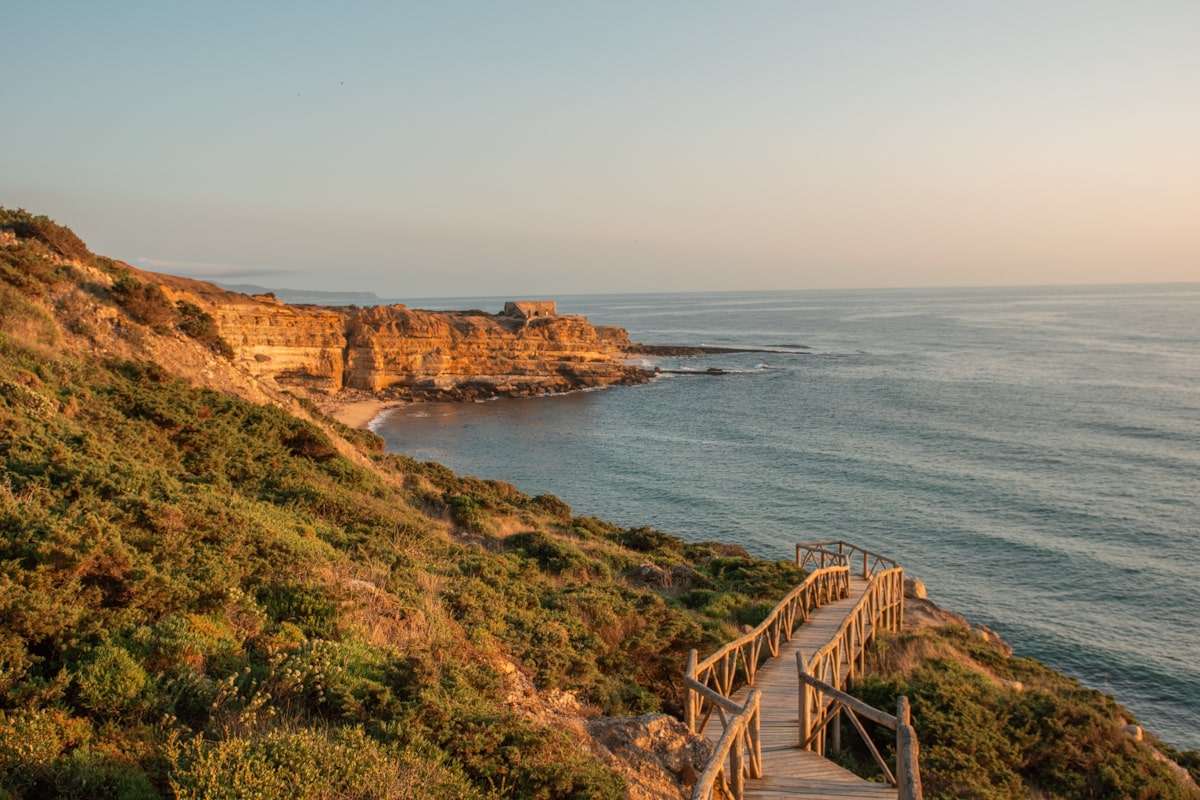 Disclaimer: This post contains affiliate links. If you decide to make a verified purchase through the links in this post I will earn a small commission. This will be at no extra cost to you. Thank you
Give surfing a try
It would be well and truly criminal to come to a world surfing reserve (and the surfing Mecca of Europe) and not give surfing a go! Professionals from all over the world descend to the town of Erceira every year to ride its famous waves. So, I think it's a pretty cool thing to be able to say that you've surfed in the same waters as some of the greats! 😉
With Surfing being the main thing to do in Ericeira there are a tonne of surf schools in the area that offer either week-long surf camps or individual lessons.
Interested in booking a surf camp? Why not check out some of the schools below:
Salty Pelican Ericeira
Rapture Camps Ericeira
Lapoint Ericeira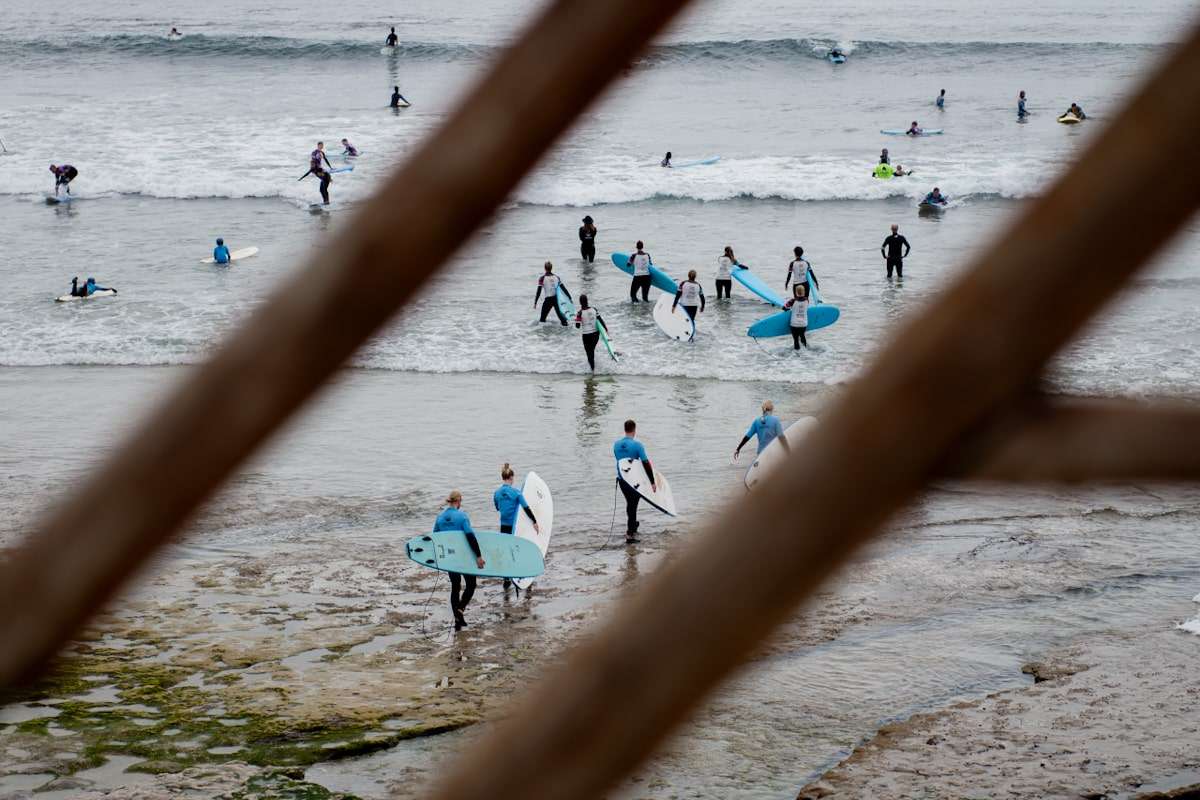 If, like me, you prefer to have an introductory surfing lesson before fully committing to a camp, then you can book individual lessons. Lessons start from €40. I booked my individual surf lessons through my hostel, Chill In Ericeira, which I would highly recommend. It's good to note that you don't have to be a guest at Chill In Ericeira to book the lessons. You can send them an email and they will be more than happy to accommodate.
I can honestly say as a newbie surfer, I've never had such an enjoyable experience. This was one of my favourite things to do in Ericeira, Portugal. I can definitely see how this sport becomes addictive. Go on and give it a go!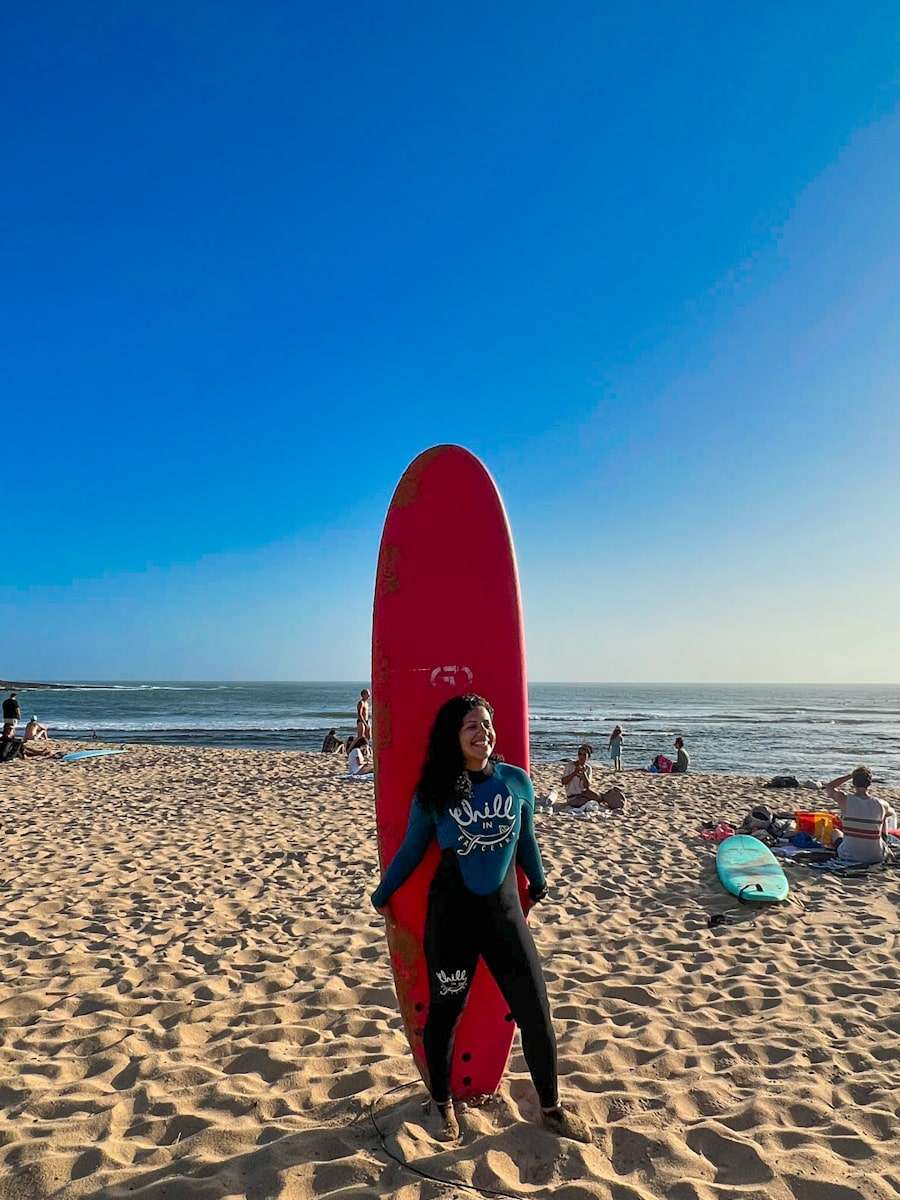 Visit some of Ericeira's most beautiful beaches
Praia dos Pescadores
This beach is located in the main town centre. In my opinion, it's not the most beautiful beach in Ericeira, however, it is the best one for swimming as it's located in a sheltered bay. This means that the waves aren't too aggressive and you do not have to worry about bumping into any surfers. They also have a very nice beach bar here called Kayak Bar (Bar Pescadores) which is the best place to get drinks and snacks. I may or may not have had one too many sparkling sangrias here.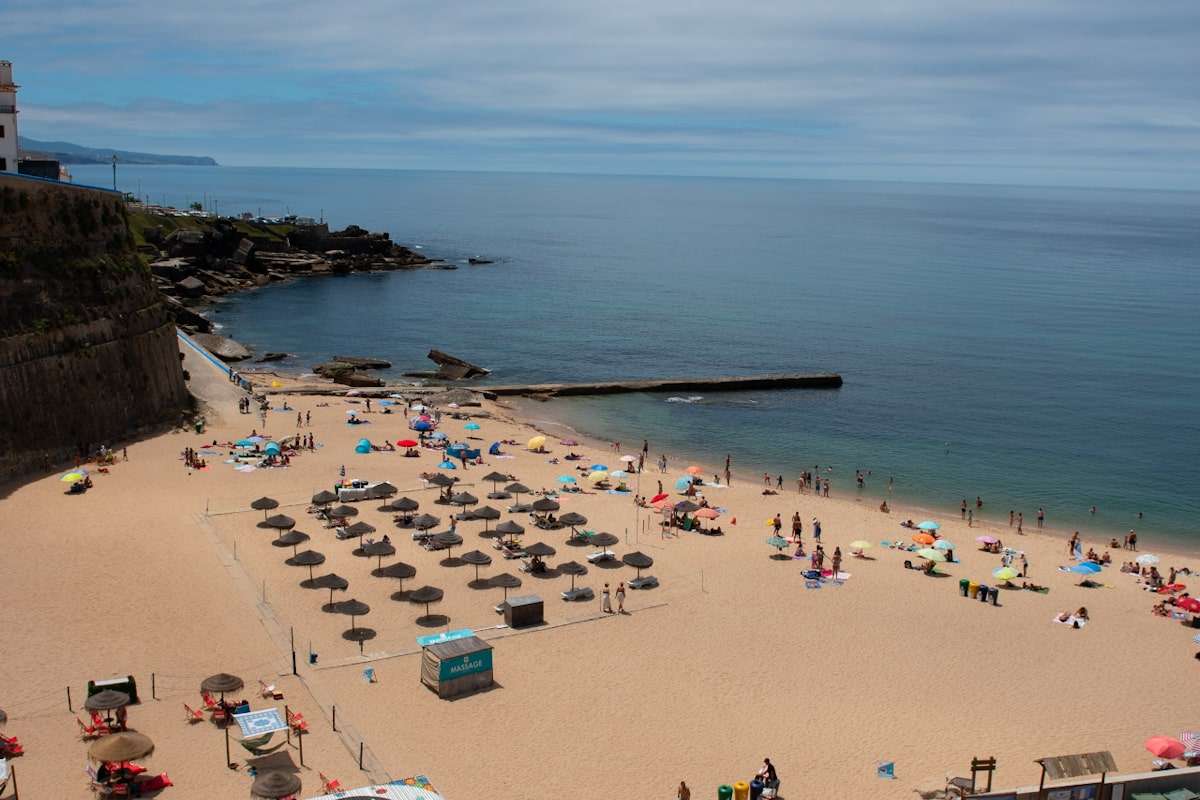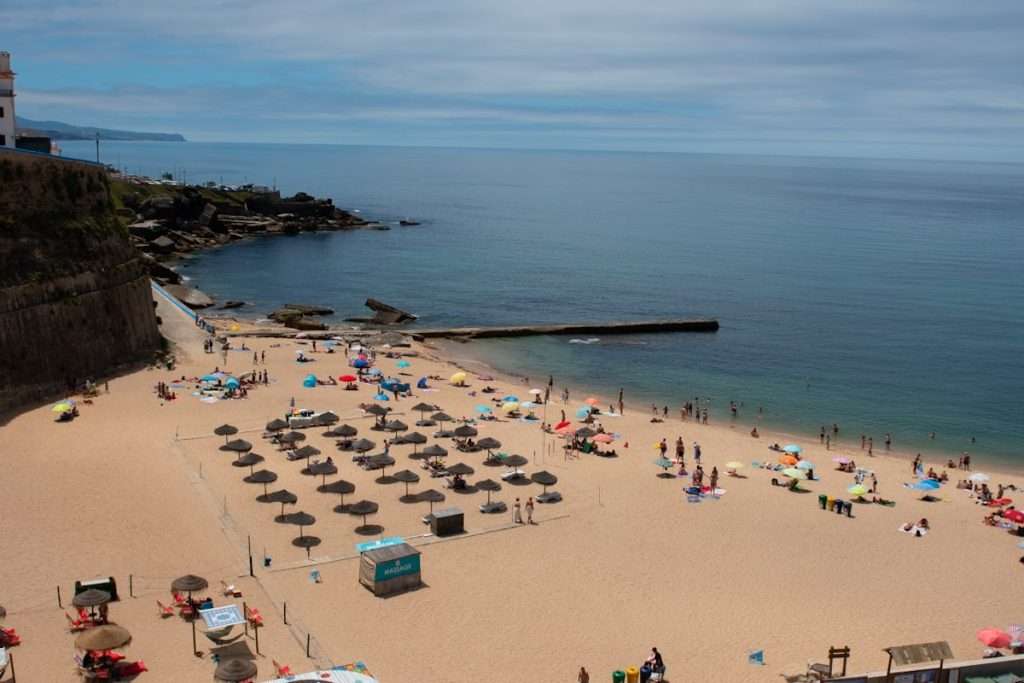 Praia do Sul was my favourite beach for sunbathing, relaxing and reading my Kindle. It's a long golden sand beach that is pretty well protected from those notorious Ericiera winds, which is why it's the preferred beach for sunbathing. Praia do Sul also has 4 restaurants adjacent to the beach which means you don't have to travel far to grab a spot of lunch or even a takeaway beer.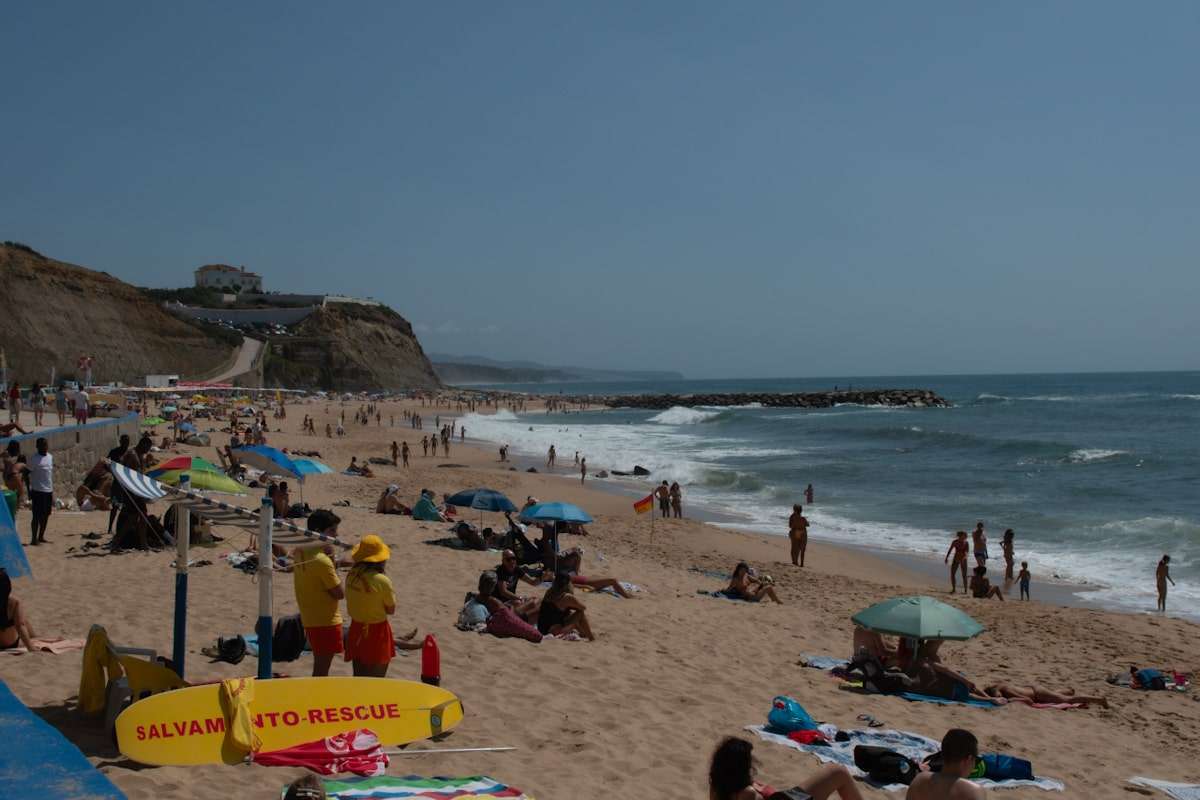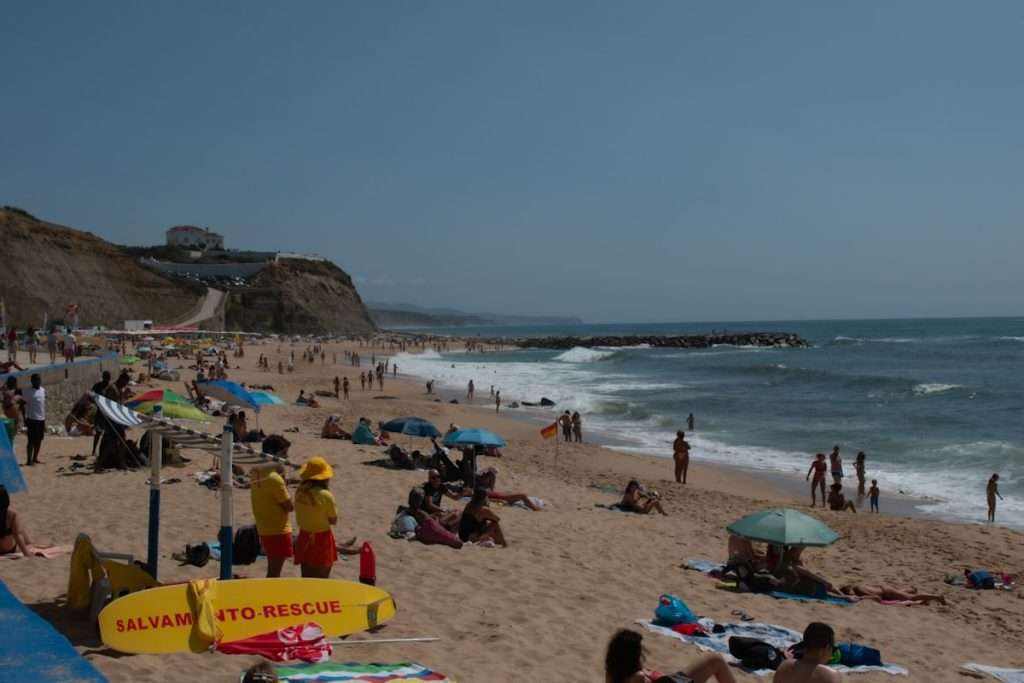 Praia de Ribeira D'Ilhas
Ribeira D'Ilhas is one of the most popular in Ericeira and about a 10-minute drive outside of the town centre. It's the place to come to learn how to surf and you'll often find mainly beginners out on the waves. Ribeira D'Ilhas is one of the most stunning beaches in Ericeira and reminds me of something you might find on the Southern Californian coast. The sunsets at this beach are pretty awesome too.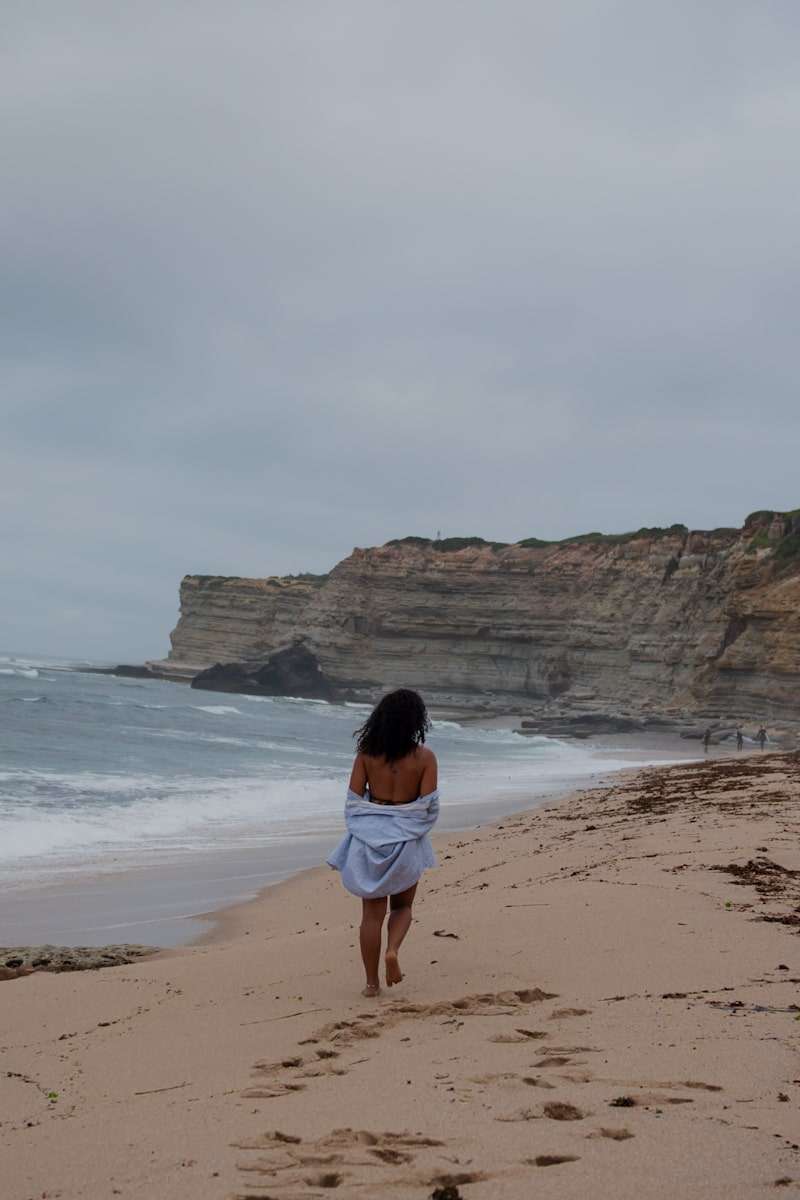 Praia de Sao Lourenzo
Praia de Sao Lourenzo is a 15-minute drive outside of Ericeira town centre and for that reason is traditionally a quieter beach than some of the others in Ericeira. This beach is perfect if you're after a chilled, sleepy day at the beach away from other tourists. There is just one small beach bar on Praia de Sao Lourenzo so if you're a picky eater I would recommend coming prepared with some snacks or a picnic.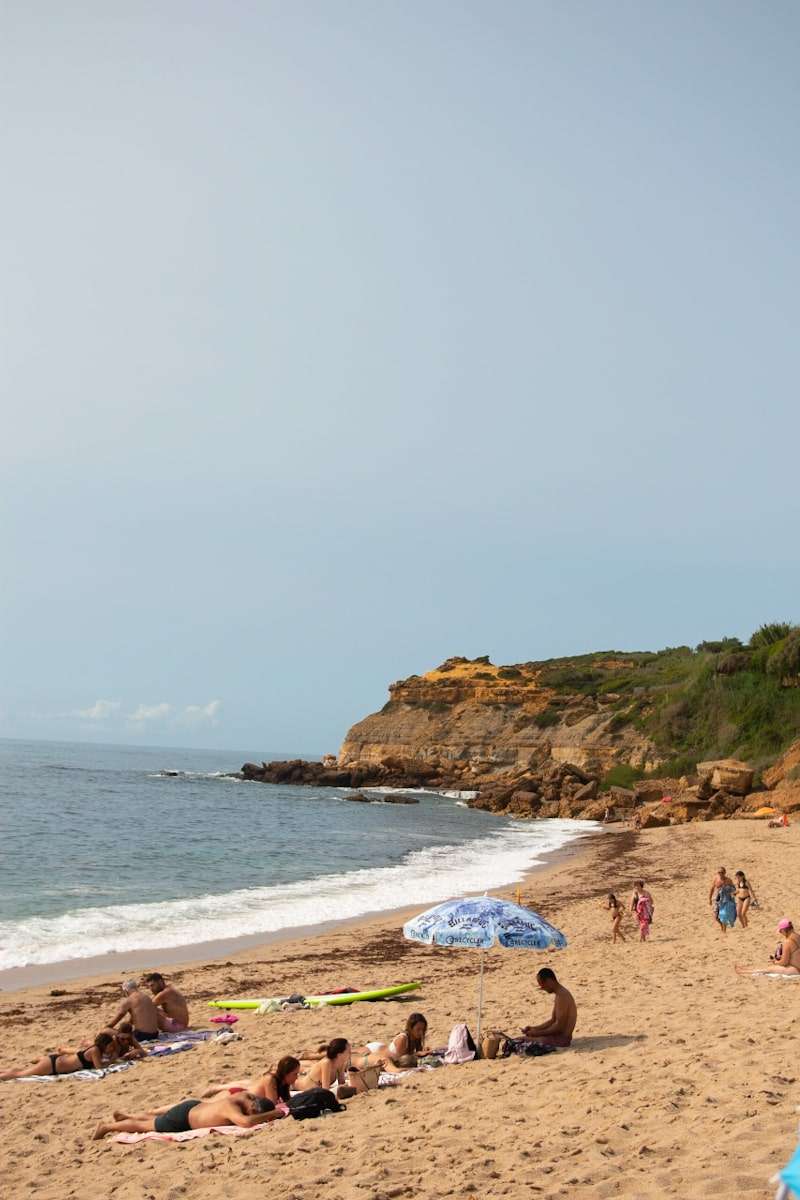 Praia de Foz do Lizandro
If you're after a beach with jaw-dropping views that give you that "I can't believe this is real" thought, this is the beach to visit. Again, this beach is also a 10-minute drive outside of the town centre but is definitely worth the trip. It's also home to Indigo Ericeira which serves up some of the best Poke bowls I've had in a VERY long time.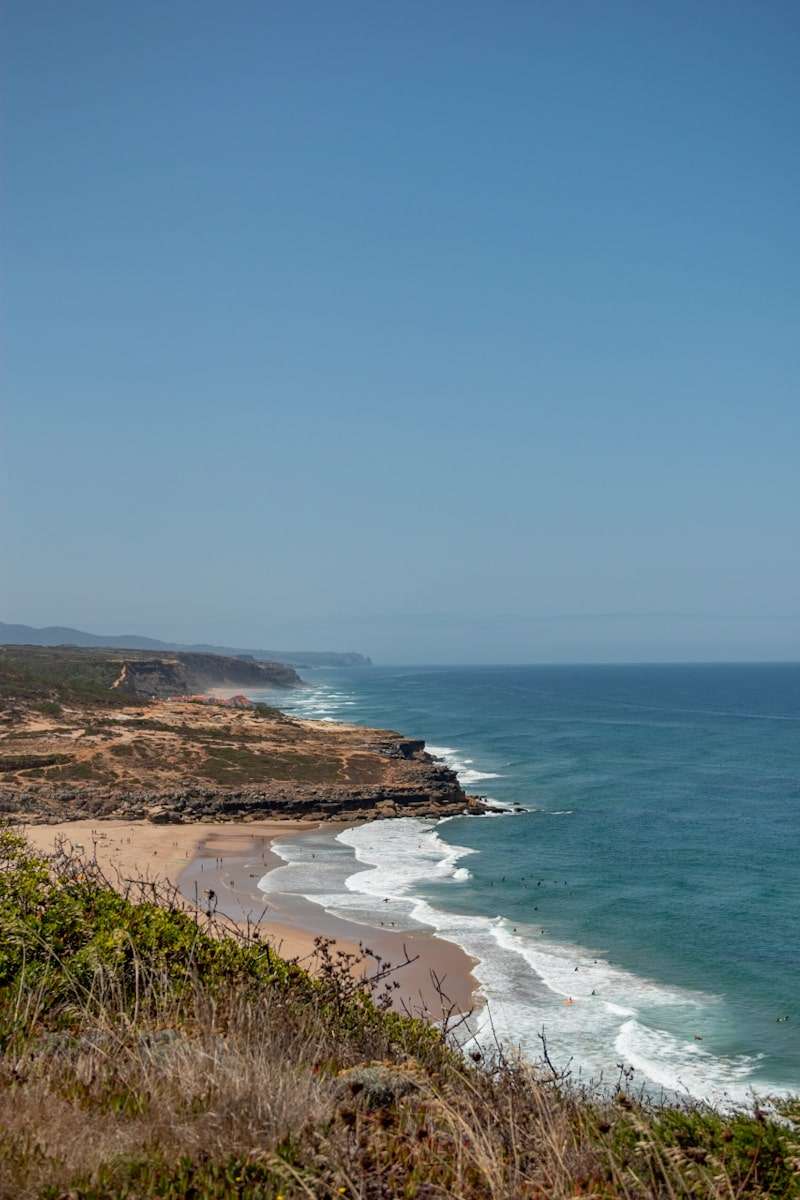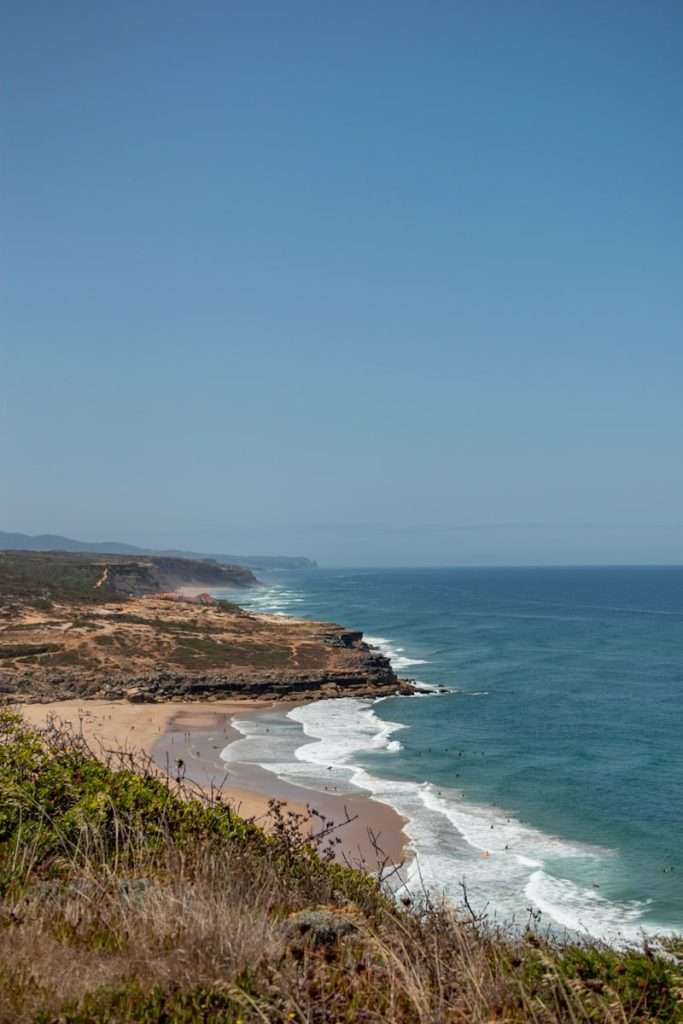 other beaches in Ericeira to check out: 
Praia de São Sebastião
Praia da Calada
Praia do Matadouro
Praia dos Coxos
Enjoy an epic sunset at Mar Das Latas
In my humble opinion, one of the best things to do in Ericeira, Portugal is to watch the sunset from Mar Das Latas. Mar Das Latas quite literally have the best sunset view in town, with the sun setting directly in front of the restaurant. Get here a couple of hours before sunset to make sure you secure some good seats outside of the restaurant. Grab a cold glass of wine and some of their delicious small plates (I recommend the nachos and beef croquettes) and watch the sun go down.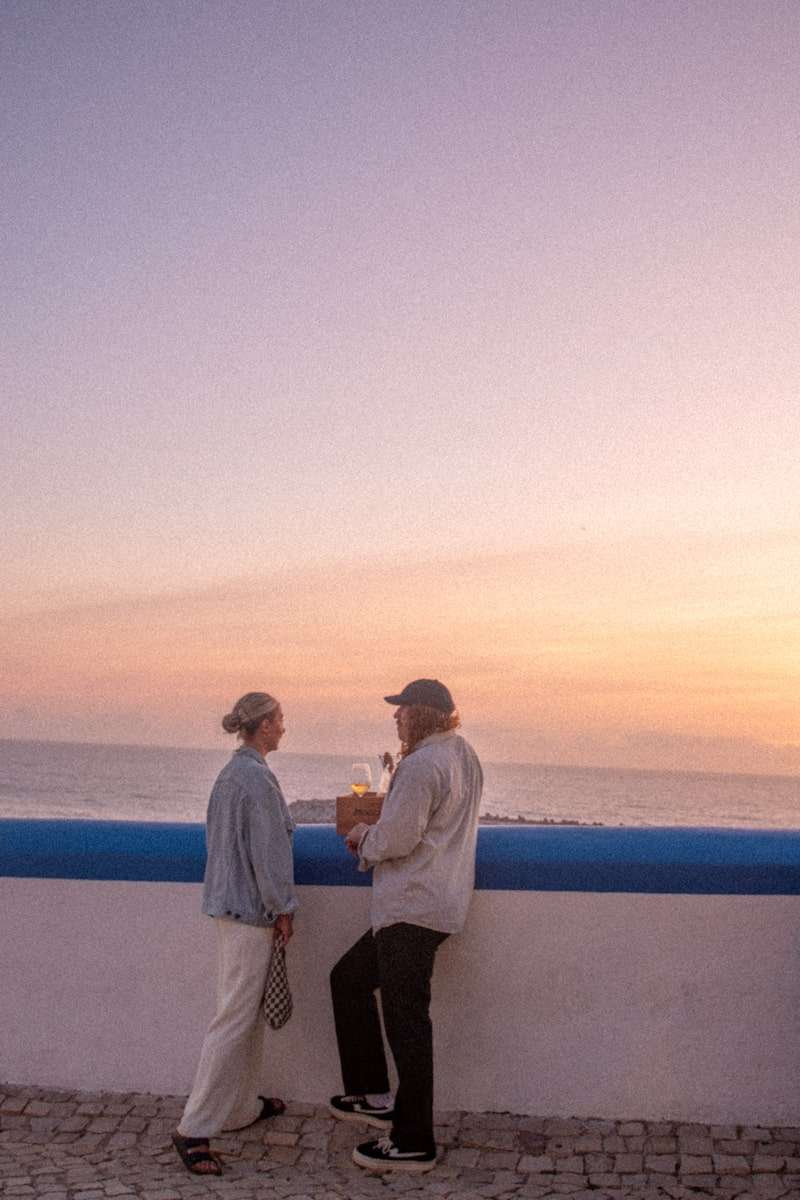 Do some boutique store shopping
There are so many cute boutique shops in Ericeira and I probably spent way more money on things I didn't need than I had originally budgeted for.
My favourite shops included: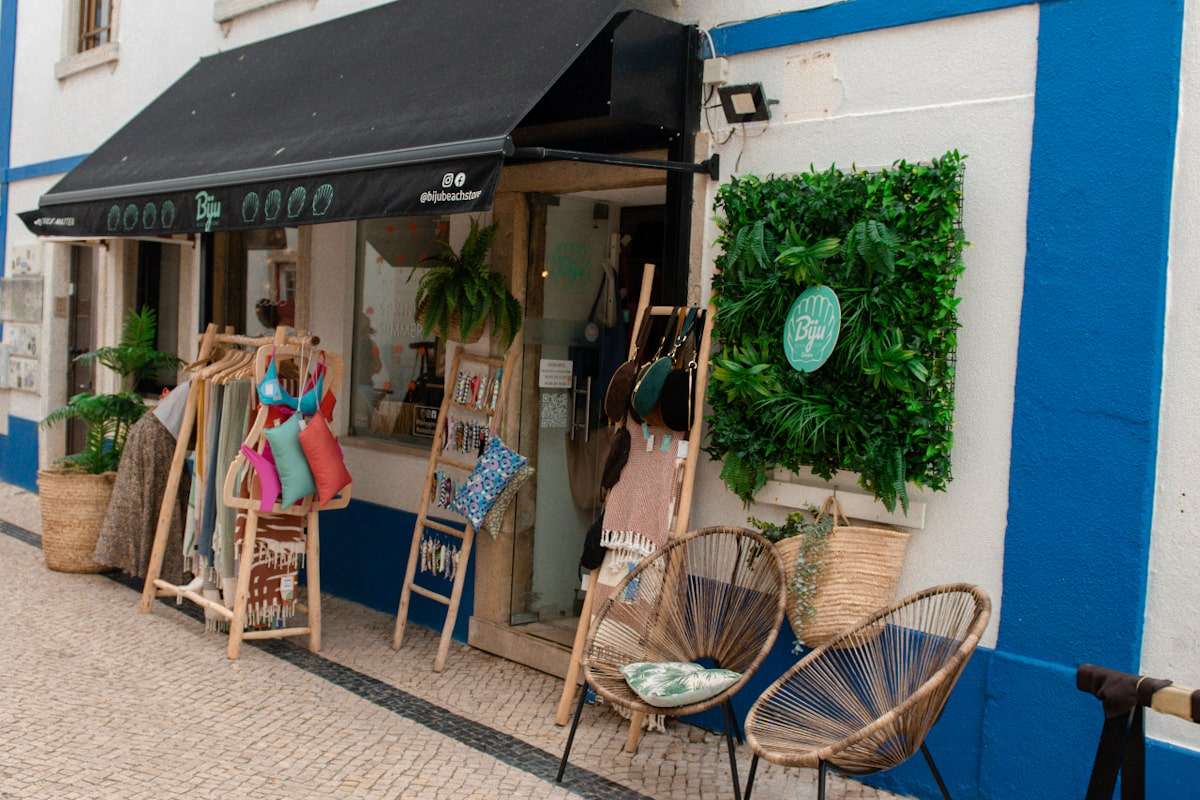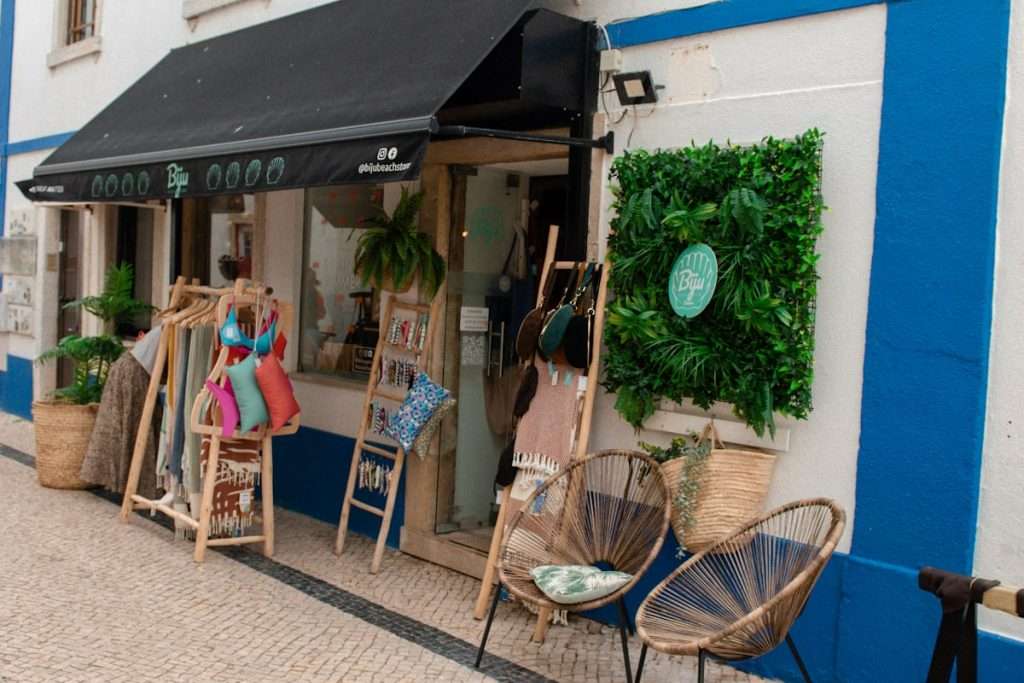 Enjoy a dance and sing-a-long at Vibes Ericeira
I first stumbled across Vibes Ericeira by accident, but what a happy accident that was. I ended up having one of the best nights here. Vibes is the perfect place to let loose and have a little dance along to some live music. The atmosphere in Vibes is so electric, with everyone up on their feet enjoying the music. If dancing and live music is your thing then make sure you add vibes to your Ericeira Itinerary.
Grab some delicious food
For such a small town, the food scene in Ericeira certainly packs a punch. Whether you want boujee brunch food or some scrumptious seafood classics, there's a good chance that you will be able to find it all in Erceira.
Some of my favourites are listed below:
Breakfast/Brunch
Dear Rose Cafe
Sunset Bamboo
Green is Good
Balagan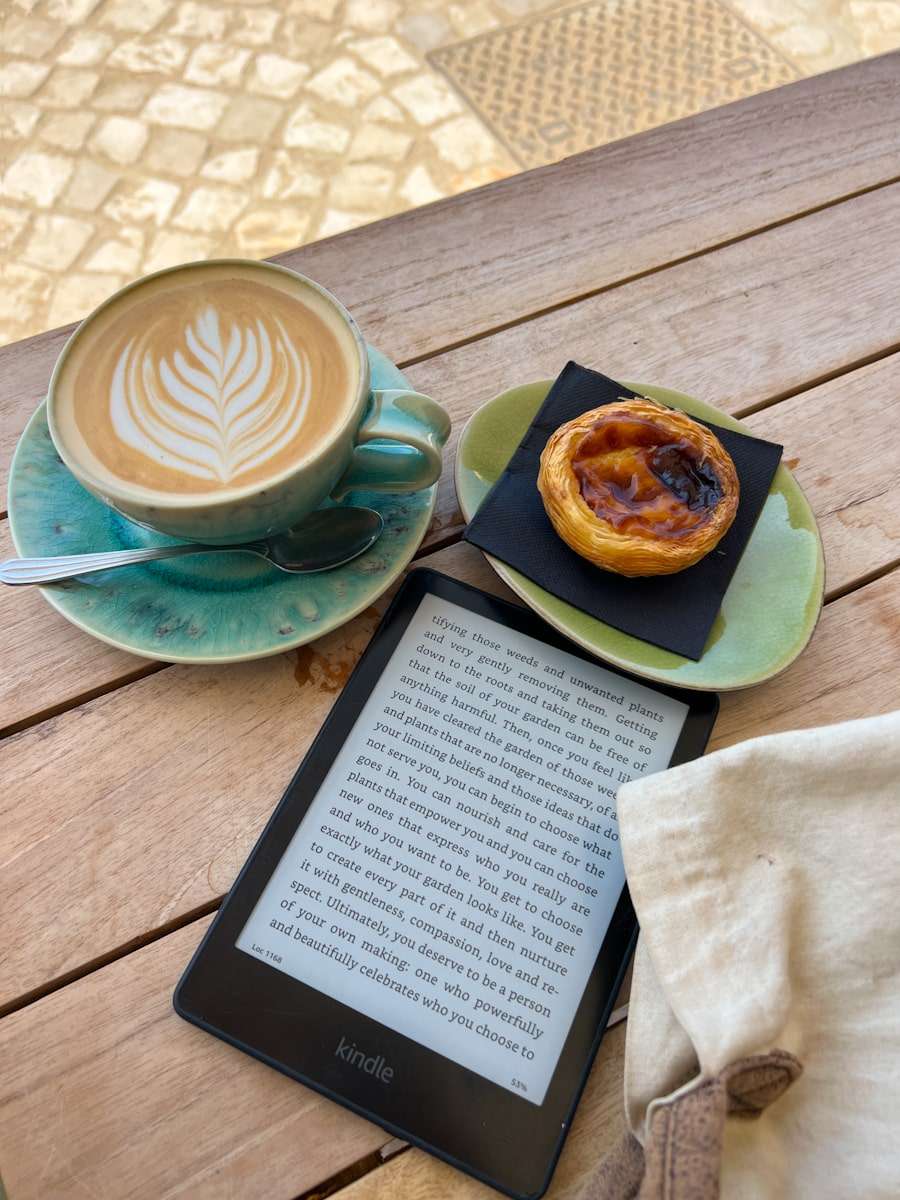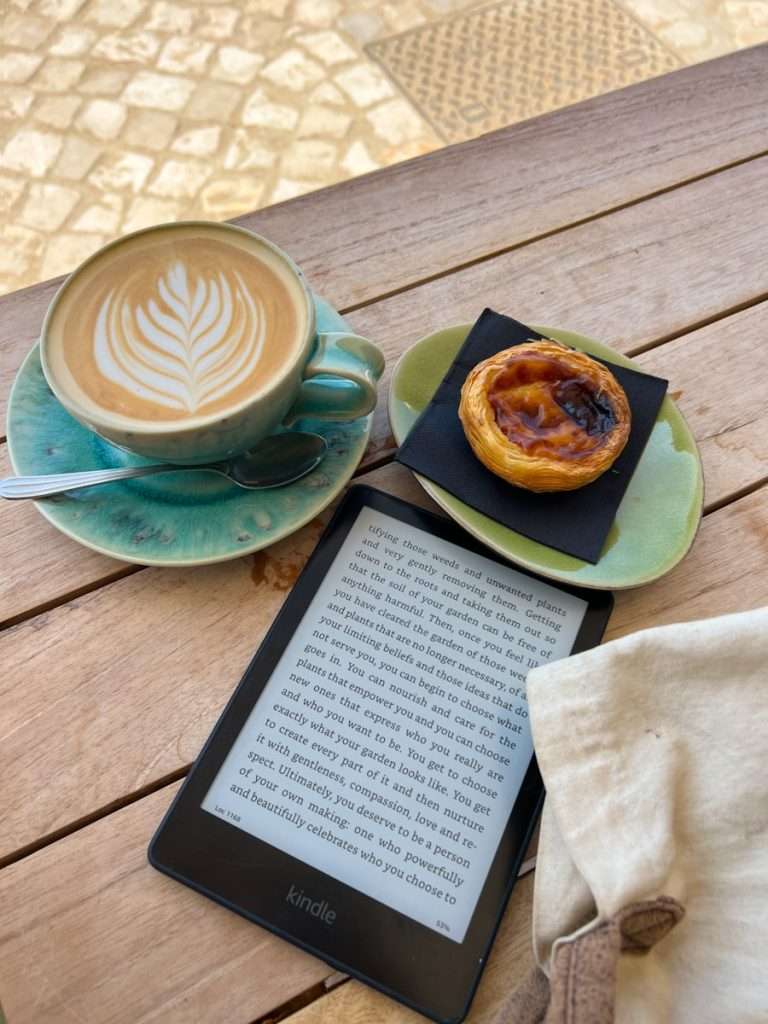 Lunch/Dinner 
Costa Fria
Com Pinta
Indigo Ericeira
Casa Portuguese
Bowls Surf Cafe
Avo Restaurante
Mar a Vista
And, if you're wondering if I actually tried all of these, the answer is yes (and this is only half of it).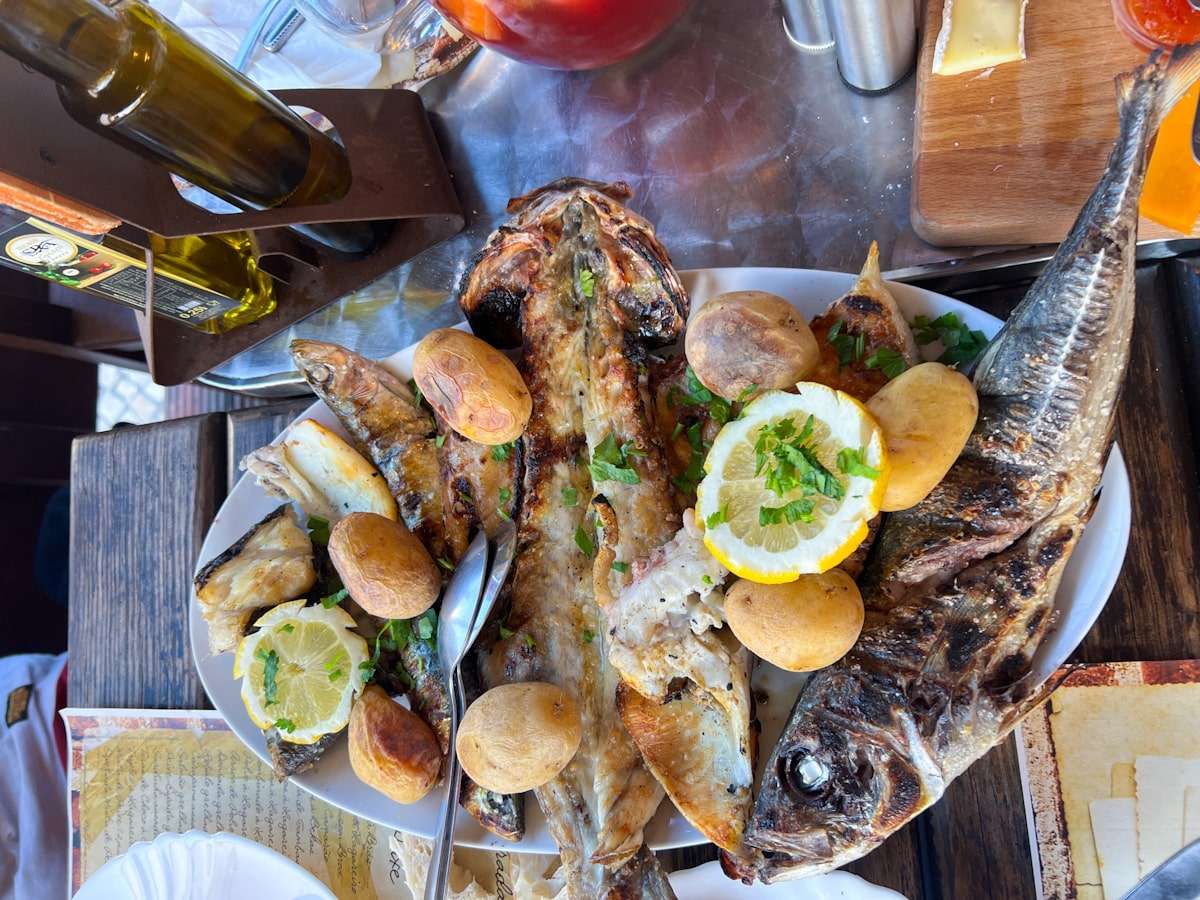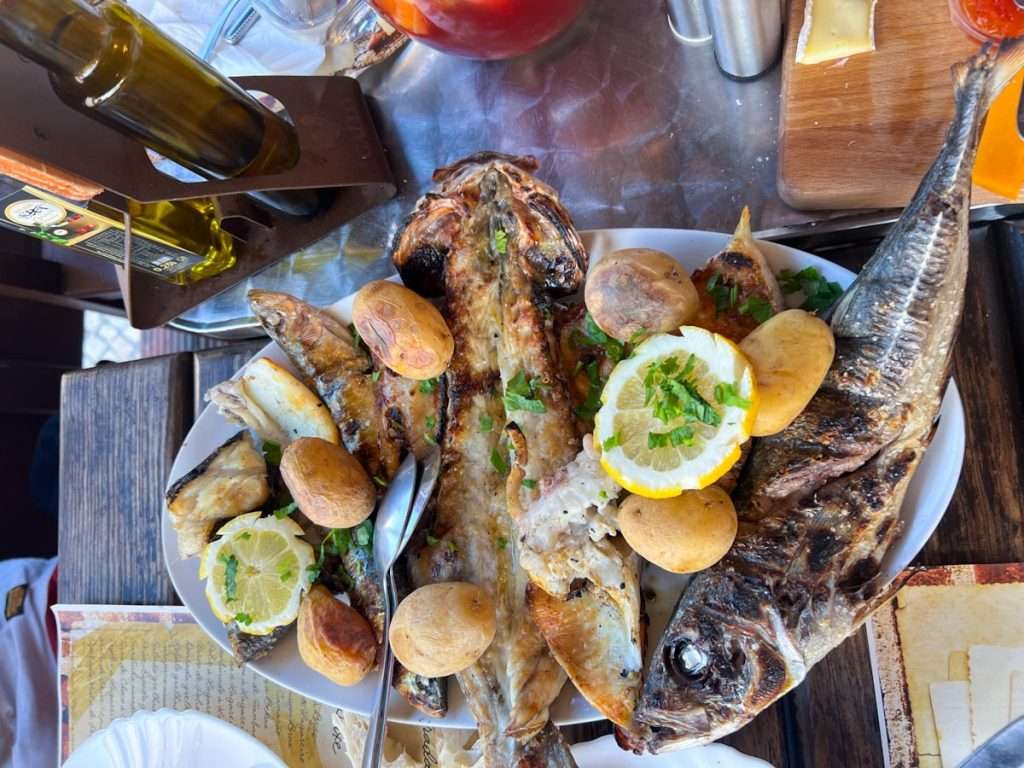 You can find my full guide to the best restaurants in Ericeira here.
End the night at Adega Bar
At the end of most evenings, you'll find both tourists and locals heading over Adega bar for their final few drinks. You'll often find punters spilling out from the bar into the streets, giving it an awesome buzzy atmosphere. They also hold regular events at Adega such as live music.
Explore the Old Town
One of my favourite things to do in Ericeira, Portugal was to explore the maze of narrow streets and alleyways. These small streets are packed full of character and charm. You can admire the cobbled roads, rainbow-coloured houses and accents of blue running throughout the town.

The most photogenic streets to visit in Ericeira include Largo/Travessa Do Pelourinho and the one in the image below. Unfortunately, I cannot remember the name of this street, but if you walk through the old town you should be able to find it. It's very distinctive and hopefully this picture helps.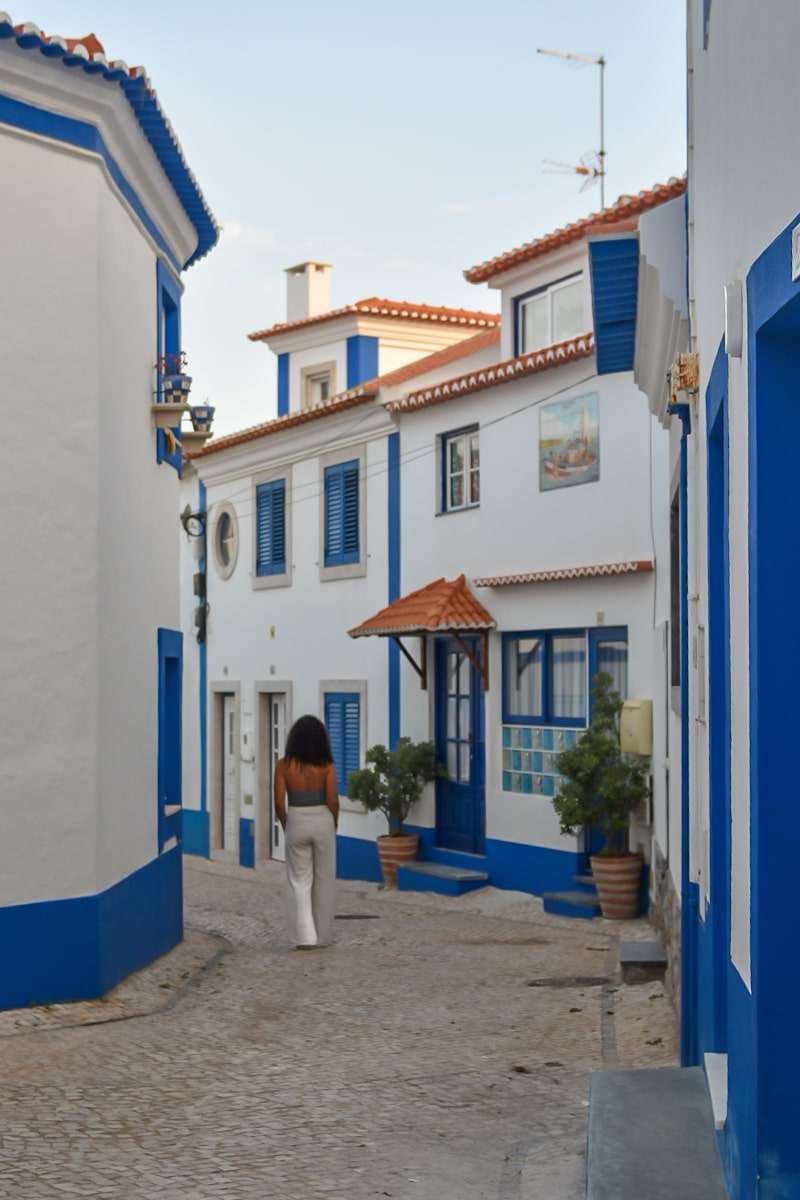 Take up Paddle-boarding
Surfing not your thing? No Problem! You can join Ericiera SUP for a spot of paddleboarding instead. They offer different packages based on your level of experience and you can even decide whether you'd prefer to paddleboard in a local river, or whether you fancy taking on the ocean. Classes start from €50.
Get some work done
Ericeira has a large Digital Nomad community that is getting bigger by the day. And, like anything, with an influx of Digital Nomads comes the opening of some very cool coworking spaces.
So, if you fall into the Digital Nomad category and need to get some work during your time in Ericeira, then check out some of the coworking spaces below. Not only do they offer spaces to work but also hold community events to support your networking needs.
The Base
Salt Studio
Kelp Cowork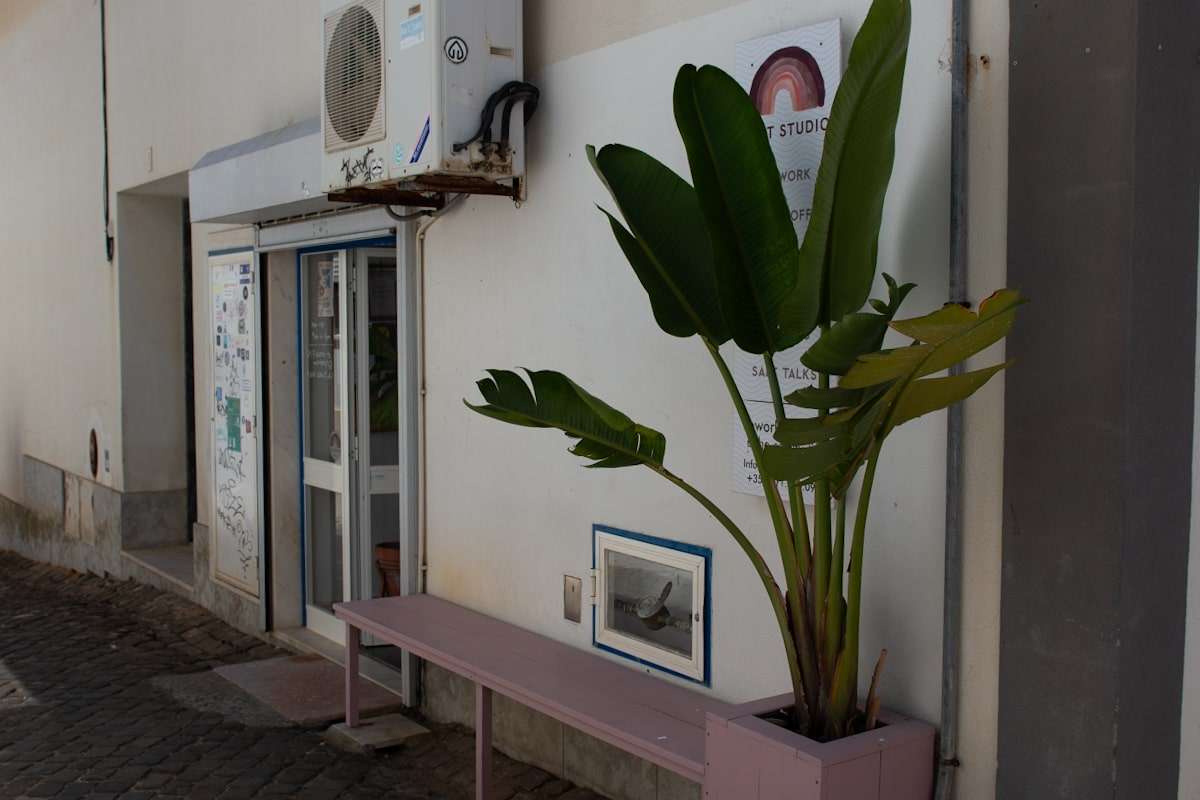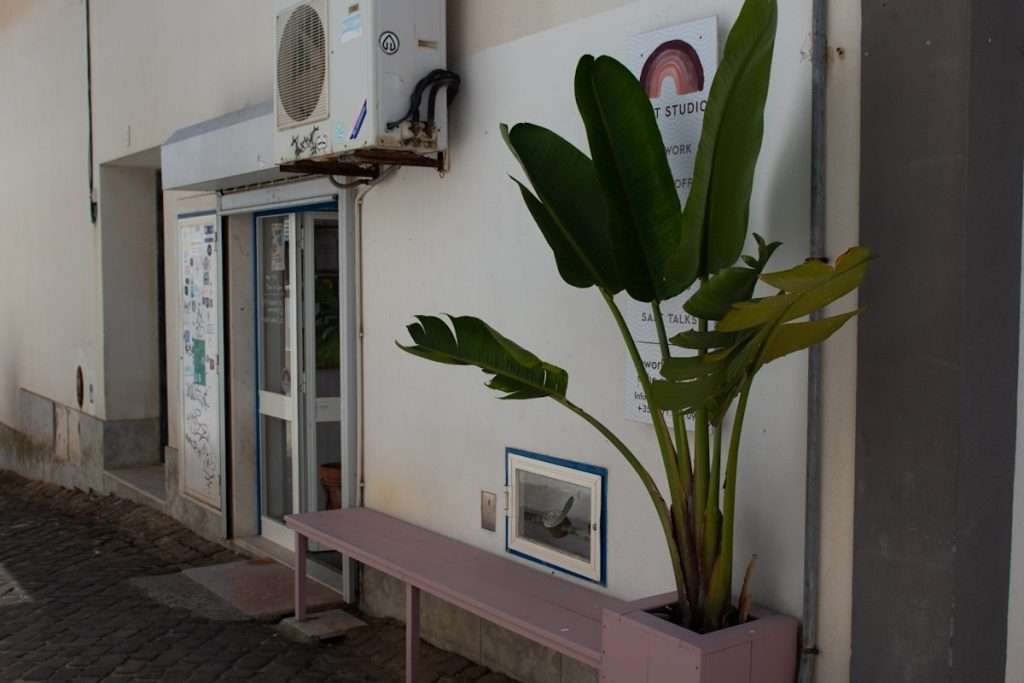 Find a fun event
During my time in Ericeira, it was hard to keep up with the sheer amount of events that were going on (especially when you suffer from FOMO and want to do everything). There is so much fun to be had every single day of the week. Think mini music festivals, full moon ceremonies, wine-tasting tours and even sardine and garlic festivals (yes, you read that right 😂)
To keep up with all the events going on in town I recommend you follow these Instagram pages: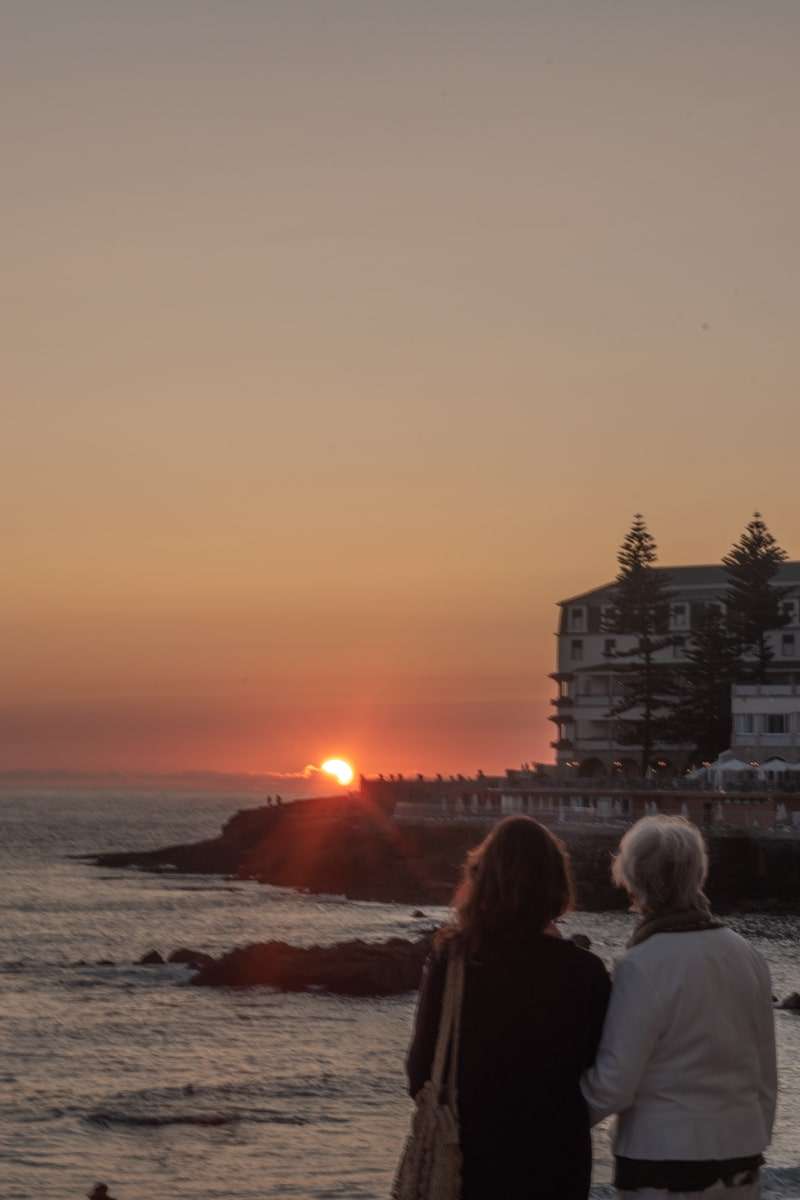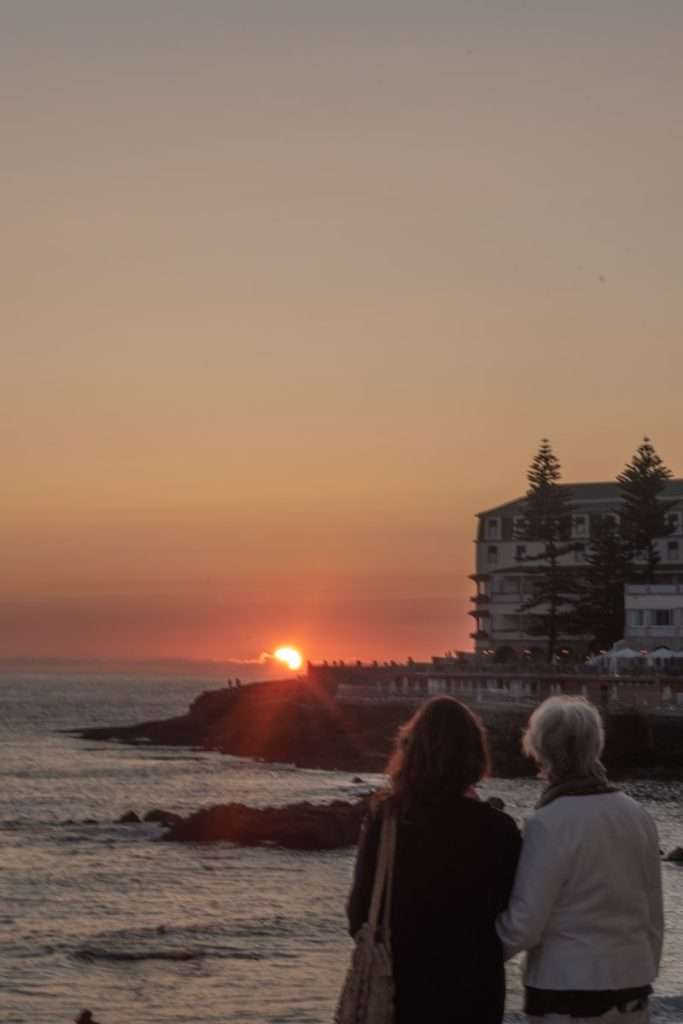 Take a ride in Trucky's Van
Trucky's Van is a fairly new addition to Ericeira and is only a year old (as of August 2023). Trucky's Van is run by a lovely Dutch/Portuguese couple called Nikki and Bernardo. They offer ride shares to the best surfing spots as well as organising group tours to Sintra, wine-tasting trips and even a food tour around Ericeira.
I booked onto the Ericeira food tour and had the best evening. We drank great wine, ate delicious food and had fun conversations with strangers.

This is one of the coolest things to do in Ericeira, Portugal, and a great way to meet new people and support a small business all at the same time!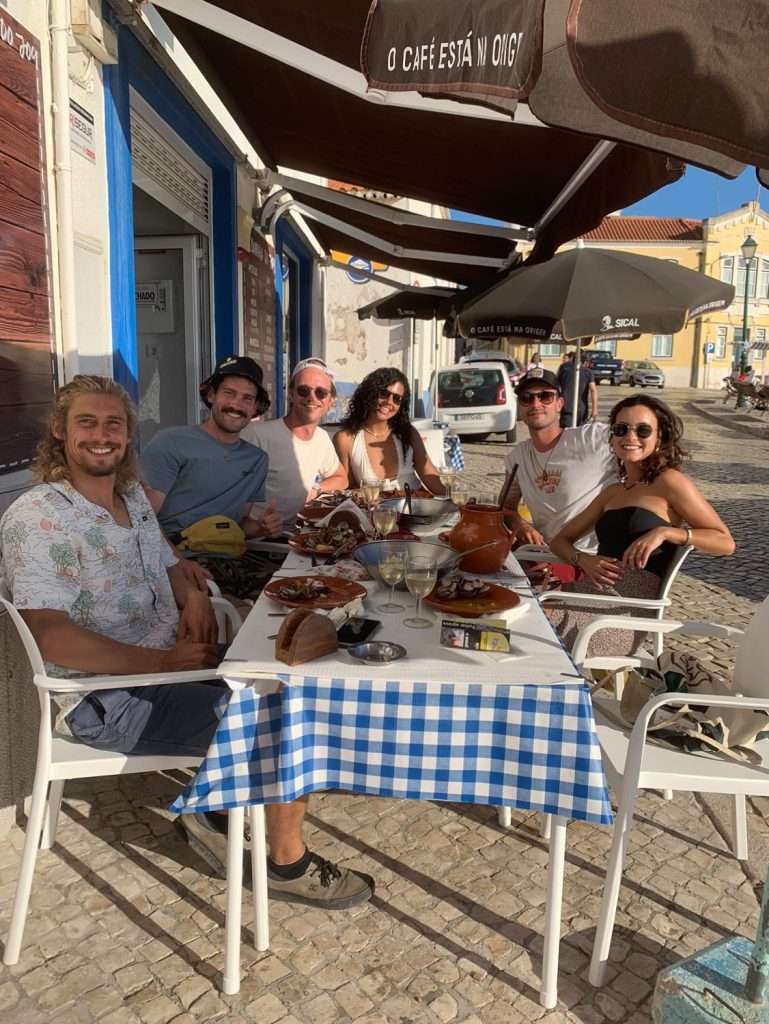 Try a famous Portuguese Prego Roll
Visit Taberna Lebre for the best Portuguese Prego Rolls in town. What is a Prego Roll I hear you ask? It's a Portuguese spin on a steak sandwich and is super popular amongst locals. Taberna Lebre has a full menu dedicated to different types of Prego's, each just as tasty as the others.
If you come to Ericeira take advantage of a visit to Taberna Lebre.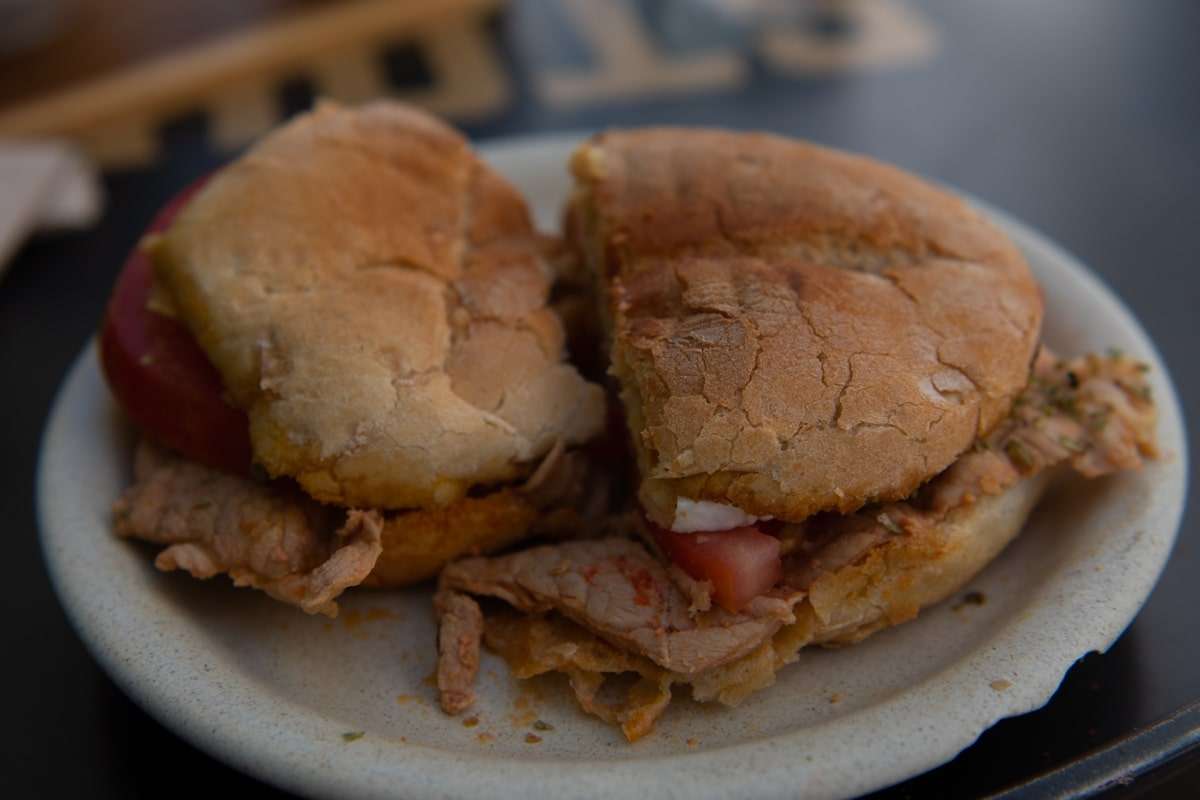 Go Rock Climbing 
If you're the type of adventurer that much prefers the land over the sea, then rock climbing with Ericeira Boulder could be a good option for you. Tours start from €35.
Visit the famous Boardriders shop/venue
Boardriders is home to Portugal's flagship Quicksilver store. But it's not just wetsuits that you can find here. It also has a large garden and skate park, a restaurant (hello yummy Poke bowls), a bar, and regularly hosts live music events at the weekend. All of which is extremely popular with both locals and tourists alike.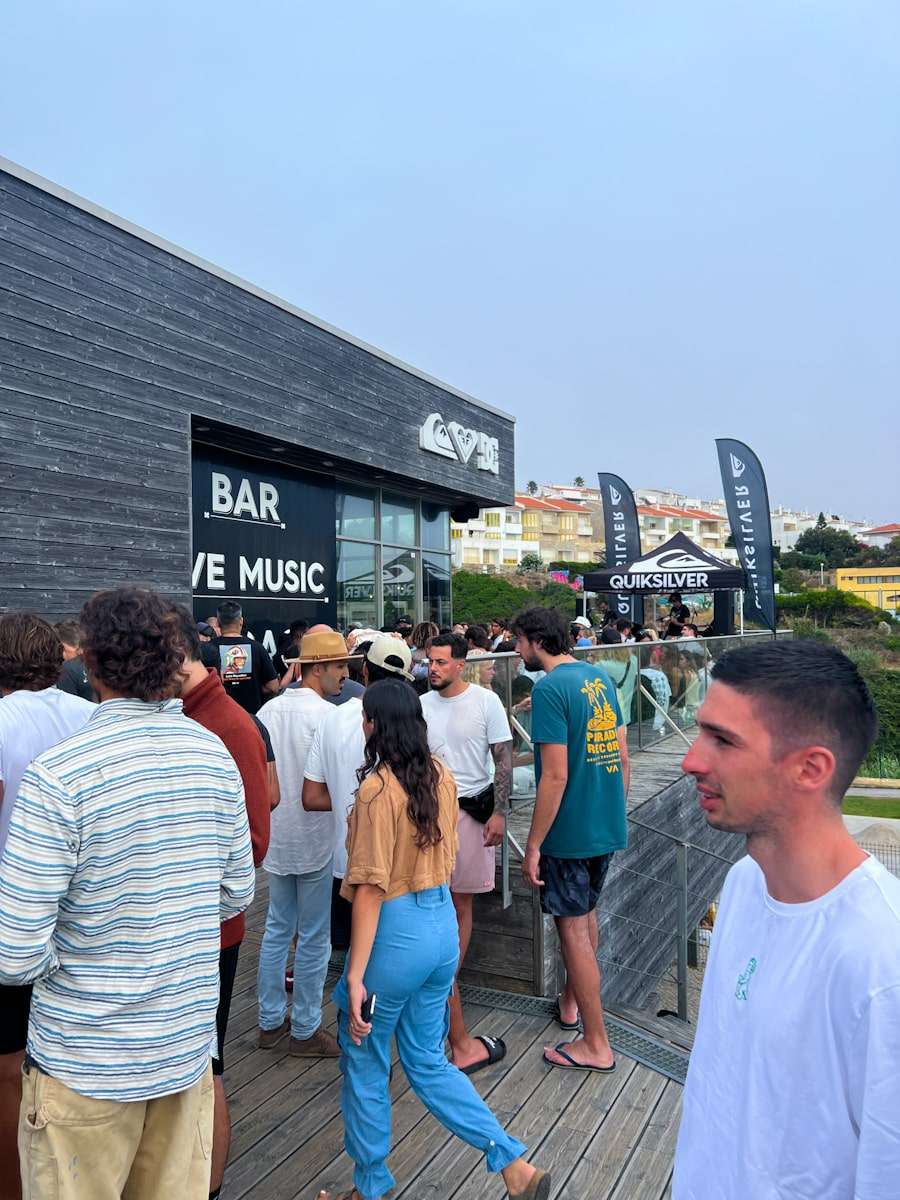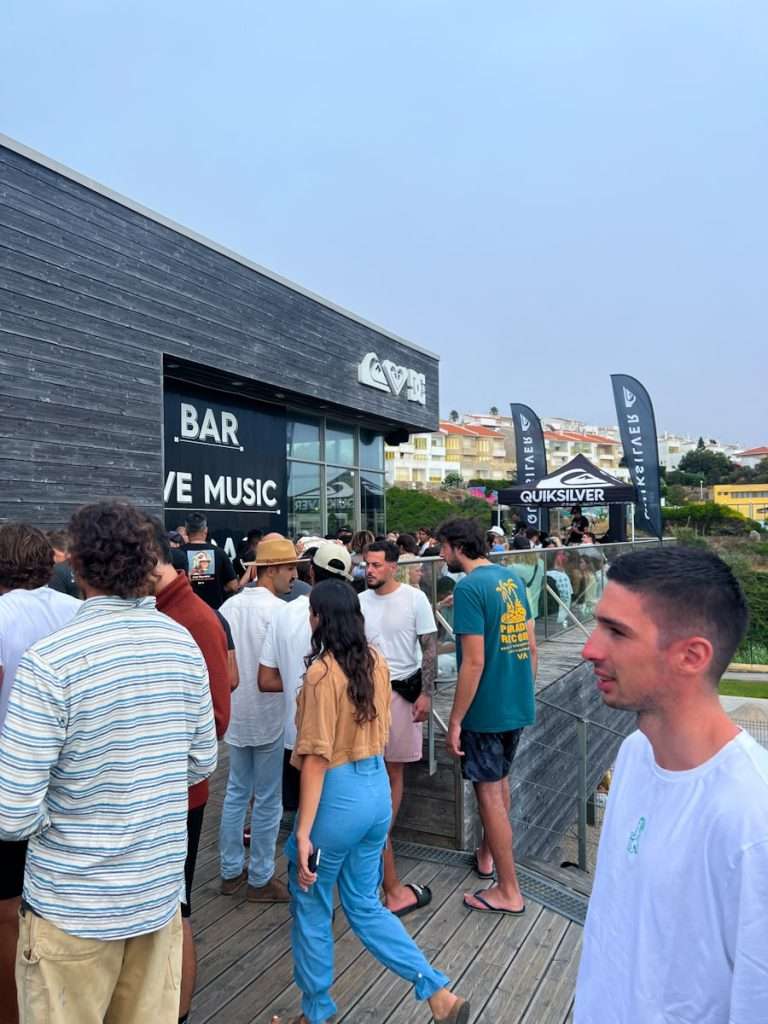 Immerse yourself in the health and wellness scene
It's no secret that Ericeira is a town with a lot of stimulation. One of the best things to do in Ericeira, Portugal if you're looking to find some zen is to embrace the plethora of wellness activities going on.
Much like the surfing, the wellness scene in Ericeira draws in tourists from all over the globe, and is probably the 2nd most popular tourist "attraction" in this town.

Yoga, Breathwork, Meditation, Cacao Ceremonies and even Ecstatic Dance and women's circles. You name it, Ericeira has it. Some of the best places in Ericera to explore some of these modalities are below:
House of Rising Mojo
Lalita House
Salty Pelican
Ecstatic Dance Ericeira
Sandi House
If you are looking for individuals to hold private sessions I have listed some below some of the practitioners I personally used and can highly recommend.
At the time of writing (August 2023) all these individuals live and work in Ericeira full-time.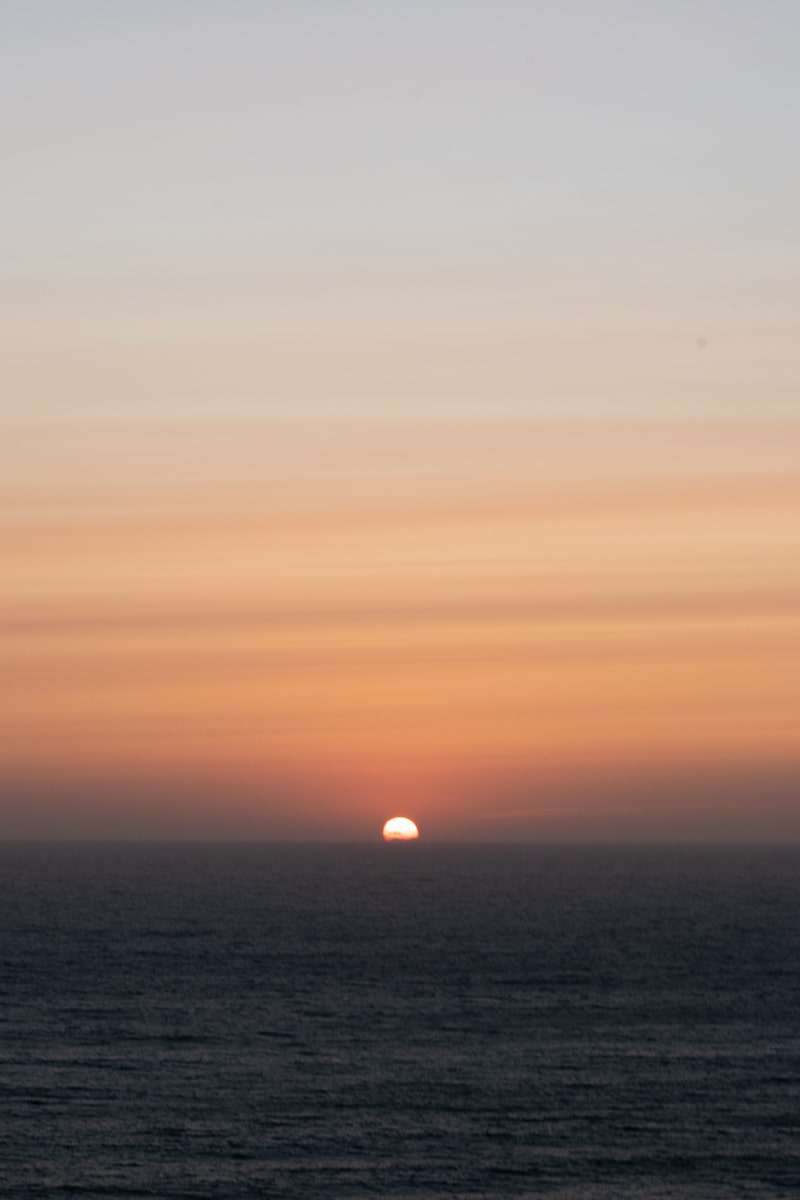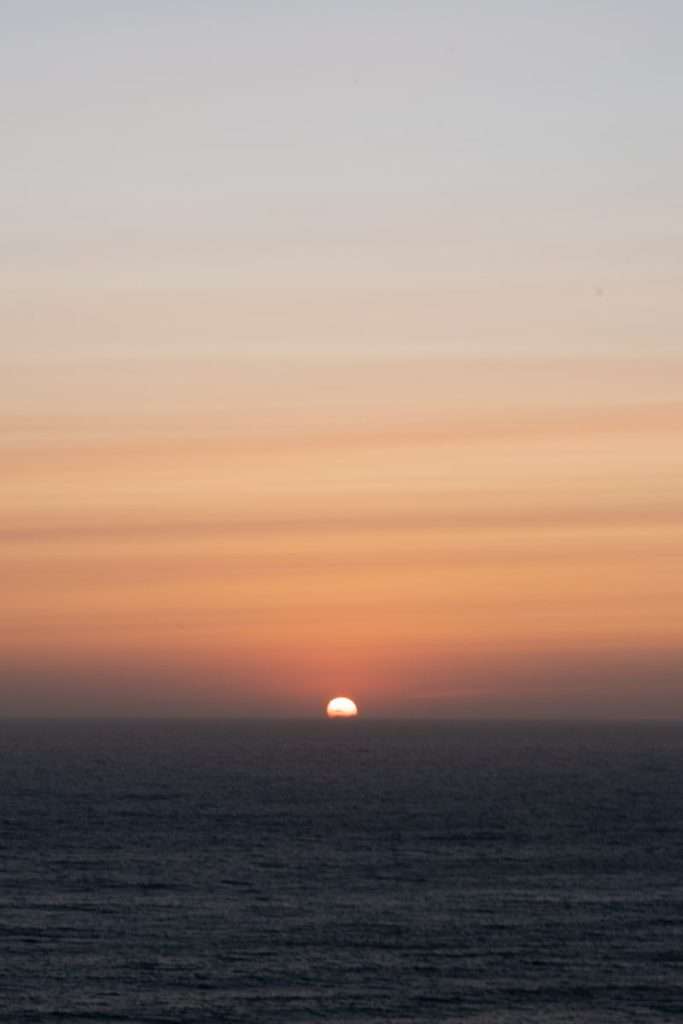 Try the traditional Ericeira cake
I think almost every visitor who comes to Portugal has "trying a Pastel De Nata" on their bucket list. However, Ericeira is just so special that it even has its own hallmark cake, separate from the famous Patel De Nata. The Ericeira cake is called "Ouriços" and is a muffin-sized portion of warm spongey, vanilla-ey, cakey goodness. Casa da Fernanda is THE place in Ericeira to buy Ouriços so DO NOT skip a trip there when coming to Ericeira.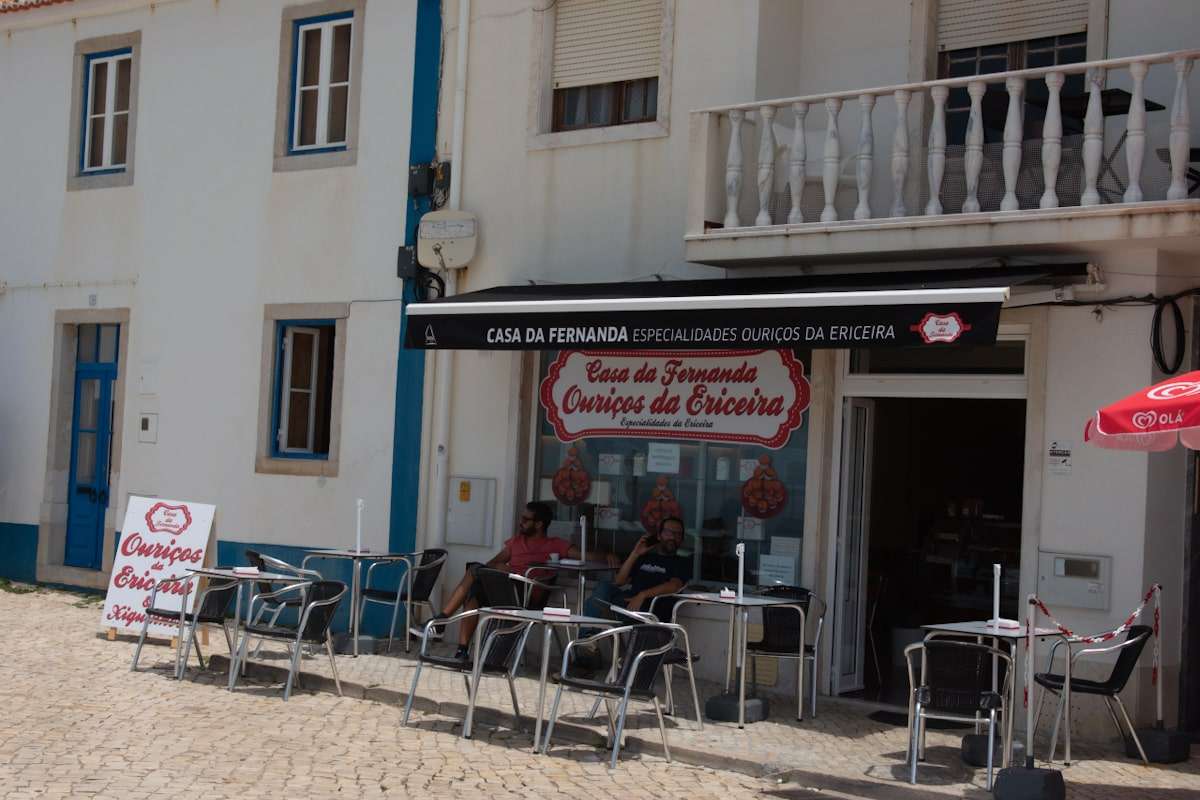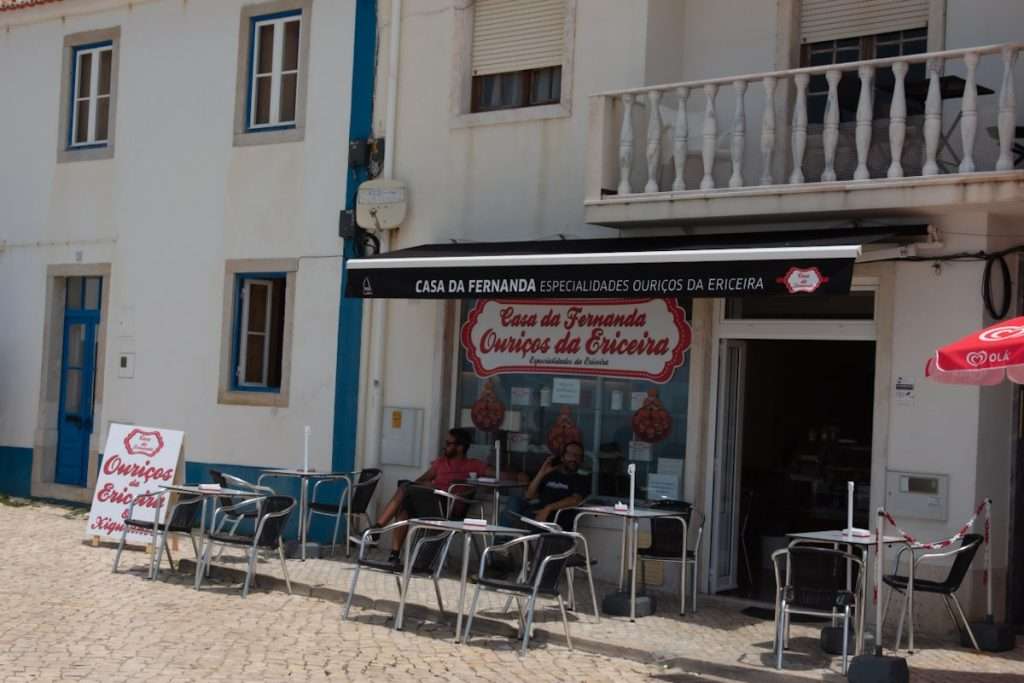 Happy Exploring
I hope you have a wonderful time uncovering all of the best things to do in Ericeira, Portugal. If you have any questions about any of the activities listed in this blog then please feel free to reach out!