If you're looking for some of the best things to do in Sagres, Portugal then look no further. In this post, I'll discuss everything you need to know about Sagres, Portugal, from what to do, where to eat and how to get there!
---
Located on Portugal's most south-westerly point, and home to the last coastal town on the Algarve, lies the old fishing village of Sagres, Portugal.
Once thought to be the end of the world, Sagres' remote and rugged landscape is a world away from the other tourist towns that can be found on Portugal's Algarve coast such as Lagos and Albufeira.
Unlike some of the other towns found in the Algarve, Sagres is a relaxed and chilled-out surfer town, less popular with your typical holiday-makers and tourists.
Thanks to this, the town still retains an 'untouched' magic and charm that you will totally fall in love with.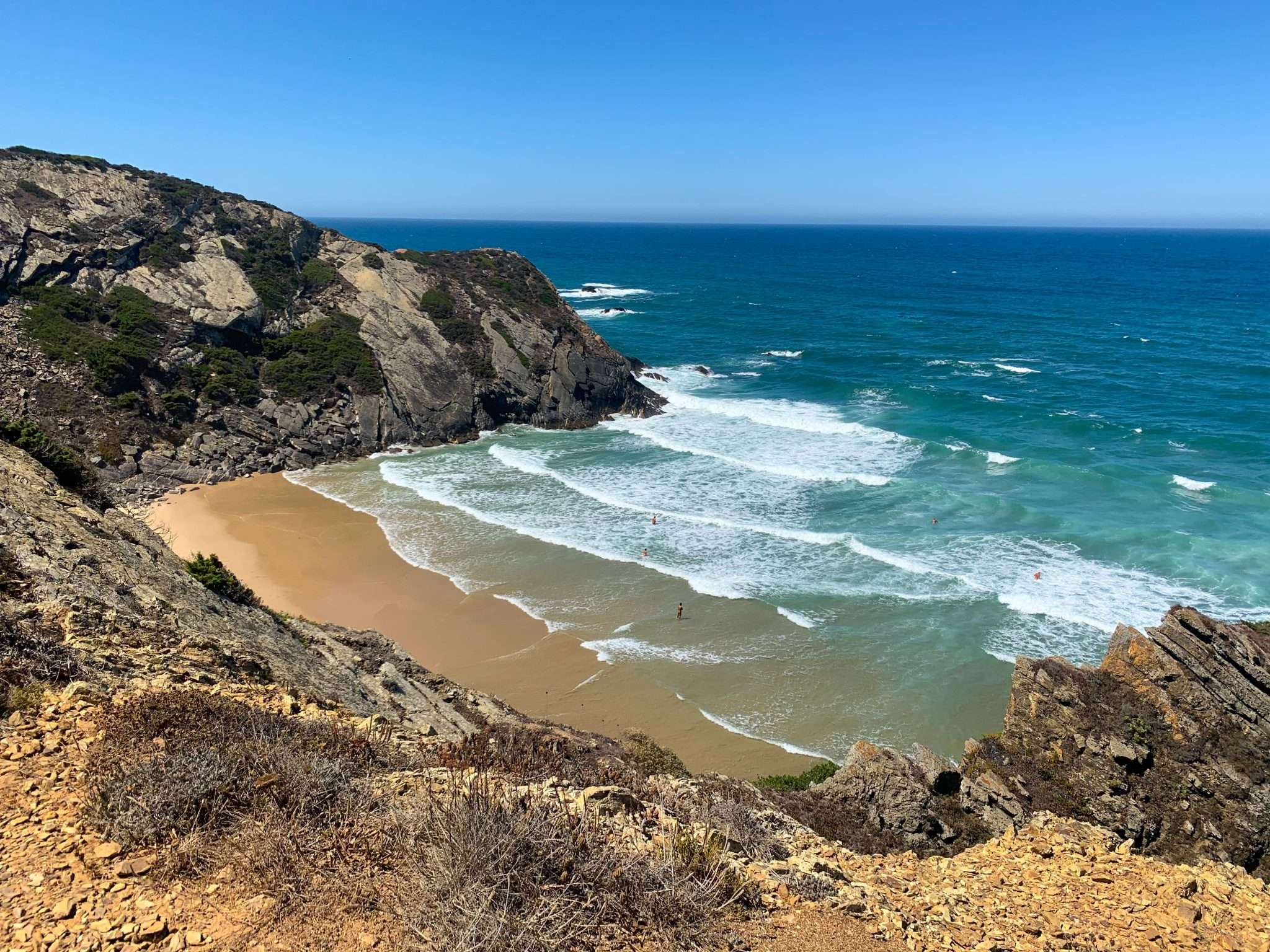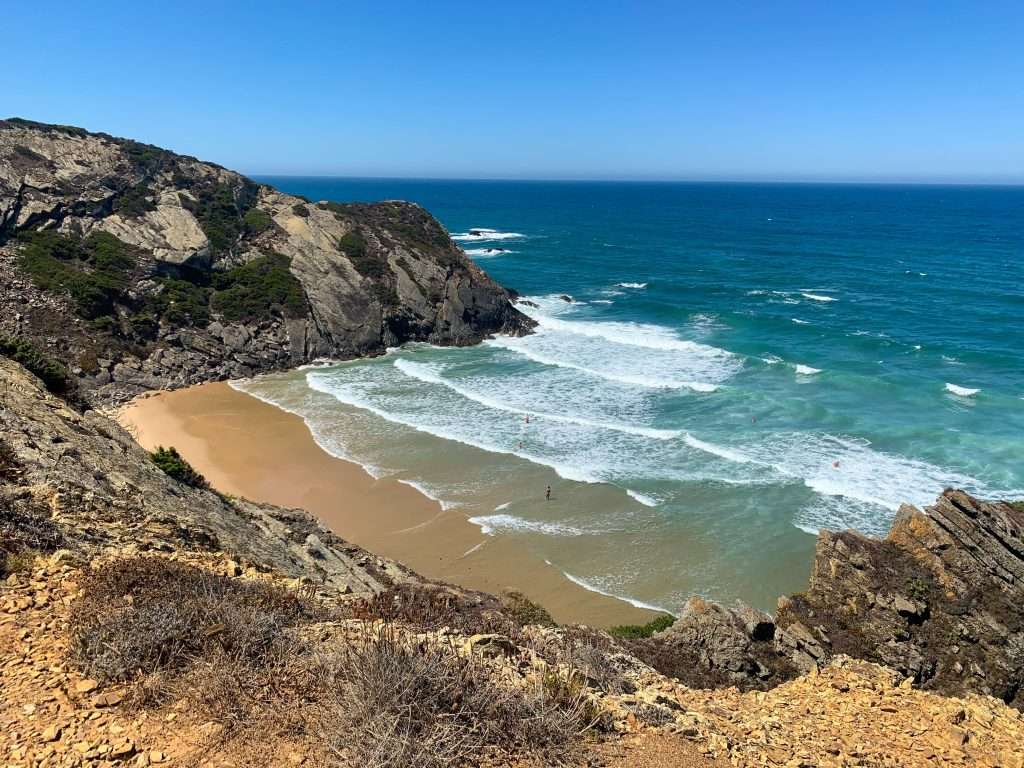 Whilst, yes Sagres is a haven for surfers, it's not just epic waves that can be found here.
Craggy coastlines, cliffs, pristine beaches and awe-inspiring hikes also add to the appeal of this endearing town.
I didn't expect to fall in love with Sagres, Portugal as much as I did. However, after visiting Portugal more than 5 times, I can safely say it's one of my favourite places in the country and I can't recommend it enough.
So, what are the best things to do in Sagres, Portugal? Read on below to find out.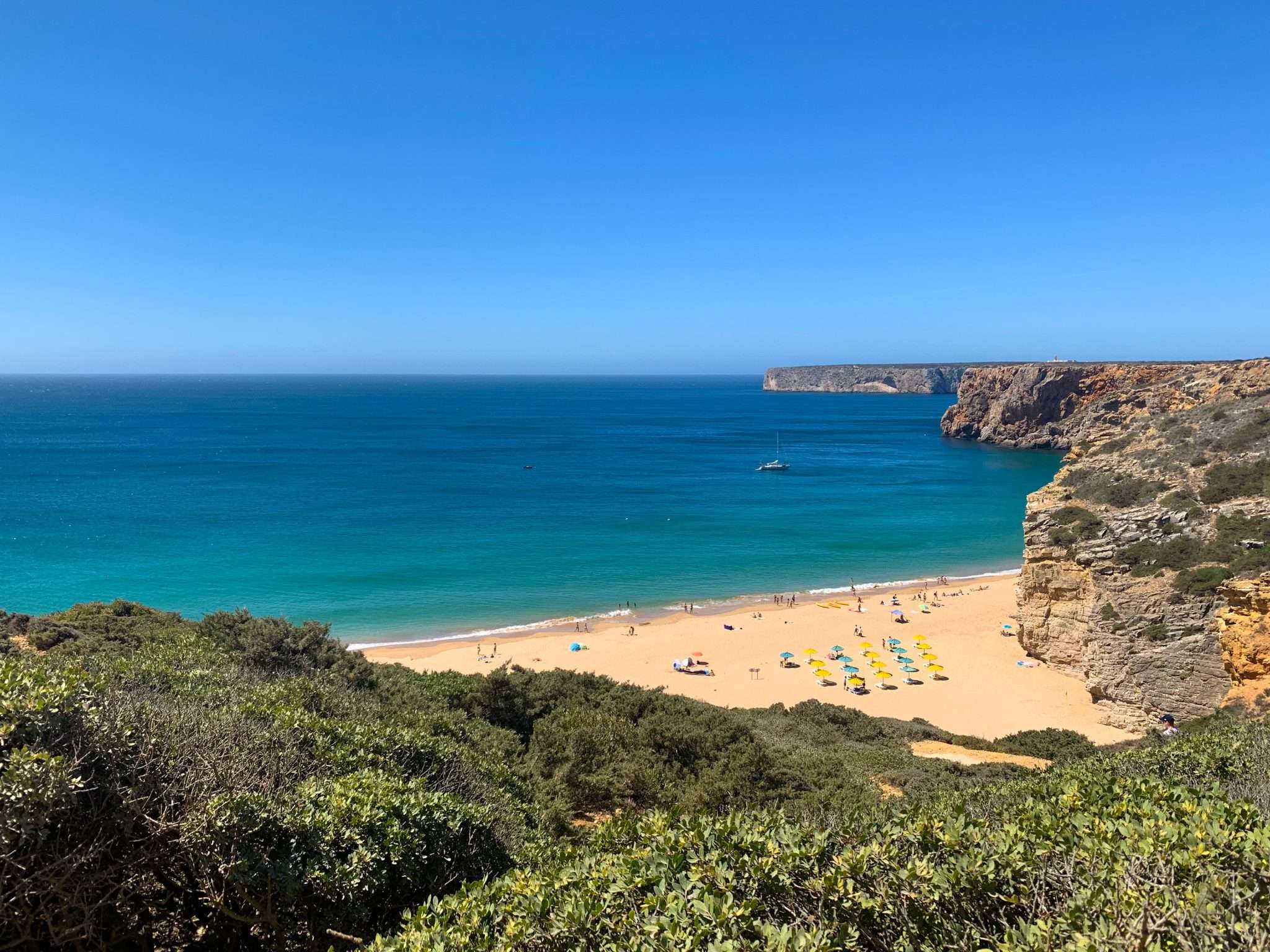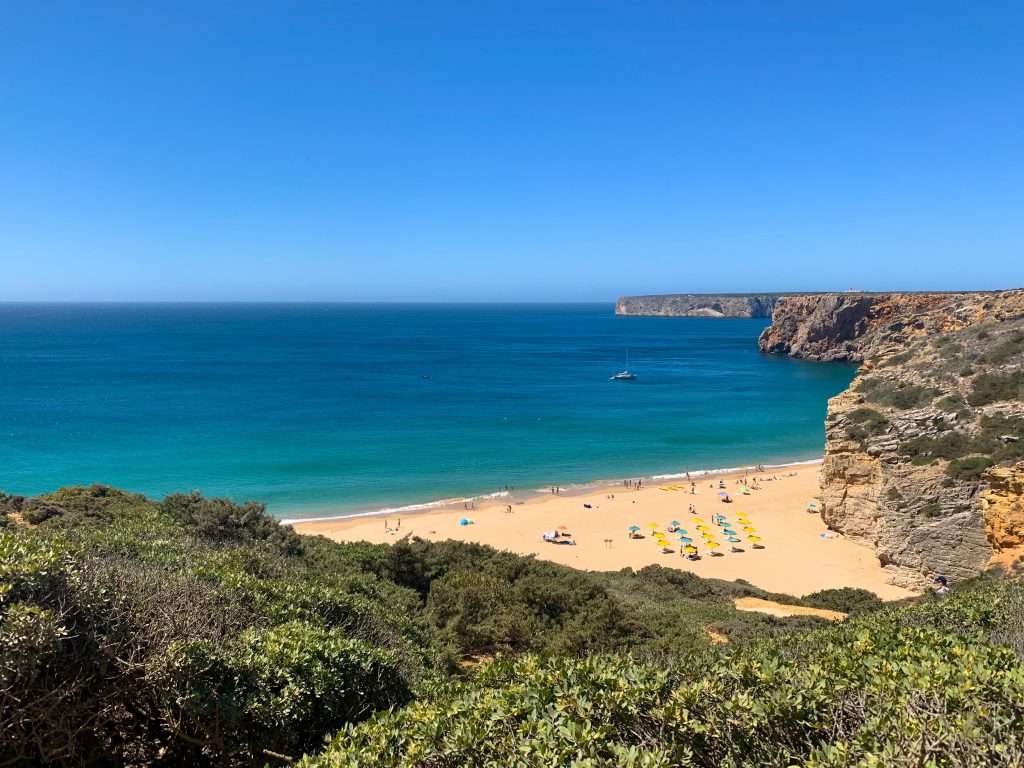 Disclaimer: This post contains affiliate links. If you decide to make a verified purchase through the links in this post I will earn a small commission. This will be at no extra cost to you. Thank you 🙂
Visit some of the stunning beaches
One of the best things to do in Sagres, Portugal has to be to visit some of the many stunning beaches found in this area.
Praia De Mareta
Praia De Mareta is the most central beach in Sagres.The best time to catch this beach is just after sunrise before the rest of the town has woken up.
It's a great place to catch some peace before you start the rest of your day.
Praia Do Martinhal
Praia De Martinhal is the place to come to try out windsurfing.
Alternatively, if you just want to sunbathe all day whilst drinking sangria from the local beach bar, then this beach is also for you.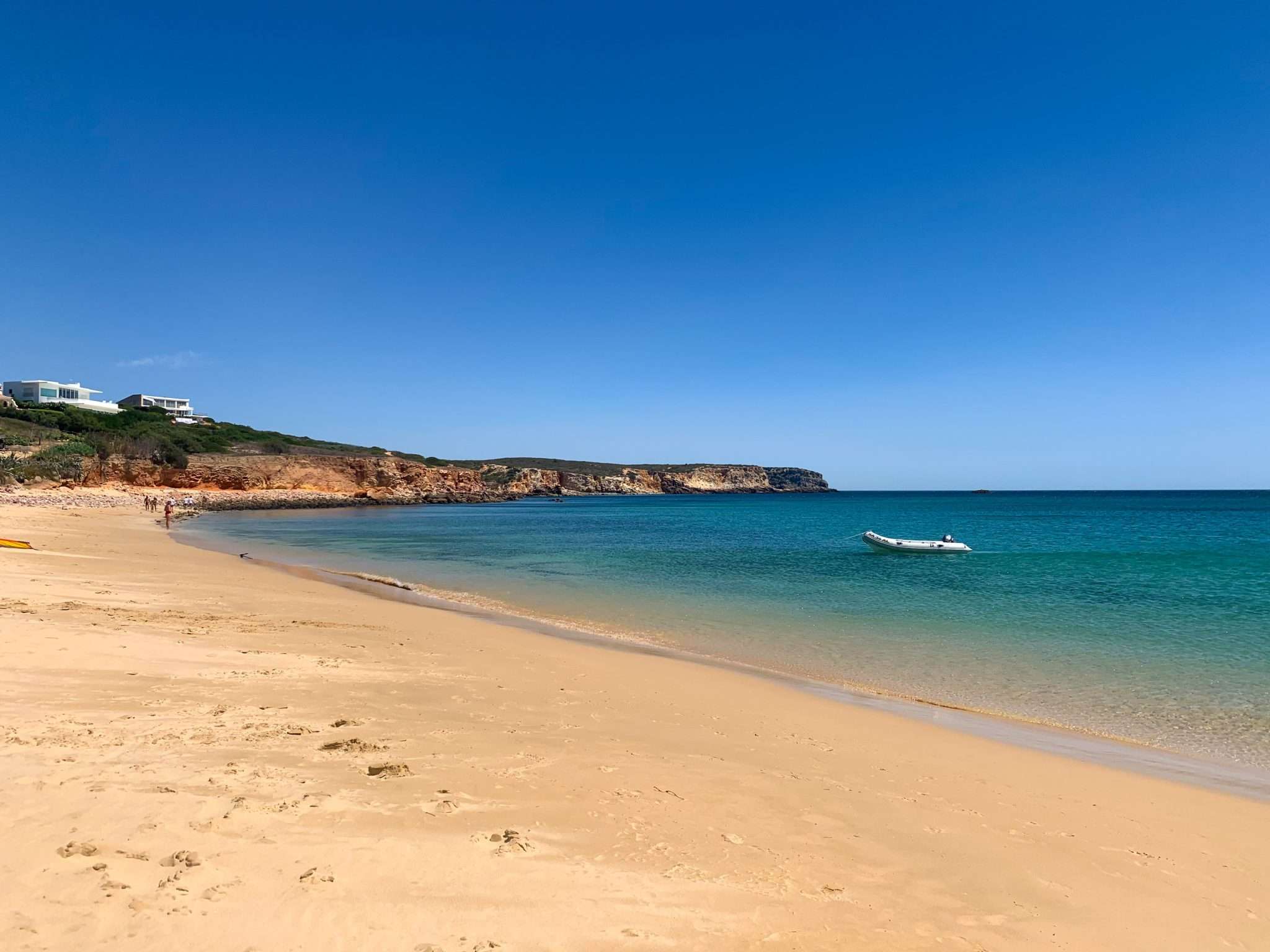 Praia De Beliche
Praia De Beliche is unarguably the most beautiful beach in Sagres.
You get to enjoy a birds-eye view of the beach before heading down the cliff onto the sand.
You can also hire a kayak and go exploring the caves that surround this beach.
Although I must warn you, part of this beach is nudist so you might be in for a few surprises.
Praia Do Tonel
Praia Do Tonel is the best place to go surfing If that's your thing.
The only downside I would say this beach has is the fact it's not sheltered from the wind.
Whilst this may work in favour of the surfers, it's not so great if you just want to sunbathe.
☀️If you have time, I recommend making a trip to all of these beaches.

⛱️However, if you just have to choose from 1 or 2 then make it Praia De Beliche and Praia De Martinhal.
Book on to a surf camp
As I mentioned earlier in this post, one of the best things to do in Sagres, Portugal is surfing.
With Surfing being the main activity in Sagres, Portugal there are a handful of surf schools in the area that offer week-long surf camps.
Here are some of the best surf schools to book in Sagres:
Go for a surf lesson
Not ready to fully commit to the idea of a surf camp and would prefer to have a taster session first?
Thankfully, most, if not all of the surf schools listed above will offer 1-off private and or group surfing lessons.
Explore the coastline with a boat trip
To book one of the best boat trips in the Algarve you will have to head to the neighbouring town of Lagos.
Lagos is a 30-minute drive away. An Uber will cost you approximately €30. Alternatively, you can catch the bus for €6 however the journey time is 60 minutes.
We booked an awesome boat trip with Discover Tours. The tour enabled us to see the unique auburn-coloured Algarve coastline and caves from a different perspective.
We got to enjoy delicious cocktails, and relaxing music and also got to spend a bit of time paddleboarding in the Ocean.
To top it all off, we even saw dolphins along the way (hopefully you get just as lucky).
Go on a hike
The hiking routes in Sagres will allow you to get closer to nature and admire the rugged landscapes that this part of Portugal has to offer.

There are over 10 popular hiking routes in Sagres and you can find out more about these routes here.
Looking for more Portugal Inspo? Check out my other guides here.
Watch the sunset at Cabo Sao Vicente
Cabo Sao Vicente is the headland where Portugal reaches its most south-westerly point. This is the same point that is often referred to as the 'end of the world'.
One of the best things to do in Sagres, Portugal is to watch the sunset from Cabo Sao Vicente.
This is the best place to watch the sunset in Sagres. According to the locals, this is also one of the best places to watch the sunset in all of Portugal.
The sunset moments here really are magic. It feels like the whole town of Sagres descends to Cabo Sao Vicente to chill on the rugged cliff tops and watch the sunset over the Atlantic Ocean.
Watching the sunset at Cabo Sao Vicente was one of my favourite things to do in Sagres and not to be missed off your itinerary.
Make sure you pack a jacket for this activity as Cabo Sao Vicente is one of the windiest parts of Sagres.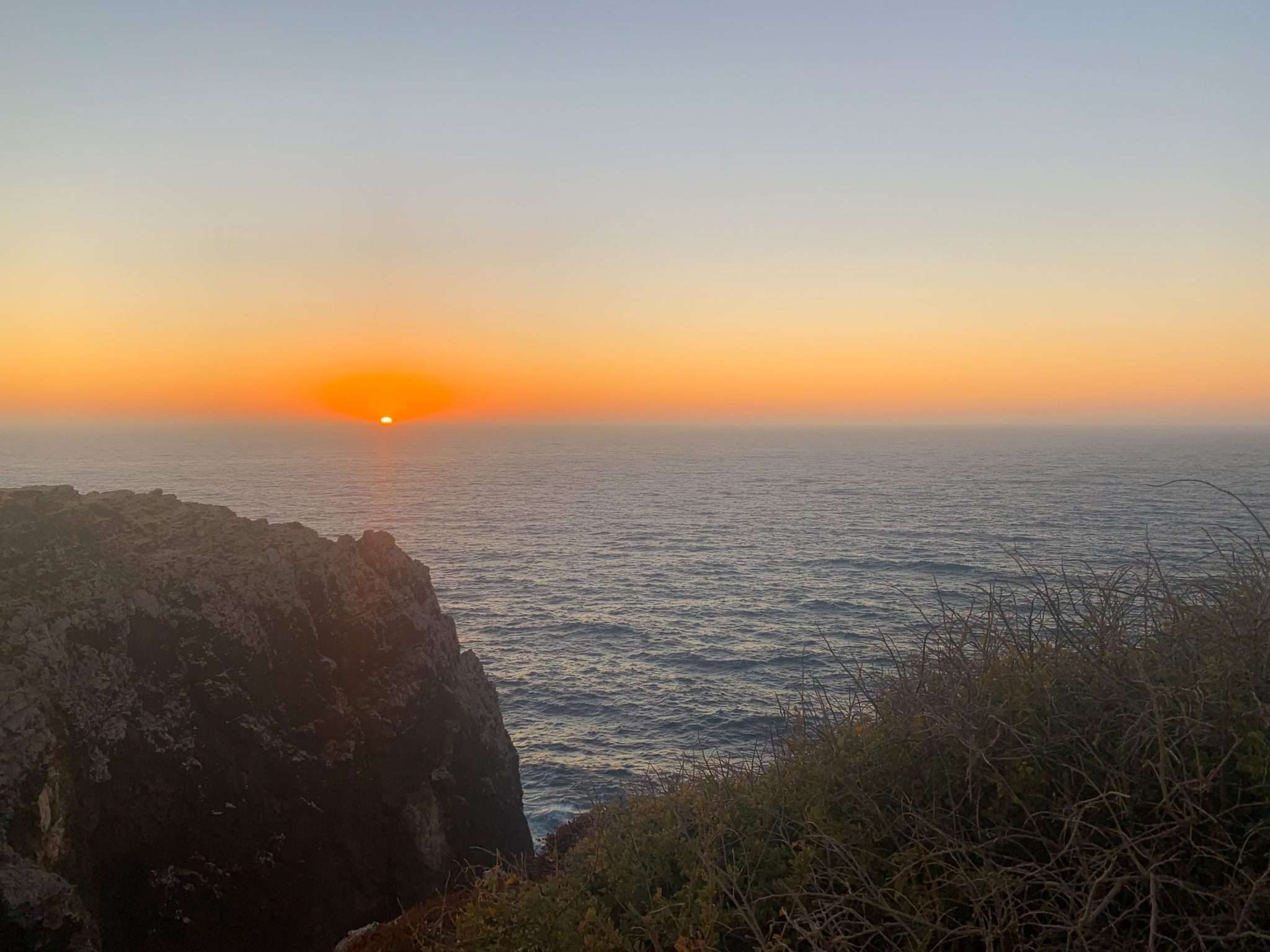 Try your hand at windsurfing
Sagres has over 200 windy days a year, so windsurfing is a great way to take advantage of these conditions.
Praia Do Martinhal is the main beach for windsurfing in Sagres. You can book windsurfing lessons and windsurfing rentals with Wind 4 All.
Lessons start from €70 and rentals start at €40.
Windsurfing is one of the coolest things to do in Sagres, Portugal so make sure to give it a try!
Visit the Fortaleza Sagres
Fortaleza Sagres was originally built back in the 15th century to protect this coastline from North African raiders.
The fortress plays an important part in Portuguese history as it's where Henry the Navigator planned his expeditions to West Africa.
The fortress is open every day and entrance tickets are €3 for adults.
This is one of the best things to do in Sagres, Portugal for History lovers.
Book a dolphin and cave tour
If you're looking to do something completely different in Sagres then this brand-new Dolphin and Caves tour is a great option.
You will be able to get up close and personal (in a respectful way) with wildlife such as Dolphins, sea birds, and if you're lucky, whales!
On top of that, you'll also get the chance to explore caves and secret beaches that are only accessible by boat.
And if that's not enough to convince you, you'll also get the chance to see parts of the land that date back to prehistoric times.
The tour costs €60 and is 2 hours long.
🤳🌎 NEED DATA WHILST YOU'RE ABROAD? WHY NOT DOWNLOAD AN ESIM.

➡️➡️ Avoid roaming fees, and have peace of mind that you have internet access when WiFi isn't available.
Do a road trip along the Costa Vicentina
One of the most fun things to do in Sagres, Portugal has to be completing a road trip along the Costa Vicentina.
The Vicentina coast starts in Burgau (just east of Sagres) and stretches to Odeceixe (just north of Sagres).

The distance between Sagres and Odeceixe is just 59 KM and takes 1 hour to drive.
I would however carve out a full day for this trip so that you can fully enjoy and immerse yourself in all of the viewpoints and beaches along the route.
Some of the best spots to visit along the Costa Vicentina include: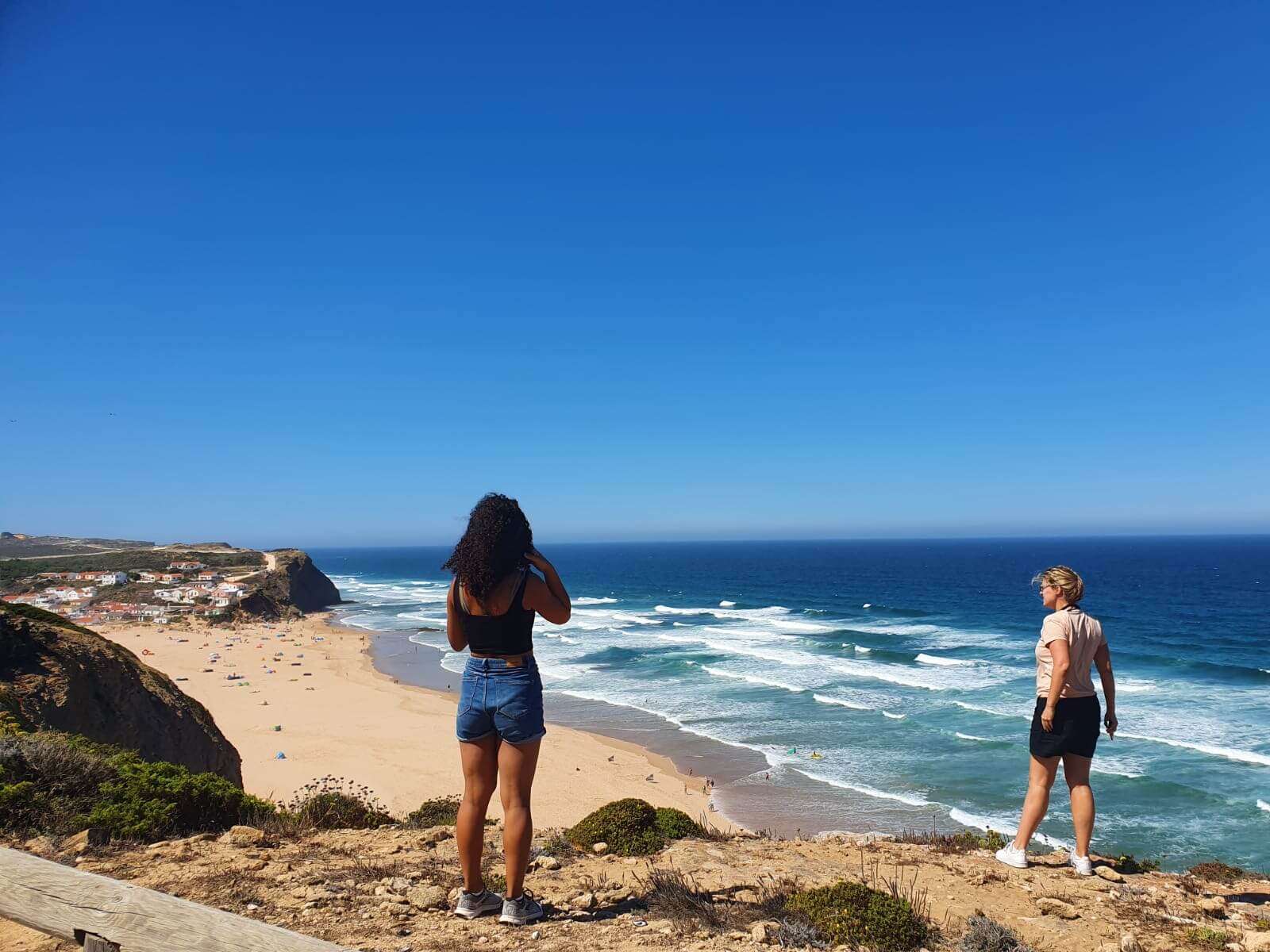 Go Paddleboarding
For those who prefer something a little gentler to surfing or windsurfing, then paddleboarding is a good option.
You can book guided paddleboarding tours and paddleboard rentals with SUP Sagres.
Tours start from €65 and board rentals start at €45.
Explore Sagres by e-bike
One of the most unique things to do in Sagres, Portugal is to explore the town on an e-bike.
You can rent e-bikes from Bike Rental Algarve for €35 a day and even book a sunset e-bike tour for €30.
The tour takes you through hidden tracks, and onto secret beaches, and ends with watching an awesome sunset.
Explore the Fort of Santo António de Belixe
Located close to Praia De Beliche lies the Fort of Santo António de Belixe.
The exact time in which the fortress was built remains unknown, however, it has been fully functional since the 16th century.
The fortress was built to protect fishermen from pirates and was even damaged by an attack from Francis Drake in 1587.
This fortress is quite unique as it also contains its very own chapel, with a domed roof (similar to those you see in Greece).
Go off-roading
This awesome sunset and Jeep off-roading tour is an unusual way to explore Sagres at sunset.
The tour will take you to Vila de Sagres, Cape of Sao Vicente, and another secret spot with 140-metre-high cliffs to see the sunset.

The tour costs €60 and includes wine, sandwiches and cake!
FAQs about Sagres, Portugal
Is Sagres worth visiting?
Yes! As I've mentioned earlier in this post, Sagres is such a unique place in the Algarve and Portugal.
The landscapes are inspiring, the nature is abundant and the laid-back vibes will make it difficult for you to leave!
Where is Sagres?
Sagres is located in the South-West of Portugal in the Algarve region. It is, in fact, the most south-westerly point of not just Portugal, but of mainland Europe.
When is the best time to visit Sagres, Portugal?
Sagres welcomes visitors all year round, however, if you want to get the best of the sunny weather it's best to visit during the summer season between May – October.
The temperatures in Sagres, Portugal can reach highs of 26° during the height of summer.

Although, if you are coming during the summer months don't let the warm temperature fool you.
The ocean is still cold and Sagres can get extremely windy. Sagres is known to be one of the windiest places in Portugal.
Make sure you bring a wetsuit if you want to spend extended time in the water and pack a little jacket for the evening when the wind can cause a chill.
How to get to Sagres
The airport that serves the Algarve is Faro Airport. You can fly into Faro from most European airports.
From Faro airport, the journey to Sagres is roughly 90 minutes. An Uber will cost you approximately €90 and a taxi will be slightly more.
If you want to make the journey to Sagres slightly cheaper you can catch a Flix Bus from Faro town centre to Lagos from just €5.
From Lagos, you can catch a €6 local bus to Sagres. The local bus service is run by a company called Mundial Turismo and you can pre-book tickets here.
The best way to get around Sagres, Portugal
Walk
If you are planning on staying very local then walking is fine. Most of the beaches and restaurants are within walking distance from the town centre.
Bicycle or Scooter
There are a handful of bike and scooter rental stores in Sagres.
This is another great option if you want to go that bit further or if you would prefer to avoid long distances in the warm Mediterranean heat.
Some of the bike and scooter rental stores in Sagres, Portugal include:
Rent a Car
Renting a car to explore Sagres, Portugal is the best option. This will enable you to get out and explore more of Sagres and its surrounding areas.

Rental car prices start from €35 per day.
🚗🚙NEED TO RENT A CAR?

➡️💸COMPARE RENTAL CAR PRICES ON RENTALCARS.COM
Where is the best place to stay in Sagres?
The top-rated hotels in Sagres are:
The top-rated hostels in Sagres include:
Can you camp in Sagres?
Camper-vanning through Portugal is an extremely popular activity, and you'll be pleased to know there is one campsite located in Sagres.
The site is run by Orbitur Camping which has sites all over Portugal. You can book a pitch here.
The best places to eat in Sagres, Portugal
Sagres isn't built up like most of the holiday towns on the Algarve, so the best bars and restaurants are dotted all over town as opposed to being along a strip or in a centre.
Nevertheless, there is some great food to be enjoyed here.
Some of the best restaurants in Sagres, Portugal include:
Telheiro Do Infante
Looking over Praia de Mareta, this restaurant is a wonderful place to eat seafood whilst enjoying the sunset. Grab a bottle of their 'Dory' wine to accompany your dinner.
A Tasca
Another great place to enjoy traditional Portuguese food whilst watching the sunset. This restaurant looks out over Porto da Baleeira.
The Hangout
This spot is popular with the surfing and backpacking community in Sagres due to its laid-back atmosphere, and of course, incredible food.
Make sure to order the 'Green Eggs' at breakfast and for dinner grab a pizza along with the black pork and mozzarella salad.
Vila Velha
Vila Velha is one of the top-rated restaurants in Sagres. I recommend the beef and chorizo skewers!
Dromedario Bistro Bar
This is one of the oldest bars in Sagres (35 years and still going strong). You can come here to pick on tasty snacks and delicious cocktails.
Pau De Pita
If you're looking for cocktails with an ocean view then Pau De Pita is the place to come. Make sure to head to the rooftop.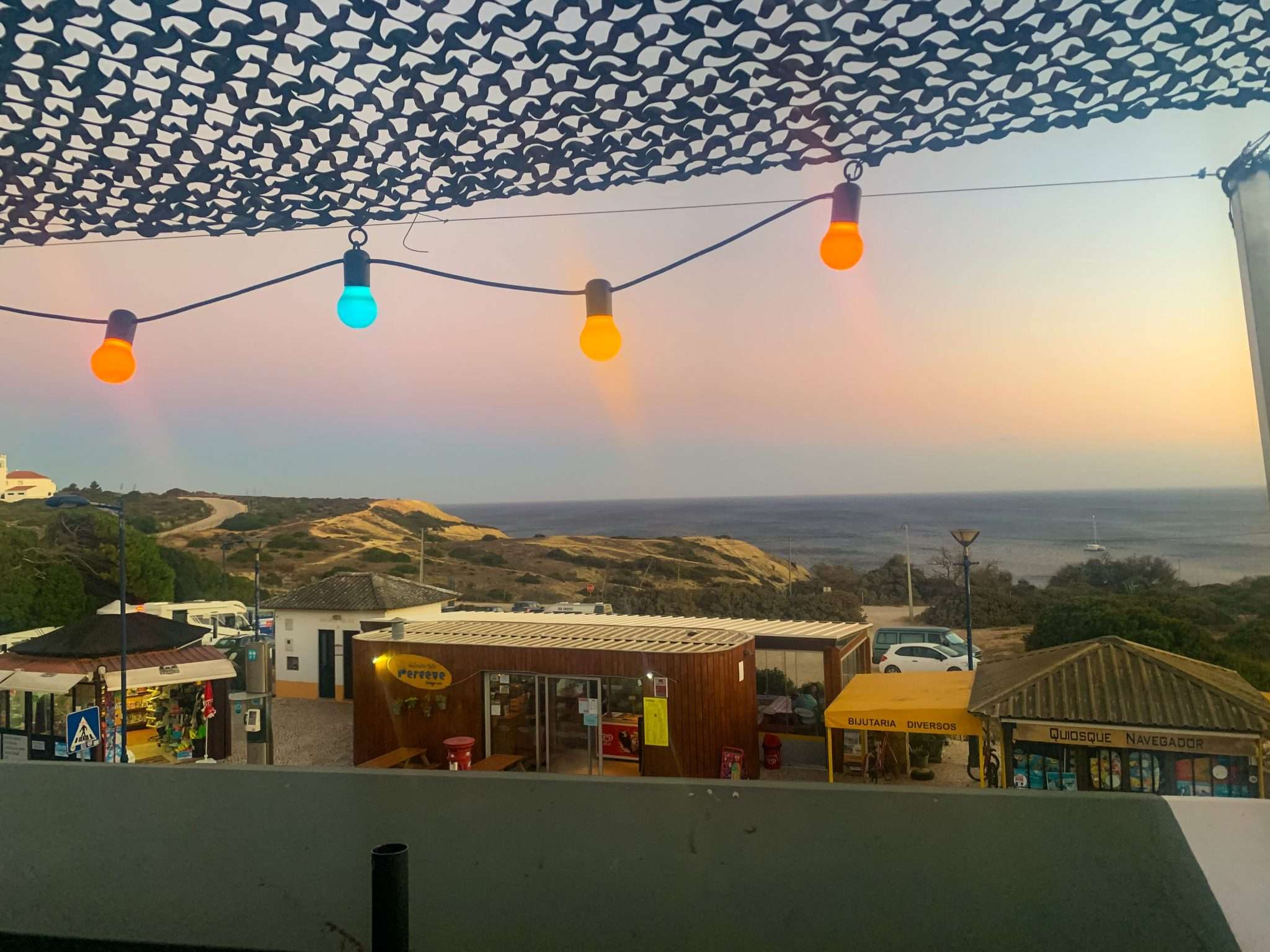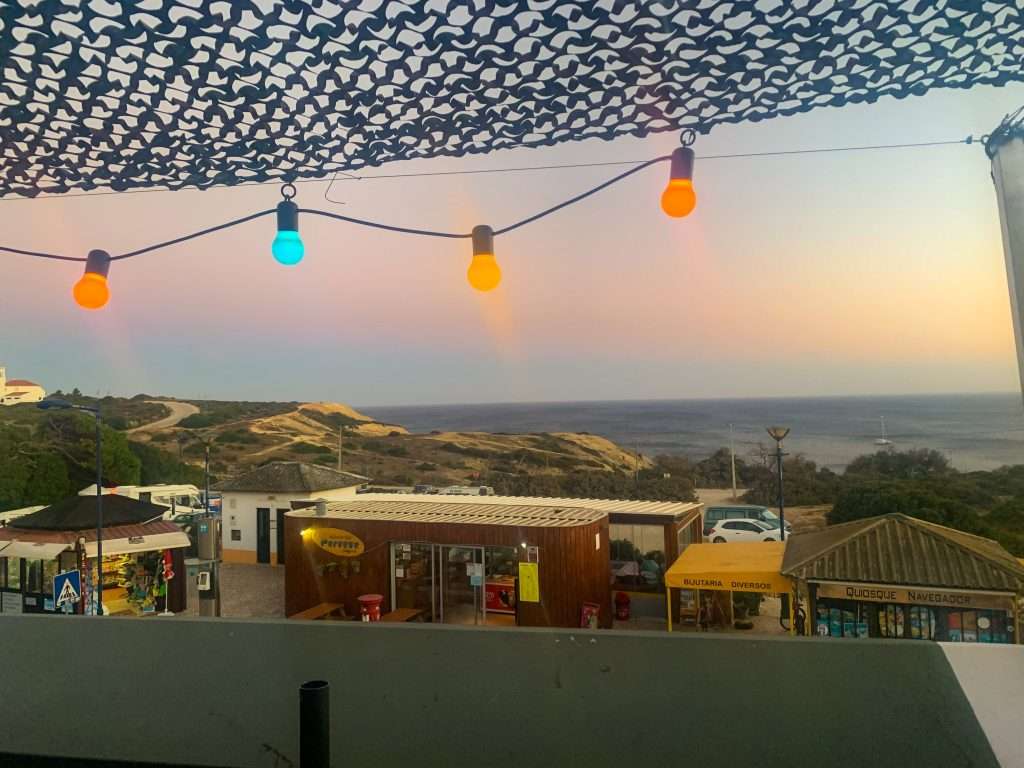 Chiringuito Last Chance
Located close to Praia de Mareta this is yet another spot where you can enjoy some cocktails whilst looking out at a wonderful view.
Can I do a day trip to Sagres, Portugal?
Yes, you can easily uncover some of the best things to do in Sagres, Portugal as part of a day trip.
Sagres is easily reachable by car and bus from other parts of the Algarve such as Lagos, Portimao and Albufeira.
What is Sagres, Portugal best known for?
Sagres is best known for its awesome surf where waves can reach up to 16 feet in the wintertime.
Why is Sagres called the 'end of the world'?
In the ancient world, Sagres was the last explored point on earth.
Hence Sagres is called the 'end of the world'.
Sagres is also the most south-westerly point in both Portugal and mainland Europe where nothing but the Atlantic Ocean can be seen for miles.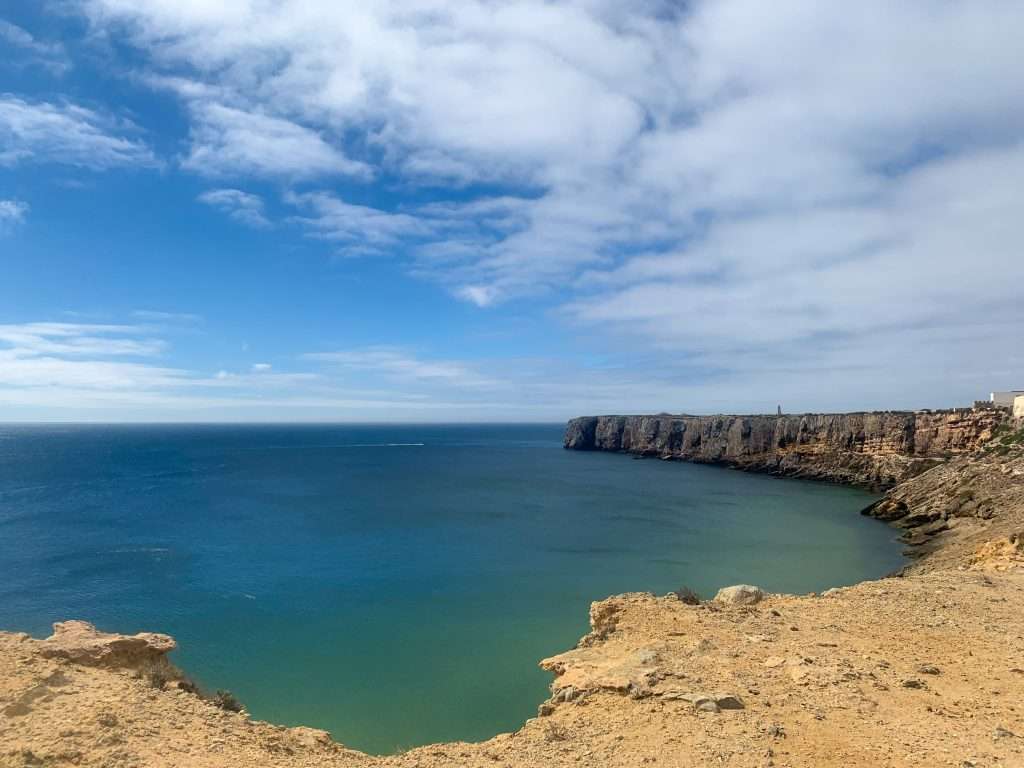 YOU MIGHT ALSO ENJOY…
Happy Exploring
I hope you have an incredible time uncovering all of the best things to do in Sagres, Portugal.
If you have any questions about anything mentioned in this blog, please feel free to reach out!